---
Dr. Lakeysha "Key" Hallmon is one woman who is serious about advocating for black entrepreneurs. She's the founder and CEO of The Village Market, and she cultivates events to provide a platform for socially-conscious, black-owned startups and entrepreneurs to get support, build community, and showcase their products and services.
As a social entrepreneur, speaker and curator, Hallmon uses her gifts of tenacity, smarts and bold confidence to rally behind small business owners, kidpreneurs and nonprofit leaders.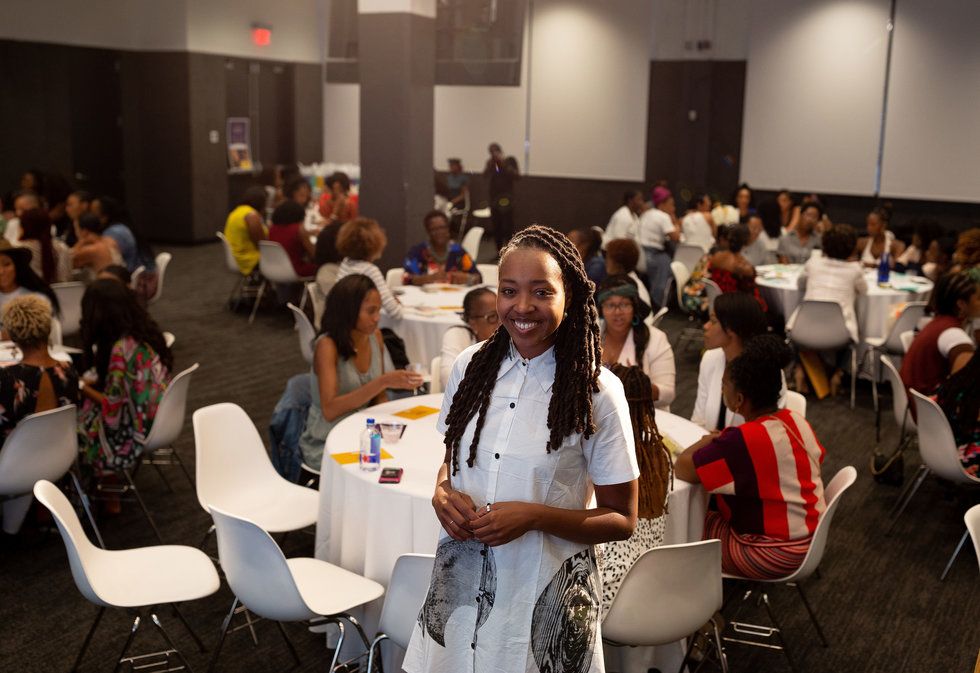 Carol Rose
"I started the village before the marketplace. I was teaching classes [on] entrepreneurship and holistic health at a coffee shop on Marietta Street in Atlanta," Hallmon recalled during an interview with xoNecole. "I was dealing with a community of entrepreneurs–some business owners working a 9-to-5 on the side–and from those classes, I would choose about 10 businesses that had a great deal of promise. We were a very small community that met inside a coffee shop once a month."

From there, the community grew, and Hallmon wanted to find a way to meet a common need among the entrepreneurs. "Those classes were the kick-start to everything. Being the researcher I am, I asked, 'What else do you need? Do you need to feel more confident in starting your business or in scaling and growing your business?' They [said they] needed a place where people could shop with them and know that they are here in Atlanta, so I started the market. At my first event, we had 31 small businesses participate and about 300 to 400 people came out. We had a lot of passion and no website or Instagram–just word of mouth. From there, it literally began to be the thing that people became excited about. Today, we offer them the highest level of customer service and entrepreneurs feel seen, guided, and heard."
The Village Market, helmed by Hallmon and her all-female team, is now held quarterly in Atlanta and features more than 50 vendors offering an array of products and services, from apparel to home goods to beauty products. Attendees can also enjoy live performances, a kids zone, and art installations. Hundreds of entrepreneurs vye for a spot at the market and the variety of products and services they offer are diverse.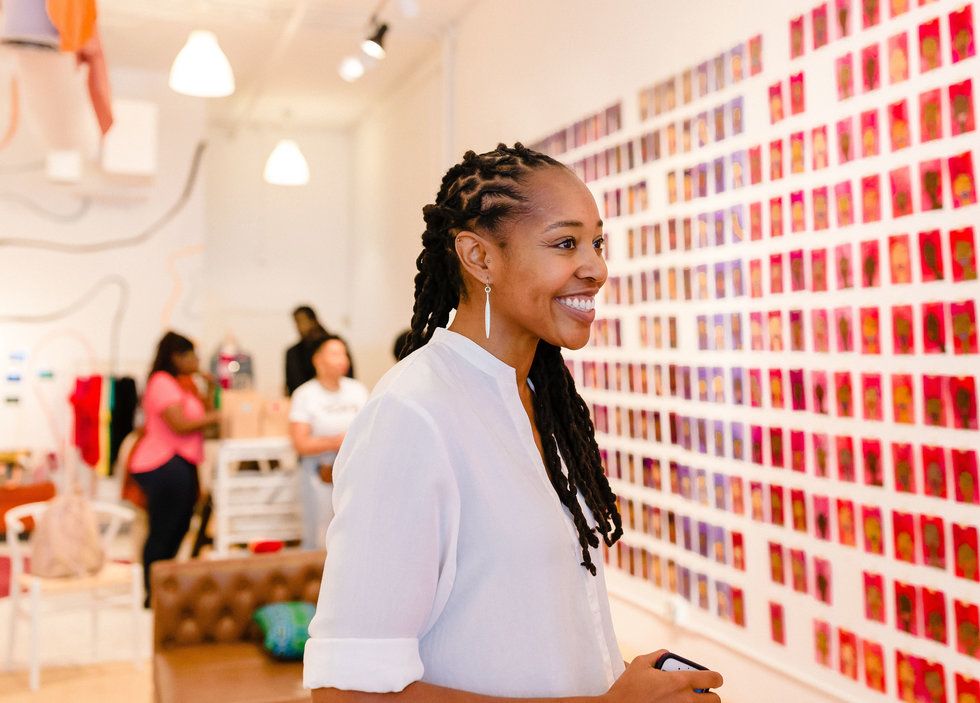 Carol Rose
"Vendors have to apply. We do this partly because at this point, we get a great deal of [applications]," Hallmon said. "We then start our selection process, choosing the best of the best. [As a participant], you also agree to be trained and sign up for workshops and webinars. I wanted to have something that would be more than a marketplace, so entrepreneurs get to work with other entrepreneurs. We have a partnership with Google for our Saturday School and all of these are offerings we have for any business in the village. For the market, the communities get to see the businesses, but the businesses already began to form relationships with one another over the course of three months."

As part of the market experience, attendees can also enjoy plant-based food at the Village Cafe and get a taste of healthy eats. "We feature between 13 and 15 plant-based culinary artists, and the food is so good! I get so excited because …. some of [the attendees'] first experiences with plant-based food are from the Village," Hallmon said. "My goal has always been not to impose my lifestyle on others but to expose our community to other options. They may like something different and expose it to [their families.]"
Her venture into plant-based foods and holistic living began years ago with her mom, who, at the time, was battling lupus and cancer. Hallmon wanted to support her mother's journey to manage the illnesses and get well.
"We were learning a lot together at that time. She just wanted to be better–feel better. I was learning some things, and we began juicing together," Hallmon said. "My mother still transitioned, but I do know that the quality of her life changed. Everything that I support for the community is so that people can feel better and feel loved. It's what I wanted for my own mom. No one should be ashamed of what they don't know or about the foods they eat. We can meet people where they are."
Hallmon also credits much of the motivation behind her belief that education empowers, and opens doors, to her mother. The graduate of Tougaloo College, a historically black institution, continued her academic excellence in an effort to make her mom and family proud and went on to earn her master's and doctoral degrees, graduating from the University of Mississippi and Liberty University, respectively.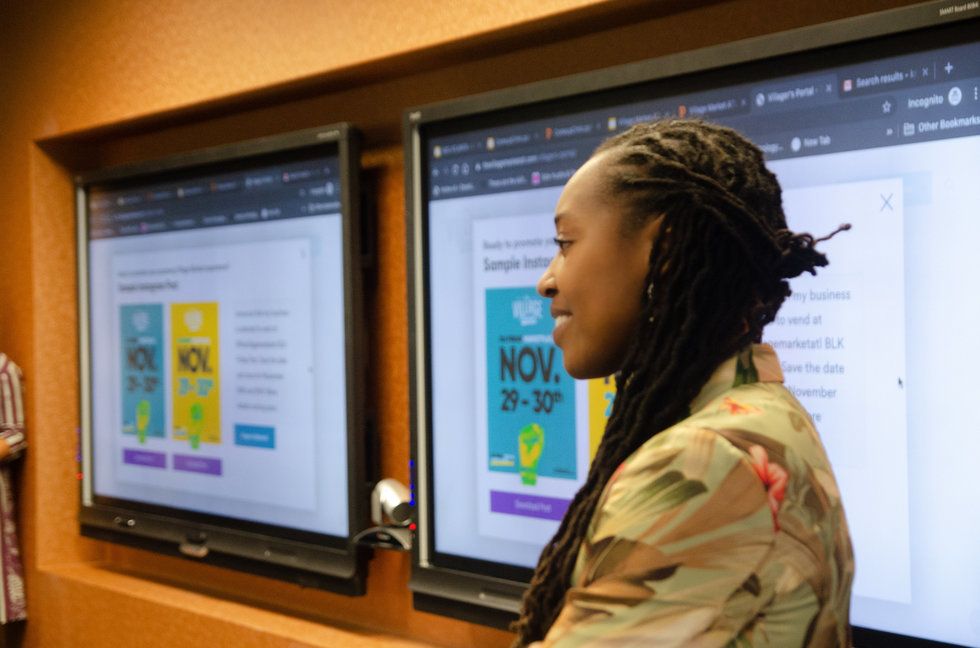 Carol Rose
"My mother was a high school dropout and earned her GED. She'd say, 'This is good for me, but it's not good enough for y'all,'" Hallmon said, adding that her mom wanted her and her sister to put education first and value the opportunities education would bring. "It was a no-brainer for me. [As a youth], I did well in school. I was an athlete and an avid reader. I'd read books by Maya Angelou and Toni Morison. I would try to find women who had the Dr. in front of their names and figure out how they got it. I once asked a counselor, 'How do I get to have 'Dr' in front of my name?' and he said, 'That's not something you'll ever probably get to do.' I didn't know why he'd say that to me considering I was a pretty good student. [When I went to] Tougaloo College, all of my professors had doctoral degrees and were black. It opened me up and felt so real. I wouldn't stop. I wanted to take the torch further."

She would later become an English teacher and then a Department of Education professional, and she uses those experiences today, as a full-time entrepreneur and consultant, in the work she does with entrepreneurs in the Village.
"There's a privilege that comes [with education] where people will pull the chair out for you at the table and believe that you're supposed to be there. I understand that," she said. "And because I know there's a certain privilege that comes with my education, I don't lose myself because of that opportunity. Every opportunity my education allows me to get, I'm bringing my community with me. When you can speak differently about your business and connect it to research and data, people listen to you differently. You have a different level of respectability. Getting my doctorate is probably one of the best things I've done for my family and my legacy."
"Every opportunity my education allows me to get, I'm bringing my community with me. When you can speak differently about your business and connect it to research and data, people listen to you differently."
That legacy intertwines with what the Village Market stands for, empowering black entrepreneurs through education and offering a community and customer base that will help them thrive, evolve, advance, and someday, pay it forward.
"The reason I created the Village Market: I tell everyone we operate in excellence. That's a hard part to always live up to, [but] I put my company up there. I need people to understand that if we put ourselves up to a level of excellence, you can trust every business that has come into The Village Market to showcase."
For more information on The Village Market, which will be held in Atlanta, GA on November 29-November 30, visit https://www.thevillagemarketatl.com/.
Featured image courtesy of Carol Rose.