On the evening of January 9, 2016, while my 6-month old daughter slept and my 10-year old son played with his Legos – I cleaned house.

---
I went through my kitchen and threw away all the meat and any animal-based processed foods into a huge garbage bag. That day, I decided my family would become vegans. I'll never forget the bewildered looks I received from my neighbors when the bag ripped as I was dragging it up the stairs. I'm sure they were thinking I'd completely lost my mind. Maybe they were right because I didn't have a plan, but I did do a ton of research and I knew that this was the best option for us.
Why?
Because I was fed up with constantly being sick, fluctuating weight, painful menstrual cycles, raging hormones, and losing my family members to cancer. I decided without delay to go cold turkey (no pun intended).
The next morning, my decision started to register with me. Because of my poor planning, I only had a few ingredients in my pantry to prepare breakfast. So, I did what any other nonconventional mother would do: I grabbed my phone and started a Pinterest search. That search led me to an oatmeal pancake recipe, which was our first vegan meal. Afterwards, my kids and I drove to the local grocery store.
We spent a large amount of time in the produce section picking out fruits and veggies for dinner and the kid's snacks. It was definitely a different shopping experience from the norm. I purchased almond milk for the first time from the "Natural Food" aisle and spent at least 30 minutes looking for chickpeas until a store clerk pointed out that the garbanzo beans right in front of me are also known as chickpeas…who knew? I didn't have a meal-plan. I didn't know how I would handle the kid's lunch that week, but I knew that we were moving in the right direction.
Thanks to Pinterest, I became extremely creative with tacos our first week as vegans. We had tacos almost every day for dinner! Tacos filled with brown rice, corn, and black beans. Tacos filled with garbanzo beans aka chickpeas. Tacos filled with sweet potatoes, black beans, and avocado. If it was plant-based and could fit in a taco shell, we ate it.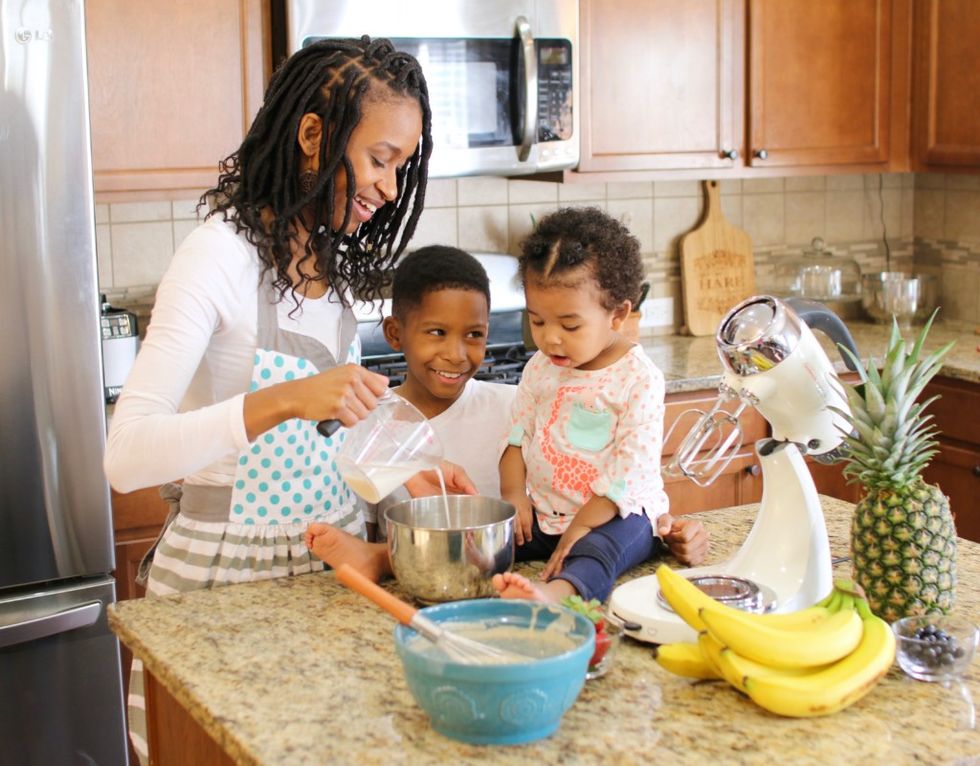 I've come a long way since then and I've learned to make a variety of dishes the kids and I enjoy.
My 2-year-old daughter graduated from pureed fruits and veggies after her first birthday and loves meatless spaghetti night. Although, she'll eat anything, which I'm sure is a trait she picked up from me. I have this quick and easy recipe for alfredo sauce made from cashew nuts that's become my go-to meal on busy days. Just toss in some steamed broccoli and fettucine and voila! My son's favorite dish is cauliflower hot wings. Yes! Those battered-pieces of cauliflower tossed in Red Hot's Buffalo Wing sauce dipped in homemade vegan ranch dressing will change your life! Even my meat-eating 75-year-old dad enjoyed it!
My daughter, who was six months old at the time, wasn't affected as much by the transition because she never consumed meat, however, it was a major change for my son. Recreating our favorite comfort foods into vegan meals made the transition a lot easier for him. Most people believe vegans eat nothing but kale and avocados (which are bomb when combined by the way), but my children and I enjoy burgers and fries like everyone else.
The only difference is, our meals are all plant-based.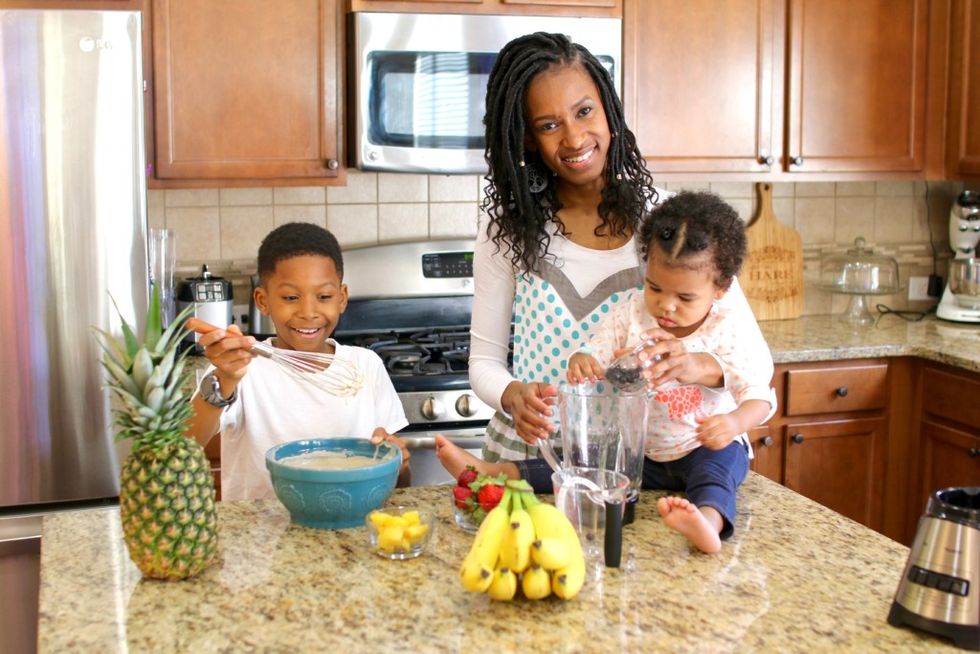 Honestly, the biggest challenge for my son was giving up non-vegan candy and resisting the temptation at school functions. That's a lot for a kid to handle. We watched a couple of documentaries on Netflix and discussed it. I gave him the option to continue eating meat and my 10-year old son decided to stop eating it. He still snuck home some candy from school for the first few months until I found vegan alternatives for him, but now he reads labels just as carefully as I do. You'd be surprised at the choices your kids make once you give them the option. There's a little humanitarian in them waiting to save the world.
I am so proud of my growth and self-discipline. Society makes it very hard for a person to choose a vegan lifestyle with a fast food restaurant on every corner. I could have easily picked up a Happy Meal on nights when I was too tired from working and studying to cook a meal. I could've dropped into my neighborhood American Deli and ordered a 10-piece meal of lemon pepper wings fried hard and wet. I could've indulged in my coworkers deviled eggs at our Christmas party, but, instead, I chose humanity and health over my cravings.
Almost two years later, and I've never regretted my decision. Not only am I healthier, but I am less tired and less hormonal.
My menstrual cramps are non-existent, my body's PH balance is an 8, and my iron levels are normal for the first time in my adult life. Have you ever thought about all those hormone injections that we consume from animal meat? My vegan lifestyle has detoxed me of all those hormones and my consciousness is vibrating on a higher frequency.
I am not the same woman I was last year. I have reversed my way of eating which has unconditioned my mind. This is my way of loving myself and returning that love to the universe. It's been an amazing journey and I would encourage anyone to make the transition.
A vegan diet isn't a cure for everything, but it's a step in the right direction and your body will thank you for it.
Photos by Kimberly Myers
*As seen in Heart & Soul Magazine
Jasmine Knight resides in Atlanta, GA and is a certified Yoga Instructor, Holistic Wellness Consultant, Blogger, and Founder of Melanin Pop Yoga. When she is not spending time with her two children, she is mentoring and teaching women how to love themselves and heal from their past holistically. Follow Jasmine on Instagram @pineapple_koko and subscribe to her blog, www.pineapplekoko.com.
xoNecole is currently accepting submissions. If you have a story to share, send us a shout at submissions@xonecole.com with the title of your story in the subject line.