---
It's official, guys. Derek Chauvin, the ex-officer who was at the center of the murder of George Floyd, has now been convicted of the crime. To say this is an interesting turn of events is an understatement, but I'm guessing that watching a video of him kneeling on his neck for almost ten minutes, was hard to deny. In fact, Chauvin was found guilty on all counts, a verdict that could send the disgraced former Minneapolis police officer to prison for the rest of his life.
Welp.
The 12 jurors didn't want to hear the defense's claim that there might have been other medical reasons that Floyd died, saying Chauvin killed him, even if unintentionally. And although you and I know that this shouldn't even be a question, it's pretty understood that that damn justice system rarely works in our favor. The fact that the word "nervous" was trending on Twitter prior to the verdict announcement, basically tells you everything you need to know.
But then it happened. It actually happened.
Guilty. Guilty. Guilty. "The selected jury finds you guilty, Derek Chauvin."  
The inner child in me wept for the years of blatant disregard for Black life, while the outer gangster in me was relieved that I could, for once, not feel the sting of inequity.
"Today, we are able to breathe again," Floyd's brother Philonise Floyd said afterward. Minnesota Attorney General Keith Ellison, whose office oversaw Chauvin's prosecution, chimed in as well, saying:
"I would not call today's verdict justice, however, because justice implies true restoration. But it is accountability, which is the first step toward justice."
But now what? What's next?
Stay on the gas.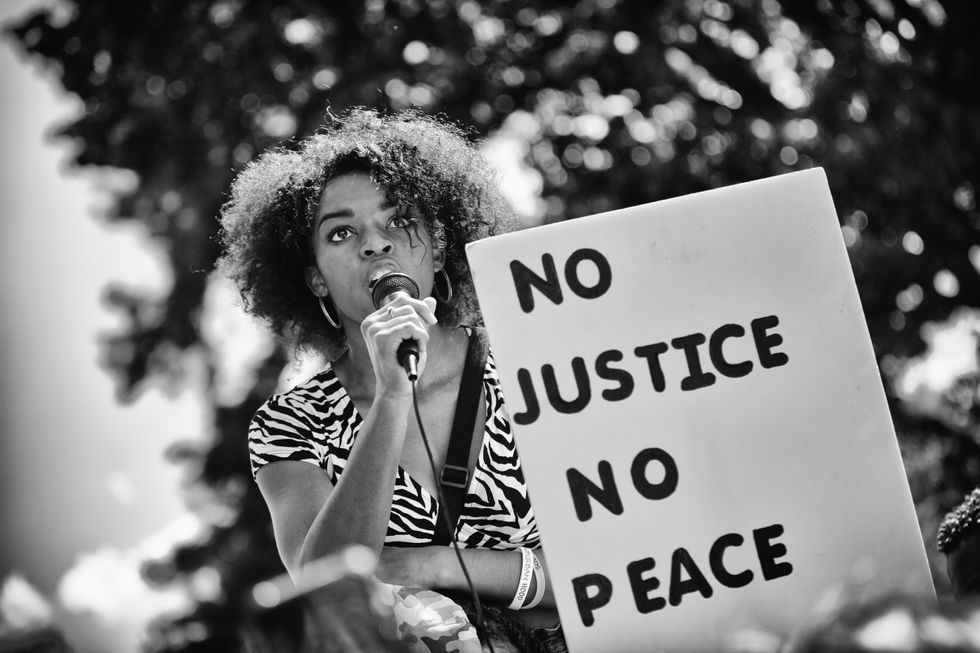 Shutterstock
A major component to the outcome of this trial was the teamwork of millennials, partnered with the fearlessness of Gen-Z in Minnesota. If anything, these two generations in Minnesota is who this victory is owed to. They proved to the entire country that that quiet cousin that never says much, has those hands, and they aren't afraid to swing during the casualties of war to have their voice heard. Minnesota was like, "Peaceful protesting? Tuh. Burn dis bih down." And it was done on a scale that many of us had never experienced, or seen, before. And let's be real, had it not happened, Derek Chauvin would just be another cop who walked free, just as the previous 15K+ officers involved in a police killing have.
They hit the pavement, they demanded justice and let it be very known that anything less, would have consequences. A tone was set. It was beautiful.
But this can't be done each time. Now, it's time to work smarter.
So, identify the 'Stacey Abrams' in your city. 
The 2020 election didn't go the way that many racists wanted it to, and we owe that all to a Black woman (of course). Stacey Abrams is a master in chess, outplaying her opponents at their own game. She, like Minnesota, had a few hands herself, as she defeated America with their rules. She empowered Black people to use their voice so powerfully, that these white folk are out here labeling legal and accurate votes as fraud. She has won multiple awards, has been hailed a hero, and praised for her work.
But guess what? There's a Stacey Abrams in every city. And so many go unnoticed. Identify yours. Let it be heard who they are. Listen to them. Support them. Or if you don't know where to start, get involved with Fair Fight Action.
Stay on the gas.
Pass The 'George Floyd Justice In Policing' Act
The U.S. House of Representatives passed the George Floyd Justice in Policing Act in a 220-212 vote. It was introduced by the badass, Karen Bass (a woman that you need to know) and former chairwoman of the Congressional Black Caucus.
The reintroduced bill would: prohibit profiling based on race and religion and mandate training on profiling; ban chokeholds, carotid holds and no-knock warrants; require the use of federal funds to ensure use of body cameras; establish a National Police Misconduct Registry; amend the prosecution standard for police from "willfulness" to "recklessness" and reform qualified immunity; and require stronger data reporting on police use of force.
Officers who do not comply to these measures, will be held accountable. Which is imperative to reform.
Call 202-499-6085 and tell them you're in favor of the bill.
Invest in YOUR community.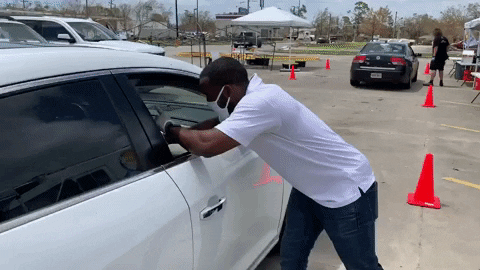 Giphy
Supporting your community looks different to many people. To some it could be supporting a Black business online and spending your dollars there. But the way to have true change, is to start in your community. Know your elected officials in your neighborhood. Get to know patrolling officers, know who you're dealing with. Pick up trash you may see in your area. Find out what events take place near you and support them. Visit local small businesses in your neighborhood. Spend money in your community. Don't see enough trash cans or think that a traffic light could go at that intersection? Demand these things.
It starts at home. Focus there, first and everything else will fall into place.
Last but not least, practice self-care. 
Guys, we have to decompress. We have to take a step back, sometimes. We won this battle, but in order to truly win, we have to take care of self. We're are setting our sights on Daunte Wright's death, who needs our support, and moments after the Derek Chauvin verdict was announced, 16-year old Ma'khia Bryant was murdered by an officer.
Too much information is readily available at our fingertips, which takes a toll. PTSD is real, and we all suffer just because we exist in the times.
Take the time to shut the phone off. Find a new hobby. Master that thing you've been practicing, or unwind with friends. You cannot take care of anything if you don't take care of you.
And we need you.
Are you a member of our insiders squad? Join us in the xoTribe Members Community today!

Featured image by Giphy