In the 80's, Tina Knowles-Lawson gave birth to not one but two legendary superstars, and one thing is for damn sure: No one womb should have all that power. It's Father's Day weekend, meaning that tomorrow will be dedicated to showering dads with the love and appreciation that they rightfully deserve. Before we commence in this celebration of fatherhood, let's take the time to salute the mothers who help make it all happen.
While fathers protect, provide, and prepare their daughters for the real world, moms are there to offer emotional support and instill the tenacity we need to truly level up and become the Queens we were meant to be. Beyoncé, Solange, and Tina are a maternal trifecta that have not only created multiple streams of generational wealth, but left a legacy while they were at it.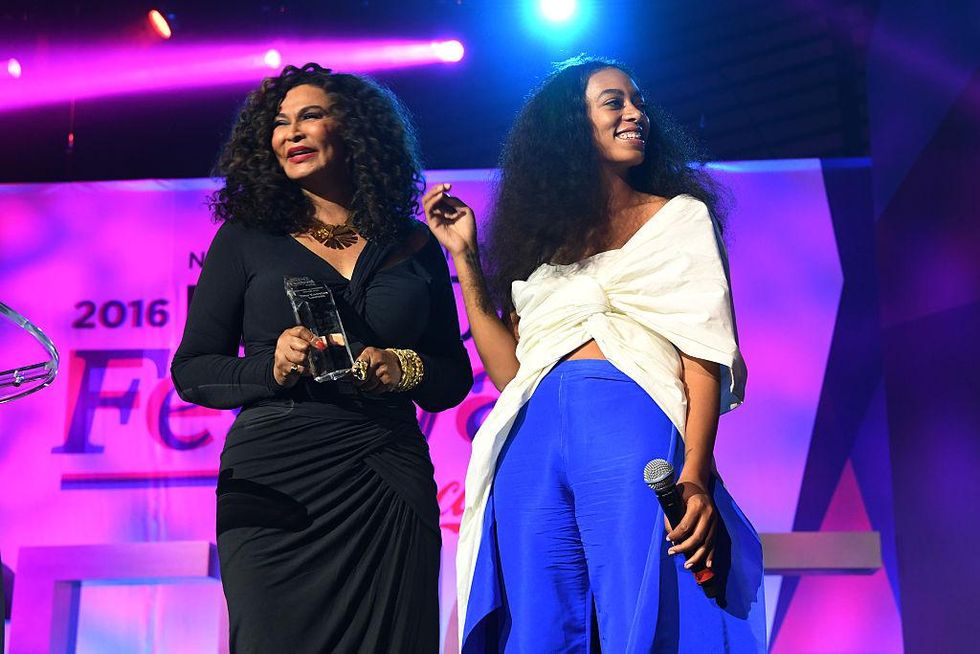 Paras Griffin/Getty Images for 2016 Essence Festival
Last weekend at the Summit 21 conference in Atlanta, Mama Tina slid through with some clutch advice about how to raise an icon. According to the 65-year-old mother of two, her secret was having the ability to love her daughters separately and equally. She explained:

"One thing I'm really happy I did was I gave each of my kids a day. As Solange got older, I would spend Wednesdays with her and help with homework and do those types of things and just devote that day to her, and then one day to Bey."
Although money can buy a lot of things, one thing you don't have to pay for is quality time with your kids. While the media may make some believe that the formula for being a perfect mom rests in her bank account, Ms. Tina had another perspective. She continued:
"It makes them feel [good] you know? Because kids, no matter how much you give them love and attention, it's never enough. I mean I'm sure, everybody who has kids knows, you can take them to Astroworld, to eat, and they'll still say, 'Well what else we gon' do?'"
In a rare on-camera interview, Tina's eldest daughter, who we all affectionately know as Queen Bey, explained that her mother's time and attention did not go unnoticed. In fact, Beyoncé explained that her early exposure to Black art and entrepreneurship is the part of the secret behind her $300 million net worth, and it was all thanks to Mama T's bomb parenting.
"I think it was important to my mother to surround us with positive, powerful, strong images of African and African-American art so that we could reflect and see ourselves in them."
Beyoncé also told the publication that in a way, her latest role in the highly-anticipated live action Lion King film was a tribute to her mother's parenting. As much as Bey is excited to share the experience with Blue and the twins, she is even more elated to be able to share this achievement with her mom.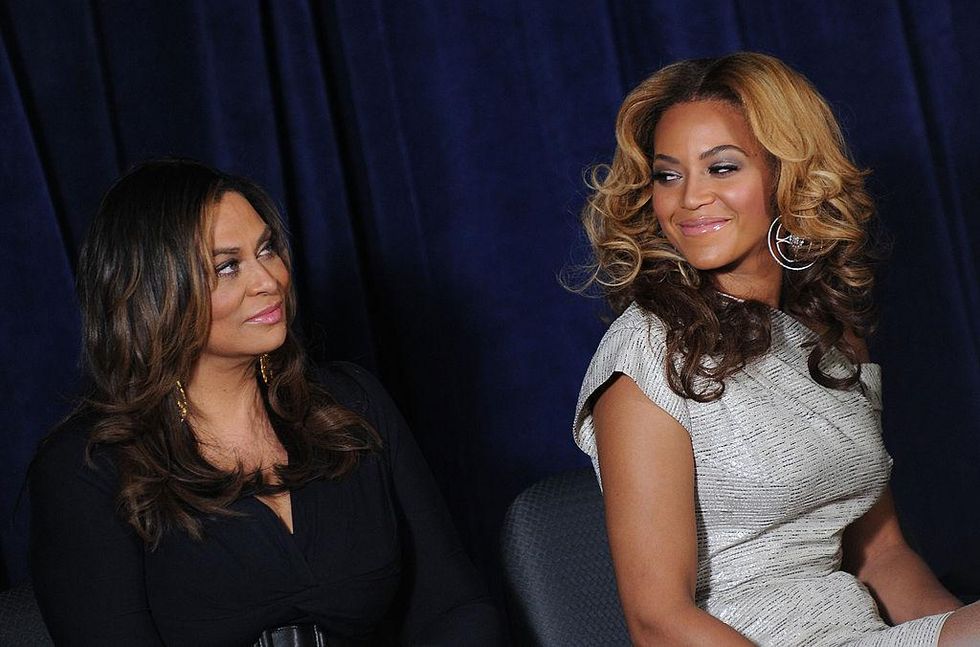 Jason Kempin/Getty Images
Two weeks ago, Bey and her crew shut down the internet with their dope Lion King inspired attire at Ms. Tina's 3rd Annual Wearable Art Gala, a high-fashion soirée dedicated to art, fashion, and philanthropy, and Beyoncé said that this is only the beginning. She explained:

"My mother and Richard [Lawson, Tina's husband] believe that art is a representation of our history. Right now there's a shift, in these incredibly talented emerging black artists getting their due. I love so many great African-American artists, and I'm just so excited that these young black artists are getting their due. My mother has always been an entrepreneur, and she's taking that and teaching these young women that they can be entrepreneurs, exposing them to things that they would probably never see."
According to Beyoncé, part of Tina Lawson's success in being a dope mother, grandmother, and entrepreneur all at the same damn time is having a partner that can match her hustle.
"She dedicates her life to it, and she's found the perfect partner, Richard, who is just a kind, honest, beautiful human being who dedicates his life to the well-being of these kids. It's about the impact that you've had on this Earth."
To Tina Knowles-Lawson, her motto has always been purpose over paycheck. Tina reminds us that when you focus on your purpose, the paycheck won't be too far behind. Bey continued:
"My mother always believed that every person in this world has a purpose, and I think her gift is helping people realize their purpose a lot faster."
Featured image by Josh Brasted/Getty Images