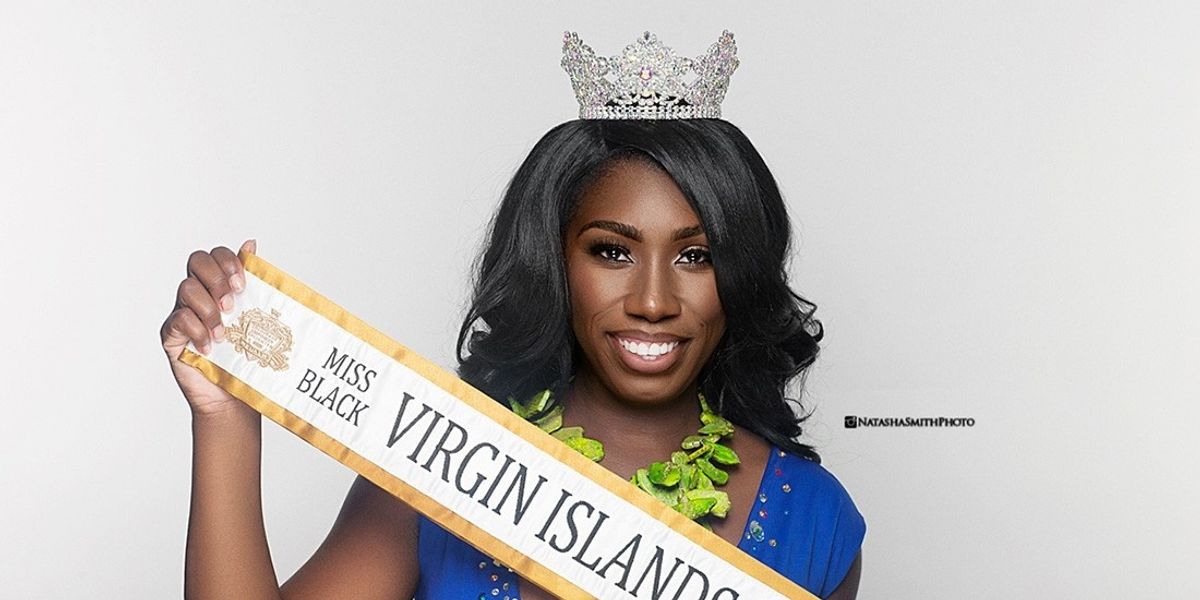 Inspiration
When You Lose, You're Actually Winning
---
Pageantry is a sport. I train and prepare for competitions so that basically makes it a sport to me. I have been competing for years, and I have lost more than I have won. To say that I haven't been devastated at times would be far from the truth; especially since I have a knack for being 1st runner up.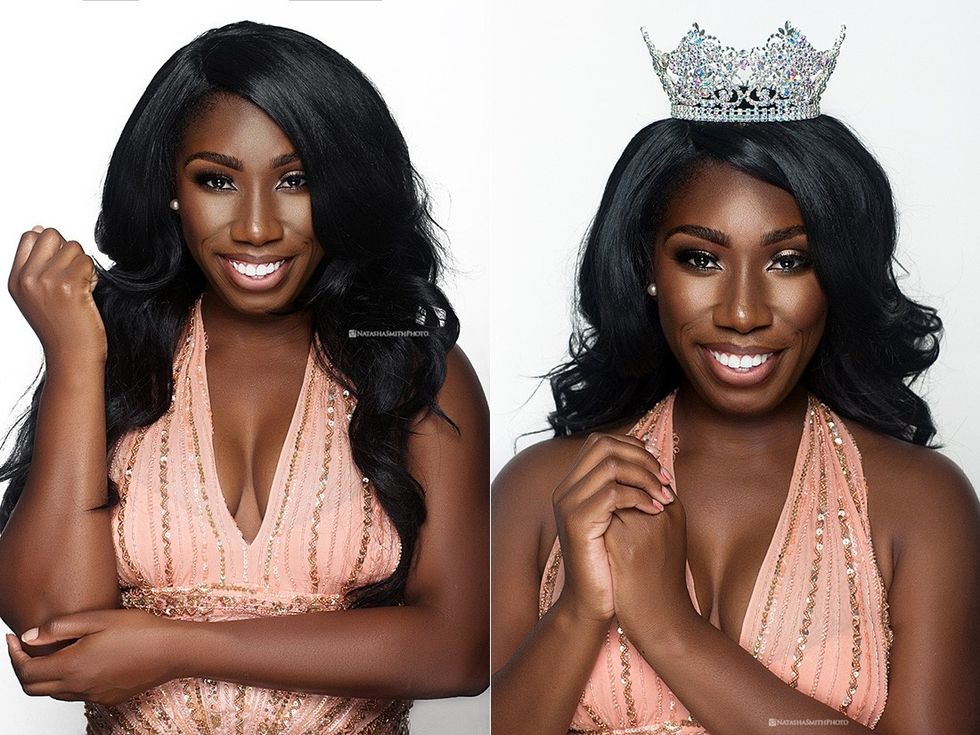 To be so close but not win is not easy, but in hindsight I know that all of those losses prepared me for life itself. For my destiny.
I know you must be reading this asking yourself, "What the heck is good about losing?" Well, I'll tell you. Here is my point of view:
You learn to identify your areas of opportunities:
Most people call them "weaknesses" but I am not fond of that word. "An area of opportunity" has a much better tone. It is something that you need to work on to become better; to be what you see yourself as. In identifying your areas of opportunities, you can develop a plan to improve and be better prepared for the next attempt at any goal. From my experiences, I have learned to be honest with myself about my strengths and areas of opportunities. I do not wait for others to point them out, I seek them out myself and make a solid effort to make improvements. Outside of pageantry, this has helped me immensely in my career and with my personal relationships as well.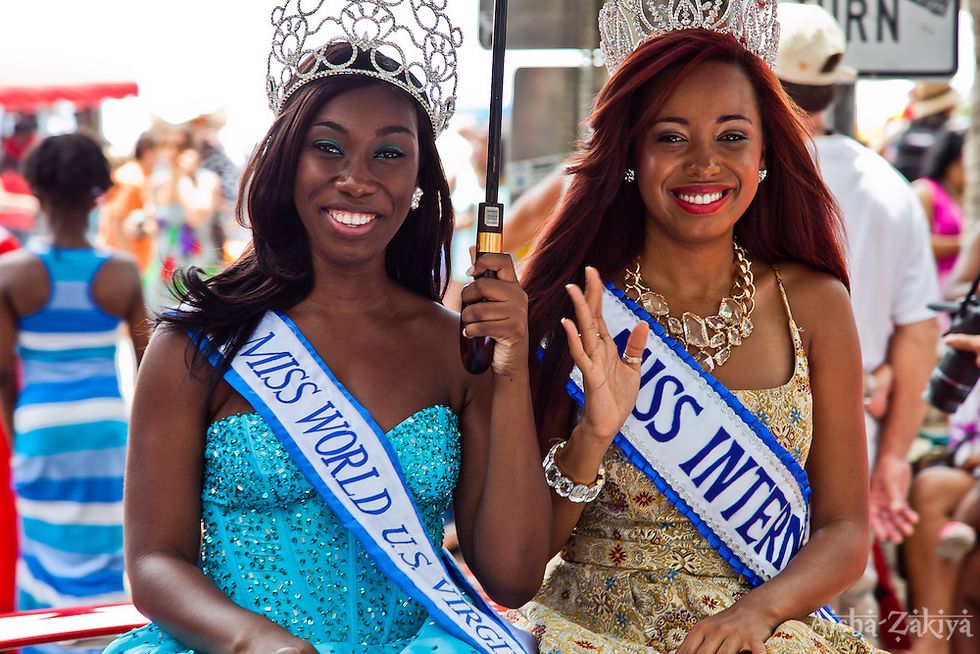 You develop "haters" and you learn to ignore them:
I come from a small island – 32 square miles to be exact. So it didn't take long for me to get wind of what people were saying. After placing first runner up three competitions in a row, I knew people were wondering why I just didn't quit. And for a brief moment, I actually cared about what people thought. However, it did not take long for me to realize that those were the exact same people that never attempted to accomplish anything, ever. They were quick to chastise people who tried and were content with being lackluster.
At that moment, I realized that I was not to give up on a passion for those who had none.
Besides, quitters NEVER win! fast forward a few years later, and I am an international title holder whose accomplishments have also allowed me to be recognized by one of the biggest and most respected entertainment/hospitality companies and assist in fast-tracking my career. If I had given up, I would probably be where my naysayers are now – right where I left them four years ago.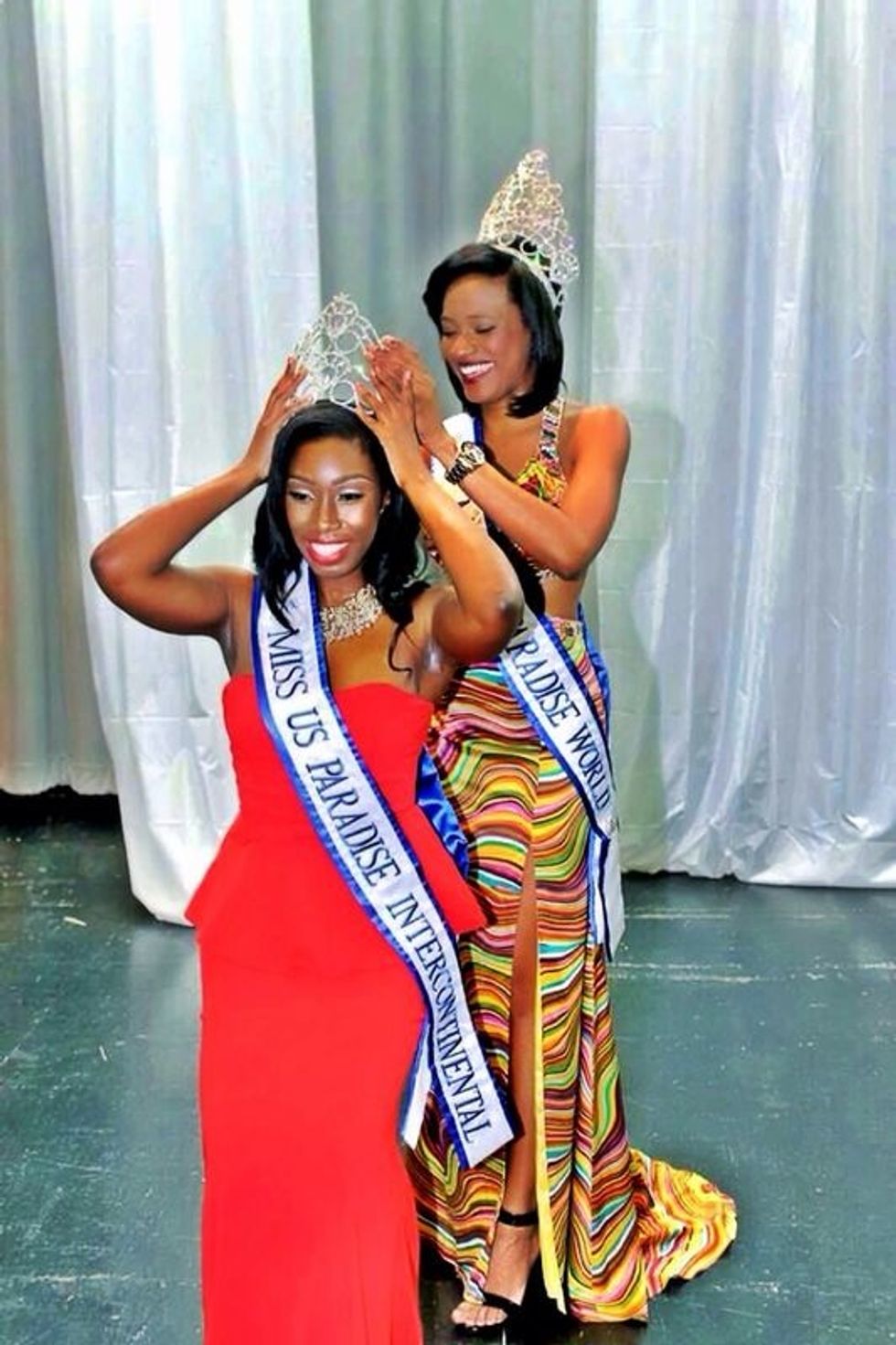 You realize that you may not win but other opportunities may present themself:
Each loss came and another door opened! I met important individuals who would play an integral role in future opportunities. I made great friends and gained supporters along the way. I met future sponsors and was able to gain valuable work experiences. I learned the value of networking (a huge aspect for my career) and the importance being kind to EVERYONE, even those that won over me. A crown and a sash is cool but being respected and gaining character development is much more important and a much bigger prize in the end.
You learn to handle disappointments gracefully:
Writing this doesn't mean that I like losing. I don't. Nor do I encourage anyone to compete to lose. I do however know that losing happens and when it does, it truly shows the character and maturity of an individual. It sucks to be known as a sore loser or bad competitor. I recall one particular pageant that I had made a lot of personal sacrifices for and did all that I could to be flawless in each category. There were many signs that the directors were rooting for another contestant but I ignored it and kept my focus on me. That evening, when we were the last two standing and I was called the runner up, she was in complete shock. In that moment, I wanted to scream and needed to get away fast but couldn't.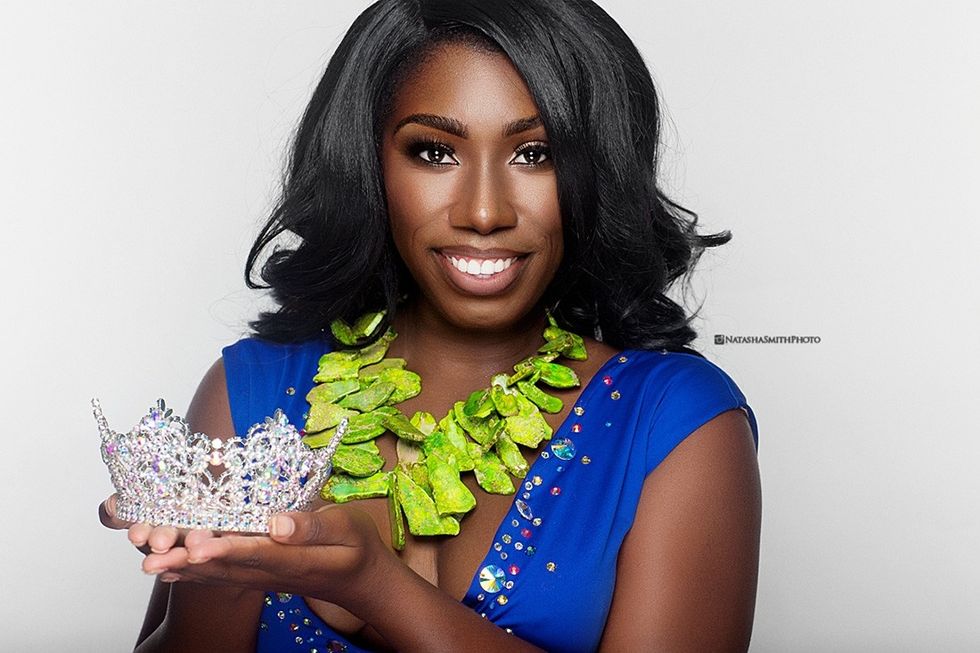 I had to maintain my composure and be happy for the opportunity that was given to my competitor.
More importantly, with all eyes on me I had to ensure that I accepted my loss with tact and pride. I posed for pictures, thanked my supporters, and left the stage. Like a baby, I cried only once I was alone with my mom (I promise it wasn't long). Then I gathered my things and went out to party with my friends. Over the next couple of weeks, the pageant was a hot topic amongst people that attended the show and I was asked about it more than once while out and about. My answer was simple: "The judges' decision is final and I respected that."
Did I have more to say? Yes! I was still very hurt but I knew that only my family and friends should hear my true anger and disappointment. Those feelings in public could never be revealed. It was a tough loss, very tough loss, but I survived. And not only did I survive, but I mustered up the courage to try again and I finally got the BIG title: Miss US Virgin Islands World 2012.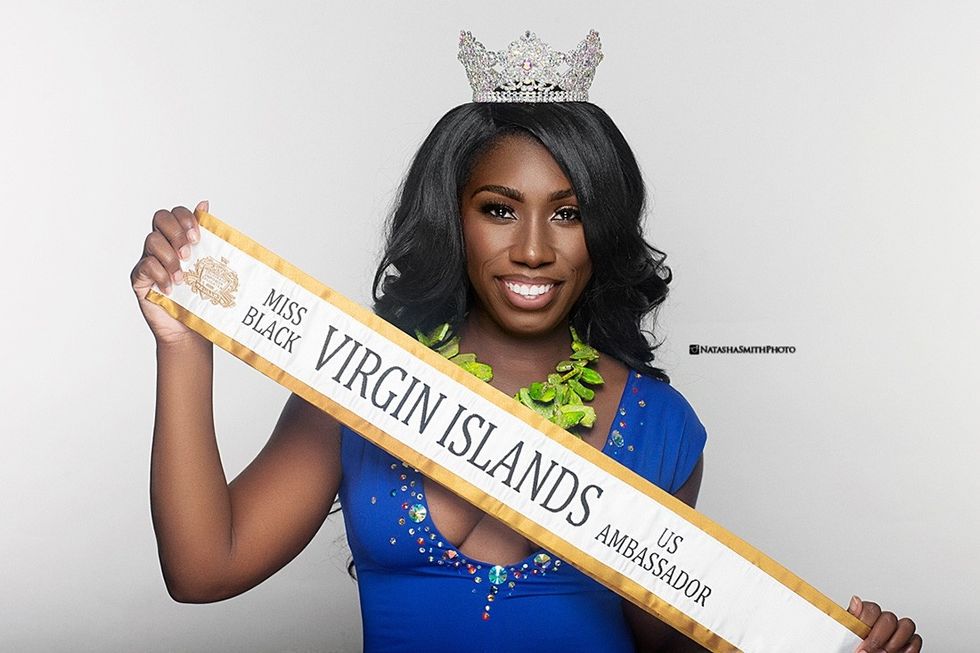 Life is not fair and everything happens for a reason:
I learned this lesson quickly. Sometimes you are the best and deserve the victory but it still won't work out in your favor. This is life – situations are not always fair. Let's take a look at a slightly different scenario other than pageantry: You have been working hard to earn a promotion at work. Your work is flawless, you come in on time. You look the part and spend long hours and yet, a slacker is promoted to the role that you have been working extremely hard for.
Is it fair? No, but this scenario happens more often than we like to admit. Should you be disappointed? Yes, it would be a natural feeling, but I would encourage anyone to continue working hard. A lot of the time, something better - something you may not have plan for - works out in your favor. Then you realize that what you thought was a setback was actually a set up for something greater! You must stay positive and realize that everything happens for reason. It's just that you almost never understand the reason until later.
Stay positive. Learn from your errors. Don't give up. All cliché but all are very true.
*Featured image by NatashaSmithPhoto
Taiesa Lashley
Affectionately known has Tai, Taiesa Lashley is a former Miss US Virgin Islands and US Army Veteran. Career savvy and determined, Tai worked her way up from an internship and into managment at a Fortune 500 Company. In her spare time she enjoys traveling, volunteering, cooking, reading, and red wine.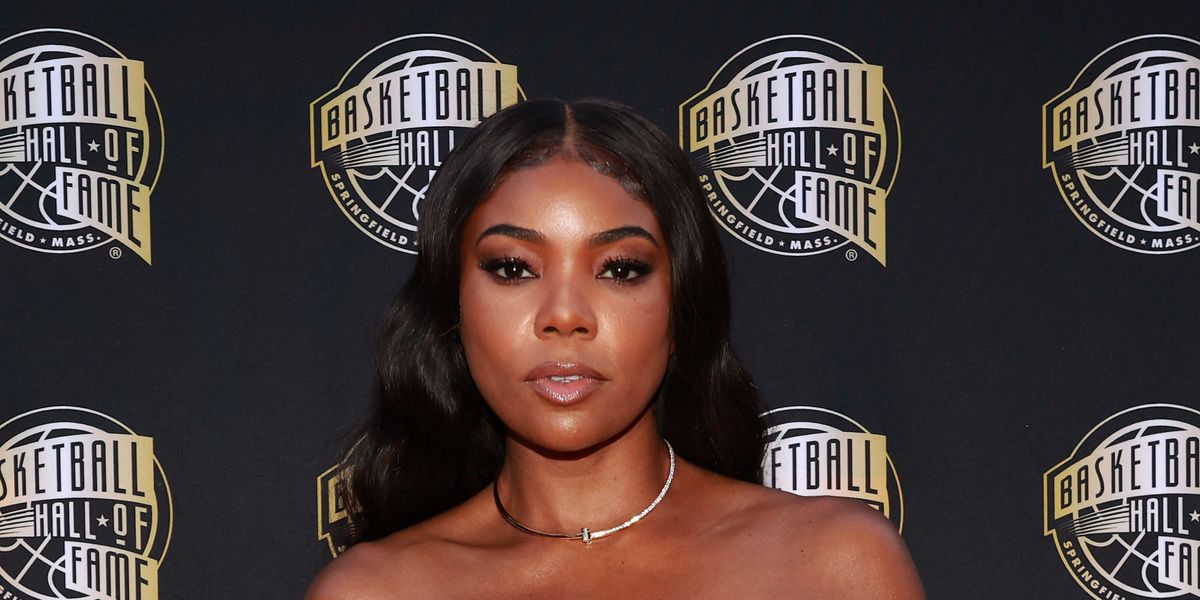 Whenever Gabrielle Union graces the movie screen, she immediately commands attention. From her unforgettable scenes in films like Bring It On and Two Can Play That Game to her most recent film, in which she stars and produces Netflix's The Perfect Find , there's no denying that she is that girl.
Off-screen, she uses that power for good by sharing her trials and tribulations with other women in hopes of helping those who may be going through the same things or preventing them from experiencing them altogether. Recently, the Flawless by Gabrielle Union founder partnered with Clearblue to speak at the launch of their Menopause Stage Indicator, where she also shared her experience with being perimenopausal.
In a xoNecole exclusive, the iconic actress opens up about embracing this season of her life, new projects, and overall being a "bad motherfucker." Gabrielle reveals that she was 37 years old when she was diagnosed with perimenopause and is still going through it at 51 years old. Mayo Clinic says perimenopause "refers to the time during which your body makes the natural transition to menopause , marking the end of the reproductive years."
"I haven't crossed over the next phase just yet, but I think part of it is when you hear any form of menopause, you automatically think of your mother or grandmother. It feels like an old-person thing, but for me, I was 37 and like not understanding what that really meant for me. And I don't think we focus so much on the word menopause without understanding that perimenopause is just the time before menopause," she tells us.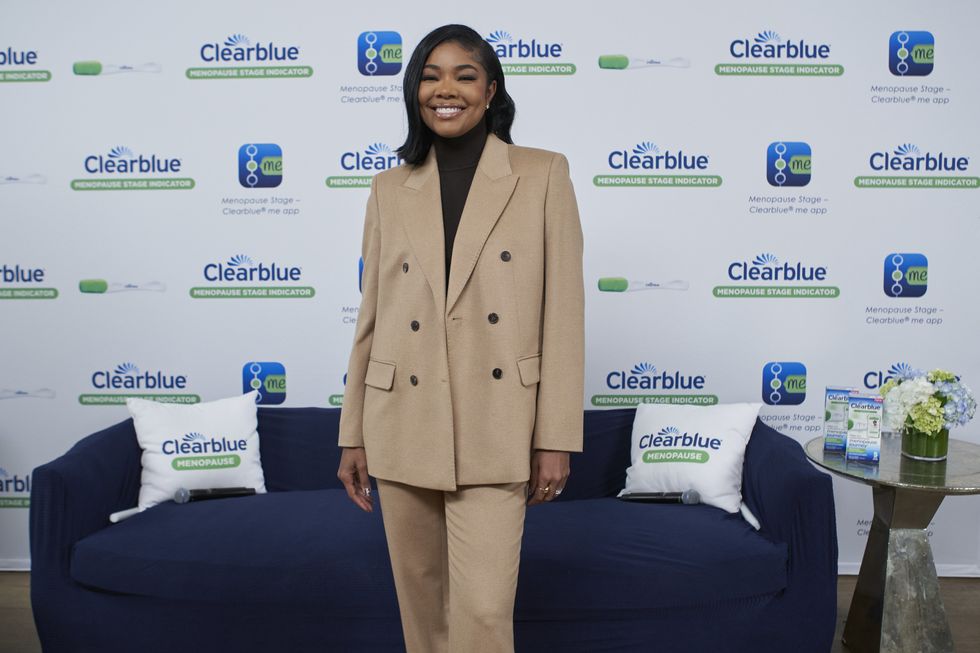 Gabrielle Union
Photo by Brian Thomas
"But you can experience a lot of the same things during that period that people talk about, that they experienced during menopause. So you could get a hot flash, you could get the weight gain, the hair loss, depression , anxiety , like all of it, mental health challenges , all of that can come, you know, at any stage of the menopausal journey and like for me, I've been in perimenopause like 13, 14 years. When you know, most doctors are like, 'Oh, but it's usually about ten years, and I'm like, 'Uhh, I'm still going (laughs).'"
Conversations about perimenopause, fibroids, and all the things that are associated with women's bodies have often been considered taboo and thus not discussed publicly. However, times are changing, and thanks to the Gabrielle's and the Tia Mowry 's, more women are having an authentic discourse about women's health. These open discussions lead to the creation of more safe spaces and support for one another.
"I want to be in community with folks. I don't ever want to feel like I'm on an island about anything. So, if I can help create community where we are lacking, I want to be a part of that," she says. "So, it's like there's no harm in talking about it. You know what I mean? Like, I was a bad motherfucker before perimenopause. I'm a bad motherfucker now, and I'll be a bad motherfucker after menopause. Know what I'm saying? None of that has to change. How I'm a bad motherfucker, I welcome that part of the change. I'm just getting better and stronger and more intelligent, more wise, more patient, more compassionate, more empathetic. All of that is very, very welcomed, and none of it should be scary."
The Being Mary Jane star hasn't been shy about her stance on therapy . If you don't know, here's a hint: she's all for it, and she encourages others to try it as well. She likens therapy to dating by suggesting that you keep looking for the right therapist to match your needs. Two other essential keys to her growth are radical transparency and radical acceptance (though she admits she is still working on the latter).
"I was a bad motherfucker before perimenopause. I'm a bad motherfucker now, and I'll be a bad motherfucker after menopause. Know what I'm saying? None of that has to change. How I'm a bad motherfucker, I welcome that part of the change."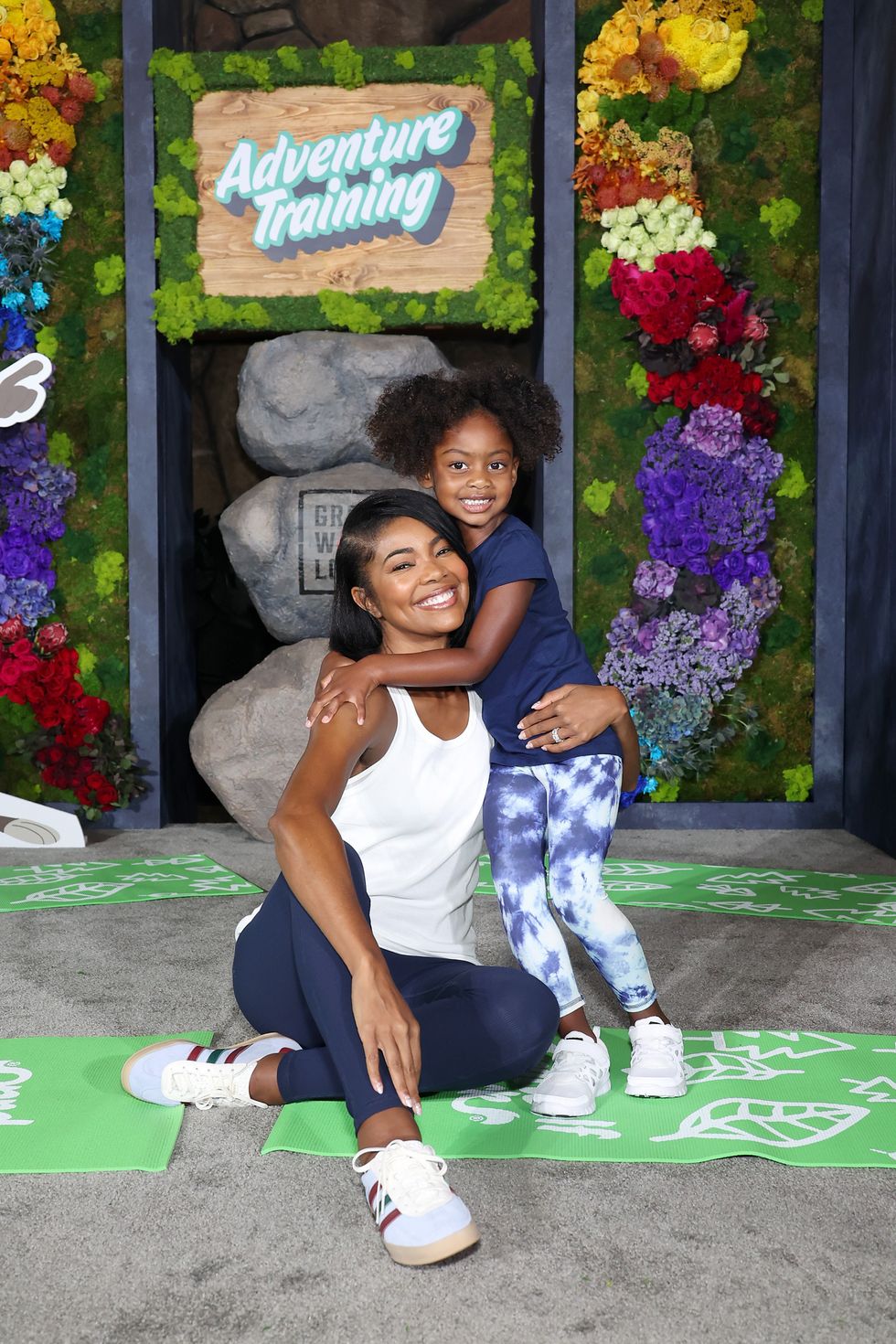 Gabrielle Union and Kaavia Union-Wade
Photo by Monica Schipper/Getty Images
"I hope that a.) you recognize that you're not alone. Seek out help and know that it's okay to be honest about what the hell is happening in your life. That's the only way that you know you can get help, and that's also the only other way that people know that you are in need if there's something going on," she says, "because we have all these big, very wild, high expectations of people, but if they don't know what they're actually dealing with, they're always going to be failing, and you will always be disappointed. So how about just tell the truth, be transparent, and let people know where you are. So they can be of service, they can be compassionate."
Gabrielle's transparency is what makes her so relatable, and has so many people root for her. Whether through her TV and film projects, her memoirs, or her social media, the actress has a knack for making you feel like she's your homegirl. Scrolling through her Instagram, you see the special moments with her family, exciting new business ventures , and jaw-dropping fashion moments. Throughout her life and career, we've seen her evolve in a multitude of ways. From producing films to starting a haircare line to marriage and motherhood , her journey is a story of courage and triumph. And right now, in this season, she's asking, "What's next?"
"This is a season of discovery and change. In a billion ways," says the NAACP Image Award winner. "The notion of like, 'Oh, so and so changed. They got brand new.' I want you to be brand new. I want me to be brand new. I want us to be always constantly growing, evolving. Having more clarity, moving with different purpose, like, and all of that is for me very, very welcomed."

"I want you to be brand new. I want me to be brand new. I want us to be always constantly growing, evolving. Having more clarity, moving with different purpose, like, and all of that is for me very, very welcomed."
She continues, "So I'm just trying to figure out what's next. You know what I mean? I'm jumping into what's next. I'm excited going into what's next and new. I'm just sort of embracing all of what life has to offer."
Look out for Gabrielle in the upcoming indie film Riff Raff , which is a crime comedy starring her and Jennifer Coolidge, and she will also produce The Idea of You , which stars Anne Hathaway.
Feature image by Mike Lawrie/Getty Images

Entrepreneur and community curator Chanise Robinson moved from her hometown of Seattle, Washington, to Los Angeles in 2015 for the life she'd always envisioned for herself.
From a young age, she knew her dreams were too big for the Emerald City so after a quick trip to southern California it was only a matter of time before she called it home. "I've always wanted to leave Seattle. There wasn't enough culture for me, and having grown up there, I knew every Black person, whether it was from school or church," says Robinson. Immediately after obtaining her Bachelor's degree from the University of Washington, it was then she decided it was time to make her move. "I exhausted all the options, opportunities , and resources I thought I could get from living there and knew I had to leave eventually."
After graduating from her Alma Mater as a first-generation college student, she chose to continue her education , completing her master's degree at USC. After entering the corporate world , she noticed a lack of information sharing within the Black community, which led to a strong desire to gather community peers, leaders, and experts through sit-down panel discussions. "In corporate spaces , white people are talking and sharing ideas with each other behind closed doors, and I felt Black people didn't have that same network, so I created that space where I saw the gap."
"In corporate spaces, white people are talking and sharing ideas with each other behind closed doors, and I felt Black people didn't have that same network, so I created that space where I saw the gap."
Receiving a little motivation from a friend, Conversations with Chanise was created in 2018 with the goal of hosting professional events people could resonate with. "A lot of the time, industry panels can feel dry and disconnected from our culture and community, so I wanted to build that network myself, using it as a platform for others to find knowledge, information, and resources needed to navigate corporate spaces, tools that I didn't have."
Featured image courtesy