Serena Williams is a superhero by all definitions and has proven that by using her most vulnerable moments to inspire us all. The Queen of Bounce Backs herself recently announced that she would have to forfeit her match against Maria Sharapova in this year's French Open due to a severe pectoral injury that occurred during one of her recent matches in Europe. She said in a press conference:
"The fact that I physically can't serve at all is a good indication that maybe I should just go back to the drawing board and stay positive and try to get better and not get it to a point where it could be a lot worse."
Her announcement was followed by an Instagram post that read:
"You always live to fight for another chance. I've done a lot of fighting and this is just the beginning. Thank you a for the support. I love you"
This year's match was highly anticipated, given the fact that Maria and Serena's rivalry has been highly popularized in the media over the years and they haven't faced off head-to-head since Maria's doping ban in 2016. Serena said:
"I love playing Maria. Her game matches so well against mine."
Serena was understandably disappointed, but not defeated. She spent a multitude of time away from her daughter and husband to prepare for a moment that was seemingly snatched away from her in an instant. But nevertheless, she persisted.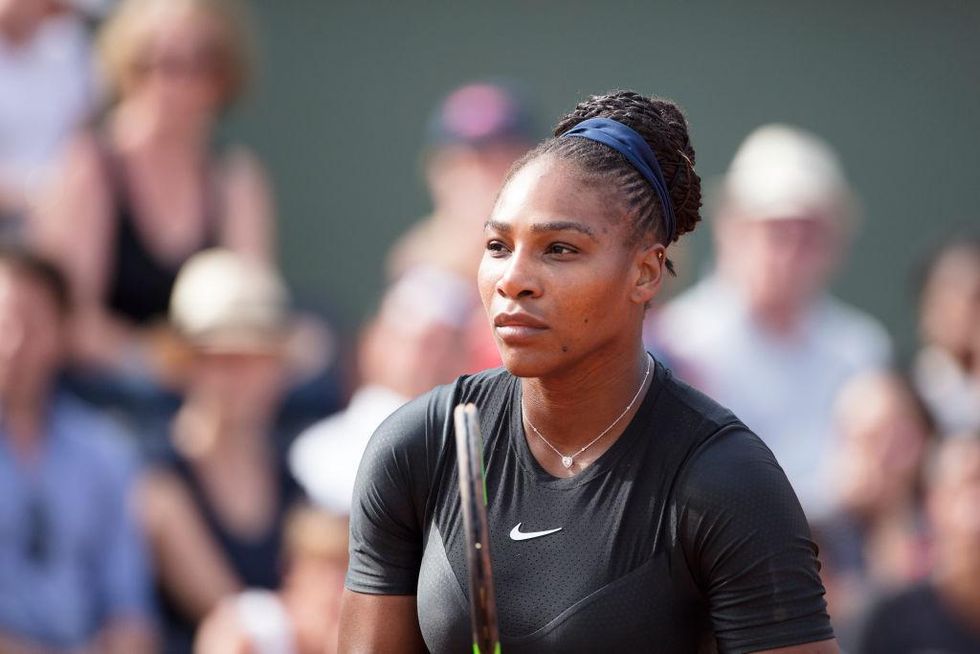 Tim Clayton/Corbis via Getty Images
Serena is proof that you can't hold a real woman down, and she reminds us of the powerful art of turning tragedy into triumph. In the past, Serena has struggled with postpartum depression, endured heinous and racist transgressions against her by the media, and fought her way to the top of a male-dominated sport despite those factors.

The 36-year-old athlete and mother reminds us that our strength sometimes lies in our ability to shake back after a bump in the road. Most of us, including myself, tend to look at life's missteps as life altering, earth shattering mistakes that can stand to diminish our process for good. But Serena is a testament that bumps in the road don't necessarily mean the end of our journey.
Today, Serena was scheduled to meet with a doctor, and she shared this news with her fans via ESPN:
"So today has been interesting already. I just finished one exam with one doctor and the news was actually super exciting so I'm really happy about that."
"I'm having an MRI soon but I wanted to keep you guys totally updated. While I wait, I clean because cleaning gives me calm and peace but thanks for the support and love and understanding. It's been incredibly frustrating but also I'm excited because I feel like I've been playing really, really well and I can only go up and I'm looking so forward to going up.
"Hopefully you guys can be there to continue to keep cheering me on. I love you guys."
Like Serena, we have to heed life's seasons because everything will work out in due time. We have to remember that when we face obstacles, they are usually preparing us for opportunity. Serena taught me to use life's tests to create my own testimony.
Featured image by Tim Clayton/Corbis via Getty Images