---
Approximately 7.5 million African-Americans have a diagnosed mental illness, and up to 7.5 million more are potentially navigating life undiagnosed. African-American women are over-represented in these statistics, as a result of racism , sexism, microaggressions in the workplace, low-income jobs, predisposed health conditions, and multiple role responsibilities, all of which impact their overall mental health.
In recent years, the tide has shifted when discussing therapy and mental health. African-Americans are now more likely to seek out therapists, but not without difficulty in searching for Black/brown mental health clinicians. Dr. Joy Harden Bradford , Atlanta-based psychologist founded Therapy For Black Girls , a directory of resources and mental health professionals for Black women. What started as a Google doc is now a database of over 800 therapists, Therapy For Black Girls (the website, and podcast of the same name) has become the destination for Black women looking to find a therapist.
Recently, I spoke with Dr. Joy and asked ways that we can put our mental health first today and beyond. Here are the gems she dropped.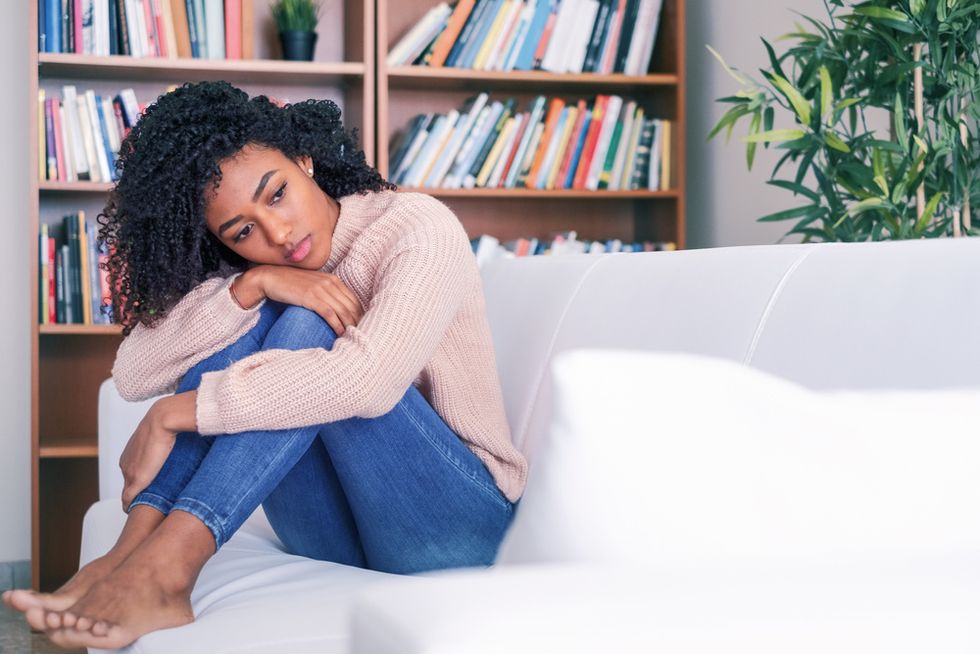 Shutterstock
Carving out some time for solitude.
"Make sure you're setting aside time daily for journaling, meditation , or prayer. We need to make sure that we're allowing ourselves that time to tune into our thoughts, and how we're feeling in order to access how we're showing up for ourselves, and others."
Get your body moving.
"Physical activity is paramount. You need to keep your body [active] with whatever exercise makes you feel good (cardio, dance class, yoga, etc.) so that you can release those feel-good hormones called endorphins."
Paying attention to sleep.
"Far too often, we don't take into account how rest is related to our mental health. Studies have shown that 6-8 hours of sleep every night improves brain functionality, your muscles have the opportunity to recover, and your memory is processed and stored for learning. Getting enough sleep also allows you to feel energized and helps enhance your concentration."
Stay off your phone at least an hour before bedtime.
"Allowing your brain time to shut down before you go to bed. When you're scrolling before bedtime, your mind stays active, and long after you've put your phone down to go to sleep"
When police brutality videos surface online, don't watch them.
"I understand that we're posting in an attempt to bring awareness, I also want you to reconsider what's happening. Because many of us are desensitized to those videos, we don't realize how they can impact us mentally. I think people need to know that you can still show solidarity and advocate while not sharing those videos that can trigger you. Also, consider turning off the autoplay button on your social media channels so that they don't just appear on your feed."
For those in therapy, remember that your work is for you.
"As a community, we often want to help one another, especially as it relates to healing (and even exploring therapy) but you need to remember that your work, is for you. And while it can be great for you to share what you're learning with your loved ones, and how helpful it's been for you, we have to remember that we are ultimately only responsible for ourselves."
Want to talk more about beauty, wellness & self-care? Join the xoTribe members community to connect with other like-minded women on their glow-up journeys.
Featured image by Shutterstock
Yasmine Jameelah
Dubbed one of the "21 Black Women Wellness Influencers You Should Follow" by Black + Well, Yasmine Jameelah continues to leave her digital footprint across platforms ranging from Forever 21 Plus, Vaseline, and R29 Unbothered discussing all things healing and body positivity. As a journalist, her writing can be found on sites such as Blavity, Blacklove.com , and xoNecole. Jameelah is also known for her work shattering unconventional stigmas surrounding wellness through her various mediums, including her company Transparent Black Girl. Find Yasmine @YasmineJameelah across all platforms.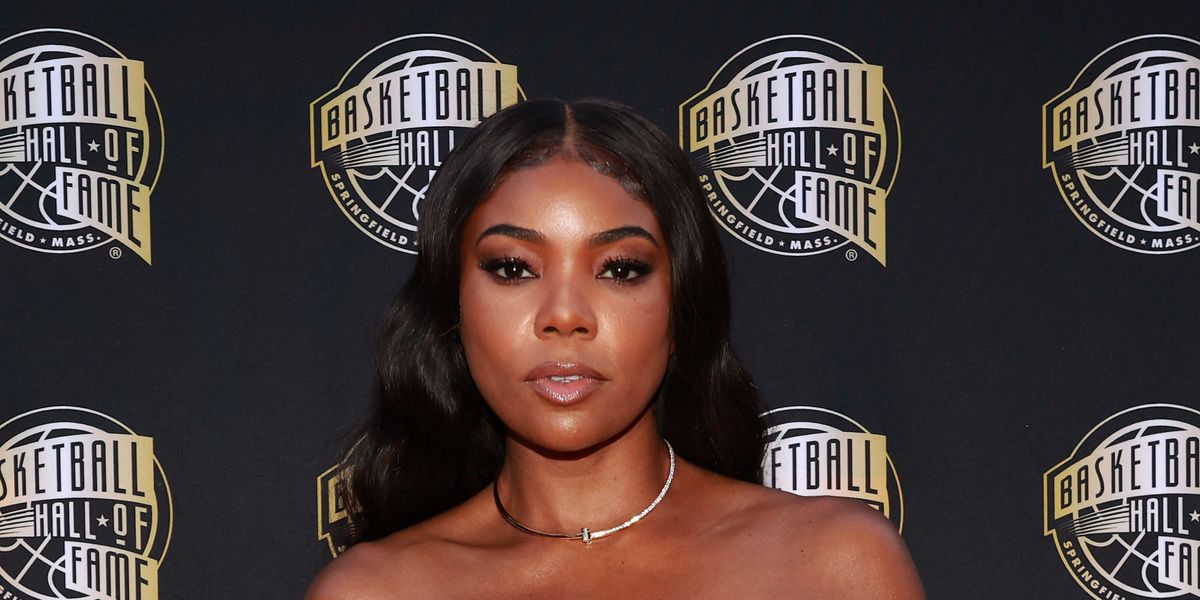 Whenever Gabrielle Union graces the movie screen, she immediately commands attention. From her unforgettable scenes in films like Bring It On and Two Can Play That Game to her most recent film, in which she stars and produces Netflix's The Perfect Find , there's no denying that she is that girl.
Off-screen, she uses that power for good by sharing her trials and tribulations with other women in hopes of helping those who may be going through the same things or preventing them from experiencing them altogether. Recently, the Flawless by Gabrielle Union founder partnered with Clearblue to speak at the launch of their Menopause Stage Indicator, where she also shared her experience with being perimenopausal.
In a xoNecole exclusive, the iconic actress opens up about embracing this season of her life, new projects, and overall being a "bad motherfucker." Gabrielle reveals that she was 37 years old when she was diagnosed with perimenopause and is still going through it at 51 years old. Mayo Clinic says perimenopause "refers to the time during which your body makes the natural transition to menopause , marking the end of the reproductive years."
"I haven't crossed over the next phase just yet, but I think part of it is when you hear any form of menopause, you automatically think of your mother or grandmother. It feels like an old-person thing, but for me, I was 37 and like not understanding what that really meant for me. And I don't think we focus so much on the word menopause without understanding that perimenopause is just the time before menopause," she tells us.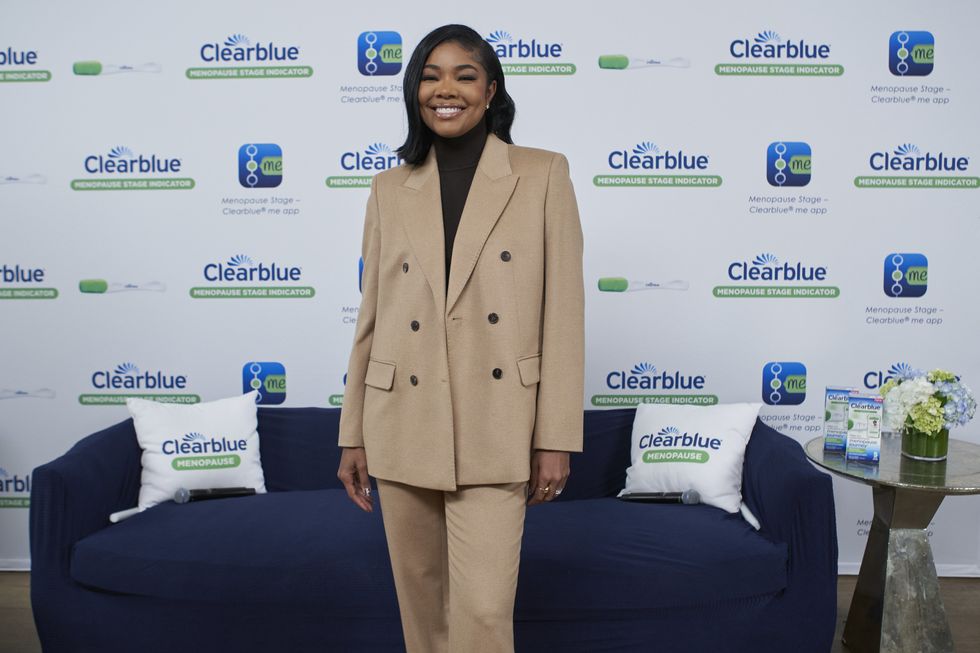 Gabrielle Union
Photo by Brian Thomas
"But you can experience a lot of the same things during that period that people talk about, that they experienced during menopause. So you could get a hot flash, you could get the weight gain, the hair loss, depression , anxiety , like all of it, mental health challenges , all of that can come, you know, at any stage of the menopausal journey and like for me, I've been in perimenopause like 13, 14 years. When you know, most doctors are like, 'Oh, but it's usually about ten years, and I'm like, 'Uhh, I'm still going (laughs).'"
Conversations about perimenopause, fibroids, and all the things that are associated with women's bodies have often been considered taboo and thus not discussed publicly. However, times are changing, and thanks to the Gabrielle's and the Tia Mowry 's, more women are having an authentic discourse about women's health. These open discussions lead to the creation of more safe spaces and support for one another.
"I want to be in community with folks. I don't ever want to feel like I'm on an island about anything. So, if I can help create community where we are lacking, I want to be a part of that," she says. "So, it's like there's no harm in talking about it. You know what I mean? Like, I was a bad motherfucker before perimenopause. I'm a bad motherfucker now, and I'll be a bad motherfucker after menopause. Know what I'm saying? None of that has to change. How I'm a bad motherfucker, I welcome that part of the change. I'm just getting better and stronger and more intelligent, more wise, more patient, more compassionate, more empathetic. All of that is very, very welcomed, and none of it should be scary."
The Being Mary Jane star hasn't been shy about her stance on therapy . If you don't know, here's a hint: she's all for it, and she encourages others to try it as well. She likens therapy to dating by suggesting that you keep looking for the right therapist to match your needs. Two other essential keys to her growth are radical transparency and radical acceptance (though she admits she is still working on the latter).
"I was a bad motherfucker before perimenopause. I'm a bad motherfucker now, and I'll be a bad motherfucker after menopause. Know what I'm saying? None of that has to change. How I'm a bad motherfucker, I welcome that part of the change."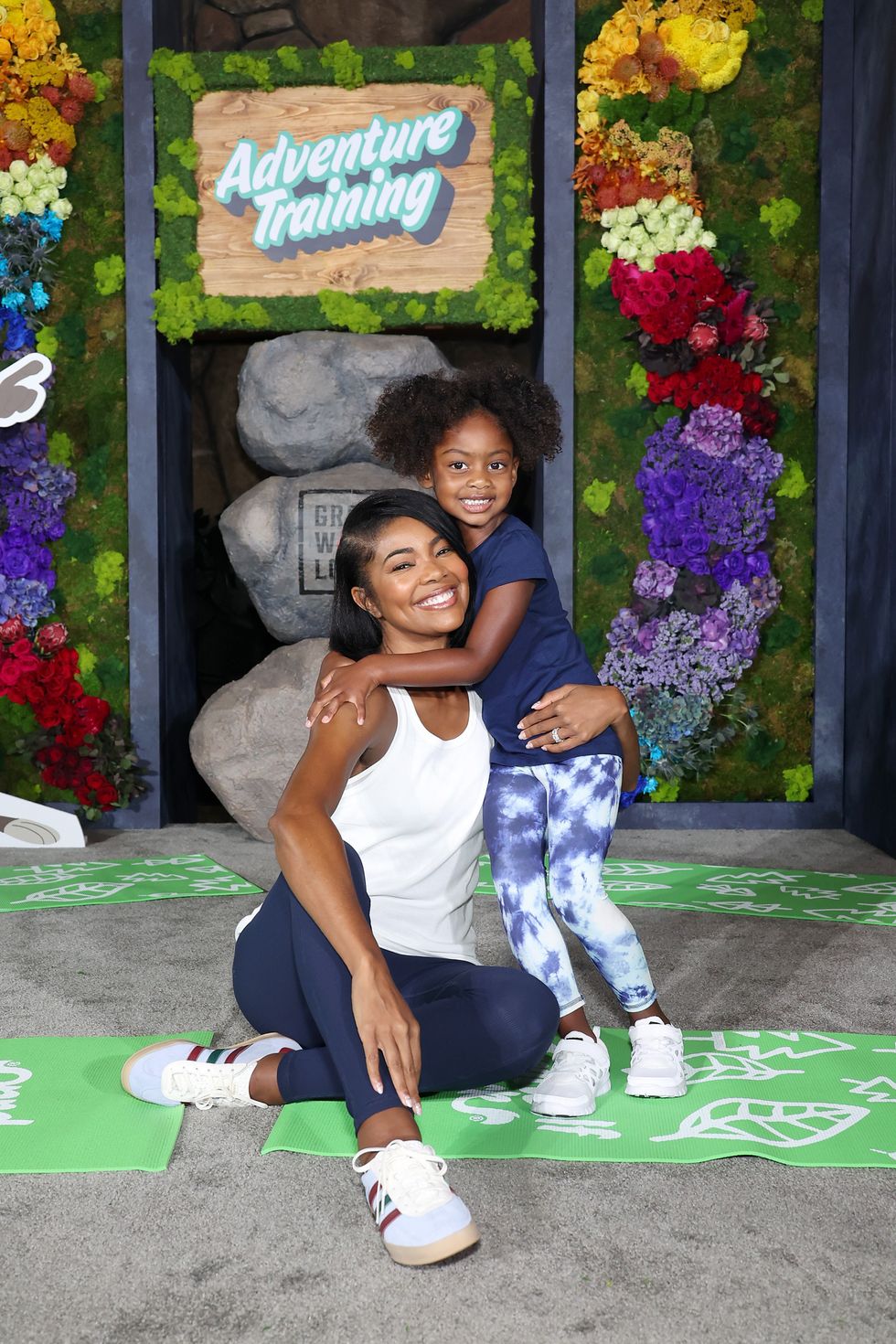 Gabrielle Union and Kaavia Union-Wade
Photo by Monica Schipper/Getty Images
"I hope that a.) you recognize that you're not alone. Seek out help and know that it's okay to be honest about what the hell is happening in your life. That's the only way that you know you can get help, and that's also the only other way that people know that you are in need if there's something going on," she says, "because we have all these big, very wild, high expectations of people, but if they don't know what they're actually dealing with, they're always going to be failing, and you will always be disappointed. So how about just tell the truth, be transparent, and let people know where you are. So they can be of service, they can be compassionate."
Gabrielle's transparency is what makes her so relatable, and has so many people root for her. Whether through her TV and film projects, her memoirs, or her social media, the actress has a knack for making you feel like she's your homegirl. Scrolling through her Instagram, you see the special moments with her family, exciting new business ventures , and jaw-dropping fashion moments. Throughout her life and career, we've seen her evolve in a multitude of ways. From producing films to starting a haircare line to marriage and motherhood , her journey is a story of courage and triumph. And right now, in this season, she's asking, "What's next?"
"This is a season of discovery and change. In a billion ways," says the NAACP Image Award winner. "The notion of like, 'Oh, so and so changed. They got brand new.' I want you to be brand new. I want me to be brand new. I want us to be always constantly growing, evolving. Having more clarity, moving with different purpose, like, and all of that is for me very, very welcomed."

"I want you to be brand new. I want me to be brand new. I want us to be always constantly growing, evolving. Having more clarity, moving with different purpose, like, and all of that is for me very, very welcomed."
She continues, "So I'm just trying to figure out what's next. You know what I mean? I'm jumping into what's next. I'm excited going into what's next and new. I'm just sort of embracing all of what life has to offer."
Look out for Gabrielle in the upcoming indie film Riff Raff , which is a crime comedy starring her and Jennifer Coolidge, and she will also produce The Idea of You , which stars Anne Hathaway.
Feature image by Mike Lawrie/Getty Images
Sex & Love - Home Page
Nov 17, 2023 18:00 PM EST

If you've ever considered role-playing in the bedroom but are trying to figure out how to bring it up to your partner, you're in the right place. It's an exciting way to ignite passion, deepen intimacy, and explore hidden desires. But for couples who are new to the kink, the thought of role-play might be intimidating.
Role-playing is an intimate, consensual activity where couples assume fictional personas in the bedroom. These characters can range from the playful and innocent to the bold and naughty. They engage in different scenarios and act out various fantasies, which are discussed beforehand.
"Role play encourages couples to discuss their desires, boundaries , and fantasies. It fosters open and honest communication about their sexual preferences, leading to a deeper understanding of each other's needs," MoAndra Johnson, MFT, said. "It keeps the spark alive in the relationship by introducing new and exciting elements to the intimate moments."
Johnson is a Sex and Relationship Therapist and founder of Sex On The Table (SOTT), LLC. She passionately advocates for healthy sexuality, positive relationships, and social justice. She spoke with xoNecole to explore the realm of role-playing: how to bring it up to your partner, misconceptions, and how to incorporate role-playing into your sex life successfully.
How to Bring Up the Idea of Role-Play
When introducing role-play in the bedroom to your partner, it's essential to set the stage for an open and honest conversation. Find a relaxed, private setting where you both feel comfortable and free from distractions. Feel free to share your interest in role-playing, highlighting the excitement and sense of adventure it can bring to your relationship. Encourage your partner to express their thoughts and feelings, assuring them that their desires and boundaries are equally important.
"Many couples worry that their partner might judge them for their fantasies or desires. A non-judgmental and open environment is crucial for role-play. Couples need to create a safe space to share their fantasies and understand that vulnerability is a part of healthy intimacy," Johnson explained.
"Role-playing can serve as a form of escapism from the stresses of daily life. It provides an opportunity to temporarily step away from real-world responsibilities and enjoy a playful, stress-free experience," she continued.
Johnson mentioned that this initial conversation is "a foundation for trust and understanding."
The Misconceptions of Role-Play
Misconceptions about bedroom role-play often revolve around the idea that it must be overly complicated or extravagant, like something from a Hollywood movie. People might think they need elaborate costumes , props, and intricate dialogue, which can feel intimidating.
In reality, role-play can be as simple or intricate as you and your partner want it to be. You can start with basic scenarios that require little to no preparation, such as a playful encounter with a sexy twist. It can be tailored to your preferences and comfort levels, making it an accessible and enjoyable tool for spicing up your intimate life.
"Couples often have common concerns and misconceptions about role-play when considering it part of their intimate lives. Addressing these concerns and misconceptions in therapy involves open and honest discussions, education about healthy role-play, and creating a safe and supportive space for couples to explore their desires and fantasies ," said Johson. "It's important to emphasize that there is no one-size-fits-all approach, and the most crucial element is mutual consent, comfort, and enjoyment."
Johnson shared that some of the more common misconceptions she addresses with couples are performance pressure, negative impact on the relationship, and fear of crossing boundaries.
"For instance, couples may worry about performing well in their roles. I remind them that there is no need for perfection in role-play. It's about creating an enjoyable and fulfilling experience, not putting on a flawless performance," Johnson explained.
How to Successfully Pull Off Role-Playing in the Bedroom
The fun begins once both parties mutually agree on trying the act of role-play and boundaries are set.
"I strongly recommend setting specific boundaries and guidelines before engaging in role-play to ensure a positive and enjoyable experience for both partners. Open and honest communication is essential; candidly discuss your comfort levels, desires, and limits. Establishing safe words that can immediately halt the role-play if anyone feels uncomfortable is crucial. Consent should be enthusiastic and can be withdrawn at any point without judgment," Johnson stated.
Furthermore, maintaining emotional safety is paramount in any intimate exploration. Role-play often involves vulnerability, and you should both feel secure in expressing your desires and boundaries without judgment. It fosters trust and strengthens the bond between you and your partner.
"Emotional boundaries should be respected, especially if the role-play scenario involves sensitive topics. Be clear about the limits of the role-play, including what actions or behaviors are acceptable and what is off-limits." Johnson added.
Next, choose scenarios that excite both of you and align with your preferences and fantasies. The selection of costumes and props enhances the overall experience by adding an extra layer of excitement and authenticity to your role-play scenarios.
Johnson mentioned that if physical restraints or props are involved, prioritize physical safety to prevent accidents.
As you engage in role-play, fully immerse yourselves in the chosen roles. Let go of inhibitions and self-consciousness, allowing the experience to be playful and enjoyable. Once again, the goal is not to perform flawlessly but to create a shared adventure that brings you closer.
Aftercare
When the moment is over, remember to practice aftercare.
"After the role-play, debrief and discuss the experience to strengthen your connection and understanding. Regular check-ins during the role-play can confirm ongoing consent and comfort. Keep the contents of your role-play private and emphasize trust and support. Most importantly, practice aftercare to provide emotional support, reaffirm affection, and address emotional needs," said Johnson.
She revealed that aftercare includes cuddling, holding, pillow talk, sensual talk, and more.
"Overall, it just means you aren't taking each other for granted. You're showing your partner you care and are now at least slightly more deeply connected with them than before you had sex," Johnson added.
Feature Image by PeopleImages/ Getty Images