---
Somewhere along the line in these adulthood streets, skincare became more of a lifestyle than a routine and the same is true for 27-year-old rap artist, Destiny Frasqueri, popularly known as Princess Nokia, who has a skincare routine fit for a goddess.
Voguerecently pulled up on the New York-based artist, who spilled all the details on the products she uses to get her issues with eczema and discoloration all the way together, and according to her, her beauty regimen is one that starts from the inside-out. In the video, she explained:
"The value of a woman is not based on her outward appearance. So if you've got acne, if you have got lines—girl, I got them too! Embrace your lines. Embrace the wrinkles. Embrace the discoloration, because what else are you going to do?"

Along with embracing what others may see as imperfections, the "Balenciaga" rapper says highlighting her natural freckles and incorporating coffee into her weekly self-care routine make her skin a winner every damn day. Scroll below to learn more!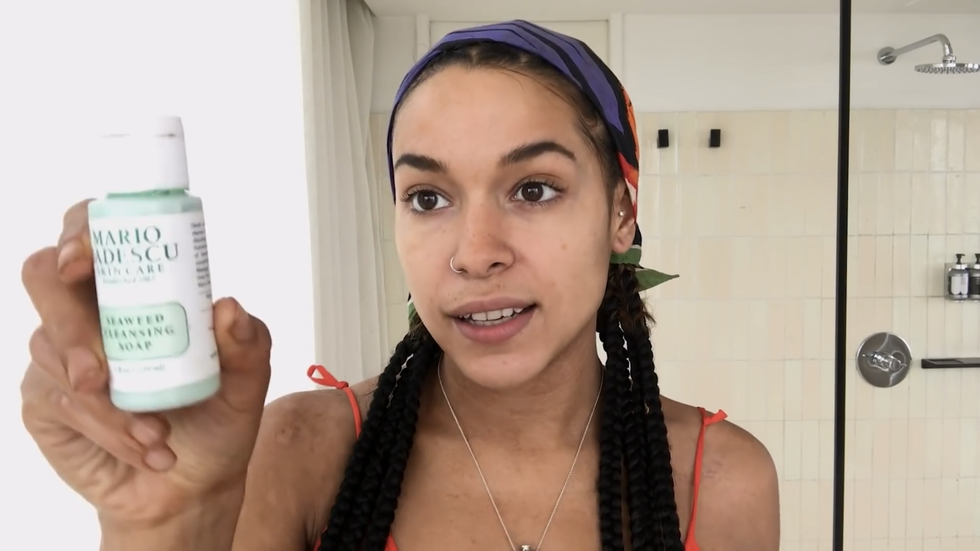 Vogue/YouTube
No matter what time this Puerto Rican Princess makes it in from a long night out, she never forgets to wash her face and her makeup remover of choice is Mario Badescu's Seaweed Cleansing Soap.
"A lot of people go to sleep with their makeup still on or halfway on are not taken off properly. And that is probably the biggest mistake you can make with skincare. So you always have to make sure that the dirt in your pores [is] properly removed. I don't care if I've been out till like seven in the morning, you best believe I'm taking this makeup off."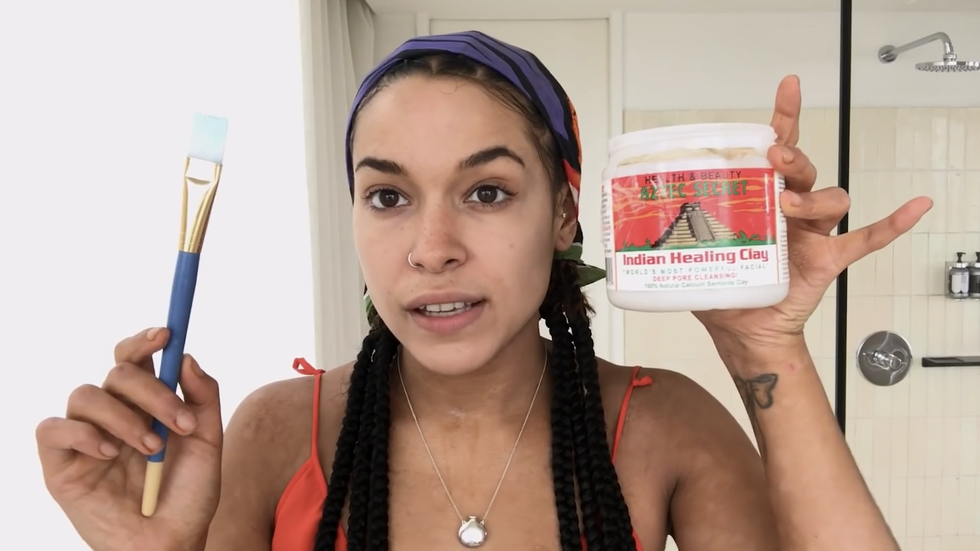 Vogue/YouTube
After using her Clarisonic facial brush and applying ice to de-puff, she creates a DIY mask using a spatula and an Aztec clay powder that and both she and Winnie Harlow swear by.
"Usually, when I wake up, I take ice and I de-puff my skin and I specifically go under my eyes and on my eyelids cause that's where I get puffy the most. I've got my Aztec face mask clay; this is for deep pore cleansing and then I use a paintbrush to distribute it."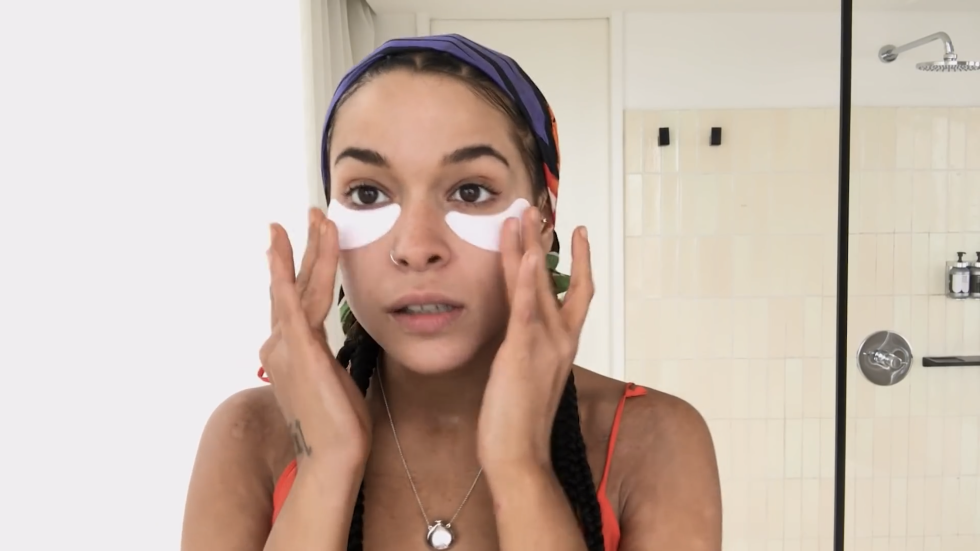 Vogue/YouTube
"Honey, you're doing yourself a service. Collagen helps maintain and preserve the elasticity in your face. The more collagen, the better. There is such a thing as too much collagen. We won't get into that. Honey, you will catch me with these on a train, on a bus. I've been in first class with these on like, 'yes, I will have a wine'."
Mario Badescu Facial Spray with Aloe, Chamomile and Lavender ($7)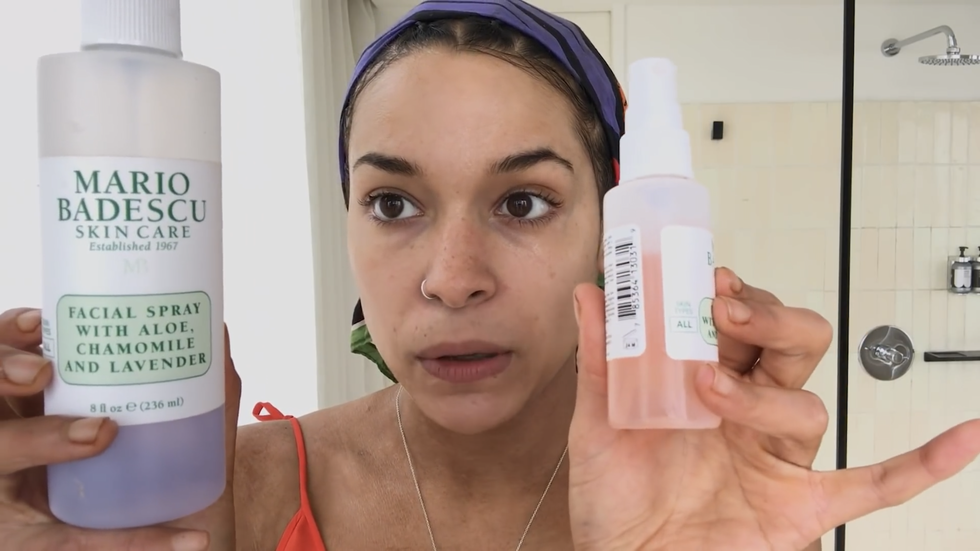 Vogue/YouTube
The artist also noted that Chamomile and Aloe have been perfect for getting her body eczema and discoloration all the way together:
"I suffer from severe skin discoloration and eczema, so my skin gets really patchy in the winter, especially on my body. I'm very lucky—thank Goddess and Beyoncé—that I haven't had it on my face."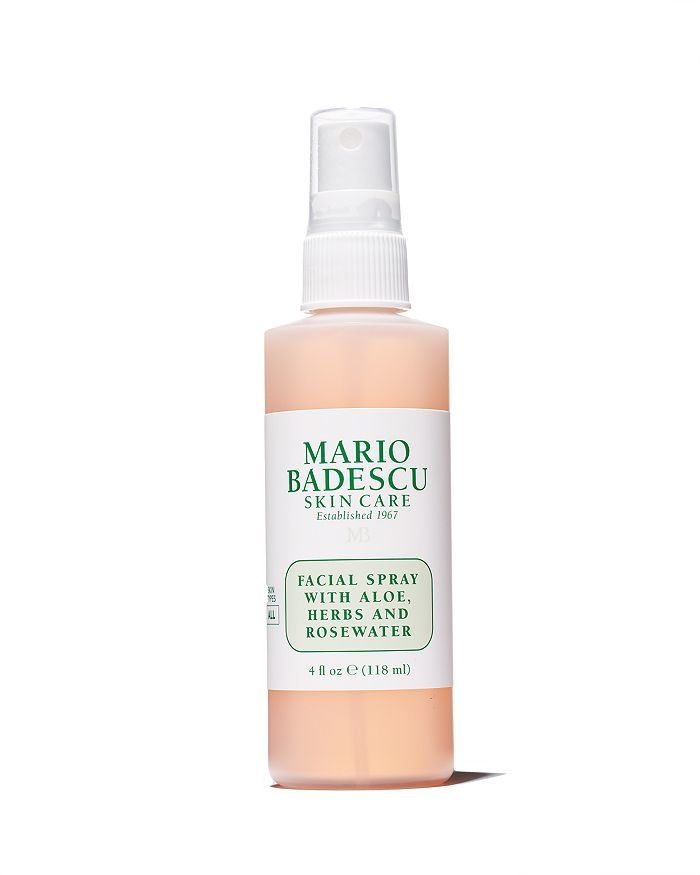 Amazon
"The Rose helps make me feel delicious and juicy and fertile."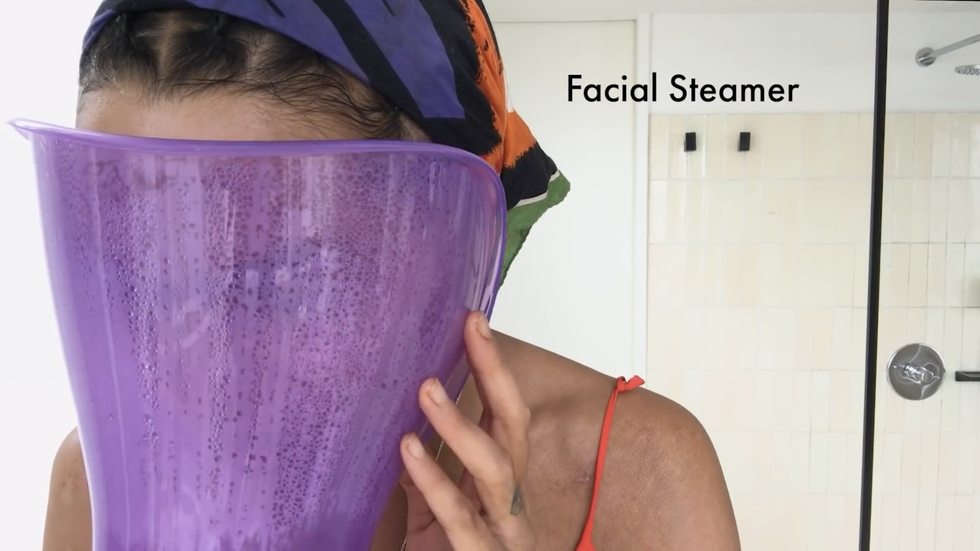 Vogue/YouTube
The at-home spa of your dreams could lie in a one-click purchase on Amazon. Just ask Princess Nokia, who says one of her favorites pastimes after a long week is steaming her face.
"All your stress, maybe all the bad foods that you've eaten during that week, it will all come out."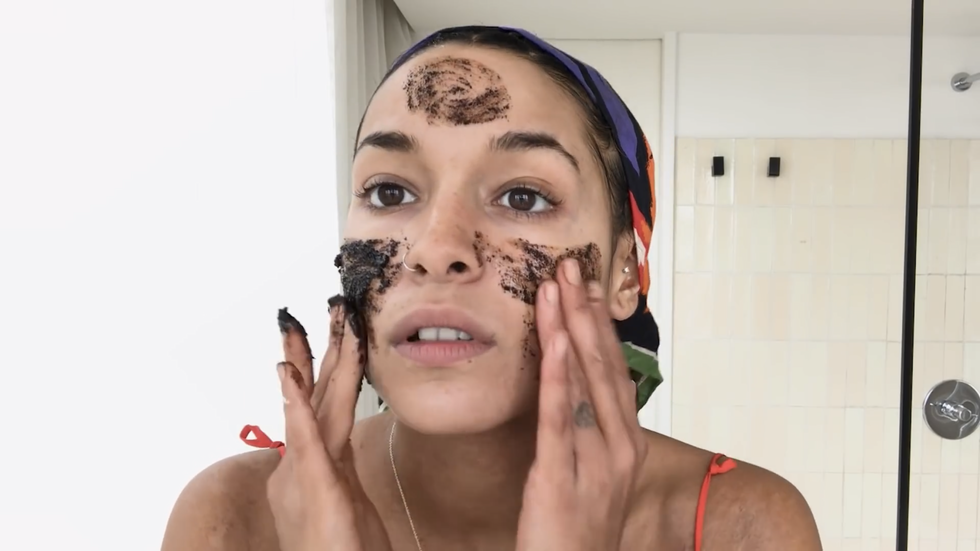 Vogue/YouTube
While drinking coffee may result in jitters, anxiety, and an upset stomach, it might just be the missing link to finally achieving the skincare routine of your dreams. The artist, who mixes it with water and jojoba oil to create the ultimate exfoliant, says that this skincare hack reminds her of home:
"If you're Caribbean or Puerto Rican, you probably know Cafe Bustelo really well. It's an espresso coffee and it's a really dark roast and your grandma probably makes it in the morning for you. And in my country, in Puerto Rico, it's considered a very neighborly thing to drop by people's homes and always offer or have a cup of coffee. So coffee is an integral part of the Caribbean and of the islands and of my culture and I take this into my routine."
For more hacks, watch the full video below!
Princess Nokia's Guide to Getting Goddess Skin | Beauty Secrets | Voguewww.youtube.com
Featured image by Instagram/@PrincessNokia.