---
I like hearing men's perspective on things. So, while watching a video on their hot take on relationships, as I read the comments, I noticed one that said, "There are only three reasons for a man to get married: You hate sex. You hate your money. You hate peace." Ouch.
While I don't agree with that particular hot take (because I know some husbands who truly love being married), it's not like this mentality is coming totally out of the blue. I counsel many couples who are in sexless marriages. It always fascinates me that the majority of divorces are filed by women (somewhere around 80 percent) and a lot of those wives do end up receiving alimony. And when husbands tell me their number one pet peeve in their marital union, nagging always tops the list (there are Scriptures in the Bible to back that up; ones like Proverbs 21:9). So yeah, I get why some men are gun-shy about making a long-term commitment. I really do.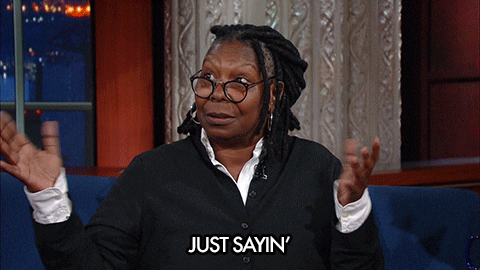 media.giphy.com
When I ran this guy's resolve up the flagpole of some of the men featured in this article, it was interesting what most of them said. To paraphrase everyone's point, "A lot of this is because many marriages start off on the wrong foot. Couples aren't friends. People don't really get what they are signing up for. And a lot of men feel pressured to get married, so they're not really ready when they do it."

Yeah, this point hasn't escaped me either. I actually know several men who said they got married because they were given an ultimatum and/or they proposed but then the wedding date was put on the fast track and/or they loved their significant other but marriage was all that she talked about and so they did it to satisfy (and sometimes pacify) her.
Listen, some of y'all aren't gonna like this piece. A big part of that is because oftentimes, we'd rather decide how a man thinks (or should think) or berate him if it's not what we wanna hear. Yet you'd be amazed by how much bullshishery you can avoid if you'd simply listen to them. You don't have to agree. You don't have to enjoy what you hear either. Still, if you listen to what men are saying, it can give you a different outlook than your girlfriends have which can spare you a lot of frustration and disillusionment. It can also help you to better understand why sometimes we're on one side of the fence and men are totally on another when it comes to certain matters. There's nothing wrong with that. We're designed to be different, and therefore bring about a balance, for a reason.
So, when it comes to jumping the broom and the pressure that some men feel comes with doing that, here are what 10 different men had to say about feeling pressured to get married. Try and avoid going on the defensive. Just hear 'em out, OK?
*Middle names have been used to protect the men's identity. Folks tend to be more candid this way.*
Featured image by Shutterstock