The first time we saw Kiersey Clemons, she was a socially awkward and outcasted high school rocker who was a part of a high profile cryptocurrency drug gang in the feature film Dope. The now 25-year-old actress recently garnered a lead role in the upcoming movie, Hearts Beat Loud about a high school senior torn between going to med school and and pursuing her true passion of singing in a DIY band with her dad.
Kiersey Clemons has made it an effort to pursue roles that most would consider abnormal for young women of color, but it's not on accident. The young actress recently opened up to VIBE about how the pressure to fit into a box of what a "black girl" should be just didn't work for her anymore. Kiersey said that she and the rest of mainstream America are ready to see "Asian women, Latino women, brown girls and women, any women other than a white girl, getting to make the movies that white girls make."
The actress mentioned that part of her inspiration to seek out innovative roles was the number of depictions of strong black women that we are fortunate enough to witness not just in film, but in real life.

"We are in the position where we know that black women are strong and smart; it's 2018. We know that. We have Beyoncé and Michelle Obama and f**king Oprah Winfrey."
Because of these powerful depictions, women of color in the spotlight are often put on a pedestal and expected to be extraordinary. Kiersey says that she is exactly the opposite, but her story is just as important to the conversation.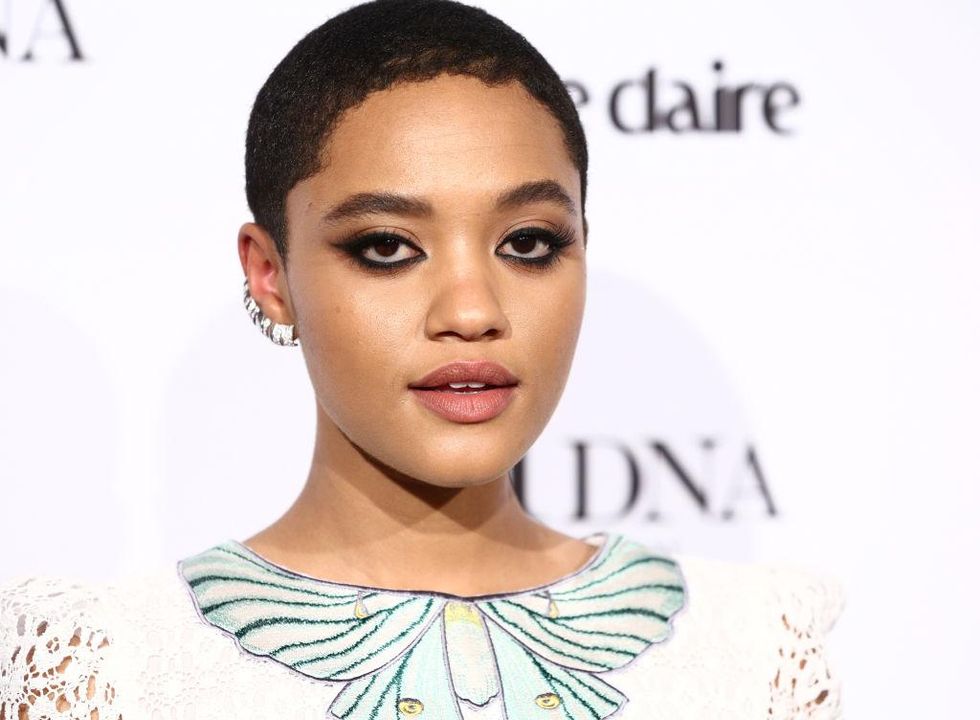 Rich Fury/Getty Images
"I don't want to have to be polished, because I feel like for black girls, you're only allowed to be earth-loving hippie or rebellious, stick it to the man or polished. Like I will politely tell you how I f**king feel, like America's sweetheart. But how come I can't be all of those things? And then if you're the hood girl, everything that you do is extraordinary because we have low expectations. It's the shadiest sh*t."

Shows like Insecure and Dear White People are a part of the culture pushing to portray the three-dimensional aspects of black women, which is a major stride considering that we've been repeatedly locked into a handful of stereotypes. She continued:

"Asian women get no opportunities. Latina women, where are they? I just want to be like, we can f**k around, too. We also freely have sex and it's not because it's a political statement. We also go to parties and drink at the bar and chase guys and girls and do stupid f**king sh*t and regret it the next day. How come we don't get the opportunity to tell those stories? Why do I have to live up to some expectation?"
The Dope actress said that it's important to remember that depictions of ordinary women of color are essential to our narrative as a society simply because these women exist. She said that after her performance as a queer, biracial woman in her first film, these expectations followed her beyond the screen and into her personal life.

"I realize that after Dope, I've just been put into a position of, 'She's strong and pretty and she's young, she's biracial and she's a woman and she's queer, she must be an activist.' I realized that I was being called this thing that I don't want to live up to what we think an activist is because I'm an artist. Activism and art do go hand in hand, but I am an artist and an 'artivist' within that."
Despite outside pressures of what people told her she "should be," she understands that there is only one her.

"I will never be a Yara Shahidi. She is so special and eloquent and forms sentences in a way that I will never be able to and we have separate strengths. I'm not saying she's not an artist, but she is doing something that we all desire that we could be that way and we're just not."
Staying in your own lane will get you to your destination says Kiersey, and we can only do that by being our individual selves. The actress said that the key to surpassing the expectations of the majority, is to discover that we are all truly exceptional together.

"That's the thing about women being exceptional. Love is not exceptional. Care, intuition is not exceptional. People hold all of these great things and what's exceptional is when we get to be together."
To read the full interview, click here.
Featured image by Rich Fury/Getty Images