---
As Told To is a recurring segment on xoNecole where real women are given a platform to tell their stories in first-person narrative as told to a writer.
This is Lindsey Walker's story, as told to Charmin Michelle.
Here I was, walking into the treatment center for the very first time. I was walking as slowly as I could.
The center was unlike anything I could've ever expected, and nothing like what we've seen in the movies. There were so many people there: young, old, some full of joy and hope, others in so much pain you could see it in their eyes. I wondered how everyone had gotten to this point and if it were anything similar to how I had gotten there.

Everything was a blur; I was terrified of what my life was. Or wasn't.
I remember how welcoming the nursing staff and my oncology team were. They were warm and kind, truly concerned about my well-being. They tried their best to prepare me for what was coming my way, but there was nothing they could've said to ease me into the experience to be honest. It all happened so fast...
The Arrival of Cancer
One random day I was on the phone with my friend when suddenly, my breathing was out of sync. I told her something was wrong and that I was having difficulty breathing at all. I hadn't been feeling my best up to this moment and I had been running fevers for an entire week, so she urged me to go the hospital. I immediately called my mom and asked her to take me to the emergency room.
While we were there, they did X-rays on my chest and found a mass sitting directly in front of my heart, which was why I was having trouble breathing. The doctors decided to admit me.
Huh? Admit me?
A mass?
What does that mean?
The next day, the doctors came in to my room and asked me a series of questions. They then decided to do a biopsy to determine a clearer understanding as to what the mass was. Before I knew it, I was being whisked away and prepped for surgery, scared out of my mind. I woke up with a chest tube in my side and I had to do breathing exercises. After about a week, they let me go home as we awaited the results of the biopsy. A few days later, I started running fevers again and had to go back to the hospital and one of the doctors demanded to see my tests. By this time, they had me on the "Unknown Floor"—meaning they didn't know what my diagnosis was.
I was laying in the hospital bed when one of the doctors came in to tell me that I'd been diagnosed with Hodgkin's Lymphoma. The exact date was July 3, 2018. I later found out that it was in Stage IV.
Growing up, I could have never imagined this would be something I would have to battle through, although this wasn't the first experience with complications. Raised by my mother, grandmother and great aunts as an only child, I was born severely premature (my mother had me at 23 weeks), so my family was quite overprotective of me as a child.
So, when I was formally diagnosed, it took me a while to process any emotions, thoughts, and optimism—even with all that I had dealt with in the past.
Chemotherapy is...Hell.
My world transformed into a dream that I just couldn't seem to wake up from. I immediately thought about the fact that I was 27 years old, single, with no children. I wondered what was going to happen to me.
Would I ever be married? Would I have the opportunity to have children?
I thought about everything that I always wanted to do, but hadn't done yet. I thought about my family, my friends. I wondered why God allowed this to happen to me.
Where did I go wrong? Why me?
I wasn't angry at God. I was just hurt and confused. How could I allow my life to get to this point? I felt betrayed. I betrayed myself. I didn't take care of my health as much as I should have, and I allowed myself to be put on the back burner for the sake of my friends and family. I should have been more selfish. But even in the midst of this life-altering situation, I knew that if I was going to make it through, I needed Him by my side—now more than ever.
As I heard the doctor mention chemotherapy as a treatment option, that was the first time my diagnosis hit me, and the first time I cried because of it.
Mainly because I was so against chemotherapy from the start. The day I was diagnosed, my mother and I had a full-blown argument because I didn't want to do chemo, I wanted to heal naturally. She told me that it wasn't an option or up for discussion. She told me that I had to do it. I knew this was real and it wasn't going away on its own or just because I wanted it to.
So, I won't say that I chose chemotherapy—it was chosen for me.

But I am so grateful that my family loved me enough to fight for me when I didn't have the understanding and capacity to make the right decision for myself.
Anyway. Listen guys: to be completely honest, chemotherapy is pure hell. I was stuck with needles multiple times, I sat in pods for hours, uncomfortable and in so much pain. One of the meds that I had to take burned internally as soon as it entered the bloodstream. I experienced various side effects, including mouth sores and a blood clot that hit me so hard I could barely walk.
I learned to prepare my mind for each visit after a while. I would make sure I drank plenty of water so that I could avoid getting stuck more. I would listen to sermons for moral support—it was still tough. But not tougher than me. After twelve chemo rounds, my cancer disappeared.
Ladies, I was cancer-free!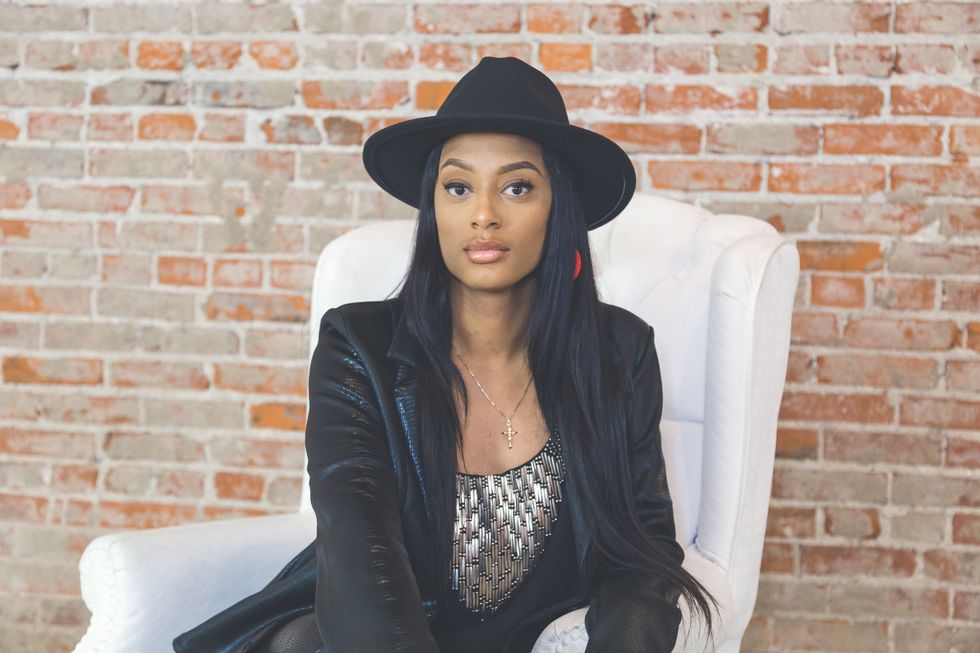 Lindsey Walker
Image via Ashlee Nicole/Artistry Studios
Life as a Survivor
One day, while undergoing treatment, I decided to look up the definition of "cancer". The Greek version literally means "burden." At the time, I'm not sure that I knew that, but I knew that at the same time. I had been carrying the weight of perfection and trying to please other people so much to the point that my burden manifested itself. Even prior to my diagnosis, I was hurting from the pains of my past. And it took my diagnosis to wake me up to that so that I could finally release the things that tried to paralyze me spiritually, mentally and emotionally.
You see, before I had cancer, I didn't think to define it. To me, cancer was just a really bad thing that sometimes good people have to go through. But my diagnosis forced me to look at life in a deeper way; such as the way I treated myself, or how I allowed myself to be treated.
So, this particular "burden" taught me lessons that paralleled everything I ever thought I knew.
On another note, there's so much to be said about our healthcare system today, especially given the current climate. I think more patients need to learn to advocate for themselves concerning their treatment plans, how they are cared for in hospitals, etc. Hospitals must realize that patients are more than just a number, they are people with families and feelings.
Don't be afraid to speak up for yourself, if you feel that something is wrong, despite the doctors orders, say something. And say something yesterday. It can make all the difference in the world. It could save your life.
As for me, I learned to listen to myself and my body. I learned to put myself first and care less about what others had to say about me, my life and my decisions. I learned to love myself for who I am and be gracious to myself. I'd spent most of my life trying to fit into this box that I was never meant to fit in the first place. I learned to give myself permission to be whoever I needed to be for me.
And I learned that I, Lindsey Walker, can defeat all of my burdens. Even if it's cancer.
For more of Lindsey, follow her on Instagram.
Featured image courtesy of Lindsey Walker