---
As Told To is a recurring segment on xoNecole where real women are given a platform to tell their stories in first-person narrative as told to a writer. If you have a story you'd like to share but aren't sure about how to put it into words, contact us at submissions@xonecole.com with the subject "As Told To" for your story to be featured.
This is Ebonie Baxter's story, as told to Charmin Michelle.
My son is five years old and he's had over 100 bone fractures.
Yes, 100.
Byron Baxter Jr. entered this world in 2014, through emergency C-section, just in time for the new year. He came in fighting at six weeks premature, under four pounds, and had two broken legs, a broken arm, and a fractured rib.
My husband and I were so afraid. And not only because of his birth complications, but we just weren't sure if he would survive at all.
I was still pregnant when doctors told us Byron would be born with a disability. But to be honest, I took it all with a grain of salt. I had suffered five miscarriages in the past and doctors said that I wouldn't be able to have kids anymore—I was just happy for the chance to be a mother again. Despite my excitement, my husband and I knew that we would have to dedicate ourselves to Byron's needs.
He spent 6 tough weeks in ICU when he slowly began to show signs of improvement. He was such a trooper. And although his hospital stay was overwhelming for my husband and I, we continued to put forth our best efforts to remain positive.
Byron was formally diagnosed with Osteogenesis Imperfecta, a condition also known as Brittle Bone Disease. It's a rare disease that causes his bones to fracture and break easily.
Think of him as a thin layer of glass, or very fragile glass, that requires mindful handling.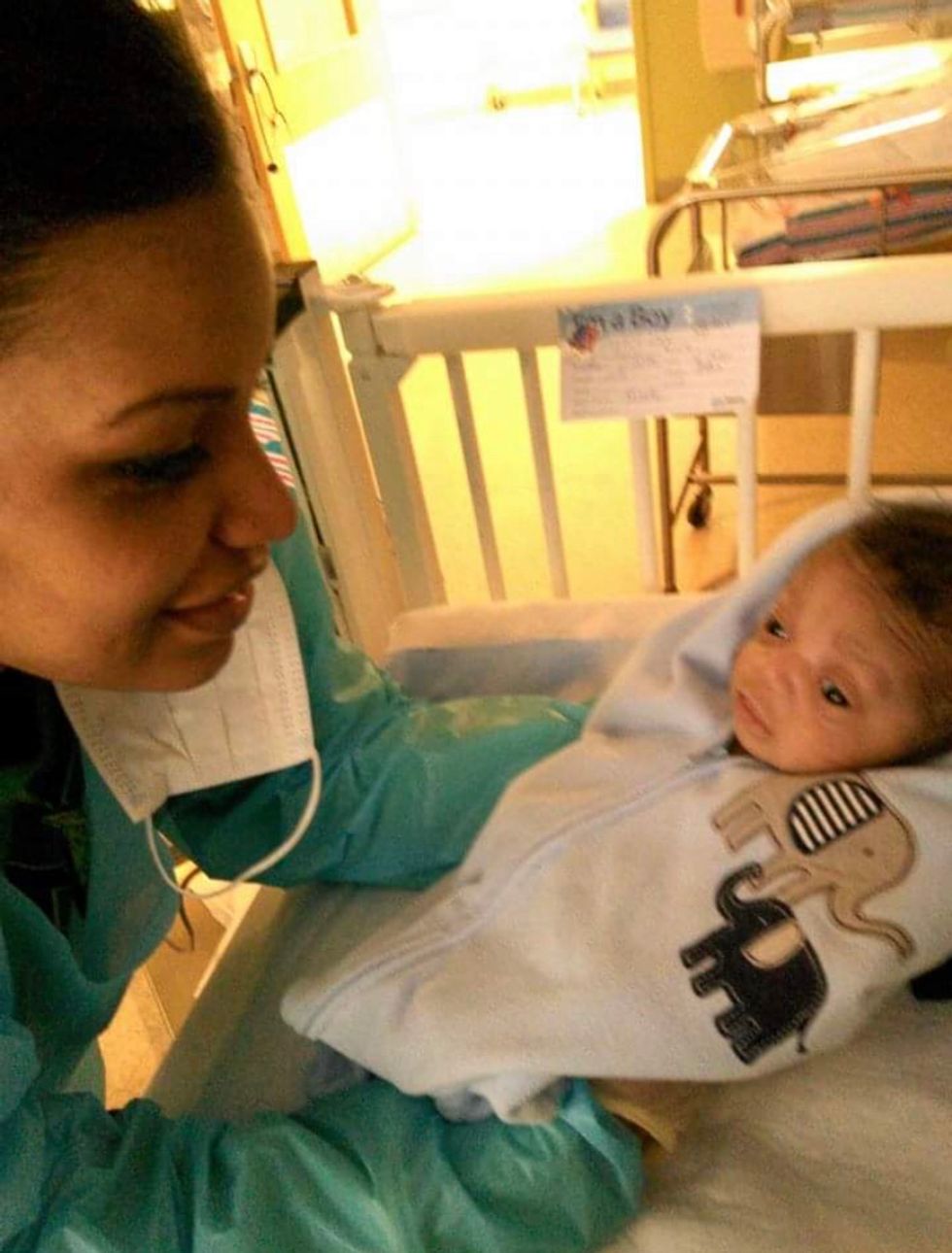 Courtesy of Ebonie Baxter
Many, many days and nights were spent researching and preparing for him; expectations and best advice. We didn't have many outlets outside of our doctors, so online research became our go-to. We made it our sole business to care for, and protect, Byron however long God allowed us to (which according to doctors, wouldn't be long).
And before we knew it, due to his increasing progress, we were discharged and headed home.
Adjusting to home life was difficult. We could no longer rely on the comfort of the hospital as our bedroom, and we had to work out best practices on our own.
By the time my youngest son, Blake, joined our family, we had mastered our rhythm. Blake entered this world without any complications, so even though he's younger, he's often confused as the oldest of the two. As he's grown, we've explained to him the importance of being careful with Byron due to his fragility. And he has grown to be such a great little brother to him—sometimes even I'm surprised by his gentleness. Their relationship is so precious to me, a different kind of love.
As for Byron, Byron is a character! I mean, you guys see it, he's so full of energy and light. He's positive and loving; always happy. He has the heart of a lion and is literally the bravest person I know. And he loves WWE. We monitor everything he watches because he's such a sponge, but he has some of his funniest moments when watching. There's this saying that some of the wrestlers say, "You need an attitude adjustment." When Byron feels that someone is grumpy around him, out of nowhere he'll say "You need an attitude adjustment" in his cute little voice.
I love his little voice, I can always hear it.
My background isn't as colorful, but I wouldn't change it. I was born and raised in NYC, now residing in Georgia. I met my husband 8 years ago and we've been teammates ever since. I've turned lemons into lemonade more than I even care to count—probably more than the average, and I'm appreciative of all my life's experiences, good or bad. Other than that, I'm just a regular mama bear and wife who loves her family.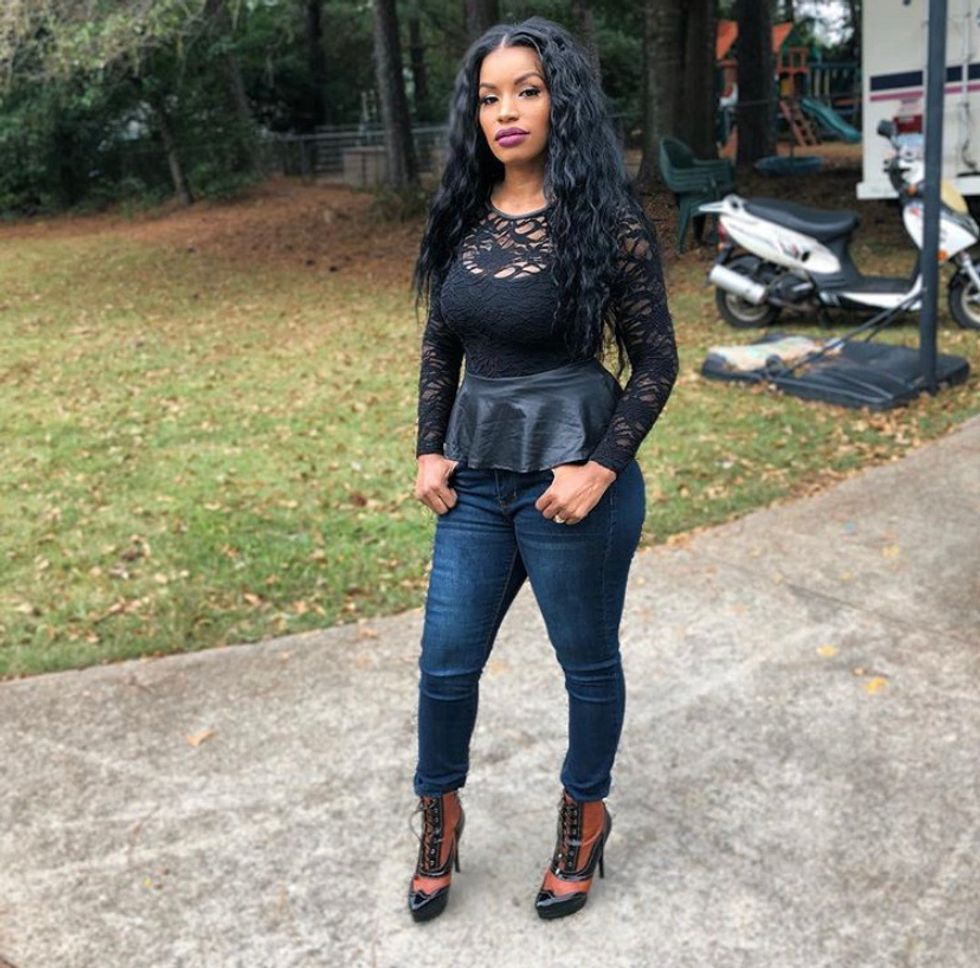 Courtesy of Ebonie Baxter
Our lives changed when one day, I decided on a whim to upload footage of Byron—just to showcase the joy we experience from him everyday. His videos started to go extremely viral; they gained more and more views, and before we knew it, our family had created an online community of over 1.3 million cyber aunts and uncles.
The world fell in love with my baby the way that I have. And now people are just happy to have the access to his journey everyday.
With this, comes its own unique sets of challenges. As much of the good we experience, we also have to take on the bad, and adjusting to the attention has been testing at times. It's funny because my husband says I am intense when it comes to my family—and he's absolutely right, I'm not a passive mom. I've had moments where I've had to request new doctors and nurses when the ones working with him weren't up to standard. I've had to frantically ask fans who were only excited to meet Byron, not to touch him if they see us out or at family events. And I've had to dismiss negativity on a daily basis. It's all in stride, of course, many have incorrect assumptions. But because we have so much going on behind the scenes that we don't show, my understanding of how this online world can be, keeps me focused on my family.

To take time for myself, I seek refuge in my bathtub. I'm a firm believer in soak therapy; it can be the cure for a hectic day. I love taking time for myself for all the various self-indulgence and vanity interests that us ladies enjoy. But mostly my happiness comes from simply being thankful that my children are such beautifully happy children, and that they are afforded the experience of having the proper childhood that I never had.
Nothing is greater.
I'm often asked what life will be like for Byron as he gets older and transitions into adulthood, and my response is always the same: Life will be great.
Being a special needs mom means being someone that's always aware, and someone that's the first to advocate for them. It doesn't matter if anyone has doubts or feel that they can speak on any of their obstacles. As long as your child is protected, safe, and full of love, let everyone know that for your baby, life will be great.
So, moms, aunts, grandmothers, and anyone who's blessed to care for a special needs child, count on God. Or count on whatever higher power you believe in to make the best decision for your child. Be their voice, even if it makes you look crazy. Doctors told us that Byron would be deaf. We told them he would hear pins drop. They told us he'd be blind. We told them he would have the sight of an eagle. They said my baby wouldn't make it.
We said...just watch.
To learn more about Osteogenesis Imperfecta, you can visit the OI Foundation. To keep up with the Baxters, follow them on Instagram or visit their website.