How and why creatives do what they do has always intrigued me. As a creator myself, I appreciate the dedication and persistence it takes to develop one's craft and the courage it takes to put your art into the world. Standing out, building your tribe, and carving a space in what can often be an oversaturated niche is difficult – but doable if you want it bad enough.
---
As someone who isn't a makeup connoisseur but appreciates the beauty of a well-done beat, I've noticed how the glitter trend popularity continues to rise. I've found myself scrolling through the #glitterglam hashtag and makeup artists' feeds, wondering, "How would I look like with a glitter glam? What's the process like to achieve this look anyway?"
However, the storyteller in me is just as curious about the question: "What's the story behind these creatives creating these looks?"
I decided that I wanted to try this glitter trend for myself and get to know more about the person behind the glitter along the way.
Meet Beneseth H. – a 20-year-old NJ-based makeup artist and hairstylist, known by her fanbase on Instagram as "@beautyby_bene". Her mother, a hairstylist in Benin, passed on her love for hair to a young Beneseth. Though she loved beauty, as a child Beneseth never saw herself doing makeup or hair. "I always saw myself pursuing a career in the medical field."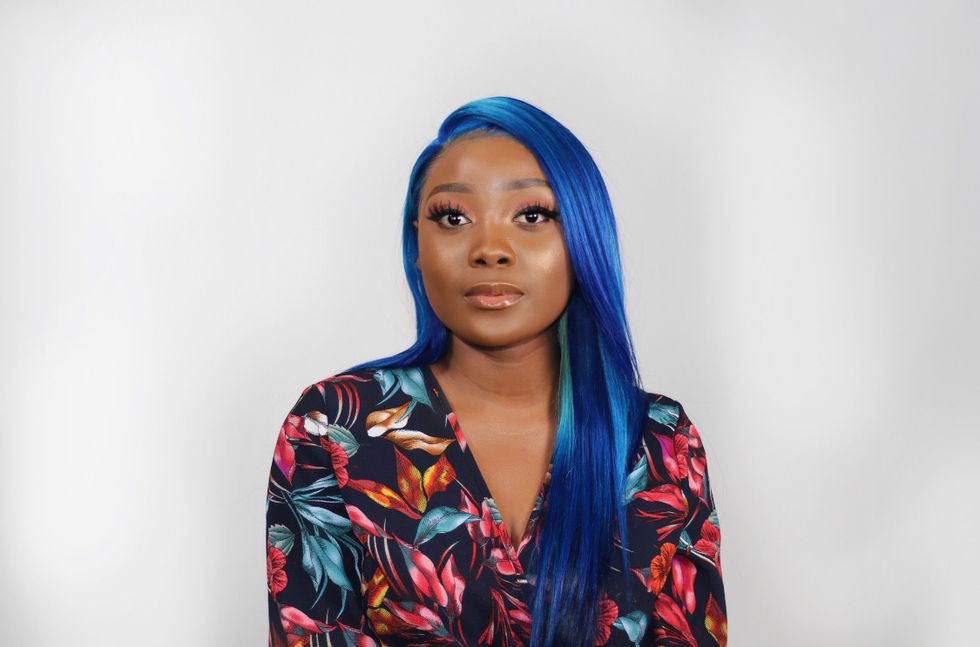 Meet Beneseth H.
Credit: Andrew Pompey
When Beneseth arrived in New York from Benin at the age of 14, hair became her first hustle to get extra money to support herself. She practiced on her sister and later began volunteering in a local braiding salon to advance her skills.
"My friends in high school started seeing my progress and told me I should make it a business. In 11th grade, I started doing it professionally. I managed the salon for a summer when my boss went back home. I started getting up to six clients a day. I moved from the salon in New York to New Jersey and continued seeing clients."
The love for makeup came while developing her hair braiding skills. Beneseth was an avid YouTube viewer and loved practicing achieving the perfect eyebrow look. "Sitting down and watching YouTube forever wasn't my thing. These YouTubers are showing you how to do the [look] and are doing the same thing over and over and it got tiring. I told myself if I can put my mind to it, I'll try something myself. So, I started practicing on myself, [my] sister, and friends."
Again, her friends urged her to take these newly developed skills into a business. She started out doing clients for free, then worked her way up to charging for various services including soft glam, full glam – and her signature glitter glam look.
Most of her clients give her creative freedom during makeup applications, but Beneseth also loves to use a client's outfit color or pull from photos for inspiration.
The Process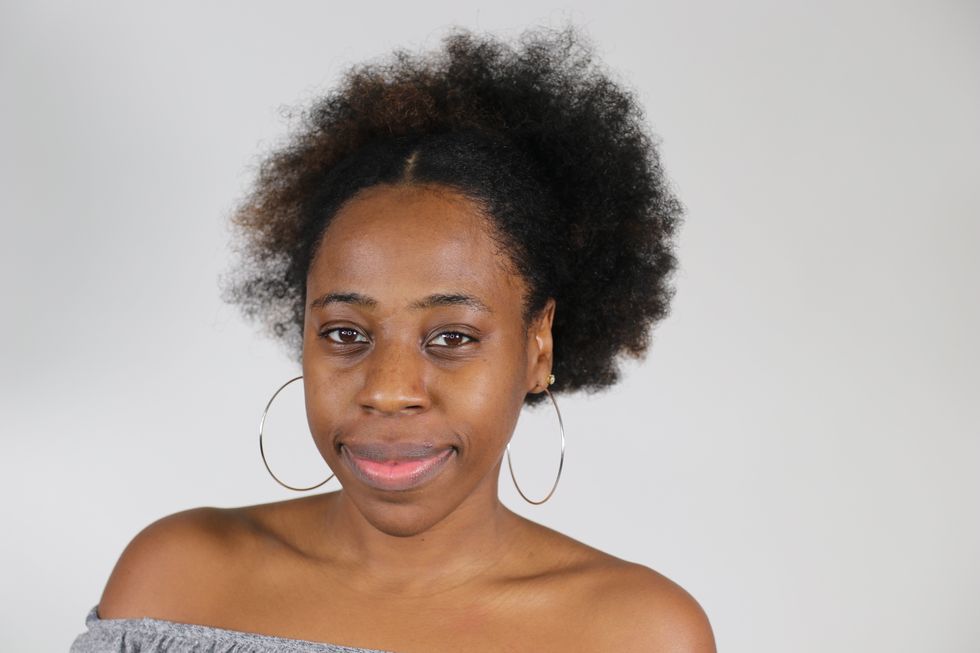 xoNecole writer Rana Campbell - Before
Credit: Andrew Pompey
I arrived to Beneseth's makeup studio with a freshly-washed, moisturized and bare face. I told her that she could do whatever she wanted. I'd be her muse. "Do you like blue?" she asked.
The rest was history.
For the next hour, my face became the canvas and Beneseth's hands were brushes – transforming my face into a sultry, yet sparkly work of art.
Beneseth worked quietly – but paused from time to time to talk about a few of her favorites. "I love JLaRue pigments when doing my glitter looks. Maybelline SuperStay is a great foundation because it's affordable and available in a wide range of skin tones. Blending is crucial for creating a smooth look. But, eyelashes really transform the face."
It was inspiring to see just how much she loved what she was doing.
In the end, I understood just how magical a full beat can be. Beneseth was able to capture my essence through blue pigments in a way I had never experienced.
You couldn't tell me ANYTHING for the rest of the day. I felt fierce, fly, and ready to take on the world. I took that confidence and was inspired to create my own art with it – something that I've been pushing myself to do more of lately. The worst part of the experience was having to wash my face at the end of the night.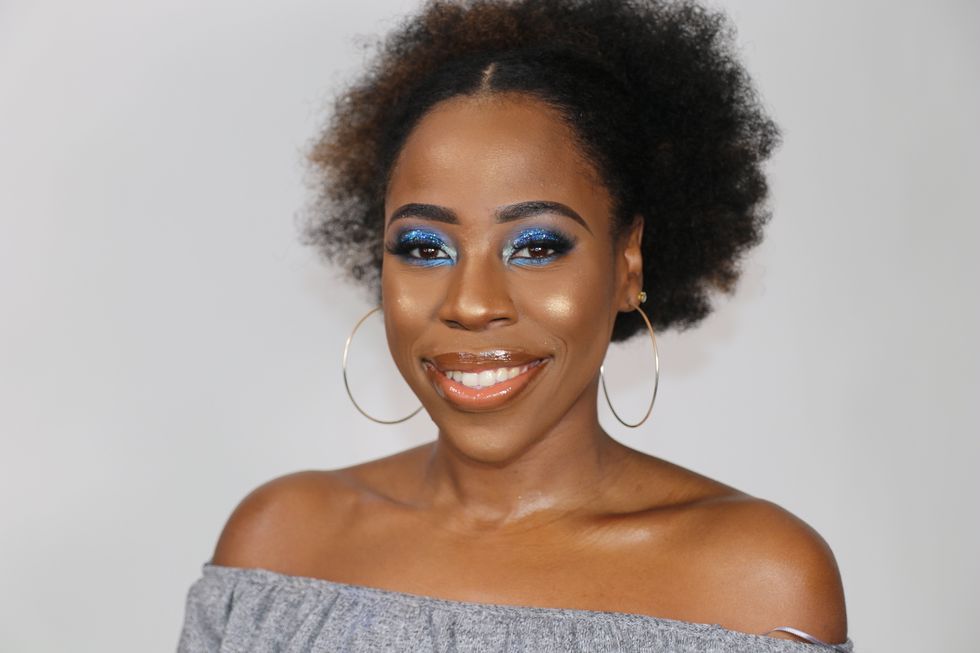 xoNecole writer Rana Campbell - After
Credit: Andrew Pompey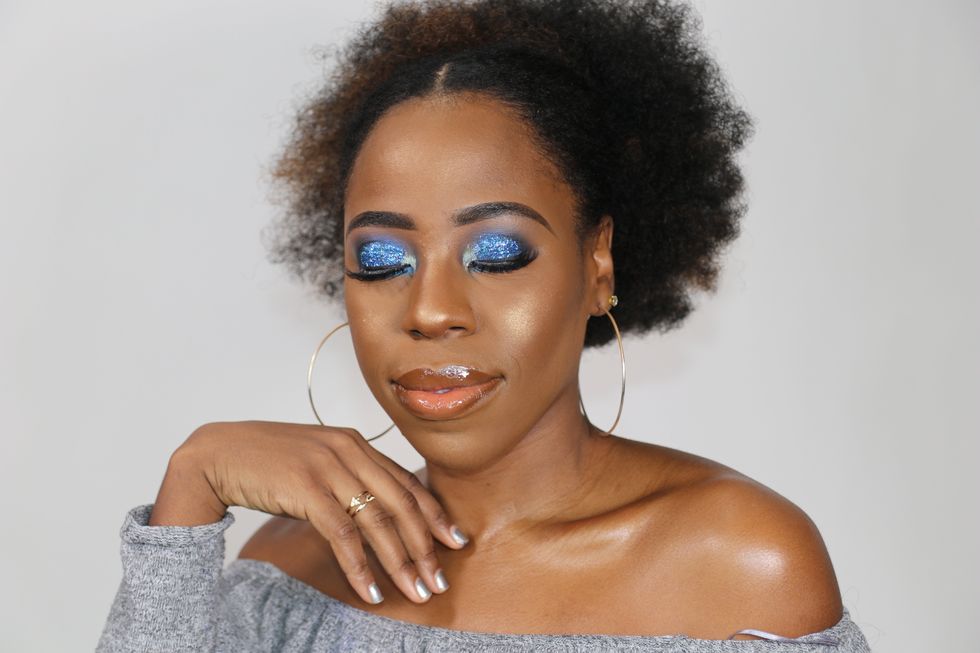 xoNecole writer Rana Campbell - After
Credit: Andrew Pompey
If you're an aspiring makeup artist, or trying to succeed in any creative entrepreneurial endeavor, Beneseth recommends a few things:
1. Take your craft seriously. Don't be afraid to invest in yourself, tools, and product. On her booking page, Beneseth ensures that she emphasizes her requirements for booking, late fees, and cancellation policies to all clients. Then, there's the smaller details such as having comfortable studio chairs to sit in, glam lights for the application process. Beneseth was creating an experience.
2. Showcase your work. Use social media, specifically Instagram, as a way to attract new clients. Convert to a business profile so that you can get added audience insights. Using industry-specific hashtags is also important for growing within your niche. Videos are good for showing angles and also a way to show how makeup really looks on a client's face. After each booking, she encourages clients to share on social and tag her work in order to drive referrals and new customers.
3. Learn from your inspiration, but never copy. Use your own creative abilities to create your own twist on an industry signature. Beneseth credits @beautyby_melissa and @shirley_beats as makeup artists that have influenced her style.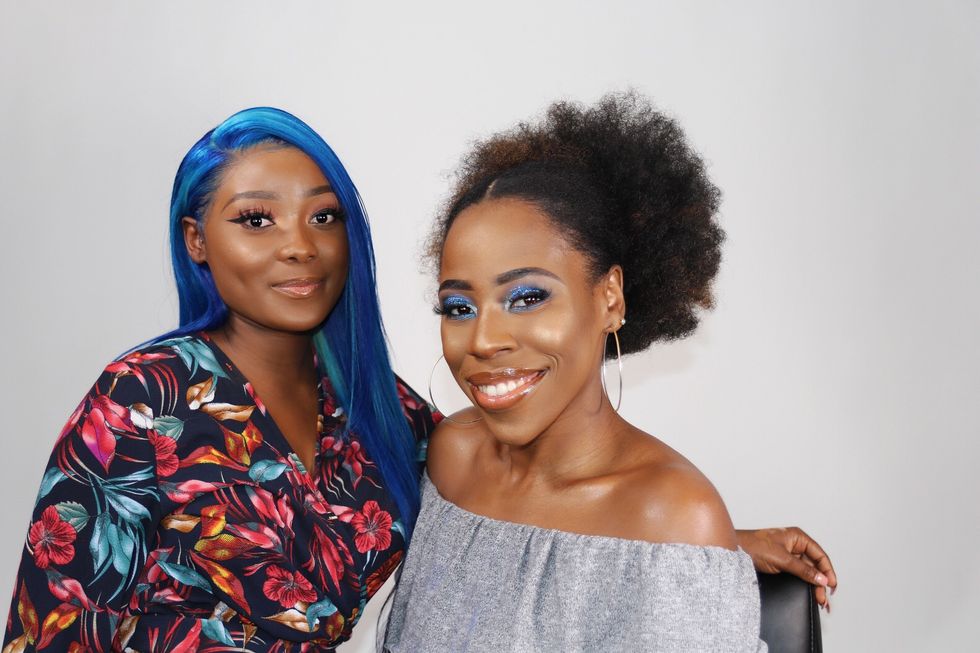 xoNecole writer Rana Campbell with makeup artist Beneseth H.
Credit: Andrew Pompey
This has become more than makeup for Beneseth. It's a way to support her family. It's a way to pursue her dreams. It's also a vehicle for realizing her own potential for greatness and economic empowerment through her creativity.
The dream for Beneseth, is complicated, yet evolving. While she was in school to pursue a nursing degree – she decided to take the semester off to see what can happen with her career as makeup artist.
"Believing in myself and believing that my work is worth it has been challenging at times. When you're running a business, you need growth in order to [succeed]. Sometimes I feel like my growth is slow, but other people are looking at me and telling me I'm actually growing really fast."
In less than a month, she's added more than 10,000 new followers on Instagram. With a laugh, she adds, "I guess I am growing!"
After I returned to the normal makeup-less Rana, I realized something: It's not the trends that define us. We define the trends. The power lies in our ability to create something special from one small idea acted upon.
Keep creating.
To check out more of Beneseth's work, visit her Instagram @beautyby_bene and website here: https://beautybybene.as.me/
Featured image by Andrew Pompey.