Since arriving on the scene roughly four years ago at just the age of 19, Gabriella Sarmiento Wilson infiltrated the music landscape as we know it. She came in hard, with heavy hitter anthems which all solidified her as an artist to watch. Since, H.E.R. has made major strides: number one album releases, performing alongside industry giants, and even celebrating the 60th birthday of the supremely adored former president, Barack Obama.
---
Her mystique has become a part of her persona, and her sun-shaded anonymity is what TF she does. In fact, as her career elevates to newer levels, who she is as an artist becomes more revealed, and the less we know about her, leaving us all with our hands out and wanting to know more. We decided to compile a list of the journey of H.E.R., from how she got started, all the way to songbird that she has emerged into. Here's 7 things you didn't know about the songstress taking over music:
1. H.E.R. spent the early part of her career working to keep her identity under wraps.
H.E.R. released an album in 2017 with just seven songs, no biography, and only a mysterious full-body silhouette on the cover of her first album. She spent the greater part of the beginning of her career declining to show or confirm her identity. Who is this person? What is this music? Why won't she show her face? But it wasn't all just a gimmick. While she went to great lengths to remain lowkey, according to Billboard, fans figured out who she was after digging through SoundCloud, with Janet Jackson and Drake both raving about her and revealing H.E.R. identity on social media.
She would then go on to wear her signature sunglasses in order to continue to conceal her identity, a practice she still does today. When discussing why she created this image of herself, she told ELLE:
"I think it has allowed me to make the music the focus, and for people not to care about the superficial things or who I'm associated with, what clique I belong to—all those things that don't matter. It's really made people focus on the music, and that's what's special about it."
2. Yet, ironically enough, H.E.R. stage name is an acronym for "Having Everything Revealed."
Today, although H.E.R. has almost entirely shedded her secrecy, she does still gaze at her adoring fans from many a pair of stylish sunglasses. It's almost ironic, actually, that as her name is an acronym for "Having Everything Revealed." But amazingly, her shades serve as a metaphor for what her career is about as they are often extremely reflective, so when you try to look directly in her eyes, you see yourself.
"I try to always stay focused, and stay true to myself, because as a woman, it's easy to look at other women and feel like, Maybe I should be doing this. In the age of social media, you look at other women who get attention, or compliments, and we start to question ourselves. I think the pressure is not just on me as an artist. I think it's on everybody."
3. She signed her first record deal with Sony at age 14.
H.E.R. had been singing and performing since girlhood as Little Gabi Wilson, singing in her dad's cover band and, at age 10, making her way to the Today show where she covered Alicia Keys' "If I Ain't Got You." When she was 12, she got her big break as one of five finalists in an American Idol-esque radio show contest, hosted by Radio Disney.
She ultimately lost the competition but was signed to her first record label, Sony at 14.
4. H.E.R. can play five instruments. FIVE.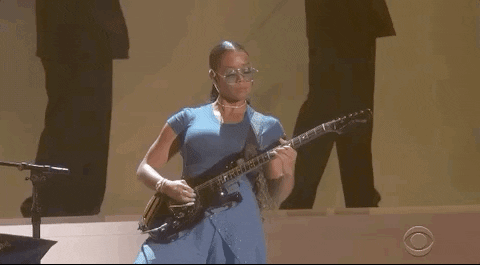 Giphy
In very Prince-esque fashion, H.E.R. has taken a page from the Purple One's book and has managed to learn (self-taught) to play multiple instruments. A pianist, drummer, and masterful guitarist who can solo with the electric, acoustic, and bass guitar, the woman can get down with the best of them (likely because she's one of the best of them). She told Rolling Stone:
"Playing guitar is part of who I am, since I was a kid. I remember watching a video of Lenny Kravitz and Prince [from the Rave Un2 the Year 2000 concert] when I was a kid. That video changed my life—it made me want to play guitar just because of how rock star it is."
5. Her greatest career advice came from Alicia Keys.
If you ask her, it's no secret that one of H.E.R.'s greatest inspirations is the one and only Mrs. Problem-On-The-Keys, Alicia Keys. In fact, some of her greatest advice came from the giant. She told Refinery29:
"Alicia Keys told me that when it comes to music, all you need is three chords and the truth. I think you can apply that to life, too."
6. Grammys are inevitable, but H.E.R. is an Oscar winner as well.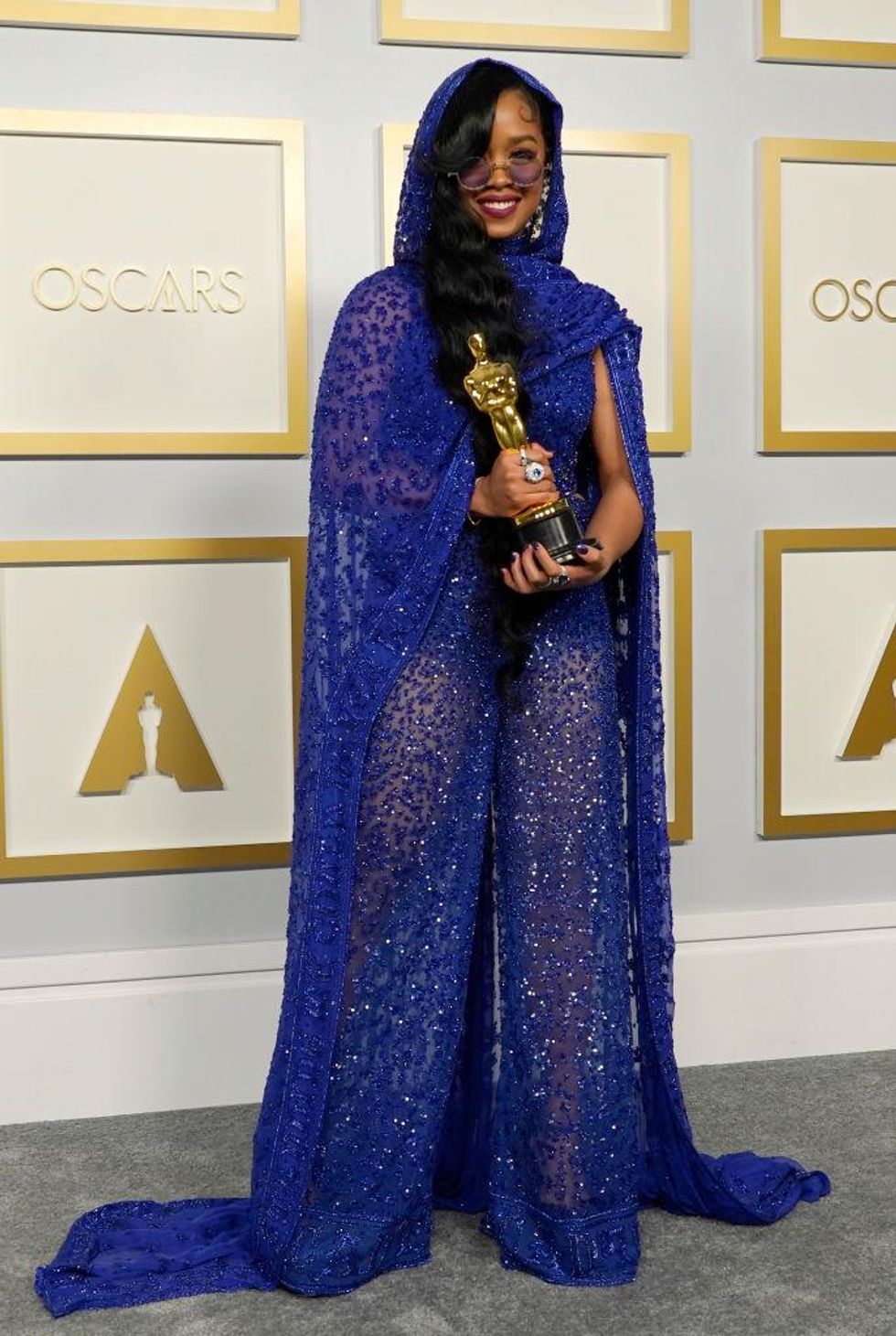 Chris Pizzello-Pool/Getty Images
After five EPs, one album and a cool 12 Grammy noms in just three short years, 2021 has been a year of recognition for H.E.R. that's extended beyond her talent, which is an 'ask about me' flex we didn't know we needed. One of H.E.R.'s latest accomplishments, is an addition of an Oscar to her trophy case for the song "Fight For You", her soulful addition to Judas and the Black Messiah soundtrack that picked up the Academy Award for Best Original Song. To pay homage to Prince, she rocked an outfit similar to the outfit Prince won his Oscar in that night and proudly said:
"All those days of listening to Sly & the Family Stone, Curtis Mayfield and Marvin Gaye really paid off, so thank you dad."
Additionally, she has taken the moment to reflect on the bigger picture of her career: finding a balance of being herself and using her voice, and welcoming the journey of responsibility of giving a voice to the voiceless. She told NME:
"At first I didn't realize activism was part of my artistic purpose but I guess my voice matters."
7. She believes her superpower is the ability to be all things as a woman.
In the same way that you can't place H.E.R.'s music in only one genre, a young Gabi Wilson refused to be defined by either of her cultures growing up (she Filipino and African-American). She told GlamourUK:
"There were times where I felt too Filipino for the Black kids and too Black for the Filipino kids. Or when I was going to the grocery store with my mom and people [were] like, 'That's your mom? Her hair's straight, your hair's curly. And it's like, 'I come from both places. This is what you get."
"I was just trying to figure out what that all meant and not put myself in a box, because people always tried to do that. You know, they need a point of reference. But sometimes you can be all things… and I think that's been my superpower."
She continued:
"I'm always trying new things, always recreating things that I love, but honestly, I think it's all about doing you. It's cool to be on new trends or whatever but how does it make you feel? What do you feel like? It's dressing from the inside out. Sometimes I want to be a rockstar, sometimes I want to look like Lenny Kravitz!"
Well, if Lenny Kravitz is anything like us, he wants to be you too.
Watch the video of her latest single, 'Come Through' featuring Chris Brown below:
Her album, Back of My Mind, is available on all streaming platforms right now!
Are you a member of our insiders squad? Join us in the xoTribe Members Community today!

Featured image by Aaron J. Thornton/Getty Images