---
In 2016, the artist formerly known as Gabi Wilson released her debut EP under the new alias, H.E.R., and had the world shook. The masked songstress won her way into our hearts nearly a decade ago as an 8-year-old when her rendition of Alicia Keys' "If I Ain't Got You" went viral, and now she's on a mission to reinvent R&B.
Vogue recently caught up with H.E.R. before her performance at Afropunk to talk about her identity, the impact she hopes to have on the music industry, and how she practices self-care. The 21-year-old entertainer is known for her laid back demeanor and IDGAF vibe, and can usually be caught on stage in a pair of baggy sweatpants and sunglasses.
"[My style] is straight-up comfortable."
As for her beauty routine, the singer stays true to her mission of starving the ego and feeding the soul and says that doing less is always more. She continued:
"Like, I wear sweats on stage. Sometimes, I could have no makeup on, and my hair could be a mess, but I feel beautiful."
And the saying is true, when you feel beautiful, you look beautiful. That beauty has transcended through her music and touched thousands of young women across the world. This was no small feat, and she achieved it by simply being herself. She told Vogue:
"People would tell me, 'Your music got me through so much, your music is like my life, your music is my diary. I guess I just help a lot of young women accept themselves and accept their mistakes and grow."
In August, the young artist told Rolling Out that despite popular belief, she was never "hiding her identity." Making the choice to put the focus on her music rather than her appearance was actually her way of offering fans true vulnerability. She said:

"If anything, the music is displaying exactly who I am. It's telling you everything. When I first [decided to] release the music, I didn't want my name attached to it, and I didn't want my face attached to it because that would get in the way of really understanding who I am. If anything, I wanted to show more of myself, more of what I go through and what I feel more so than what I look like, what I wear, or who I'm with. It's about focusing on the music."
Even to celebrities, the flashing lights can become too bright sometimes. Just ask Kanye. As for H.E.R., she chooses to opt out of celebrity glamour and focus on her passion. She explained that her minimalist lifestyle choice to become free from vanity was ultimately made out of necessity: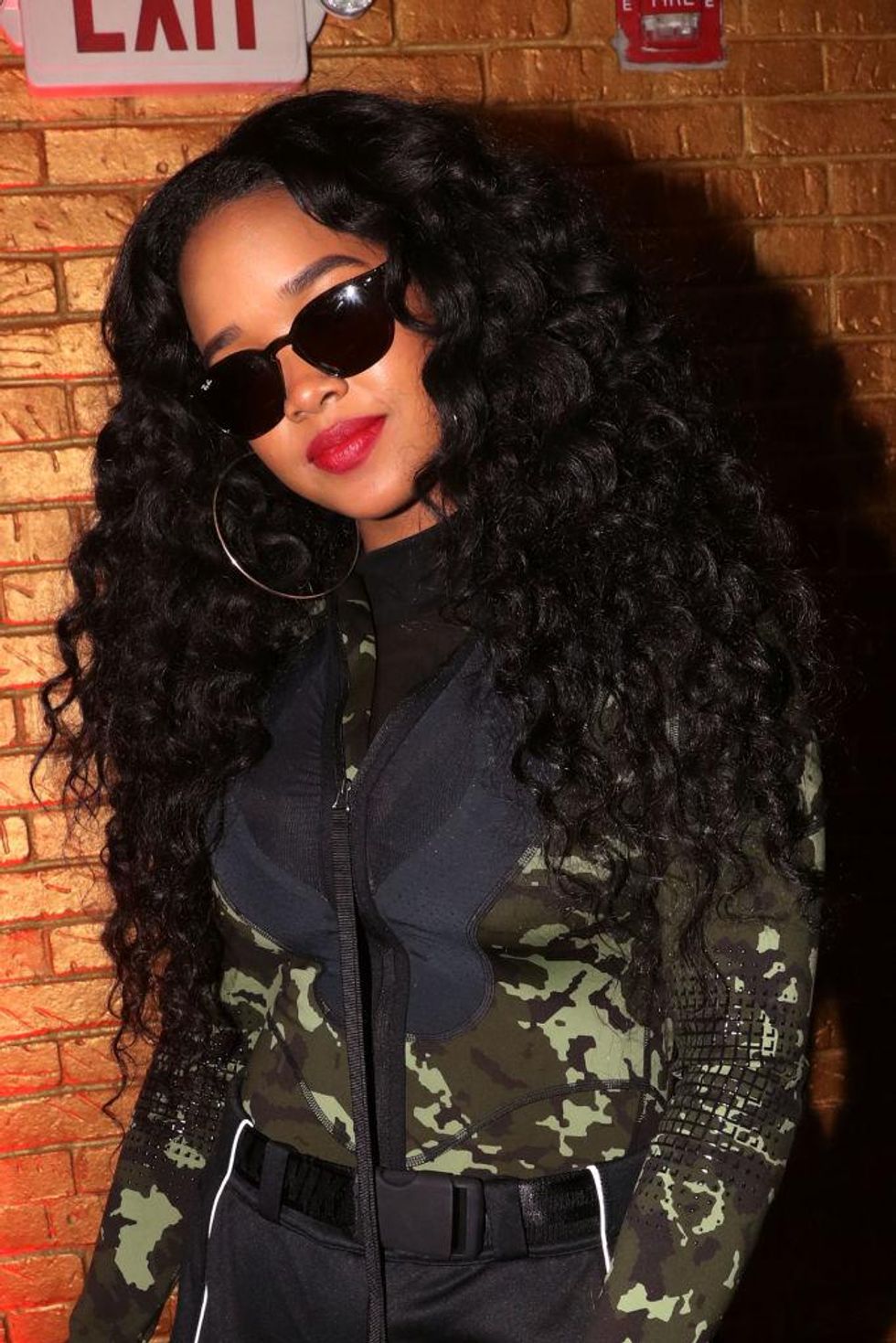 Johnny Nunez/WireImage
"Some people want the attention, some people want the spotlight, and that just wasn't it for me. I wanted it to be about the music, so maintaining that is kind of difficult. But it's something I found made the most sense because it's about the music at the end of the day. That's what I'm most passionate about. It's kind of scary telling a story and being totally honest and totally vulnerable."

H.E.R. has a unique ability to create a soundtrack for the soul that resonates with millennial women and evokes an emotional response across both genders and generations, much like the early work of one of her biggest inspirations: Lauryn Hill. She told Rolling Out:

"I want women to be able to look back and have this same feeling they had when they listened to 'The Miseducation of Lauryn Hill.' That still lives on and still gives a great message to women."
Although the divine connection that she has with her fans is a blessing, heavy is the head of she that wears the crown. Sometimes the pressure to be great can be overwhelming, and Gabi says that she handles that pressure with some self-care routines of her own.
"I just take five or 10 minutes out of my day in the morning when I wake up to focus on my day, focus on myself. It just keeps me sane."
Click here to read the full interview and watch H.E.R. get ready to perform her set on Afropunk.
Featured image by Johnny Nunez/WireImage