At 33 years old, Zoë Kravitz is facing what many women deal with in their thirties, the pressure to start having kids. The Batman star almost gave into the belief that parenthood should be her focus, but was able to let go of those ideals that are almost always pushed on women.
---
"We all go from being the baby, where you're like, 'I have so much time.' And then, all of a sudden, your gynecologist is like, 'Want to freeze your eggs?' And I'm like, 'I hadn't even thought about that,'" she said in the March 2022 issue of Elle.
"But I don't feel pressured to have kids by a certain time, if I ever have kids. This idea of like, you're 30. You're a grown-up. Now you're supposed to have kids and stop having fun, because that's for children — I bought that for a second."
While she noted that she doesn't go out like she used to, she still likes to have a good time. "It was like, 'I don't go out anymore. I just make roast chickens.' But I still want to go on adventures, have fun nights, and see the sunrise."
She's enjoying life now after divorcing Karl Glusman after being married for less than two years. As far as why they divorced? The daughter of Lisa Bonet and Lenny Kravitz said it had more to do with her than her now ex.
"Karl's an incredible human being," she said. "It really is less about him and more about me learning how to ask myself questions about who I am and still learning who I am, and that being okay. That's the journey I'm on right now."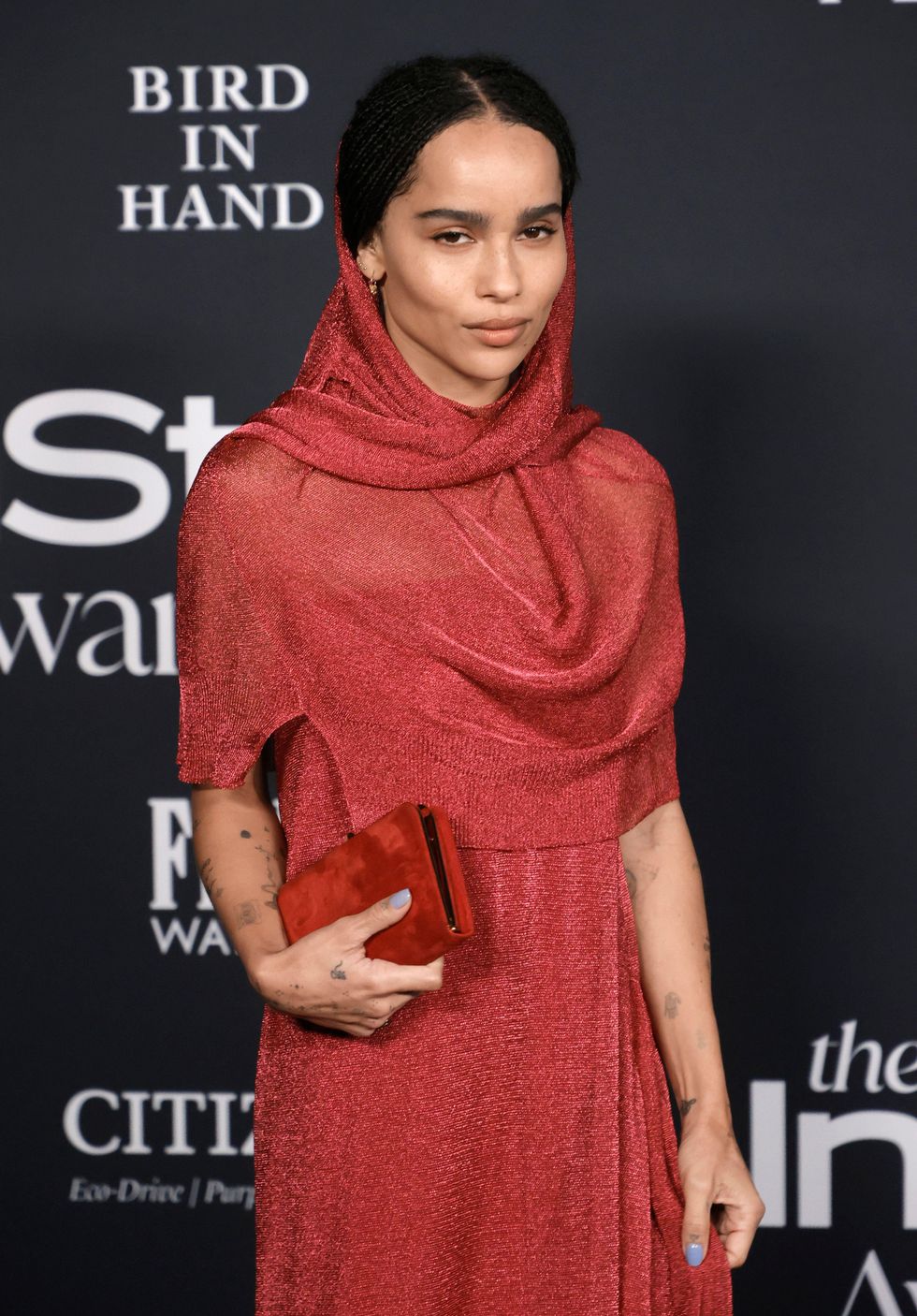 Frazer Harrison/Getty Images
Zoë is currently dating fellow actor Channing Tatum who she met when she cast him as the lead in her upcoming film Pussy Island. The film, which will make Zoë's directorial debut is a thriller she wrote pre-#MeToo movement and it was inspired by how women in the entertainment industry are treated. She revealed what made her want to cast her new beau.
"Looking at his work and hearing him speak about Magic Mike and the live show, I'm like, I think he's a feminist," she said. "You need to be so far from who this is, where it's not scary. And I don't think we've ever seen him play someone dark. I'm excited to see him do that." As far as their relationship, the actress didn't give too much away, only noting that she's "happy."
"I feel optimistic about life, and I think that comes hand in hand with it. All my relationships in life —my friendships, my romantic relationships, my family — the journey is learning how to show up honestly. Sometimes we can't show up, and that's okay as long as we know how to communicate that we love those people."
Featured image by Frazer Harrison/Getty Images