There are so many things to do during the holiday season from ice skating to Christmas parties. But a new activity on the scene is quickly becoming popular during this time of year: holiday pop-up bars. If you aren't familiar with them yet, you will be soon because they are popping up everywhere in cities all over the U.S. from New York to Detroit and even sunny Miami. I've visited a few of these Christmas-themed bars in Atlanta, GA as well as Greenville, SC, and they are as festive as they sound.
---
But you may be wondering, what are holiday pop-up bars. Well, I'm gonna put you on today. Read more about it below.
What are Holiday Pop-up Bars?
Holiday pop-up bars are exactly what they sound like. They are holiday bars that pop up around the holiday season. These bars are typically decorated from wall to wall with things most people dress up their homes with during Christmastime such as ornaments, stockings, Christmas lights, presents, bows, and Christmas trees. So, when you walk in, you feel like you've been transported into a jolly wonderland.
The food and drinks will also have you feeling merry as they are often holiday-themed. There are some holiday bars that only exist during this time of year but some restaurants and bars that are open year-round transform their space every December from their everyday aesthetic to a holiday explosion. Because the talk of these bars is spreading like wildfire, some of them are reservation only and get booked up quickly. But most are first come, first serve and open immediately after Thanksgiving, so you have plenty of time to experience one.
Where Did Holiday Pop-up Bars Originate?
The first known holiday bar originated in 2014 by the CEO of Cocktail Kingdom and Miracle Company Greg Boehm. In an interview with Eater, he explained that he was doing construction on a new bar in NYC but his mother inspired him to create his holiday bar Miracle Pop-up instead.
"And, right when I bought it, we were going to do construction, December. My mother was traveling, in Tibet, and had an idea," Boehm says. "And, when she got back to Hong Kong, she called me, by mistake, at 4:30 in the morning. And said, 'Stop. Do not do construction in December. Open a Christmas cocktail bar and do construction in January.' And I hung up because it was 4:30 in the morning. But, the next morning, I went, 'Wow, that's a really good idea.'"
The interview also revealed that a lot of the holiday bars that have sprung up in different cities are franchised by his company.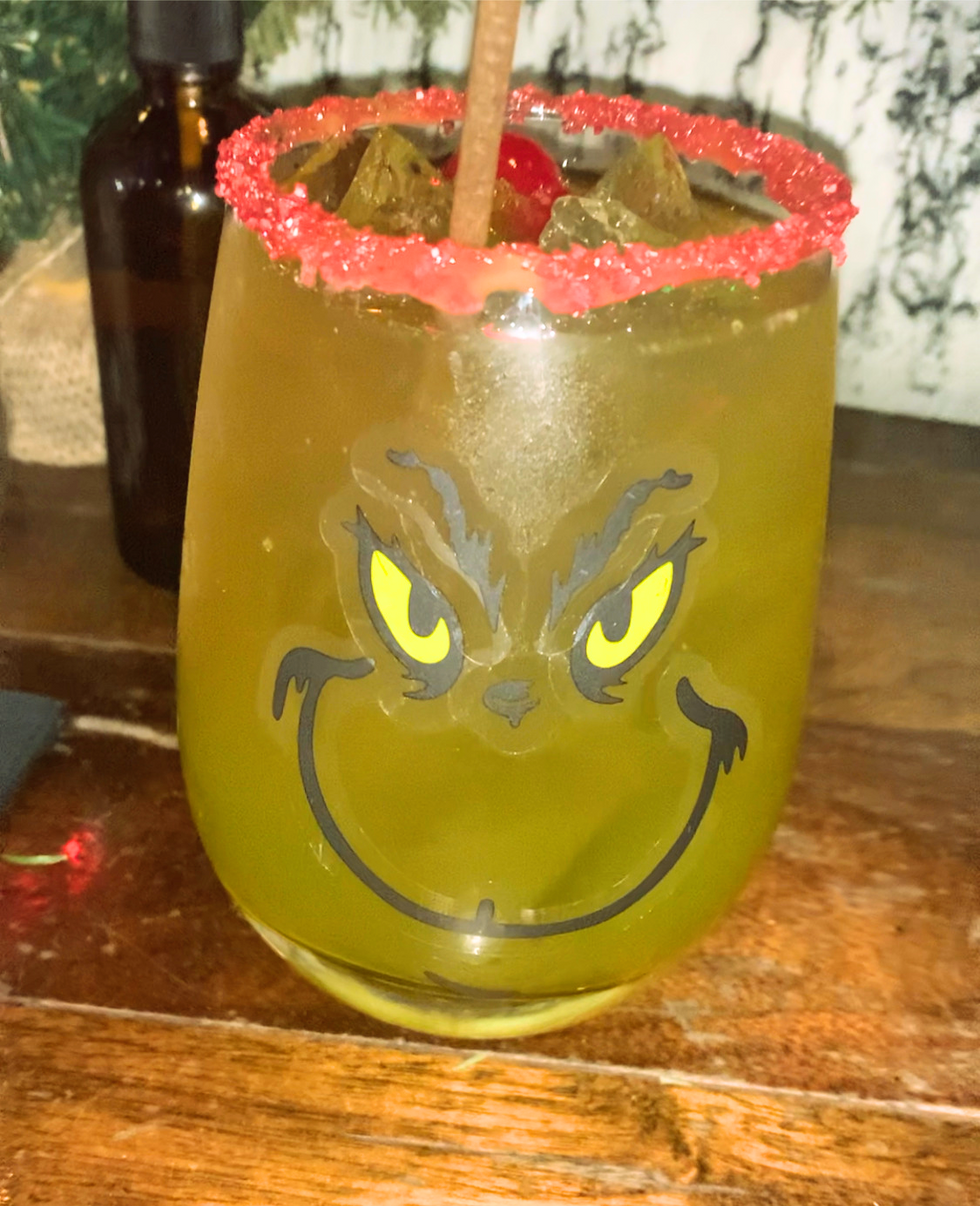 A Grinch-inspired drink from Urban Tree Cidery's holiday pop-up bar, which is located in Atlanta, GA.
Photo courtesy of London Alexaundria.
What to Expect at a Holiday Pop-Up Bar?
Every holiday pop-up bar is different. You have some that have the traditional Christmas feel and some that are more on the playful side. And I can't forget the pop-up igloos. (Yes, you heard that right). It's whatever your preference is. You can go make it a girls' night out like I did or go with family or your partner. You can even have a good time solo. Either way, you are sure to have a good time while being filled with the spirit of Christmas (or Jack Daniels.)
Feature image by Westend61/ Getty Images