There's almost nothing more frustrating, heartbreaking, and totally devastating for a travel lover than a totally horrible lodging experience. Let's paint a picture here: You've been saving up for that anniversary trip with your bae for the past six months. You've finally got your coins together and booked your flight. Now, all that's left is to find a place to lay your heads. You and your boo prefer to steer clear of traditional resorts or hotels—they're just not your vibe—so you go to one of the top online platforms for booking cool, short-term vacation rentals.
---
You see the perfect spot: close to the beach, great views, chic decor, and within budget. The property even boasts a high rating and self-check-in. You take out your card, choose your dates, and seal the deal with no problems, until you finally reach your destination.
Though the listing looks somewhat like the photos, the toilets and showers don't work properly, and there are seedy characters posted up around the property. When you contact the host, they top it all off with insensitivity and apathy, so you and bae thug it out for a night and leave in the morning.

Well, this happened to me.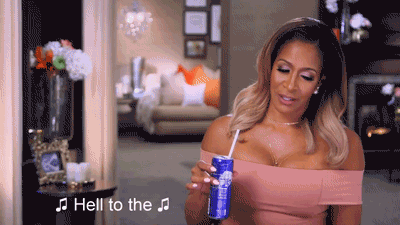 Giphy
It Was All Good... Until It Wasn't
My man and I were catfished. Bamboozled. Hoodwinked. And we had to shell out more money or even risk finding no replacement lodging at all due to the efforts of a dubious host.
On top of that, said host was also rated very highly and decided to send a nasty message about how I was jeopardizing the rating when I told the truth about my experience in my final review. And this isn't my only horror story. In the second of my top five worst lodging experiences, I had a host cancel my booking just a few days before I was set to travel, claiming that the rate I'd gotten when I booked the home was "out of date" and snarkily wishing me "luck" in finding a budget-friendly replacement during "high season."
Hundreds of dollars for the booking had already been debited from my account, and it would have taken up to 15 days to get the funds back had I not contacted the platform's customer service reps multiple times via multiple channels and advocated for myself. I got my funds back within 48 hours, but only after a lot of stress, dozens of emails, numerous chat messages, and back-to-back phone calls.
Needless to say, I had to give privately owned spaces a break for a while, and for the past few years, I've mostly stayed at traditional hotels, booking them through the usual channels (either the brand's website or the tried-and-true third-party sites.) But what did I learn? Always contact the host before booking, even if they're rated highly. (It's a great opportunity to find out more about the property, get a sense of what type of host you're dealing with, and gauge whether something could be fishy or too good to be true.) Keep those emergency funds on deck. Have a plan B, C, and D. And last, but certainly, not least, trust my gut.
If you can relate to any of this, just know we're not alone. (And when you check out Consumer Affairs and the Better Business Bureau, there's some interesting information, to say the least.)
While there can be amazing experiences offered by hosts on popular vacation rental sites, there are also cautionary tales that we all can learn from. Check out a few more vacation rental horror stories from travelers and how you can avoid a totally horrible experience.
Chanice took her love for travel to the next level, starting an online travel platform, Fly with Queenie, and hosting experiences in the U.S. and abroad. She's traveled to Mexico, Jamaica, and Tanzania, to name a few, and has booked lodgings and experiences via popular online sites like many other travelers. She's definitely had her fair share of both amazing and not-so-amazing experiences while globetrotting.
"I had a client who wanted me to plan a birthday trip for her and her friends to Jamaica. I wanted to give her multiple options instead of just hotels, so I checked on Airbnb as well," she recalled. "I saw a property that was in a good area, had a 4.5 rating, the photos looked good, and it had a local owner which was great because I'm an advocate of supporting locally owned properties."
Adding Insult to Injury...
Things took a turn when she contacted the host about details that she said weren't listed via the online post. "I had specific questions regarding whether it was possible to pay to have someone make an authentic Jamaican meal, as well as specific questions pertaining to transportation options the host mentioned, were available."
"The host wrote back almost immediately and basically told me I could not book the property, accused me of not reading the ad clearly, and even threatened that if I were to book, my reservation would be canceled. The tone of the correspondence was so rude and it was a complete turn-off."
Chanice said the exchange made her feel "insulted," as if she'd done something wrong by simply asking questions about the property and its offerings. She added that the host even blocked her. "The customer service was horrible, especially from one Black person to another. As someone who has a business, even if a customer asks a question that is already answered in your ad, you should be nice and courteous to them. Your tone should always be kind and friendly to retain the customer."
Airbnb has "host reliability standards" listed on its site, and they include an expectation that hosts or co-hosts "are available to respond to guest inquiries or unexpected issues that may arise during stays," and that they "should be responsive and willing to answer questions."
While Charmin never got a chance to be an official "guest," (and dodged a bullet in terms of a potential problem for her clients) she said she reported the host's behavior via the appropriate channels. "I'm not sure what the resolution was but I hope that he was talked to about the feedback I gave."
The Advice
For travelers using online booking sites to book private homes and experiences, Charmin recommends reading beyond the first few reviews of a place or experience. After using her own online platform to share what happened to her, she found out that other travelers who'd actually stayed at the host's listing had issues including water pressure outages, rude exchanges, and unanswered questions. Also, upon looking further into reviews about the property on multiple sites, there were several that went into detail about issues with the host and property.
"Had I read more reviews despite the host having a 4.5 rating out of 5, I would have seen the many comments about the host being rude in person," she added.
"My advice is to also check to see if the property is listed on social media websites or other property booking websites and read those reviews as well. Even if the host has a good rating, there may be a bad review in the middle of a decent review or constructive criticism that you may be overlooking."
It's also a good idea to ask other travelers and locals via forums like Trip Advisor or Facebook groups, and see if they've ever either stayed at the property, are familiar with the host, or live near the area. While you want to be fair and make the best decision for your travel needs, it's always good to be armed with the information in order to do so.
Latrice, a Paris-based educator and founder of lifestyle platform Paris Chic Code, took a trip to Curacao a few years ago and was expecting the best at a luxurious property where she and her friend would be staying in separate but nearby rooms. "We rented this gorgeous apartment in Curacao and it had a beautiful view," she said. They'd enjoyed lounging at the beach, visiting historic sites, taking a trip on a yacht, and vibing with salsa dancing.
When Luxe Goes Left...
"After a night staying there, my friend kept complaining about itching and, after about the fifth day of our eight-day trip, we decided to lift the sheets on her mattress," she recalled. "It was bed bugs. My friend was hysterical." She added that they got in touch with the Airbnb customer service line based overseas. "We were arguing back and forth. They wanted us to take pictures of the bed. We sent them the photos and the woman said, 'That's not bed bugs.' Unfortunately, there's nothing we can do. If you want to check into another hotel, Airbnb will not be responsible for it.'"

They were devastated but wouldn't take no for an answer, so Latrice continued calling and asked for Airbnb's U.S.-based customer service. She also contacted the management for the building. "They were Dutch, and they were saying, 'Look we've never had a problem like this before. If we order a mattress, it's going to take another day to arrive. We can put you in another apartment,'" Latrice recalled. "My friend was enraged, and she didn't want to stay at that property. Then, because there was a dispute going back and forth, the management said, 'We've never had this problem. How do we know that it wasn't you who brought the bed bugs?'"
Latrice was sure that neither she nor her friend could've brought the bugs because they'd only been there for a few days and the mattress was stained as though there was an infestation way before they'd arrived. She ended up sending photos to the U.S-based customer service representative and a rep ended up offering to cover the cost of the remainder of their stay. Since her friend didn't want to stay at the same property and it would take a while for them to find another Airbnb, they decided to just book a hotel room.
She eventually got a full refund for the stay but it took months to get her money back and she had to use her credit card to book another hotel in the meanwhile.
"I didn't get my money back immediately. I'd already paid for the hotel. They credited me for the two nights that I didn't stay, for a new Airbnb," she said. "When I got back home, I got credited for the stay and the inconvenience but it took about two months for them to reimburse me for the full stay."
Despite the horrible experience, she and her friend were able to complete their trip. "In the second hotel, we had a beautiful view but we had to share a room. That was a bit of a bummer. We were annoyed by the situation and totally inconvenienced because we had to run around trying to find a hotel comparable to the original lodging we had. For the most part, it was fine. We had two days left, we had a pool and we made the best of it. If I were in a situation where I didn't have extra money or credit cards, I would've been up a creek."
Lessons Learned
Latrice's advice to other travelers who come across issues during their stay at a vacation rental is to document and report the issues immediately. "What I learned was that we waited too long to say something. We were there five days before reporting it, so it was almost like, 'Why didn't you say anything from the beginning?'" she said. "It's a very valid argument. We should have said something. She should have pulled the sheets back the first day."
She also added that though she had that experience, it doesn't stop her from booking vacation rentals nor has it added extra anxiety to her trips since. "I can't go into a hotel or lodging thinking something will be wrong. I trust that my trip will be amazing and deal with anything that might be to the contrary in that moment."
The travel tribe is sure to come through in times of need, so just know that if you've been through a horrible or uneasy experience at a vacation rental, they've got your back. Get some comfort and take heed from these stories. Be sure to be careful, diligent, and mindful when booking lodging or experiences online for your next travel adventure.
Featured image by