Minaa B.
Minaa B. is a mental health clinician, writer, wellness coach, and founder of Minaa B. Consulting, a mental health consulting agency that works with organizations to help them build psychologically safe and mental health inclusive environments. Minaa is a contributing writer for the wellness blog Well + Good, a co-host on the podcast, Because Life With Sydel Curry Lee, and she sits on the Mental Health Advisory Committee for Selena Gomez's Wondermind platform. Minaa is passionate about spreading mental health awareness and she shares daily insights on her Instagram account @minaa_b. Based in NYC, you can learn more about Minaa and find ways to work with her by visiting
www.minaab.com
.
Although three years have passed since the whirlwind that was 2020, I finally feel like I am settling into a state of rest, joy, and relaxation after two and a half years of feeling burnt out, overwhelmed, and overworked. During that time, I wrote the proposal for my book, Owning Our Struggles, which will debut on August 22nd. It has been a wonderful journey writing, reflecting, and reveling in what it means to own our struggles, pain, and tragedy in order to make room for joy, love, and liberation.
As I was writing, I found myself immersed in the concept of Black joy and cultural healing. I am a first-generation American who identifies as Black-Hispanic and Afro-Latina. My parents are from Colon, Panama, and San Andres, Colombia. As a child, my parents did not understand mental health concepts or disorders like anxiety and depression, but they were strong advocates for healing and ensuring that joy remained at the center of our lives despite the challenges or hardships we faced.
The lessons they taught me came back to me as I wrote Owning Our Strugglesand reflected on the world of hurt, pain, chaos, and tragedy that surrounds me and the feelings of powerlessness that often arise. Being Black in America can be tough, but it also feels beautiful when I see how Black culture continuously moves the needle in society and our role in advancing our communities and liberating ourselves from oppression.
The celebration of Black joy and the process of cultural healing are critical components of the Black community's resilience and survival. Black joy is a radical act, especially given Black people's historical and ongoing oppression and marginalization. It is a way of resisting the negative stereotypes and narratives that have been perpetuated about Black people for centuries. By celebrating Black joy, we claim our humanity and our right to exist fully and joyfully.
Here are six ways to celebrate Black joy and engage in cultural healing:
Featured image by FG Trade/Getty Images
Over 40 million Americans have an anxiety disorder. However, what if I told you that everyone on the planet experiences situational anxiety - feelings of anxiousness when exposed to certain situations - and this isn't a diagnosis but rather a part of everyday life?
Given the prevalence of anxiety, it's quite possible that symptoms of anxiety will arise not just during the dating phase but even in the relationship phase, and it's nothing to be ashamed of because it's simply an effect of being human. Although it's normal to feel anxious, it's important to remember that leaving anxiety untreated can have detrimental side effects that impact our daily lives.
Anxiety is a common issue many people face, which can significantly impact romantic relationships. Here are several ways that anxiety can show up in romantic relationships and what you can do about them:
Featured image by LaylaBird/Getty Images
When I was in my mid-20s, my life was a hot mess. Chaotic doesn't even begin to describe it. I worked a full-time job while doing consulting gigs as a side hustle, and I spent all my free time helping others while neglecting myself. Eventually, I had a total meltdown and an existential crisis. I felt like I wasn't living my life, leaving me empty, depressed, and miserable. I was always exhausted and super irritable.
As a former therapist, I know how important it is to engage in therapy to manage our well-being. I'm lucky to have had a therapist who called me out and helped me realize that the chaos and lack of peace in my life were the results of poor choices I was making when it came to managing my mental health and well-being. "Protecting your peace" has become a popular tagline on social media for a good reason. It is one of the best ways to help preserve your mental health.

However, while it sounds good in theory, many people still struggle with taking the necessary actions to make protecting their peace a daily practice. Mental health work is daily work. And here are five steps you can start taking daily to ensure you are protecting your peace.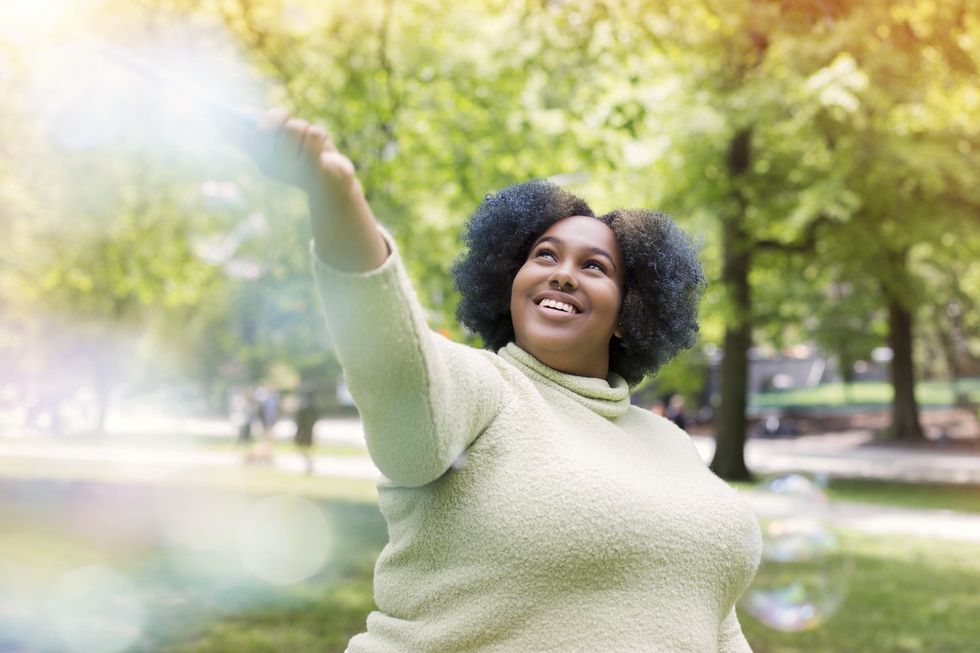 Muslim Girl/Getty Images
1. Consider yourself important enough to be protected.
You have to consider yourself important enough to be protected. Engaging in self-neglect is not going to help you have a peaceful life. There are going to be things you need to say no to in order to care for yourself, and you don't have to feel guilty about putting yourself first.
2. Set boundaries and limits on who and what has access to your energy.
You cannot be everything to everyone. You have to be willing to set limits because if you wait for others to set them, you will never have peace in your life. Having boundaries means learning to realize what you can say yes to and exercising your voice, and saying no when needed.
3. Evaluate the relationships in your life.
As part of protecting your peace, evaluating the relationships in your life is important.
Ask yourself:
Are these people adding value to my life?
Do they encourage and support me?
Do they constantly bring me down, make me feel drained, and spark the dysregulation of my nervous system?
Some relationships are meant to be seasonal; it's okay to move on from relationships when they no longer align with your growth.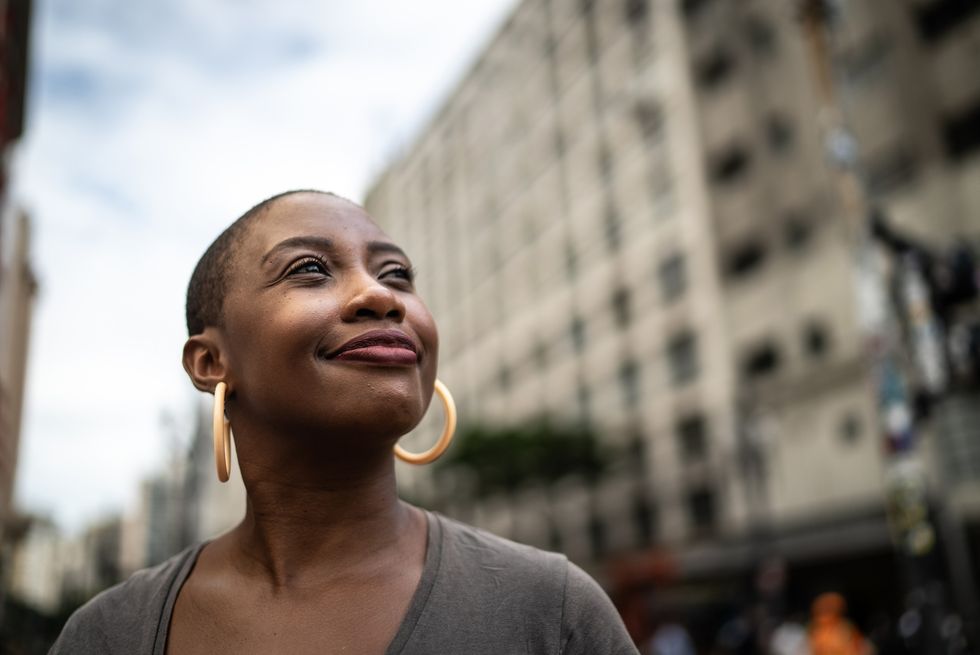 FG Trade/Getty Images
4. Create space for self-care.
Let go of unnecessary commitments that cause burnout and protect your peace by creating space for rest and self-care. This might look like finding a new hobby, doing fun and exciting activities, and trying new things that are for pleasure and not for work.
5. Let go of the need to control the external and instead focus on the internal.
Trying to control everything can create anxiety and stress. Let go of the need to control external circumstances and instead focus on what you can control---your attitude and response. Sometimes, you have to be willing to say, "What am I going to do to get through this?" as a way to remind yourself that you have choices. Sometimes the choice you need to make is leaning into radical acceptance and learning to move forward when things don't go your way.
By letting go of these things, you can create a space for yourself to nurture your inner peace and cultivate a sense of well-being that will benefit every aspect of your life.
Let's make things inbox official! Sign up for the xoNecole newsletter for daily love, wellness, career, and exclusive content delivered straight to your inbox.
Featured image by FG Trade/Getty Images
There will be times in life when you don't feel motivated to do something. It might be because you are burnt out and over-extended or because you are depressed and feel a lack of drive and energy to push through and tackle certain tasks or responsibilities. Either way, showing yourself grace and compassion when you're running on empty and having a low moment is essential for your healing, and if you are trying to figure out how you can do that, here are six practical tools to try:
Featured image by Renata Angerami/Getty Images
Being emotionally seen in a relationship is a love language. If you are in a friendship or a relationship with an empath, you can guarantee there will be space for your emotions to be present and understood.
What is an empath anyway? An empath is described as "someone who is highly attuned to the feelings and emotions of those around them." No scientific evidence supports or proves that people can tap into another person's emotions. Still, we can acknowledge that there are people who feel more deeply than others, which is why boundaries are essential for people who are empaths.
It's a beautiful thing to understand what someone else is feeling deeply. It creates an emotionally safe space that permits people to express themselves freely and vulnerably, but when you're an empath, it's important to discern what is yours to carry, and what belongs to others, or else you will find yourself overwhelmed and drained by your relationships.
Sometimes when we hold other people's emotions, we become weighed down by their problems and treat their issues as if they are our own, and if you don't put a stop to this, you will find yourself experiencing issues like stress and burnout. Having boundaries is essential, so you know where to draw a line in the sand as you discern what belongs to you and what is for others.
Here are some boundaries that empaths need to maintain their peace and well-being.
Featured image by Tara Moore/Getty Images
Taking care of our mental health is a lifetime journey, and in order to care for our well-being, we must incorporate a holistic approach that considers our whole person, our needs, and our life stage. As we enter this new year, certain wellness trends are here to stay in 2023, so let's dive into some major wellness tips and tricks that you can incorporate into your healing journey this year.
Featured image by Rockaa/Getty Images