Imagine being told that you're not good enough. That your kinks and coils--the completely natural version of yourself--are only accepted when there's a quota to meet, and that the likelihood of you being on the cover of a magazine is few and far between.
For many models of color, walking into a room for casting calls is often a fight to celebrate the spectrum of beauty in a world that gives more applause to straight hair and porcelain skin. But while being true to oneself hasn't always been in fashion, Ebonee Davis is out to change the rules and defy the stereotype.
---
The 25-year-old Calvin Klein model is no stranger to speaking out on the complexities of the fashion industry and its archaic way of thinking. In fact, she's been heralded for her very open letter published back in 2016's Harper's Bazaar, in which the 5'9'' stunner called to action the industry's responsibility to be more inclusive in its representation.
"[I'm] just getting strong after essentially years of programming that tells you you're not worthy, that you're not good enough, and that how you are made naturally just doesn't fit the standard," she shares on our evening phone call, in which I quickly discover that her looks are nothing compared to her dazzling spirit.
I ask about her recent feat of earning the coveted crown as one of the 2018 Sports Illustrated Rookies of the Year, one which, according to Ebonee, was a win that took her by surprise, considering her history with the renowned sports publication.
"I was actually featured in Sports Illustrated in 2016 as part of the model search competition, and I didn't end up winning, so I wasn't in the magazine. I figured that my time with Sports Illustrated had reached its end, so to get the call to come back for 2018, especially after all the changes I've gone through with myself, my career, and just becoming [more] vocal and speaking out about the fashion industry, it was just such a huge surprise for me."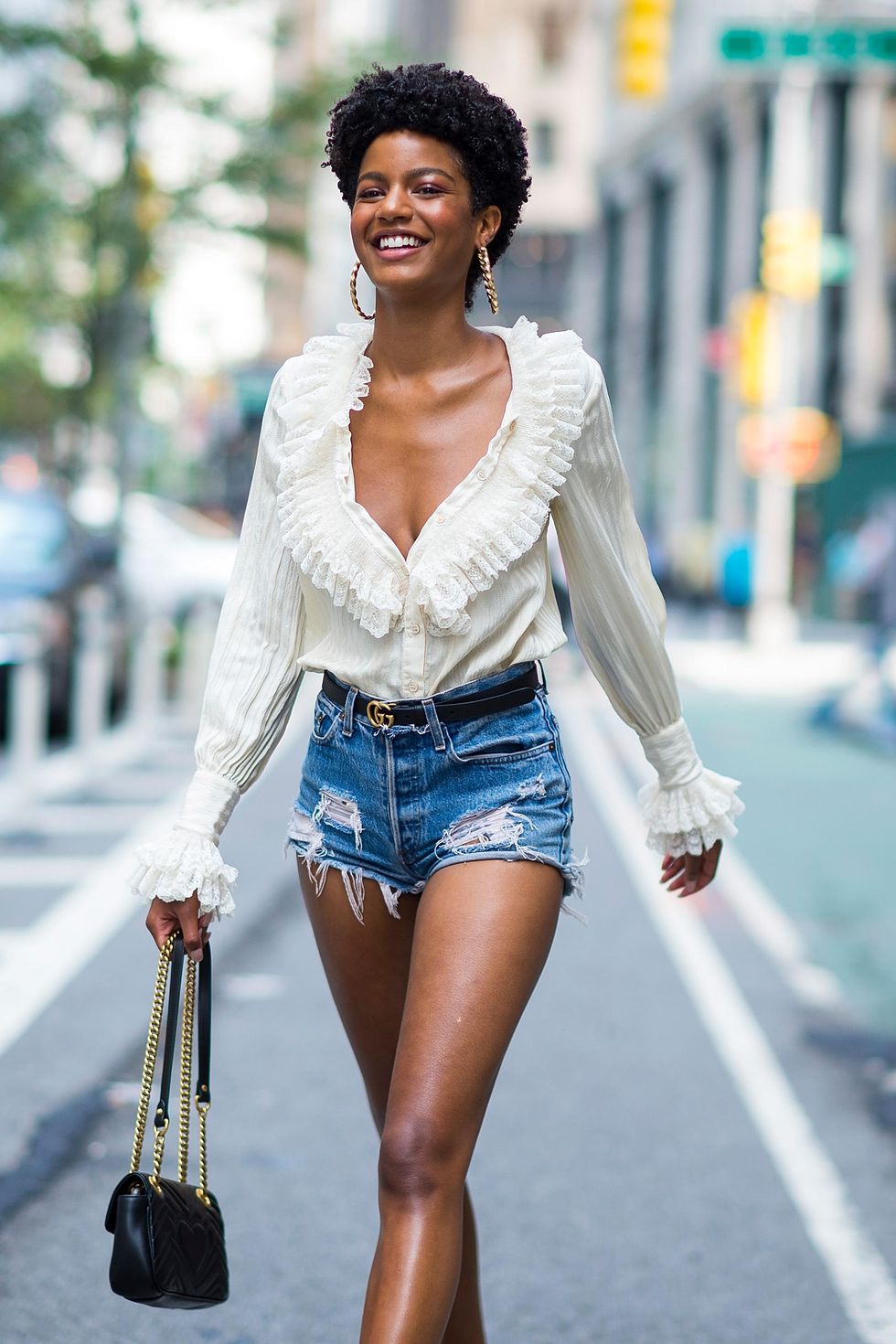 Gotham/GC Images
In 2012, the Seattle native moved to New York at the age of 19 with nothing to her name. "I literally started from the bottom when I was out here," Ebonee says as she details her time sleeping on the floor while in pursuit of her career. "I just [wanted to] taste the dream. I felt like it was what I was meant to do--this was always my calling."

In the beginning stages of her career, the outspoken model succumbed to the cookie-cutter beauty standards of the industry. It wasn't her proudest moments, but compromising at the time was the currency for staying booked. "I compromised for so long," she admits. "I think that is an important part of the story. I did wear my hair a certain way for so many years because I thought that was the standard. That was the standard that was being shown to me. [One day], I walked into my agency at the time with my natural hair, and I got negative feedback. [But going natural] was something deeper than what they could tell me. I felt like I had to do this."
"Going natural was something deeper than what they could tell me. I felt like I had to do this."
The transition wasn't easy. It required her to dig deep, identify the roots of her conformity, and get real about who she was when the weaves were taken out and the relaxers wore off. "Ultimately wearing my hair straight was a habit or behavior, and as I matured and started to become more authentic, in order to move in a certain direction, I had to stop and ask myself, 'Is this helping me get to where I need to go? Am I presenting myself in the most authentic way possible?' Because that is always what's going to get you further."
Fast forward two years later and Ebonee is still sticking to her vow of realism while reaping the rewards of what comes with being true to oneself. Tired of wearing long beach-wave weave, she decided to risk her career by making a life-altering decision to cut her hair and wear it in its natural state. Fortune favors the bold, and the budding supermodel has managed to stay booked and blessed despite daring to rock her natural hair, a move that is not often embraced from darker-skinned models by the industry.
Ebonee's decision to go out on a whim and eventually win is a decision worth reckoning. Quite often, the risks that come with going against the grain is anything from being Blacklisted to straight up canceled. It's hard not to be inspired when hearing the pride in the voice of the now 25-year-old, as she boasts about the modeling world's slow acceptance of broader beauty standards, crediting the industry's growth to the current cultural and political climate of today's society.
More important than her physical growth is the growth within herself. The high fashion model proudly gives praise to the most high for her mental transformation. "My biggest self-care tip is 'Give it to God.' Like, that's number one in my life. I really feel like my belief in God is what changed my career, and it really gave me the strength to really carve out my own lane for myself. The path that I'm going is really a path that [not] anyone has traveled before. I really feel like I'm trying to do something different, especially as a model, and being vocal, and doing all that I'm doing. So believing in God has really given me the strength to be like, 'You know what? It's okay. It takes a little bit longer. It's okay if your path is a little bit different.' And that gives me a lot of peace [and] peace of mind. You don't have to worry, you don't have to stress. What's for you, is for you."
"My biggest self-care tip is 'Give it to God.' My belief in God is what changed my career."
Hearing Ebonee's testimony, one can't help but to liken her to Black Panther star Letitia Wright, who plays "Shuri," --the technology goddess, sister and ultimate wingwoman to King T'Challa, the Black Panther himself. The breakout star recently opened up in an interview expressing her bout with depression, and how she shied away from the industry at the peak of her career to focus more on her faith, and the healing (and blessings) that followed thereafter.
"That's what happened to me!" Ebonee excitedly interjects while reacting to the similarities to herself and Letitia. "I had the behaviors [of depression]. As you get older, those are all the things you have to take the time to reevaluate and assess like, 'Why am I like this? Why do I behave like this? Where does this come from? Is this helping me get to where I need to go?'
Ebonee is no stranger to setbacks in her life, but those trials have blazed trails for unexpected triumphs. Her testimony of how she went from surfing couches to walking runways and starring in ads for big-name brands like GAP, Pantene, David's Bridal, and Calvin Klein is inspiring, and she confesses she isn't "struggling" now, although she still shrugs off the notion that she's "made it."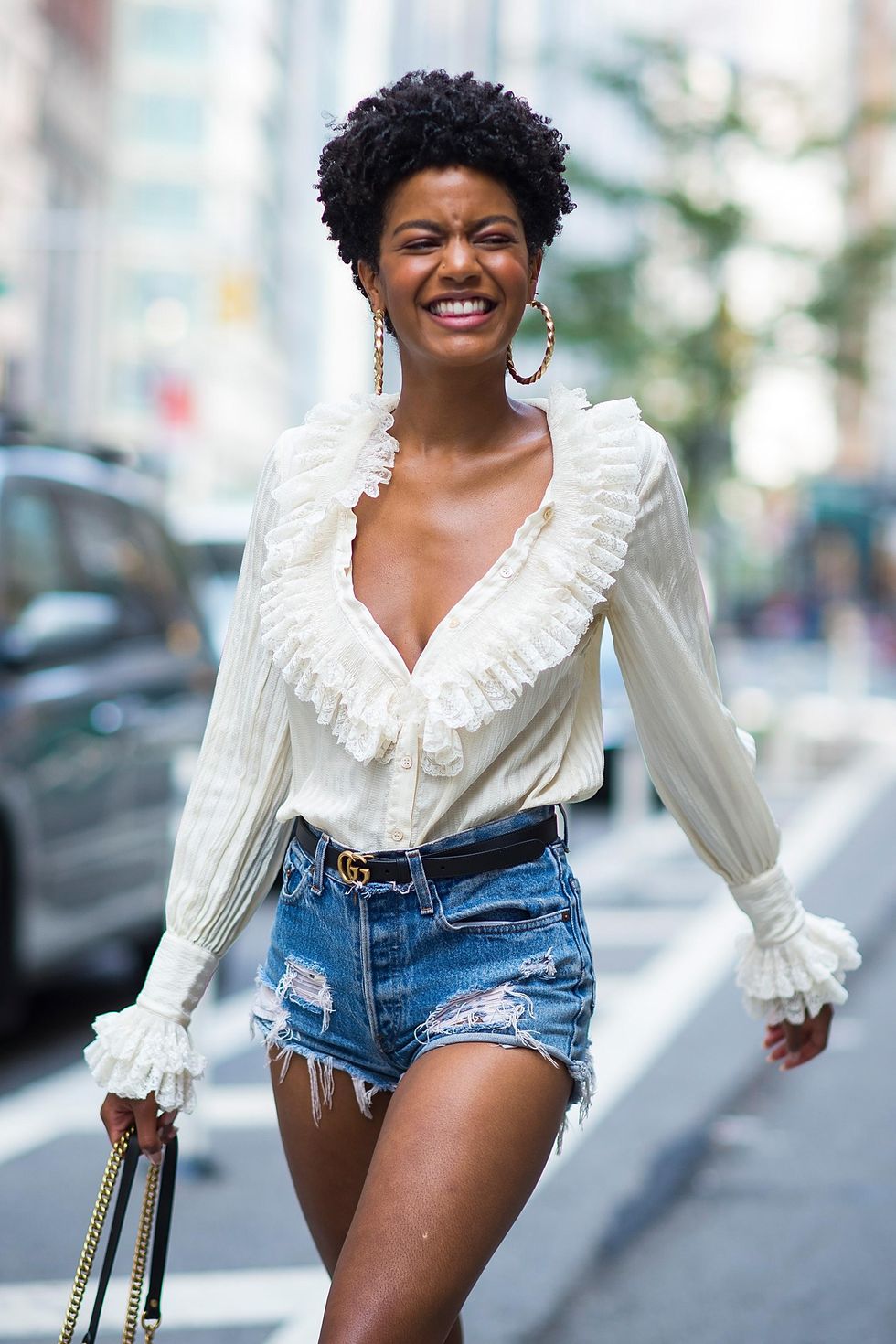 Gotham/GC Images
"I've never had like a 'big break," she humbly admits. "I've just had really great things that have happened to me over time, but I don't think there was ever really a moment that was just like, 'Oh my God, this is it. You're destined for stardom.' You know what I mean? I just feel like I've been real consistent in working my way up and putting in the hard work, and creating a foundation for myself not just based on modeling, but based on activism and philanthropy, and just using my voice and giving back."

At the end of a hard day's work, beyond the lights is Ebonee's life. When asked about her greatest love to date, it's clear that for Ebonee, it's self-love. As the model grows and redefines her life, she is also redefining love.
"Relationships are mirrors. Friendships as well. A lot of the time we attract people who hurt because we're hurting. But then when we're ready to leave that situation, we point that finger and blame that person like, 'You ruined my life!' But a lot of the time, if we took the time to be introspective, we'd realize that there was something in us that needed to learn a lesson, or something in us that was also in that other person that we need to work on. So, taking the time to assess your relationships [is important] like, 'What is being shown to me right now through this relationship with this person?'
"Relationships are mirrors. We attract people who hurt because we're hurting."
"My definition of love has changed so much over the last year as I've learned to love myself differently, because I've also learned to give love differently," she continues. "I've also learned how I want to be loved and how I deserve to be loved and what type of love I'm worthy of. And since going through this transformation, I haven't dated anyone and I haven't been in a relationship. I don't know what love would actually look like in a relationship [now]. If it would feel differently than it has in the past. It's hard to say if I've been in love because I think I have, but it's changed so much, so maybe I haven't. I won't know until I actually find someone."
Now that's what we call a r̶o̶l̶e̶ real model.
For more Ebonee, be sure to follow her on Instagram and Twitter.
Featured image by WireImage