---
What does it take to find the love you want? To attract the love you want, to make the love you truly want to experience in this lifetime? Well, former Bachelorette star Mike Johnson says it starts with doing the inner work FIRST. And by inner work, he means rewriting and reflecting on the internal stories we tell ourselves about ourselves and using them as a springboard to attract the life and love that we deserve. And if you need help tapping into that side of yourself, look no further than his debut book, aptly entitled Making the Love You Want.
In it, the Texas native provides a toolbox for all those looking to genuinely level up their lives from the inside out through the practice of self-love. "I just want it to be a vessel that can help people with the issues that they're going through and the things that they're facing in life," he tells xoNecole in our midday chat. "By reading it, you'll be able to obliterate, and I mean, completely destroy those self-limiting beliefs. You will be able to have the courage and the strength to propel yourself to the next level of your life."
We recently sat down the 32-year-old self-love sage to talk about personal growth, romantic love, and why it's important for Black men to be vulnerable.
*Some answers have been edited and condensed for clarity.
xoNecole: In your book, you really harp on doing the inner work, particularly in the areas of self-love and self-worth. Personally, I tend to think self-worth is an inside job.
Mike Johnson: It absolutely is, it's in the name.
For Black men in particular, how can they continue to cultivate that sense of self-awareness?
[I think it's in] the strength that we have, the strength that we are blessed with and the strength that society makes us have. I think that we can take some of that strength and be vulnerable as well, because it does absolutely take strength to be vulnerable. And I feel that once we can see the strength, meaning vulnerability, there's nothing that we can't do. It's more of a mindset--it's funny because when I think of this topic, I think of Eminem and 8 Mile. If you remember when he did the rap battle, he said everything negative against himself, he put it all out there. And once you put everything out there, no one could combat you. It's already out there. So, I think that's something that we have to utilize to our advantage.
"I think that we can take some of that strength and be vulnerable as well, because it does absolutely take strength to be vulnerable. And I feel that once we can see the strength, meaning vulnerability, there's nothing that we can't do."
Why do you think it's so hard for Black men to have conversations around self-love and personal growth?
I wouldn't say that it's hard. It's just maybe something that isn't as seen in mainstream media. And I can speak to why I think that is. I feel that in our community, we put on a tough face at times but I do want to say that the color of our skin doesn't dictate our emotional levels. I feel that our environments do. And we adapt to the environment to make sure that we survive out of it. I think people like Charlamagne are doing a wonderful job of spearheading how to get out of those environments, Derrick Jaxn on Instagram, someone like myself--since I'm trying to be in that realm as well. And if something is popular, more people want to be able to do it as well.
When men start to realize that, you know, it's OK for us to be vulnerable, it's OK to talk about real issues and you're not considered a victim--I think that people relate to that more. I mean, the reason some of our biggest musical artists are so big is because they have a creative way of getting out their emotions and they speak on what they're going through, through songs.
You seem to be a very optimistic guy.  Every time I come across you on Instagram, you always seem to have a smile on your face. So I wanna know, is a positive outlook a deal-breaker for you when it comes to relationships?
Not having a positive outlook, yeah. If she doesn't have a positive outlook--I don't care how fine she is. I don't care how much money. I don't really care, if you [are] a Negative Nancy, I'm not with you. I am extremely strong with that. If you're just a negative-thinking individual, I'm not going to let your negativity interrupt my energy. It's too precious.
"If you're just a negative-thinking individual, I'm not going to let your negativity interrupt my energy. It's too precious."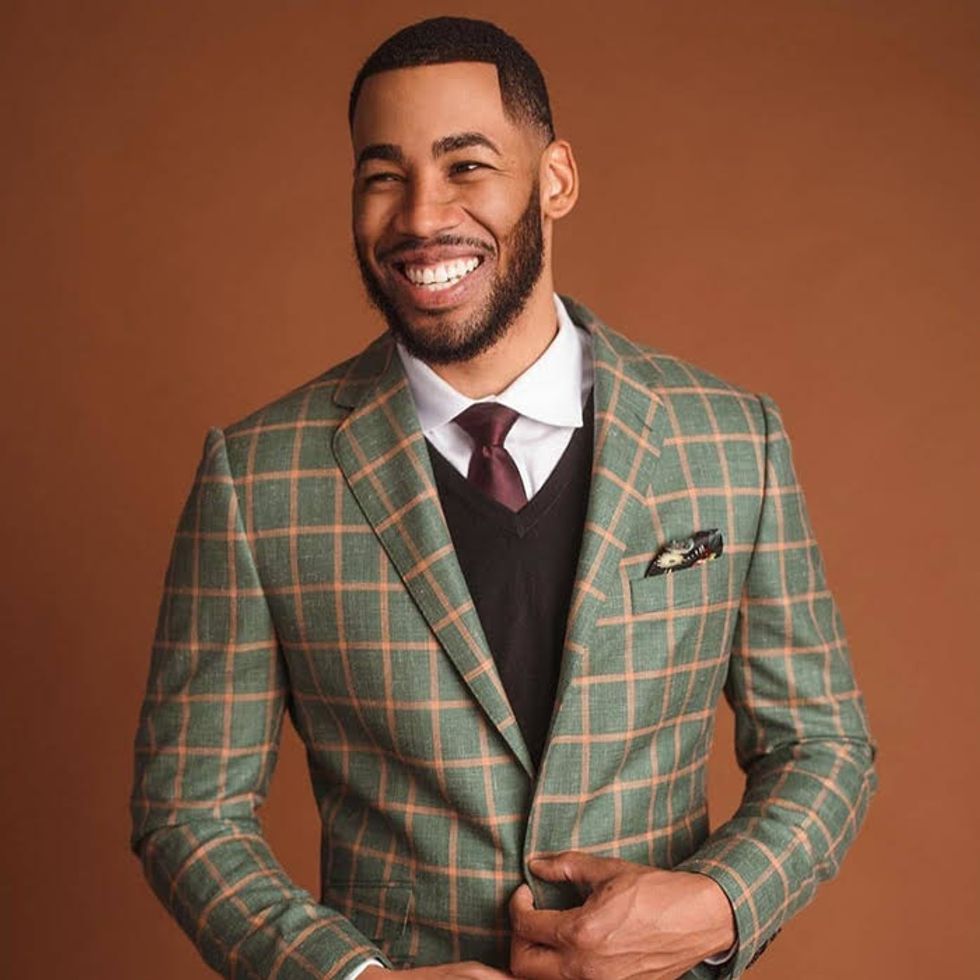 Courtesy of Mike Johnson
How has your time on 'The Bachelorette' or 'Bachelor In Paradise' influenced what traits you now look for in a potential partner?
No, it hasn't changed whatsoever. I still know the type of woman that I love and adore, and quite honestly with me on TV-- it doesn't change my outlook because I was able to attract the woman that I like already. The TV doesn't do anything when it comes to dating, except for if you want to be superficial and get a certain type of chick, then you can do that. But my homies still know back in the day, when I was a teenager, we would call Walmart, Club Walmart. And if I go to Walmart to this day and I see somebody that I'm into, she could be the cashier. I don't care.
So, no TV doesn't do anything. All the TV does when it comes to dating is people feel as if they know exactly what you like. I know you didn't ask the question, but when I talked to my homies about when Black women say that I don't like Black women--I'm like, 'Why is it that way?' That's hard for me to hear because that's a damn lie. My ex was Black. And if the Bachelorette was a Black woman, no Black woman would say that. Right? So that's the only thing that actually hurts me, if I can honestly be transparent about that. That hurts my heart because I'm like, 'Hey, I love y'all period.'
Who is Mike Johnson as a romantic partner?
Mike Johnson is a loving partner. I'm the guy that your girlfriends hate because you are going to be saying all of these positive things and they don't have a good man like that (laughs). I would say that I'm pretty damn good at relationships. I definitely have no problem with someone putting me in the check but if they do something crazy too, I'm going to let them know. I don't like that either. I'm definitely someone that will motivate you just by you just watching how I act and how I move in life. I have goals all the time and so that will rub off on my partner. And I am definitely a sexual being.
Speaking of, kind of. Do you know your love languages and if so, what are they?
Yeah. So at first, before I read the book by Gary Chapman--amazing book-- I thought my love language was physical touch. But after reading the book, doing the quizzes, I ended up going deeper and it turns out my love language is actually quality time. But my dialect is quality communication. So when you speak to me, tell me what your heart is telling you, tell me your thoughts, be transparent with me, be loyal to me, that brings that trust like nothing else.
Are you single? How would you like for a woman to approach you now?
Oh wow. Well, I will say I am dating someone right now. I'm making a love that I want.
Shameless plug. Lastly, what's one thing you know now to be true about love?
One thing I know to be true about love. If you're loyal to a person, that person is loyal to you, if you do everything to make that individual happy, and if you have an open communication, open dialogue--there's nothing that you guys can't get through.
Making the Love You Want is available now, wherever books are sold. And to keep up with Mike, be sure to connect with him on Instagram.
Featured image courtesy of Mike Johnson