---
Boy meets Girl, Boy and Girl fall in love; then comes marriage, and then, I'm sure we all know what comes next. But what happens when Boy is a Grammy award-winning entertainer and Girl is a political commentator whose lives are constantly in the public eye and happily ever after doesn't seem so accessible? After becoming official in 2017, Angela Rye and Common lived that scenario firsthand, later leading them to put a nearly one-year pause on their romantic relationship.
Now, after therapy, self-reflection, and elimination of fear, the couple is giving their relationship another time, and this time, they're doing it right. Common, who recently spilled the tea on their rekindled union on the Angie Martinez Show, says that they are "happy" in their relationship and look forward to many days of fun together in the future.
"We dated and then I had to get myself together and she was doing some work. She's a strong cookie, but she's good people and really a good balance and fun, too."
According to the Let Love Have the Last Word author, the reason he and Angela make such a good couple is because they are able to offer each other a little sunshine in a world that's drowning in gray.
"I need a partner who is fun because we go out there and do the work and constantly, I'm living out the things I'm passionate about. But so many times I'm talking about the things that are going on in the world, serious things in life, so I just need somebody that's like, we can just talk and have fun."
Common explained that before their relationship timeout, he was practically oblivious to the amount of self-work that needed to be done to truly become a worthy partner. In addition to coping with his former love addiction, Common says that seeking out professional help also taught him how to handle conflict resolution in a tangible way: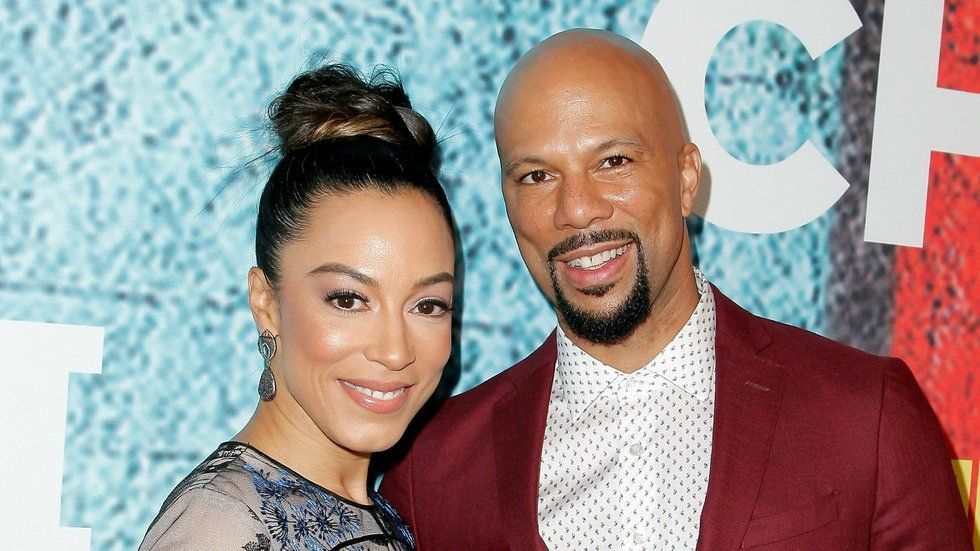 Tibrina Hobson/Getty Images
"I'm really happy. I think being able to go through situations where I didn't do good in relationships, some of that was my responsibility, and after repeating that, being like 'What am I doing wrong?' and working on self, I'm able to come to a relationship more like whole. This is where I am with it, this is what I'm looking for. If things change, then let's communicate. I'm real honest with myself. Therapy helped me to do that. It helped me to be like, some of the stuff I'm putting on this person is really stuff from my childhood; baggage I'm carrying."

During their time apart, Angela says that she did her own share of self-reflection, starting with uncovering some truths that she had put on the back burner for far too long. Although Angela says that knowing the rapper made her "a better human being," there were some areas of her life that she needed to explore without him. A biological clock can feel like a ticking time bomb for a woman with a career, and Angela Rye was no exception.
In the latest episode of OWN Spotlight: Black Women OWN The Conversation, the 39-year-old career woman said that around the same time that her motherly instincts kicked in in a major way, she was also experiencing a breakup that seemingly shattered her dreams of ever becoming a mother at all:
"I went through a breakup that was life-shaking for me a year ago. At the same time I was going through the breakup, I was going through the process of freezing my eggs. For a moment, as soon as I froze my eggs, I was like, 'I'm good. I don't need these fools at all."
Luckily for Common, Angela's loss in faith in relationships was only temporary and now, she's even more inspired to become a mother than before.
While we're wishing wedding bells and baby carriages into existence for our #WokeCoupleGoals in the near future, Angela and Common prove that good things come to those who are able to let go and try again with new intentions.
To watch the full clip, click below!
Common Confirms Relationship With Angela Rye + Discusses Performing With Erykah Baduwww.youtube.com
Featured image by Getty Images.