---
With the rise of more and more black women breaking away from traditional 9-5s to become their own bosses, the CEO is getting a revamp as the SHEeo. In the Meet The SHEeo series, we talk to melanated mavens leveling up and glowing up, all while redefining what it means to be a boss.
While home from basketball camp, Chantel Powell noticed that her then six-year-old son had an undesirable smell, and after doing research, whipped up a natural deodorant in her kitchen. At the time there wasn't a fun, natural deodorant on the market catering to kids, so when her son insisted that she make a batch of deodorant for his friends, Powell knew that the idea was worth investing in.
In 2018, she officially launched Play Pits— a mother's solution to providing a kid-friendly, all-natural hygiene option for youth with active lifestyles an affordable price point. Within a year, the brand has gained over 3,000 customers worldwide, and can be found on shelves in several stores across the country.
Meet Chantel L. Powell of Play Pits.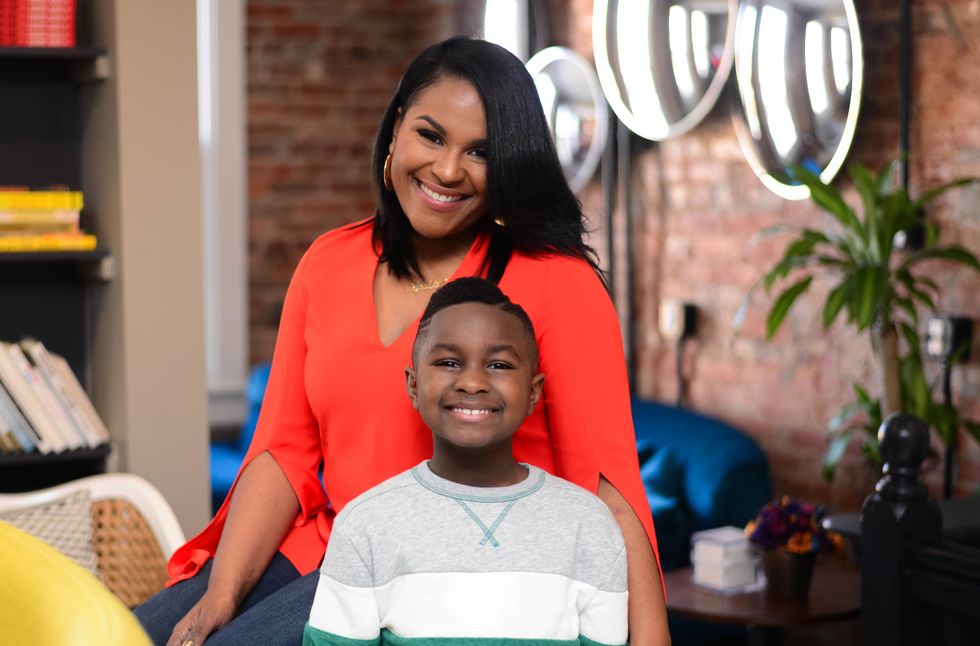 Courtesy of Chantel L. Powell
Title: CEO of Play Pits

Year Founded: 2018
Location: Upper Marlboro, MD
# of Employees: 5 owners (Chantel, Husband, and their kids Kameron, Kaiden, and Keyona)

30-Second Pitch: Play Pits is a 100% all natural deodorant, free of aluminum, parabens, synthetic fragrances and other harsh chemicals. This is a mother's solution to providing a kid-friendly, all-natural hygiene option for youth with active lifestyles. Play Pits strives to be a beacon of healthier solutions for all demographics and communities at an affordable price point. It's our mission to educate parents and children about the dangerous ingredients found in popular deodorants and everyday household products.
What inspired you to start your brand? 
Funny story! My son Kameron, who was six at the time, was between basketball camp and basketball camp and smelled horrible! My exact words were, "You smell like a grown man!" After research with different deodorant brands and their ingredients, I decided to make a natural deodorant for Kameron in my kitchen. To my surprise, he loved it and told his campers and requested I make his deodorant for all the kids at camp. After my initial refusal, I quickly reconsidered once it hit me that it was a genius business idea. My family and I are committed to providing products to ensure kids have access to all-natural deodorants and parents have a brand that can be trusted.
What was your a-ha moment that brought your idea into reality?
Kameron urging me to make my deodorant for everybody...that was my a-ha moment. He looked at me with his sweet six-year-old eyes and suggested that I make the deodorant I whipped up just for him for EVERYONE. After some additional market research and discovering their was no product on the market that looked like anything I could create...I knew it was worth a try. Ha...I am glad I "tried"!
Who is your ideal customer?
The majority of my customers are MOMS. Moms and dads that are in need of rescuing from smelly pits from their little ones. Our ideal customers are Moms, Dads, families, women, men, anyone sick of using toxic deodorant and looking for a natural deodorant that really works. While Play Pits was initially created for kids, since launching we have discovered though there are a number of natural deodorants on the market, adults are struggling to find an effective natural deodorant. Our adult customers quickly learned that Play Pits is not only a safe natural deodorant, it's effective and it works!
What makes your business different? 
We are making deodorant FUN. There are many natural deodorants on the market but they are BORING and a bit too serious for us. Therefore, we made a traditional boring and lack luster hgiene product fun, exciting and intriguing. Play Pits is the "Cool Kid" in the deodorant market.
What obstacles did you have to overcome while launching and growing your brand? How were you able to overcome them? 
Initially, people didn't understand what we were doing. Why are we making a deodorant for KIDS? It was a different concept and people were not used to it but we overcame that by educating everyone that would listen about the harmful ingredients that was in their traditional antiperspirant. We were able to convert those people and they then became our "Play Pits Under-Armie", who help us spread the word and save one nose at a time! #SaveYourNose
What was the defining moment in your entrepreneurial journey? 
We have had several moments, the first moment was when we won our first pitch competition in May 2018 because that win validated all my sleepless nights and hard work that went into the launch of Play Pits. It was the moment my dream became my families' truth. This May, I was honored as the Hustle & Grow Honoree at The Momference. I was voted and recognized by my target market and my peers; and most recently being featured in our first article by Because Of Them We Can which gained amazing traction and visibility to our community.
Where do you see your company in 5-10 years? 
I see our company becoming a household name! Play Pits will be THE natural body care that parents trust and kids demand found in all the big box stores. In the next five years we will have a whole product line for the entire family. Our ultimate goal is to normalize natural products and using our products to educate generations.
Where have you seen the biggest return on investment? 
We started small and promoted at a grass-roots level with vending and doing pop-ups. Those events has allowed us to talk and connect with new and existing customers monthly. Social media has also played a huge roll in our marketing by reaching thousands of customers all over the world.
Do you have a mentor? If so, who? 
Before I launched I was fortunate to meet the owner of Zen in a Jar, Nikki, at an event. She was completely God-sent, Nikki has truly taken me under her wing by sharing resources, promoting my business and connecting me with her network. I am so grateful to have her as my big sister in business and friend.
Biggest lesson you've learned in business?
When we launched, I was doing everything: building my website, managing social media, processing orders, making product, etc all while juggling my family and a job. That is a fast path to burning out physically, mentally and emotionally. I have learned that you can't run a business alone! As the African proverb says, "If you want to go quickly, go alone. If you want to go far, go together." It is super important to utilize your village. My village of family and friends currently serve as my team as I grow Play Pits.
"During the early stages of business, funds may be limited but there is plenty of work that still has to be done. Therefore, it's imperative to seek the help of people that love you and believe in the work you are doing because those are the people that will work for FREE."
Anything else you would like for people to know, or take away from your entrepreneurial story? 
Dreams do come true! Words can't describe the level of pride I have about Play Pits' success. To know a little over a year ago, Play Pits was in development, a top secret project that I poured all my extra money into, a product that I knew was amazing and innovative but wasn't sure people would get it. And now one year later in business, we have over 3,000 customers all over the world and on shelves in several stores across the country. I am proud of the legacy my family is building.
For more of Chantel and Play Pits, follow her on Instagram.