---
There's good skin, and then there's Kelis's skin. The "Bossy" singer, songwriter, chef extraordinaire could teach the youth a thing or two about what it takes to achieve healthy and glowing skin. The 38-year-old has skin that rivals someone more than half her age, which has made her an early contender for the iconic black don't crack crown, joining the ranks alongside the Halles, the Sanaas, and the Nias of the world, no doubt. Apparently, the key to her waking up and posting up flawless all lies in placing the skincare emphasis where it belongs: in moisture.
If her selfie game is any indicator, Kelis has the keys to the fountain of youth. Luckily for us, the beauty recently chatted with The Fader to spill all the tea on skin routine – and surprise, surprise, there is not a cleanser in sight. Ladies, take note.
In a world filled to the brim with trendy 10-step Korean skincare routines, chemical peels, and other treatments that cost you a pretty penny, for Kelis, her motto is the simpler, the better. One thing that she has made a decision to consistently opt out of, is investing in those cleansers that we all hold so near and dear to our hearts and beauty regimens.
"I don't use soap on my face, that's the first thing. I think that's the one consistent thing I've done in the past 20 years. It's because I'm super dry. I might wash my face with an actual cleanser – it sounds crazy – but maybe like once a month. I can't do it. Every time I do it, I'm way too dry. Moisture for me is the key to everything. I am moisture crazy."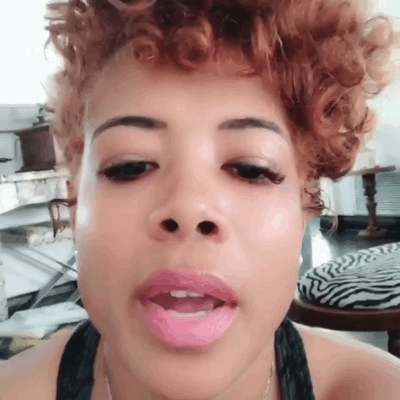 She also notes that collagen is something she's been swearing by as of late to keep her complexion looking fleeky.
"I'm obsessed with collagen lately. I mean, like obsessed. I have collagen products of all kinds. I love trying new products. I am a total product whore. For hair and skin, I am like obsessed."
Kelis also gave props where props were due to the key role that Vitamin C plays in achieving and maintaining healthy skin.
"I obviously wear a lot of makeup for work, but in my everyday life I don't. I'm big on mascara and lipgloss and that's about it. My skin is like a playground, I'm always trying new moisturizers. Vitamin C is the key. I love a Vitamin C serum, I love a collagen moment, I love royal jelly. Everything is about hydration and keeping the natural glow. I'm generally in a state of sleep deprivation so I need a lot of creams."
So, ditch the cleanser, stay moisturized, invest in collagen, use Vitamin C serums – check, check, check, and check. Kelis also raved about a last crucial element of her skincare routine when she name dropped the Hanacure mask, a mask that lifts, restores, and tightens the skin. For her and women with skin like hers, the holy grail beauty product is just what she needs to remedy her dry skin.
"I just recently got that facial thing Hanacure, which I have to say is pretty freaking epic. I don't even like facial things, but I had to text my friends like, "Yo, it works, this is crazy!" I felt my pores get tighter, it was nuts. It's really ill. Facial stuff I'm not usually into, I think it's all crap, but this is actually amazing. When you take it off you're so freaking soft."
Come through Kelis, with the much-needed skincare gems, yas!
Head over to The Fader to check out some other amazing articles that's all about the Head Beauty In Charge.