As Told To is a recurring segment on xoNecole where real women are given a platform to tell their stories in the first-person narrative as told to a writer. If you have a story you'd like to share but aren't sure about how to put it into words, contact us at submissions@xonecole.com with the subject "As Told To" for your story to be featured.
This is Shay Moss' story, as told to Charmin Michelle.
For I know the plans I have for you," declares the Lord, ''plans to prosper you and not to harm you, plans to give you hope and a future.—Jeremiah 29:11
God has such a sense of humor.

One year and six months ago, I hopped into the DM's of my now fiancé, Jeremiah. I followed him on social media about three-ish years ago and he followed me back. We occasionally liked each other's pictures and would randomly hold flirtatious chats.

Not much else came of it as we were actually both in situationships at the time, so we didn't seriously pursue each other.
I have a tattoo on my wrist of my favorite scripture, Jeremiah 29:11, and one day, I jokingly sent him a picture telling him I have his name tattooed on me.
Well, I guess your girl's got some game because to my surprise, he sent back a picture showing that he had the exact same scripture framed and hanging on the wall at his home. We bonded over the irony and decided to explore what was between us.
I live in Houston and work as a program manager in the tech ed industry, but I grew up in Virginia where I went to college and pursued a career in school counseling.
I moved to New York City when I got my master's degree and worked as a college counselor for a few years before relocating to Texas. Jeremiah is from New York and attended college in Virginia. He relocated to Houston after graduating and now works as a corporate recruiter. So, our paths were completely parallel to each other. Or I guess I should say, perpendicular?

Before Jeremiah, I was trapped in a cycle of dating men who I thought I could "fix" or "help".

I wouldn't date men who shared the same core values as I did, and they definitely didn't understand the concept of being equally yoked. However, like so many women out there, a huge issue in my dating nightmares was directly correlated with not understanding my own personal flaws.
There were moments where I thought just because I have all these accolades, I was the ultimate prize. I believed men needed to change for me—which is true to a degree—but I failed to realize that I needed to step back and fix myself before trying to fix a man. I had to sort out my own triggers and insecurities stemming from my past. I listened to God this time, I allowed Him to be the guiding light.
And from there, Jeremiah stepped in and changed everything I thought I knew about partnership.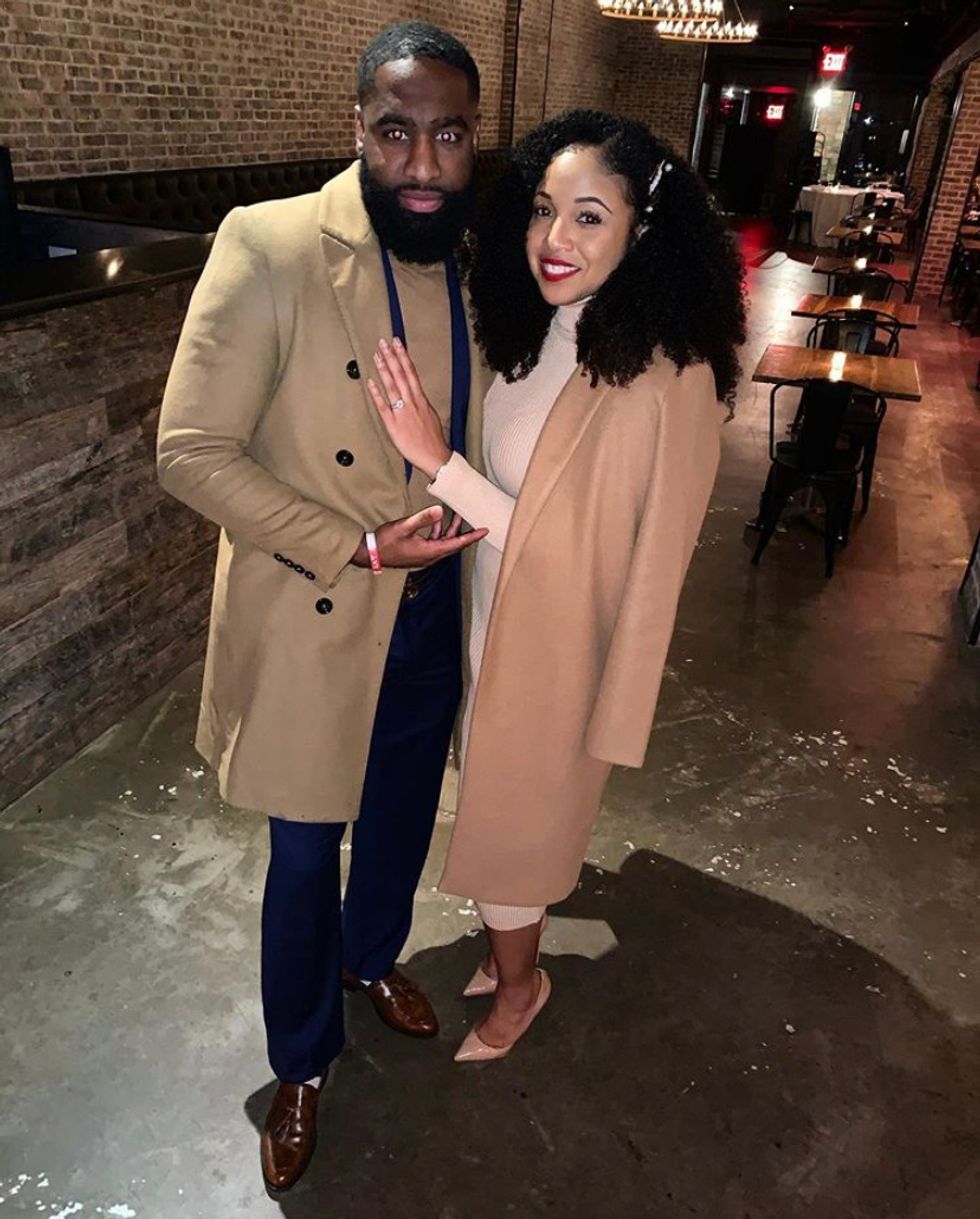 Photo Courtesy of Shay Moss
Since we dated long-distance in the beginning, we relied on FaceTime. Our conversations always flowed so effortlessly and I never had to force anything. We talked so much about our goals in life and how we could work to achieve them. I loved the fact that he always had a plan and encouraged me to write down my aspirations. As our friendship flourished, we began to find striking similarities and coincidences all over the place.
We would see Jeremiah 29:11 in a multitude of places. We learned that both of our parents were married in 1988 and have had a loving fulfilling relationship for 31 years. We even had similar love languages.
The commonalities were too much at times, so we decided to accept it all as a sign, and enter an exclusive relationship—which initially, I was hesitant to do, being that we met through social media. I didn't want to welcome any judgment. Looking back, that's just the era we live in. So much of our lives are intertwined with social media, but who cares? The more we got to know each other, the more we fell in love.
Today, I am so thankful for this journey. We each have very busy lives with our careers and personal endeavors, so our relationship provides a sense of calmness on a hectic day. We have so much fun together, we are always being silly. We both love traveling but will also chill at home and binge-watch shows on a Saturday night.

And most importantly, we sit upon a foundation of faith in God and we allow that faith to nurture our relationship is growing stronger each day.
Recently, Jeremiah proposed and incorporated our favorite soul-binding scripture with the help of our amazing family and friends. And what's even more special is Jeremiah proposed on the 29th day of November (or 29/11).
I share my story to say this: God is all-knowing and He works in the most humbling of ways.
Ladies, it's OK to brag about your love, it's OK to have a peaceful relationship. There's no harm in being happy. It's very possible to find love online. I wholeheartedly believe that God will use any tool He wants to bring you together with the person He created for you. What's for you, is for you. So, allow manifested energy into your life.
Even if it's through a tattooed scripture and a DM slide.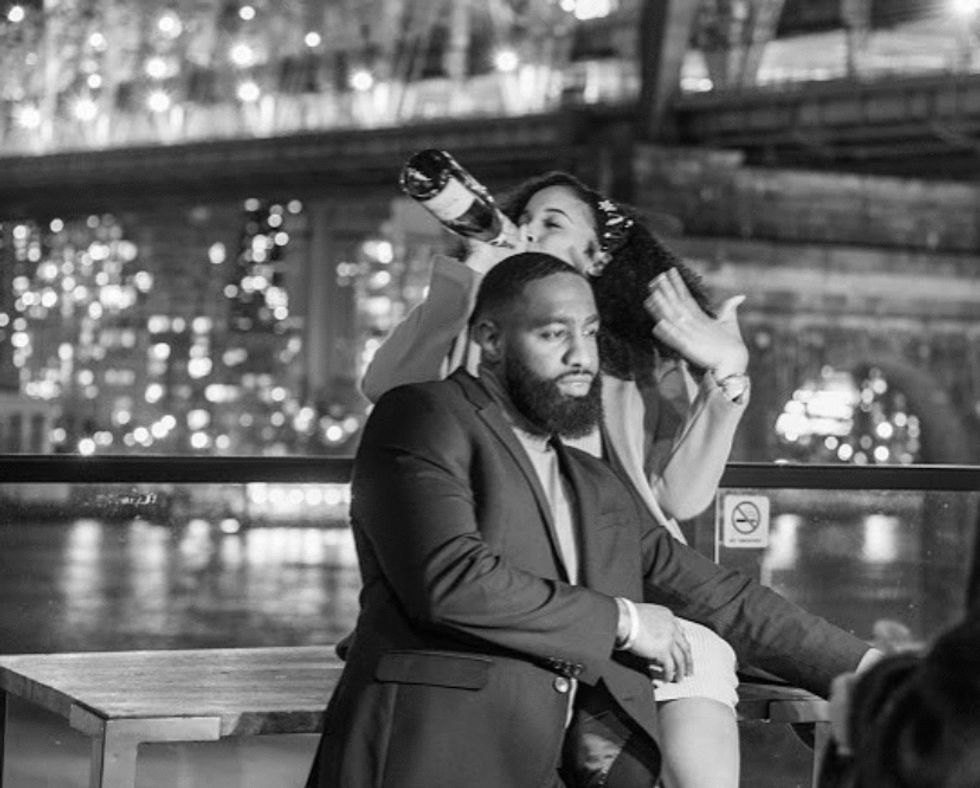 Photo Courtesy of Shay Moss
To keep up with Shay and Jeremiah's journey and love, follow her on Instagram @goodgirlseason.
Featured Image Courtesy of Shay Moss