Ever since Cardi B told the world on her infamous song "Bodak Yellow" that she "got a bag and fixed her teeth," Dr. Catrise Austin, the dentist behind her smile transformation, has seen her business quadruple. However, Dr. Austin's business was already booming. Long before the millennial superstar shouted her out on her breakout record -- and before social media made "getting your teeth done" something you posted and vlogged about -- Dr. Austin's had been putting in work building a name for herself in the cosmetic dentistry industry.
---
Celebrities like Anthony Anderson, Common, Eva Marcille, Omarosa, Wendy Williams, Busta Rhymes, DJ Khaled, and ASAP Rocky have all graced Dr. Austin's chair and let her hands do what they best: craft beautiful smiles. As a cosmetic dentist, she specializes in providing smile makeovers, which include services such as porcelain veneers, composite veneers, bonding, or "anything that makes your smiles whiter and straighter without braces or major surgery," she says.

Dr. Austin chatted with xoNecole about how she got into cosmetic dentistry, the ups and downs of her career, her plans for expanding her entrepreneurial empire, the power of Black women in dentistry and more. One 2017 study noted that "the underrepresentation for Black dentists is extraordinary." Seeing a Black woman dominate in an underrepresented industry is inspiring. While many of us may not be not fans of visiting the dentist, understanding Dr. Austin's journey to where she is today will give you a newfound appreciation for the power of the hustle and finding your niche.
When you follow your purpose and are willing to invest in and nurture it, you cannot fail.
Dr. Austin wasn't always the dynamic go-getter that she is today. As an adolescent, she grew up with gapped, flared teeth and was never confident about her smile. At the age of 15, her mother surprised her with braces. A year later, she had straight teeth and immediately, she remembers, her "self-esteem, popularity, and confidence increased." By 16, she already had her dreams set on being a dentist so that she could give everyone the [boost] of confidence she experienced.
"A smile is like your business card," says Dr Austin. "It's the first thing people notice about you. If you're not confident about your smile, you don't smile, or you cover it up. It affects your total being."
While attending the University of Maryland School of Dentistry as a minority woman who hadn't majored in the sciences during undergrad, she struggled. There were times that Dr. Austin wanted to quit but with the support of students and administrators who looked like her, she was able to finish her requirements early, took special courses and specialized in oral surgery. That support was key, especially when her non-POC peers often insinuated that she was less than or less able to achieve. "I had to do the work -- sometimes harder than others."
Dr. Austin's catalyst moment came after graduating from dental school and moving to NYC. She found herself immersed in the late 90s Black New York City nightlife.Though she had no office or clients at the time, it was almost as if the universe was guiding her to something greater: her niche. Dr. Austin thought, "These are my friends. This is my network. Celebrities need to have beautiful smiles." She continues, "I put 'Dr. Catrise Austin - Dentist to the Stars' on a business card."
Sometimes you have to envision the dream before you actually live the dream.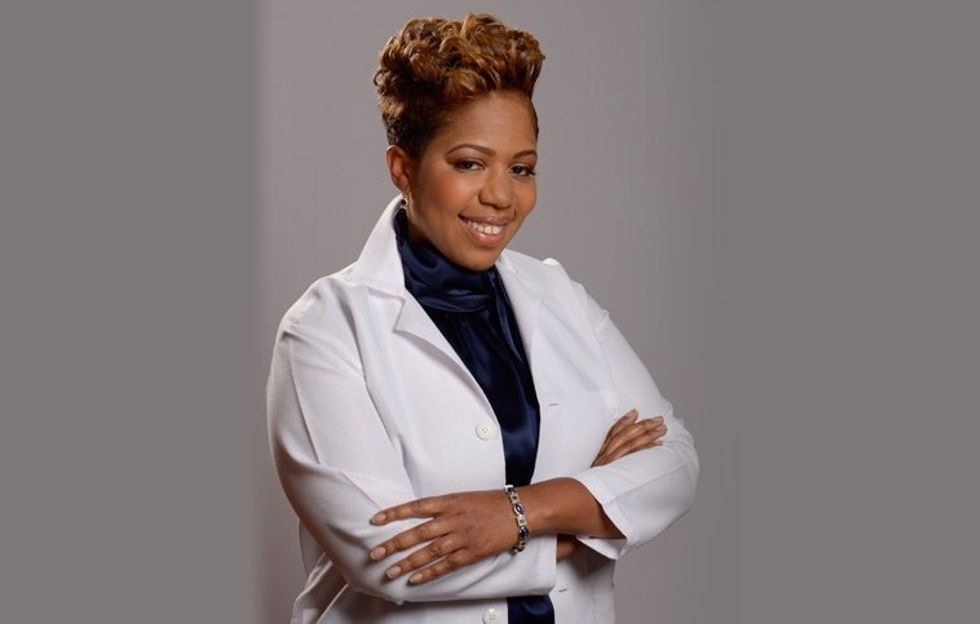 Courtesy of Dr. Catrise Austin
Little did she know that act of manifestation was probably the most important thing she ever did.
A chance encounter with Isaac Hayes at Diddy's restaurant Justin's followed. He was so impressed by her tenacity and became her first celebrity client. Isaac ended up welcoming Dr. Austin into his entourage and ushered her into the world of celebrity.
Next, came putting her all into building her brand. "I was everywhere entertainers were -- awards shows, music conferences, nightclubs -- anywhere I could meet my target market." It was tough, but Dr. Austin was determined. "We didn't have social media, so I had to do a lot of street marketing, flyers, business cards, and [word of mouth] networking."
But like any newbie entrepreneur, Dr. Austin still had to deal with the practical challenges of building a business. If she was going to be a "dentist to the stars," Dr. Austin was going to have to do everything to highlight her own starpower and differentiate her brand from her competitors. She hired a publicist early on who helped establish her expertise and increased her visibility in the right media outlets. She also made sure that she was investing in resources that would help her overall bottomline. "I didn't know anything about business...I hired [dental consultants] that came to my office and trained me and my staff on budget, industry standards on overhead, and systems."
By working with the local Small Business Administration, a resource she highly recommends, Dr. Austin received help on creating a long-term business plan. She also recommends that every serious entrepreneur invest in key advisors such as an accountant, bookkeeper, and lawyer. Dr. Austin's constant studying of her competitors uncovered a new market opportunity. "I looked at my top competitors and saw all the top dentists have a sexy location in Manhattan or Beverly HIlls, books, and products."
Tired of promoting other dental products, VIP Smiles, Dr. Austin's line of dental health and whitening products was born.
She happily says, "I'm excited to see the brand expand because I can offer the same thing that I offer in my office like teeth whitening, but for a lower price point for under $60...and because I'm a dentist, I'm offering products that are safe and really work."
Dr. Austin is so passionate about what she does, she deems it important to educate those who aren't her customers. With the rise of medical tourism and people opting to travel overseas for cosmetic dentistry, she urges consumers to do their research. "One size doesn't fit all," she warns.
It's important to review a cosmetic dentist's credentialing, experience, past work, and warranty. Most importantly, make sure your dentist is also checking the health of your teeth and gums first. It's protocol in Dr. Austin's office for all patients to have a consultation prior to having any services rendered. While your initial investment may be cheaper, you may end up paying more later to fix the damages of poor dental work.
Understanding the product your chosen dentist is using is also crucial. High quality porcelain veneers can cost between $1500-$3000 per tooth. "Many times, overseas dentists are installing composite veneers," Dr. Austin explains. "The material is plastic and that's why they can hand sculpt and do it in one visit. You are getting a cheaper product."
It's also necessary to understand that there are risks. Cosmetic dentistry is irreversible, but still safe. She cautions, "You have to be super sure that you are okay with altering the natural structure or health of your teeth."
By the end of our conversation, I realize that Dr. Austin genuinely loves what she does.
​Dr. Austin understands she's helping to change dental culture as well.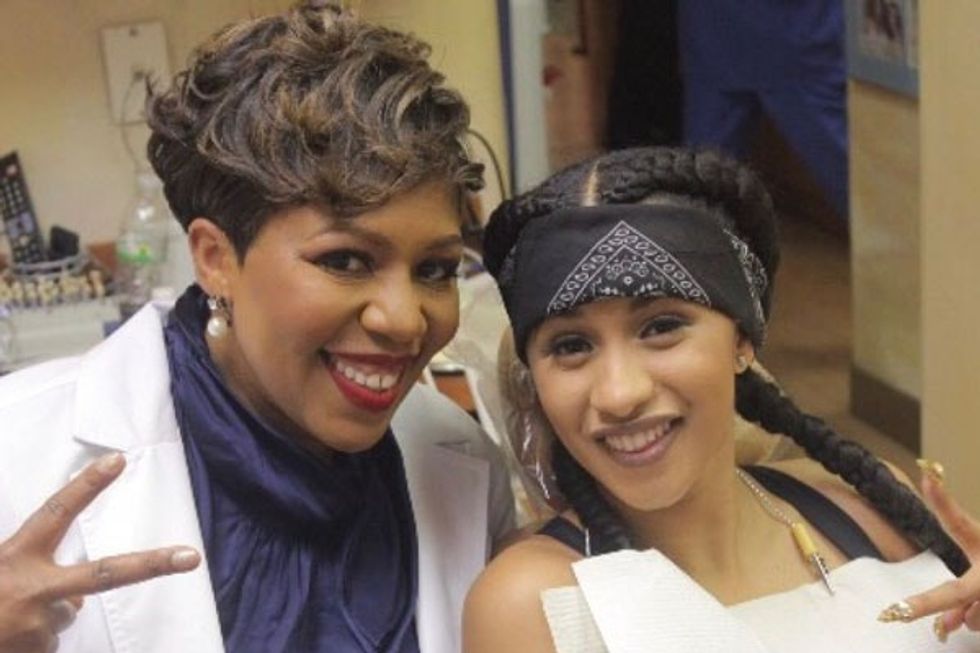 Dr. Catrise/Instagram
"A lot of people are afraid of the dentist. In our culture, you [probably] didn't grow up going to private dental practices. You may have gone to clinics, where the solution was to pull your teeth. Or, the care was not great. A lot of people don't feel comfortable. What people have told me is that [the reason] they chose me is because I'm a woman and I tend to be more sympathetic and empathetic and have a better bedside manner."
The fact that she was a Black female was also one of the reasons Cardi B chose Dr. Austin for her 2016 smile makeover. Dr Austin recalls, "Cardi told me a lot of people were trying to get her to go to the Dominican Republic or other dentists, but she wanted to support a Black female."
The feeling is mutual, too. Dr. Austin dotes, "Cardi B has been a blessing in my life and I have to thank her." Three years later, she still gets referrals because of Cardi. "Cardi B has inspired the world that if you're not happy about your smile to do something about it. If they can't afford me, they are seeking out people they can afford. At least they know, it's a possibility."
Dr. Austin's pride about her work makes me imagine what it must have been like to be in the room when she first saw her new smile at the age of 15. There is no doubt that is her life's purpose. She is walking in alignment.
Dr. Austin recently opened her second dental office in her hometown of Flint, Michigan. She's also working on spreading the reach of her VIP Smiles product line and producing live events and webinars that can help educate future consumers about the power of clean smiles and cosmetic dentistry.
"I want people to remember me for being one of the most honest, genuine, and relatable dentists that was in the business not just for money but to really help change people's lives. I want to go down as someone who really made a difference in the world."
One smile at a time, of course.
Featured image courtesy of Dr. Catrise Austin