Recently, the National Museum of Women in the Arts' (NMWA) campaign #5WomenArtists posed a very interesting question: Can you name five women artists?
---
According to NMWA, that question was difficult for many to answer because women artists are often erased, overlooked, and invisibilized in a field that is historically and contemporarily dominated by white men. However, I would love to pose another question: Can you name five Black women artists? While women in general are oft-neglected in the art world, Black women artists are even further marginalized due to racialized-gendered oppressions and mechanisms that seek to overlook their artistic prowess. Moreover, data shows the arts –– just like many other fields –– is also pervasively and predominantly occupied by white women.
Because of the historically and even contemporarily racist, sexist, and classist environment of the arts, there are countless established and up-and coming Black women artists who are not recognized by the mainstream art-world. For example, statistics also shows that when "surveying the top 100 U.S. artists by volume from the last 30 years, and specifically looking at black artists, there are only three women: Kara Walker, Ellen Gallagher, and Mickalene Thomas."
With this chronic lack of centering the brilliance of Black women in the arts, get to know five brilliant Black women artists –– Sha Rich, Dawn Okoro, Adele "Supreme Williams, Giselle Buchanan, and Adee Roberson –– and how through their creative, diverse, and innovative artistic mediums are revolutionizing their respective communities.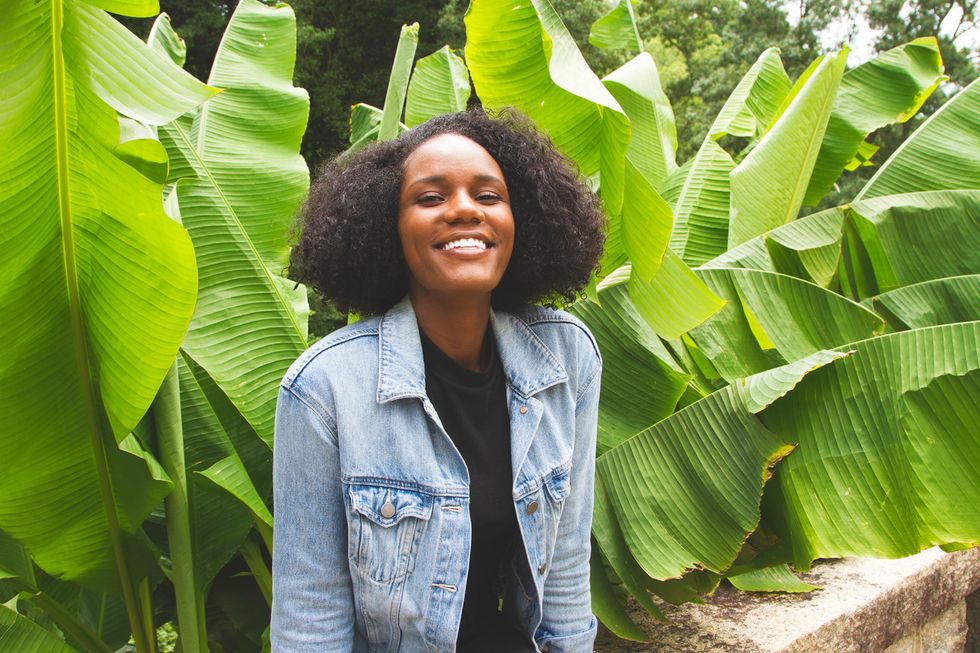 Photo: Sha Rich
Hailing from Tappahannock, Virginia, Sha Rich is an artistic force to be reckoned with. Drawing inspiration from the likes of Jamel Shabazz, Anita Baker, Carrie Mae Weems, Donald Glover/Childish Gambino, and Gordon Parks, Rich is a self-taught artist and photographer who draws portraits of prominent figures and everyday people. With a BFA in Graphic Design and a BS in Creative Advertising, her artistic mission and vision is to create and craft images of the Black community as sites of resistance and explore ideas of pain, pride, and dignity –– which are images she says "she wishes were more mainstream."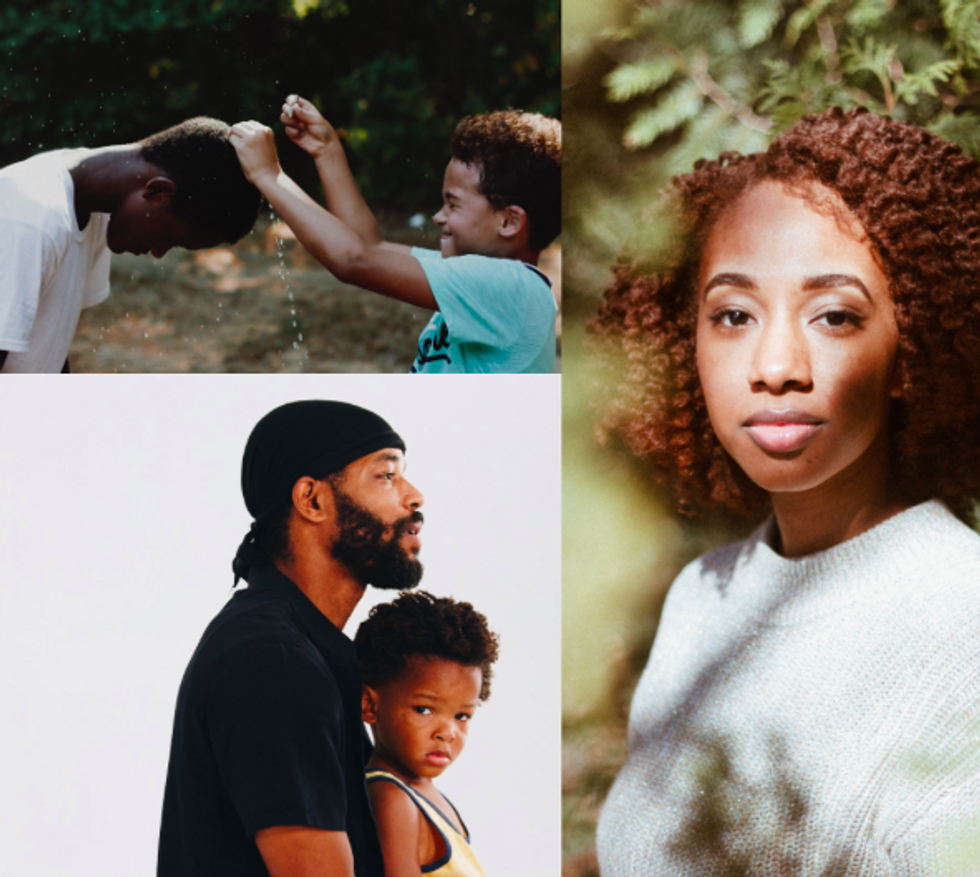 Photo Credits: Sha Rich | Images posted with the permission of Sha Rich
With her dream job of having solo shows worldwide, the creative and even political impetus behind Rich's work is to ensure the Black community and the diverse people who comprise it are properly represented and presented. Her profound, visionary, and anti-essentialist artwork dismantles stereotypical mainstream imagery that seeks to promote a very one-sided perspective and single-story narrative of the Black community.

To view Sha's work, visit her website: http://richmethods.work.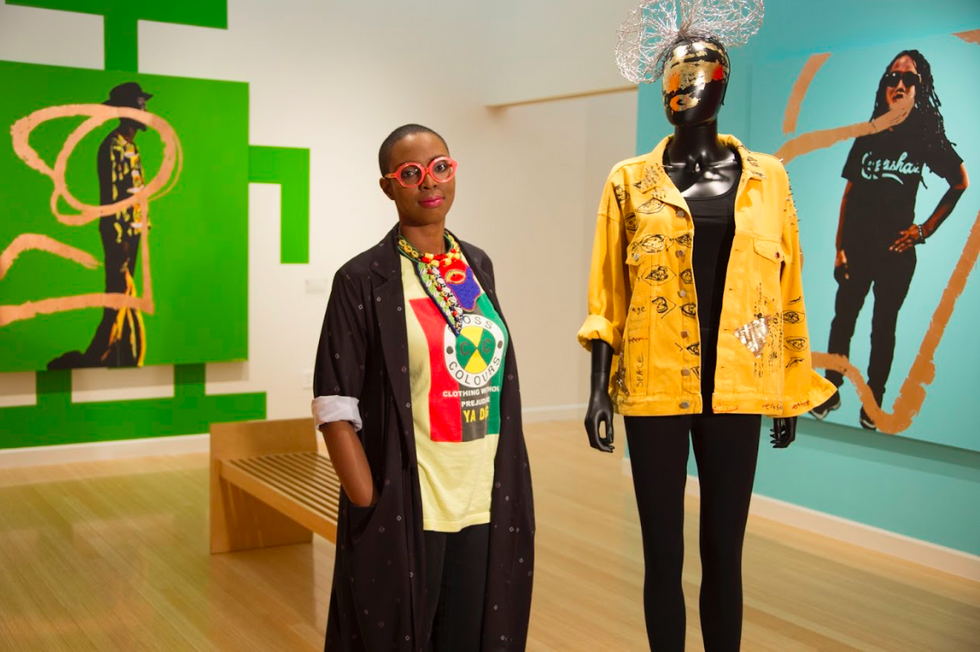 Photo: Dawn Okoro
A Nigerian-American artist extraordinaire Dawn Okoro and her innovative artwork ushers in a limitless Black radical imagination and future that defies ontological and restrictive Black identity and gender politics. Based in Austin, Texas, Okoro received her bachelor's degree from the University of Texas and her law degree from Texas Southern University. Inspired by fashion, illustration, photography, and design, her work has been featured in Oxford American and Drawing Magazines and has been shown at the Texas Biennial, New York University, Notre Dame University, MoCADA Museum, and the Curtiss Jacobs Gallery in Harlem.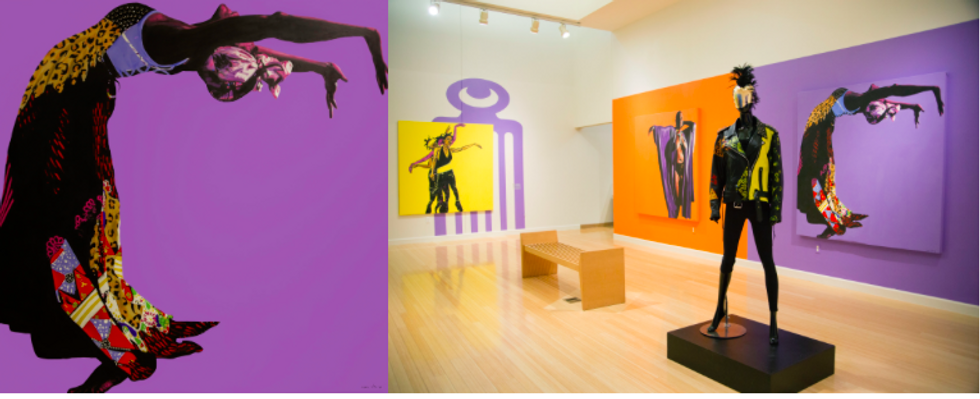 Photo Credit: Dawn Okoro's "Punk Noir" exhibition | Images reposted with permission by Dawn Okoro
Her latest exhibition "Punk Noir" features large-scale paintings and wearable art that highlights the punk, or Afropunk, spirit. Influenced by artists and photographers such as Barkley Hendrix, Richard Avedon, and Andy Warhol, Okoro's art "explores the idea of black people presenting truthfully, unabashed, and resisting societal expectations." Drawing inspiration and influence from her Nigerian Igbo heritage by using West African photo-writing traditions among the Akan peoples of Ghana and nsibidi and uli, known as andinkra, in her work. Most of the subjects featured in her exhibition are Austin-based writers, musicians, and artists.
To view Dawn's work, visit her website: https://okorostudio.com.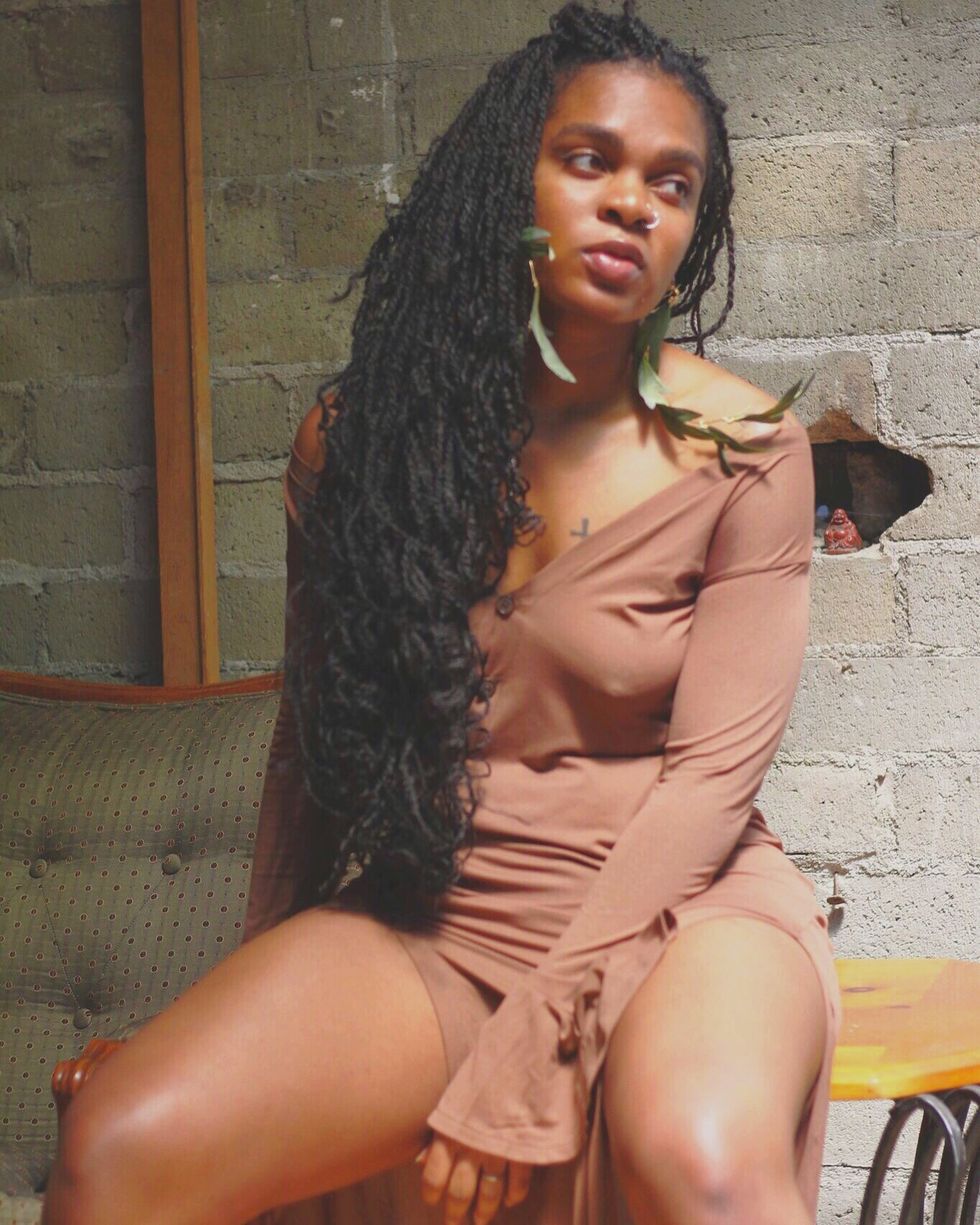 Photo: Adele Supreme
Adele "Supreme" Williams is not just an artist –– she, herself is art, physically and spiritually manifested. Inspired by her imagination and everyday observations, she describes her art and illustrations –– in particular, her comics –– as "silly coupled with cerebral." Born and raised in South Central, Los Angeles, her renown and eclectic work touches on an array of subjects including sex, love, life, social media, and the intimate and even quirky thoughts everyone thinks but sometimes are too fearful and even embarrassed to say out loud. Williams' relatability and satire in her comics is not only influenced by self-introspection and her compassion for others, but also her desire to depict Black women and people beyond stringent ideals and representations by "showing the vengeful, soft, drunk, regretful, confused, silly, horny, self-conscious, curious, explorative, sneaky, smart and sweet side of Black women."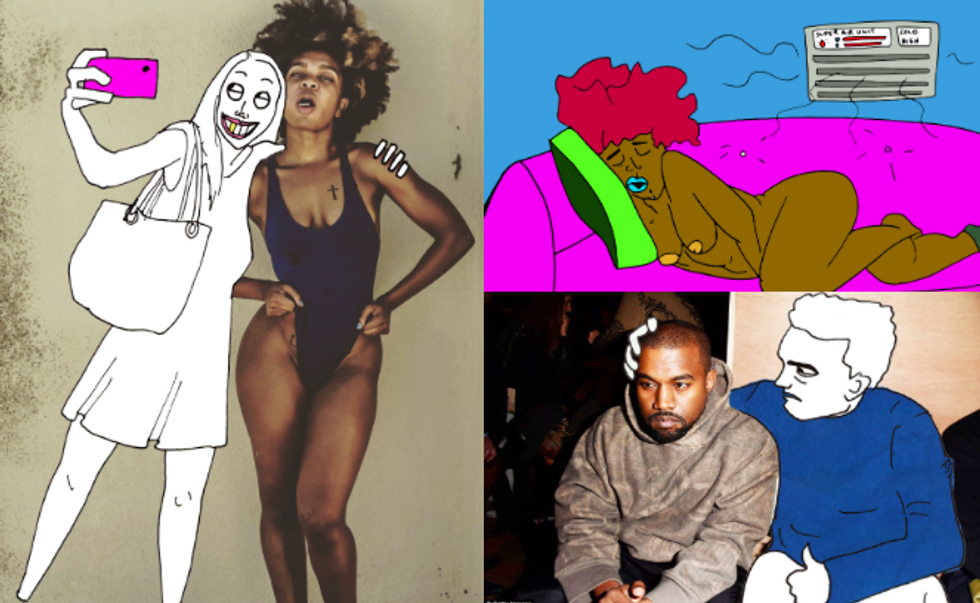 Photo Credits: Adele Supreme | Images reposted with permission by Adele Supreme
Challenging people to be authentically themselves and to embrace who they are in their entirety, Williams' first solo exhibit, "The Pretty Nasty Imagination of Adele Supreme," debuted in 2016 and traveled to various cities including Miami, Columbus, Los Angeles and Chicago. Also in 2016, Amazon debuted Williams' "Oh my God, Yes! A Series of extremely relatable circumstances" which will be adapted into animated series. She is also the author of her first children's book titled "My Hair Grows Up."

To view Adele's work, visit her website: https://www.adelewashere.com.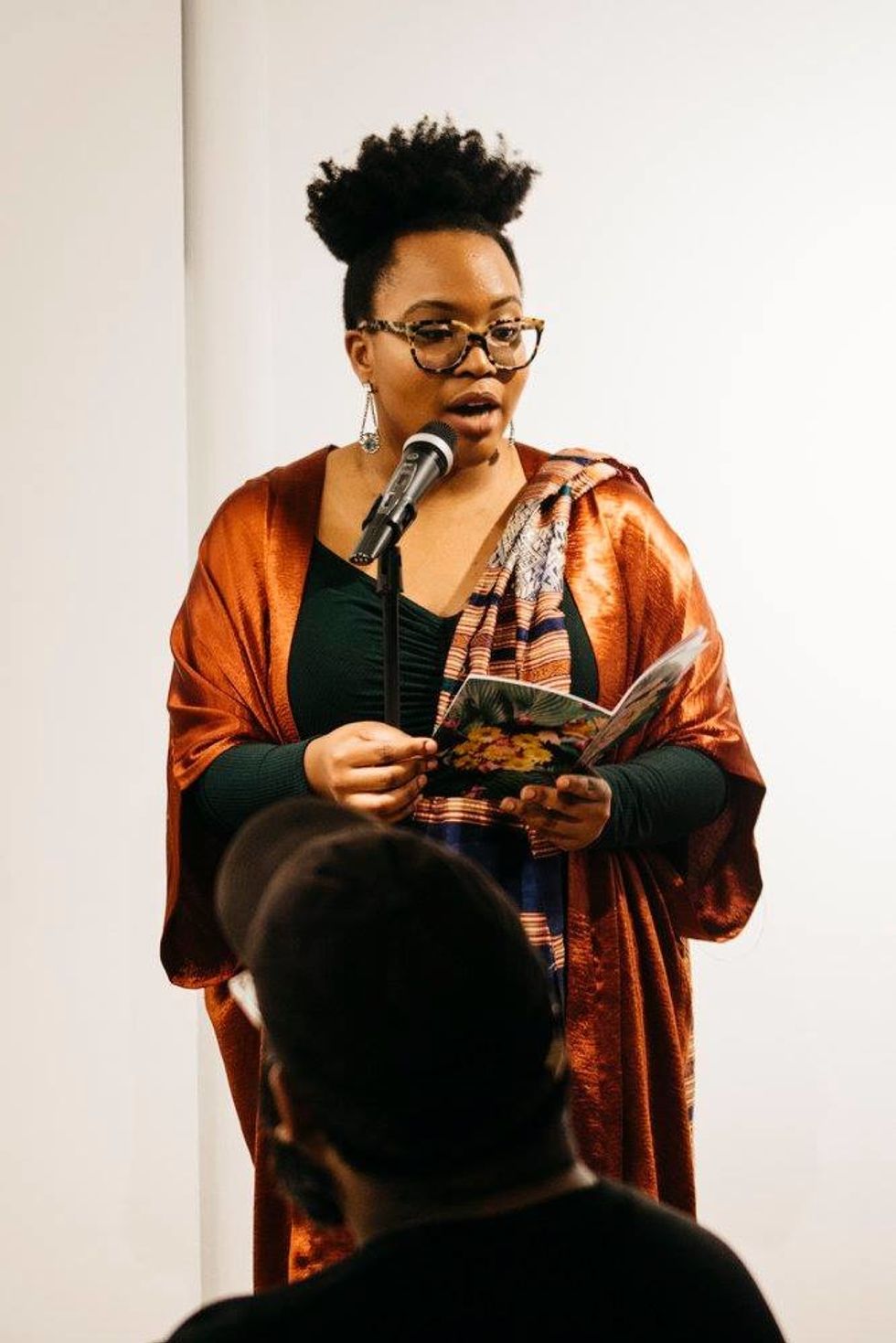 Photo: Giselle Buchanan
Giselle Buchanan is truly a goddess of all trades. A multidisciplinary artist, poet, and writer from the Bronx, New York, her work not just only emphasizes artistic aesthetics but integrates holistic and restorative healing and justice. Currently residing in Brooklyn as a community activist and organizer, Buchanan has integrated her art and activism as a therapeutic agent, working with women, incarcerated men on Rikers Island, and children in East Harlem, the Bronx, and Brooklyn. She has partnered and worked with several organizations, including the Bronx Museum, Harlem Textile works, and New York Writers Coalition, she also leads and facilitates workshops and programs that encourage, empower, and cultivate creative expression and artistic talents of marginalized and underserved students.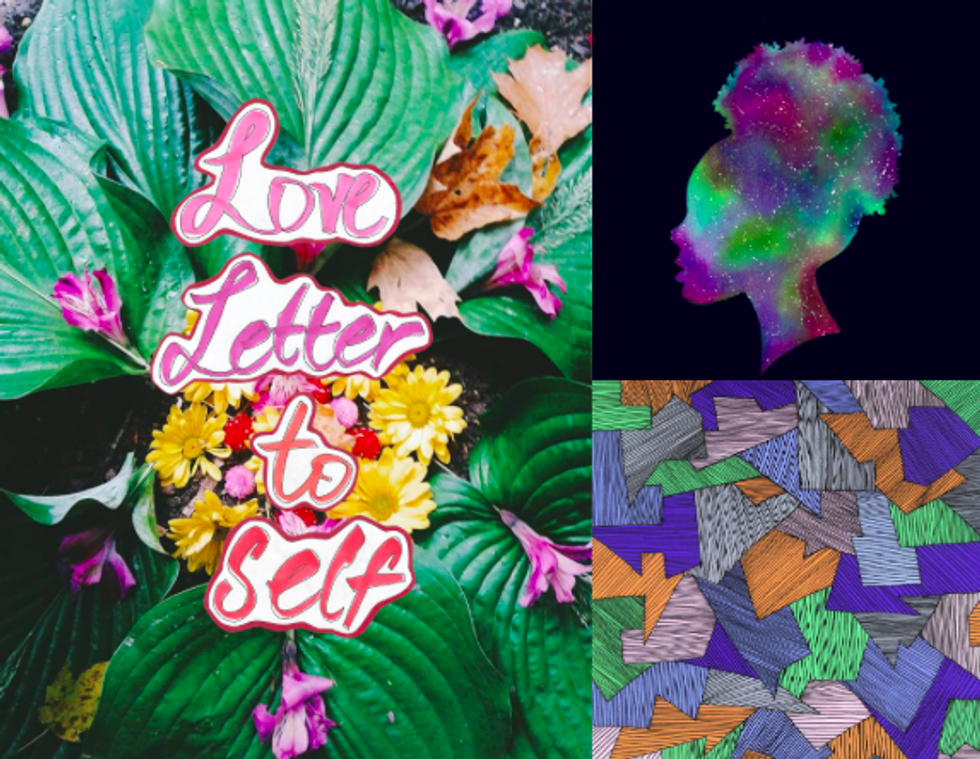 Photo Credits: Giselle Buchanan | Images reposted with permission by Giselle Buchanan
With artistic and political areas of interests, including rehabilitation and the arts; holistic healing and power of expression; community art and expression; Womanism; race, gender, and class; social justice and more, she has performed and hosted workshops at the Apollo Theater, the Chicago Theater, Housing Works Bookstore, MoCADA Museum, and Tufts University. Her writings and poetry have been featured in Hanging Loose magazine and media outlets. Her zine, "A Love Letter to Self" was published in 2017.

To view Giselle's work, visit her website: https://www.gisellebuchanan.com.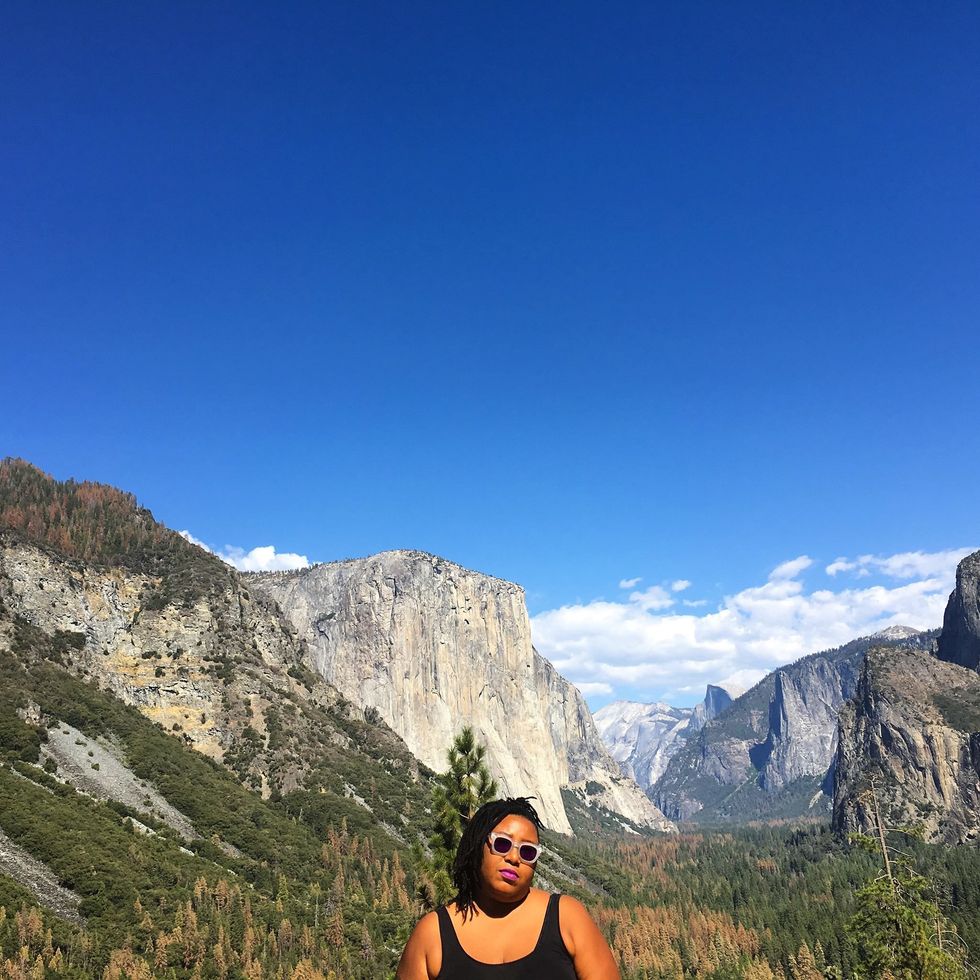 Photo: Adee Roberson
Adee Roberson's artistry not only embodies and evokes emotion –– her work constantly entices the viewer to know and want more. Born in West Palm Beach, Florida, Roberson's work speaks to and embodies the vibrancy of Black women –– in all their various shapes, frames, forms, evolutions, fludities, and identities. Using bright colors, bold shapes, and beautiful images of Black women in her art, her work "weaves sonic and familial archives, with landscape, technicolor, rhythm, form and spirit."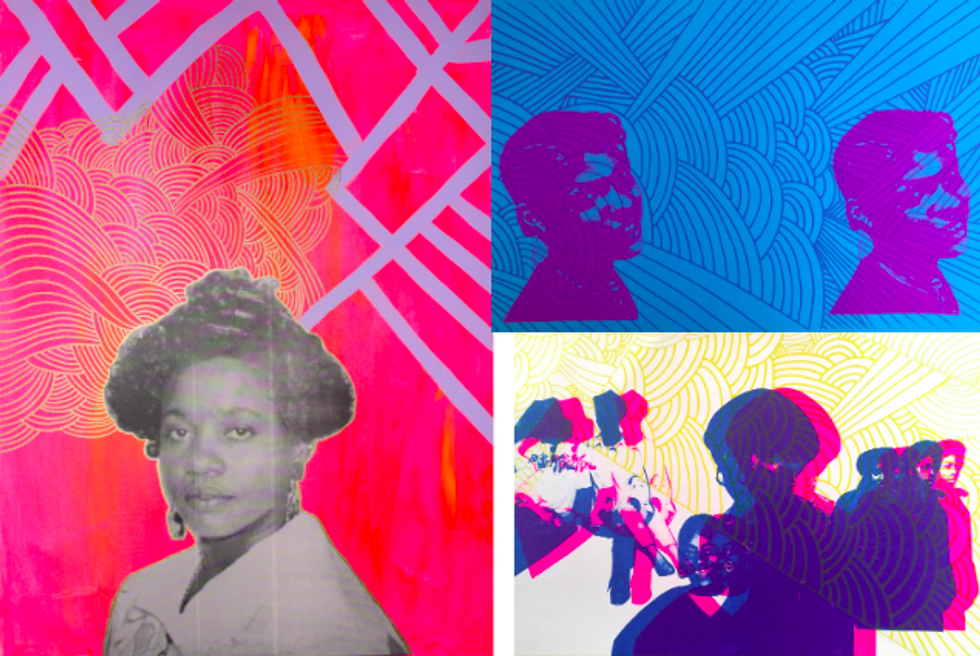 Photo Credits: Adee Roberson | Images reposted with permission by Adee Roberson
Currently based in Los Angeles, California, Roberson's use of familial archives elicits a fictive connection and kinship and allows the viewer to see their families, their friends, their community members, and even themselves in her timeless and awe-inspiring artistry. She has exhibited and performed at numerous venues, including Portland Institute of Contemporary Art, Yerba Buena Center for the Arts, Charlie James Gallery, Contemporary Art Center New Orleans, MOCA Los Angeles, and Art Gallery of Windsor, Ontario.

To view Adee's work, visit their website: http://www.adeeroberson.com.