Sometimes it's hard to reconcile that we are still living in a world of "firsts" for black women.
---
We see so many women of color rising and flourishing that we often forget that there was a trailblazer who preceded them. And in the world of ballet, Misty Copeland is that trailblazer. As the first African American female principal dancer of the American Ballet Theater, Copeland has not only smashed glass ceilings with her pointe shoes, she is also determined to open the door for other black girls and to show the ballet world that they belong, too.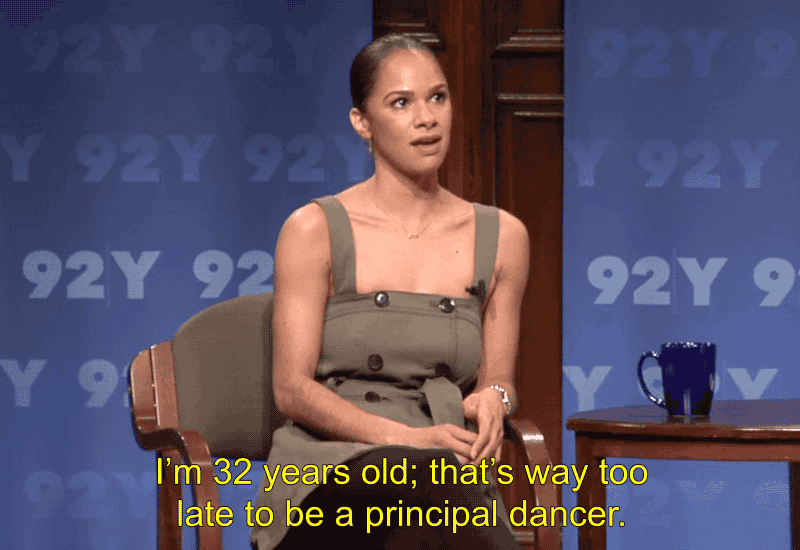 Copeland, 35, has ascended to the highest ranks of the global ballet stage, but it hasn't been without its challenges. While she didn't began dance until the age of 13, she also faced a lot of hurdles—including a nasty custody battle between her mother and her former dance instructors. The celebrity spokesperson feared she may never dance again, but like any successful person does, she persisted, despite her circumstances.

"There's not a day that goes by that I feel like this is normal — or that this should've happened for me,"
The public speaker and author has also faced the pressures of trying to conform to the standard "dancer's body," which led to issues with binge eating and feeling ashamed of her, relative to other dancers, curvaceous frame. However, she was able to overcome these insecurities and is now speaking out against this round-about way of discriminating against the bodies of black girls.
Copeland recently told Poppy Harlow on "Boss Files With Poppy Harlow":

"I have a body that a lot of white dancers have and there are white ballerinas that are principal dancers that have larger chests than me and bigger muscles and broader shoulders and they are not told they don't belong...At 7 years old, being a Black girl in their school and being told by their teachers 'you don't belong here, your skin is the wrong color, your feet are too flat ... we can't work with your hair.'"
These echoes of not fitting in have repercussions that have minimized the inclusiveness that might have been possible in ballet. Because of her own experiences, Copeland now wants to be the voice for those who may not have others showing them that it's okay to love the skin and bodies that they're in, especially girls in the hyper-critical, perfectionist world of ballet.
"How many amazing artists have we missed out on because they weren't given support and an opportunity? So I feel like I want to be the voice of so many that didn't have what I have."
Through her passion of sharing her story and mentoring younger and diverse dancers, Copeland has found her voice and her purpose. She works with Project Plié, which is an initiative by the American Ballet Theatre that finds, nurtures, and develops young dancers of color in order to increase diversity in America's ballet companies.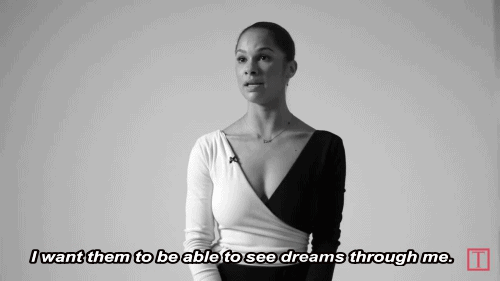 "I think that's my purpose: to bring people in, to make them feel that they belong."
Finding purpose in your passion is the ultimate power move.
To listen to Misty Copeland's full interview with Poppy, click here.
Featured image by Giphy