---
LeToya Luckett is a woman of multiple hats. She's a wife, mother, actress, singer/songwriter, and so much more. And like so many women out there, Luckett has weak moments, which she wants us all to become comfortable with verbalizing.
Every Sunday, Luckett goes live on her Instagram page, to dig deep into a variety of subjects directly with her fans. They've discussed forgiveness, self-worth, and so much more. But her latest live topic is what caught my attention most: the subject of being overwhelmed, which likely resonates heavily with Luckett, as she has recently given birth to her newborn son. And although being a mom isn't new to her, due to her marriage to Tommicus Walker coming with motherhood, balancing a career with three kids—two of them under age two—can take its toll.
"Am I built for this? My cooking skills are so, so. My fresh smoothie game is aaiiiight. So I gotta share…everything? Will he still love me if? These are all the thoughts that started to flood my mind 😫 overwhelmed with worry instead of seeing the blessing that God had actually givin me far & beyond what I've prayed for all of these years."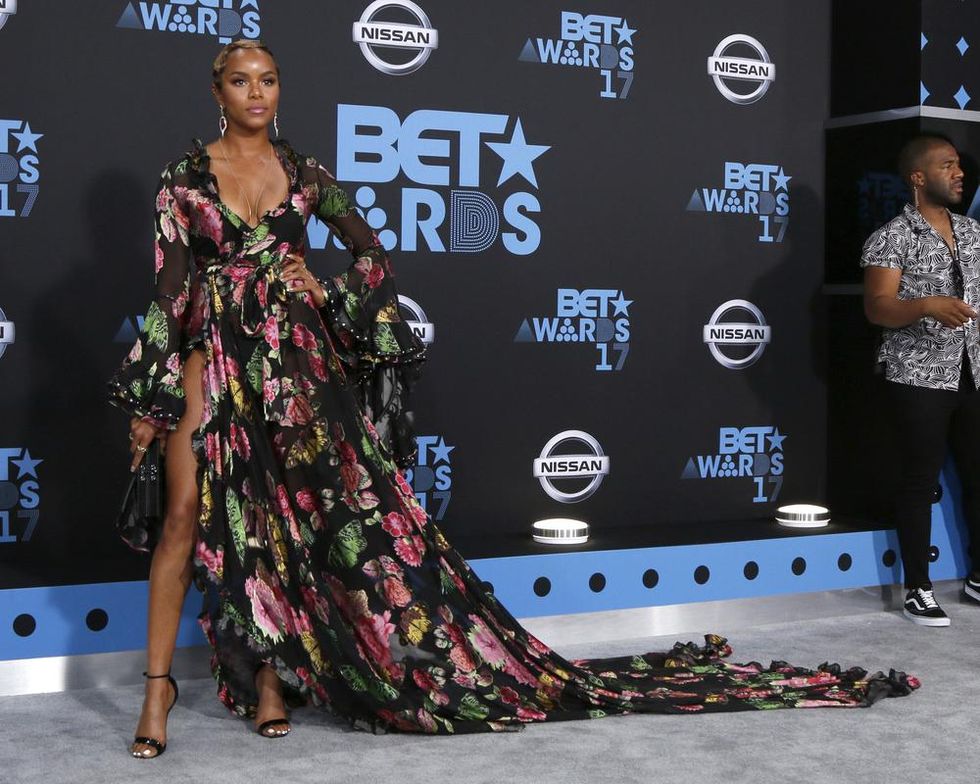 Kathy Hutchins / Shutterstock.com
Since Luckett's high-profile wedding ceremony, she has given birth to two children, all while holding down the fort and being a good wife to husband Tommicus.
And like any mom out there, she's had a moment of weakness, which brought us to her weekly check-in:
"This week I want to talk about ways of lightening your load when you feel overwhelmed. I almost allowed myself to feel overwhelmed right before this live because I was trying to get the kids in order, he [gestures towards her son] was still hungry, I'm kind of here by myself today. Everyone that is usually around to help me, it's the holidays so they want to be with their families...it can be challenging sometimes. So I wanted to talk to you guys about what you do when you feel overwhelmed, and how to keep your peace in that."
Luckett, who's an actress and former member of Destiny's Child, has had her fair share of experiences on the topic, as most recently she disclosed that she experienced homelessness after leaving the group. And although she has managed to rebrand her career, her effort to normalize the feeling of being overwhelmed, or the mere conversation, rings true.
(Sidebar: there was even a moment when her son woke up and began crying in the middle of the live, to which she had to get up and walk around with him, and even leave the live to gain control. And when she returned, the yawning mama was breastfeeding. An example of a conversation, personified).
Ultimately, Luckett just wants us all to understand the importance of giving ourselves grace if we can't fulfill a particular obligation, as well as remembering to remain balanced. And she does so by openly using her platform to talk about the tough times of being a mom, and she's unapologetic about it.

"We're still wanting to paint this picture that we're OK at all times, and that's not the truth. Nobody is. You have to have those moments where life gives you that gut punch, and you gotta feel it. And that's how you become stronger, that's how build, that's how you can start to move and elevate and that's when, sometimes, your relationship with God, that's when you guys get closer. That's when you're able to see Him, when you're at your weakest, vulnerable moments. When you can still see the light and you can still feel the peace when you're not supposed to be feeling the peace."
And you know what? We couldn't agree more. Ladies, let's talk about it.
Watch LeToya Luckett's full live stream here.
Are you a member of our insiders squad? Join us in the xoTribe Members Community today!

Feature image via Kathy Hutchins / Shutterstock.com