Life can seem redundant when the only thing you have to look forward to is the same ol' daily routine.
Let's be honest, some days it's harder to get out of bed than others. Looking at the same people, doing the same things, having sex in the same places can be reminders of the humdrum rhythm of life's mundanities.
---
To remedy that, take a note from the book of our favorite power couple and book a baecation that will spice up your romantic life and allow you to explore new experiences with the one you're diggin'.
Through the years, Jay-Z and Beyonce have had their share of drama in the media, but that hasn't stopped them from sharing quality time in some pretty dope places.
Just ast week, the power couple made headlines on the heels of the announcement for their joint world tour OTR II, which acts as a sequel to their 2014 inaugural joint headlining tour On The Run. The married couple are slated to start the tour on June 6 with dates ending in October. And this week, Jay and Bey were spotted in Jamaica further fueling our #goals aspirations while touring Trench Town, where Bob Marley was born and raised with Beyonce straddling Jay on the back of a motorcycle - talk about a baecay.
Baecation season is rapidly approaching and we've compiled some great tips from Jay and Bey on how and where to baecation the right way.
The Caribbean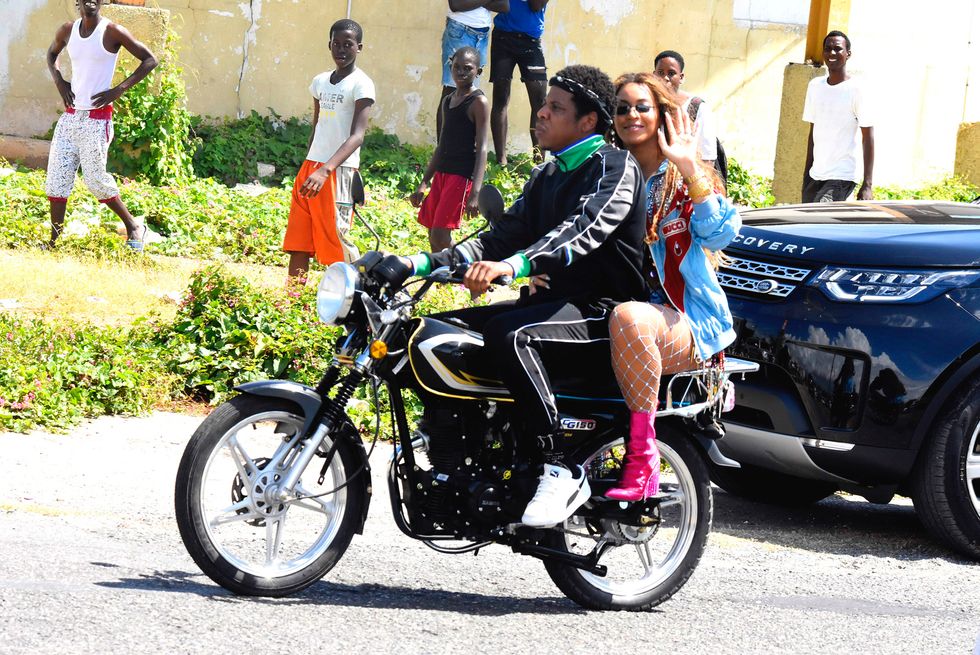 Marlon Reid/Splash News
Last week, the couple was spotted on a trip in Kingston, Jamaica that was likely business-related, but that didn't stop them from soaking up some sun, love, and good vibes from the natives. The Caribbean consists of over 7,000 individual islands, so don't limit yourself to just Jamaica. No time to pick up a new passport? Try visiting the U.S. Virgin Islands to enjoy the Islands without leaving the country. Try going at the end of December or the beginning of January to experience Carnivale and spend Christmas Eve on the beach!
Bora, Bora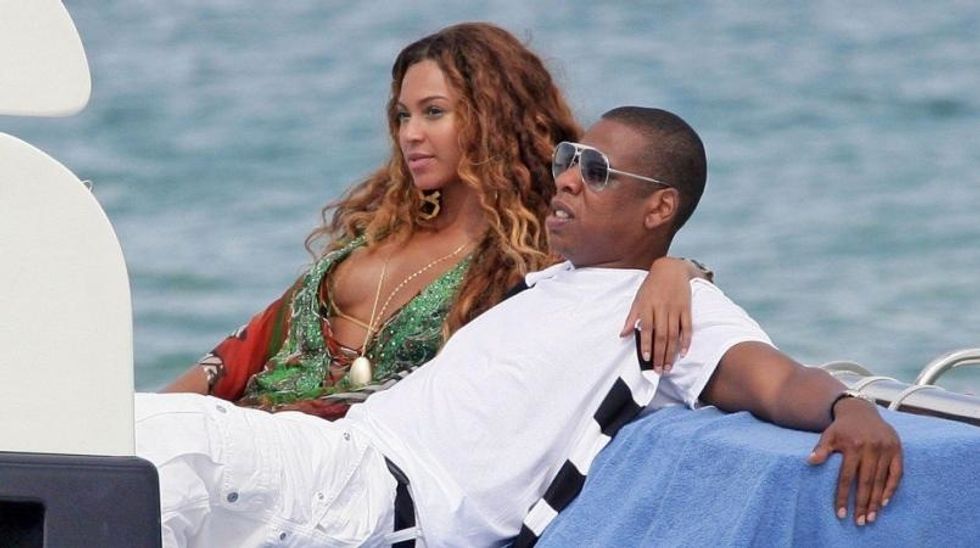 source
Before Bey gave birth to the twins, she and Jay-Z spent five nights in Tahiti in a villa on a private Island only accessible by boat. If total seclusion isn't really in your budget, check out this list of romantic getaway resorts in Bora, Bora. The best time to visit is between November and April when the tourists disappear, but be sure to pack a good mosquito repellent.
The Grand Canyon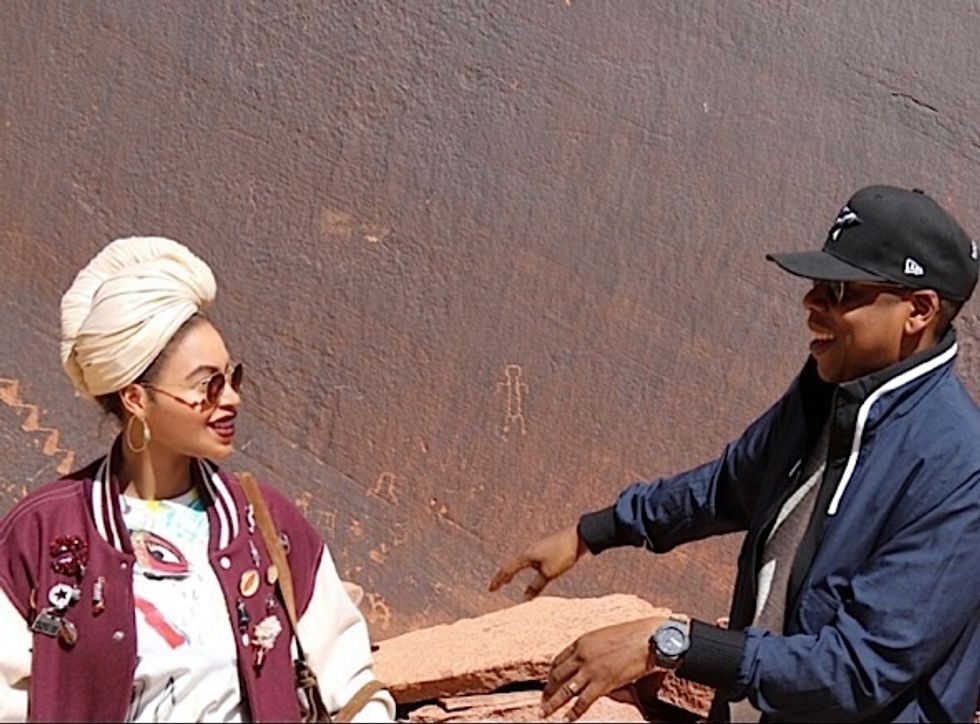 beyonce.com
Yes, I mean that place you always see white people and their kids go for vacation in movies but really it's just an oversized ditch. Jay and B visited with Blue Ivy for their eighth wedding anniversary back in 2016 and it was unconventionally romantic.
Seeing Beyonce standing next to that big beautiful ditch in those hoop earrings with her hair wrapped was just so romantic in itself. The canyon runs 277 miles long and can range anywhere from 4-18 miles wide, so it really would be a breathtaking experience to have with your boo. It gets pretty chilly, so try visiting during the warmer times of year. If you're not quite convinced, check this out.
Italy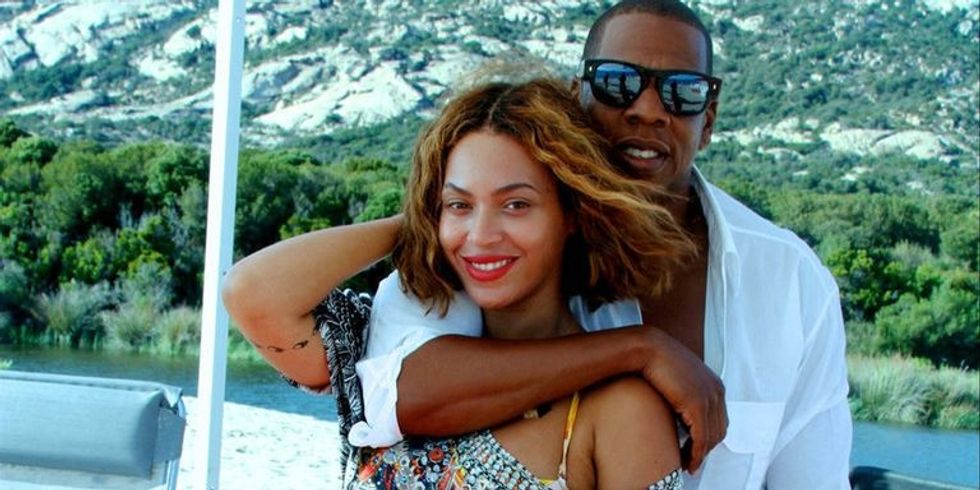 beyonce.com
The last but certainly not the least romantic of the list is Italy, where the Carters were seen riding golden carousels and snacking on gelato. They've been spotted throughout the European country in cities like Venice and Sicily, but U.S. News ranks Rome as the best place to visit in Italy because of the cities immense cultural and historical value. Choose to skip the culture and get down to business? Here are 11 romantic ideas for lodging during your time in Italy.
Okay so we can't all afford to party like Jay-Z and Beyonce just yet, but that doesn't mean we can't designate time and energy for things that are really important like quality time with the one we love, making memories and investing in adventure. We have to find the beauty in spending money on experiences rather than material things. A good baecation can help you realign and likely improve the relationship of you and your partner.
Even if you're only going a few hours away, make time to live a life that you and your partner can get excited about. Living the life of your dreams can still happen when you're awake!