---
Ade Samuel is already hard at work when I walk into the living room of Yara Shahidi's home.
She moves swiftly back and forth between two full clothing racks and the Black-ish star—barefoot in an oversized black coat and a khaki-colored cap, her assistant closely in tow waiting to buckle a shoe or tighten a belt at a moment's notice. Yara playfully poses as Ade snaps photos of her finished look for reference before moving on to the next visual.
"Yara and I met when I did the Essence cover," she says, referring to the first-ever "Black Girl Magic" issue that also celebrated fellow trailblazers Teyonah Parris and Johnetta "Netta" Elzie on three separate covers.
At 27 years old, Ade is doing the damn thing. She has snagged clients like Nicole Richie and Christina Aguilera to Alicia Keys and Marsha Ambrosius, just to name a few who've walked red carpets of award shows and graced sets of high-fashion magazine shoots donning her style visions.
When it comes to her clients, Ade is all about her business. While prepping Yara for the Radio Disney Awards, I watch her mind turn as she directs her assistant in straight boss mode. After a few minutes, she remembers that I'm still in the room and kindly asks if I've gotten everything that I needed and promises to meet up the following week before hustling back over to Yara to finish her morning session. I catch the hint and head towards the door, feeling a little Alice in Wonderland as I exit the world of the fashion queen and tumble back into my own.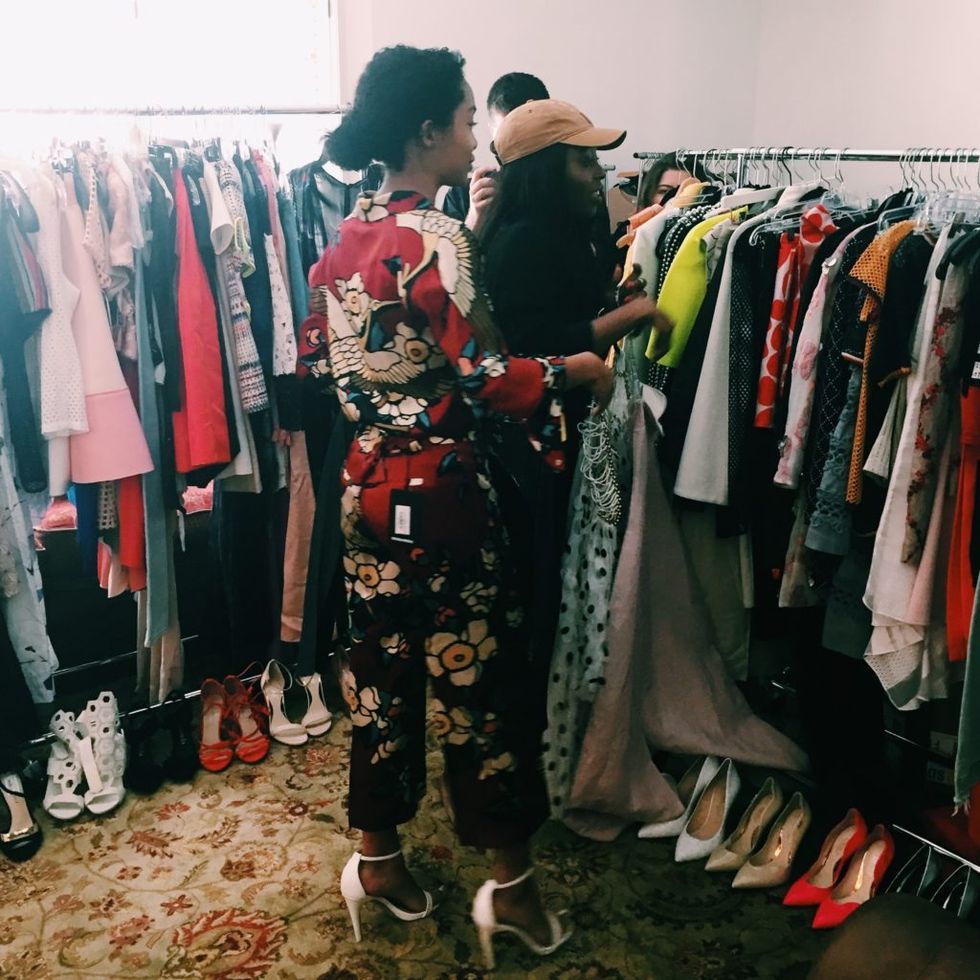 Yara Shahidi style session
As a child, Ade undoubtedly knew that her place was in the fashion world. Born to Nigerian parents, where colorful garments with bold patterns and vast arrays of textures were a staple in the Samuel household, it's no surprise that she put pencil to paper drawing dresses and creating her own creative combinations.
"It's so funny because my family are not fashion-driven people," Ade says when we catch up a few days later. We're seated outside at a large round table at Aroma Coffee & Tea, one of her favorite food spots as confirmed by the cashier who gave her a knowing smile when we strolled up to the counter. "I honestly just had an innate feeling and love for it. When I would watch movies, I wouldn't be interested in the movie itself and what's happening, I'd just sit there like, 'Oh, shit, what are they wearing? How can I wear that to school?' I was a little girl, like six or seven, and I was like, I want to put this on.'"
"I honestly just had an innate feeling and love for [fashion]."
At Buffalo State University, she did a three-year program in Fashion, Merchandising and Textile Technology while picking up internships at fashion and beauty PR firm Tractenberg & Co. and W magazine. Working in editorial, she found that having a strong knowledge of high-fashion brands wasn't optional, it was a necessity. So she spent a semester abroad in Siena, Italy to understand the appeal of Italian-made designs. "I wanted to see how art influenced fashion and understand why art is so important to designers like Dolce & Gabbana and Valentino," says Ade. "It's because the art culture in Italy is insane, from the buildings, the architects, the painters."
After returning to the states, she interned at Teen Vogue while completing her formal education at the Fashion Institute of Technology and working as a manager at the South Street Seaport location for Express. At the end of her senior year, she was offered a position at the magazine as a fashion assistant, but it wasn't quite what she had in mind for her career path.
"I turned the job down at Teen Vogue because I wanted to be a stylist. Why would I take a position to be in the fashion closet when I wanted to be a stylist?" she says, biting into her egg, black bean and bacon breakfast burrito.
"I remember talking to James [Worthington DeMolet] and Karla Welch, and Karla telling me, 'You can always be a stylist. Working at a magazine is once in a lifetime. It's a great way to cultivate relationships. This is the way people are going to know who you are.' So I took their advice and ended up doing that; I went back to the magazine."
At Teen Vogue she slayed. So much so that she was promoted to Accessories Market Assistant Editor before a job with Kate Young for Season 2 of Fashion Star landed her in Hollywood styling for Nicole Richie, just shortly after leaving the magazine. But once the gig was up, the Bronx-native found herself on a flight back home.
Booking consistent jobs is one of the many challenges of being a stylist, and one that Ade doesn't take lightly. "There's always that fear as a stylist of will they book me again? So you always have to deliver. Every time it has to be something new, something fresh. It has to be something that makes people remember."
It's part of what drives her to go above and beyond to make her clients happy and to cultivate strong relationships with fellow stylists, brands and clientele. "You have to know your competition and you have to see what they're doing that's keeping them consistent in work. Think about what you can do in your niche and how to be an innovator with your clients. The reason why some stylists don't find consistent work is because they do the bare minimum. They do like, 'Okay, let me go call in clothes' or 'Let me go to the store and buy something and then put it on my client' when it's like you're costing them money now. A stylist like me or a bigger stylist has relationships. We don't need to go to Versace and shop. We can just get Versace in for you through our relationships with the PR company."
"Think about what you can do in your niche and how to be an innovator with your clients."
Three months after being back in New York, Ade received a referral of Nicole Richie to work as an assistant to Simone Harouche, stylist for stars such as Miley Cyrus and Christina Aguilera. Once again Ade packed her bags and headed for L.A.—and this time she wasn't coming back.
"I think it's all about showing people that you work hard without trying to show them you work hard," says Ade. "Sometimes I run into interns who are trying so hard to prove to me that they're doing work instead of just doing it."
"The work is going to show for itself."
I try to please who I'm working with and just make them feel comfortable and at peace. At the end of the day, styling and fashion is such a stressful industry that the assistant, intern or whoever you're working with should alleviate that. That's what I always try to do and that's my mentality about assisting and being a part of this space and energy of people when it comes to work. How can we alleviate each other's stress? How can we work with each other to make magic happen?"
Ade pauses to check her phone as I glance at mine. We're running late. "Let's head out," she says, taking a last swig of her latte.
I navigate the snake-like roads through Hollywood Hills, and park outside the home of Ade's client. Minutes later, Ade pulls up and heads inside, instructing her assistant to grab the garment bags before walking through the gate. After a few moments, she waves me inside the door of Big Sean's house.
"With Sean, he's street but then he's also high fashion," Ade says at she sets up the clothing rack for their styling session. "I love to do research based on the event that I get. When I look at a different red carpet or a different premiere, I usually do my research based on what people have worn in the past, then I develop and go from there."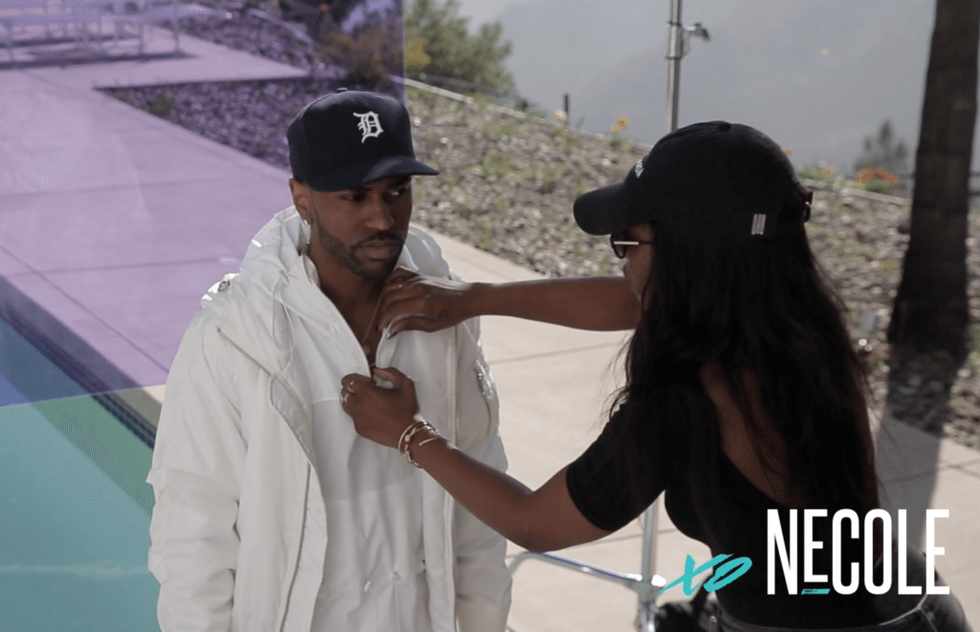 Earlier, Ade confessed that Big Sean was one of the clients she really looked forward to working with. "Because I liked his style," she says matter-of-factly. "I'm someone who likes a challenge in myself; I've never had a male client, but I knew I was able to do it. Big Sean, to me, has his own personal swag and style that's so trendy but yet not trying. It's his innate style to dress the way he does."
Ade's first session with the Detroit rapper was for the Grammy Awards, where his white and black tux and black patent leather Giuseppe Zanotti loafers became one of the most talked about red carpet looks of the night. In an interview with The Hollywood Reporter, Ade revealed that she referenced Al Pacino's character Tony Montana in Scarface for the formal fit. "It's kind of having that balance and looking for people, looking at different movies, and things that inspire me to differentiate his style and not make it so trendy," she says before rushing out of the room for more clothes.
It may be connections that have gotten her on the sets of high-fashion magazines, on the style team for Beyoncé's "Formation" video and working with A-list clients. But it's her work ethic and consistent dedication to her craft that's helped Ade brand herself amongst the fashion elite.
She hopes to not only have her name whispered amongst her clients, but also on the lips of the everyday consumer with her own shoe line Ade Samuel Shoes. "Everything that I've been doing—having my full time jobs, being an intern, assistant and then being able to turn around and create a shoe line—is still a shocker, but I'm happy that it's all come together and it's been major."
Despite the accomplishments that pad her résumé, Ade still has one thing in common with many of her fellow peers. "I think I'm still learning what my purpose is as I grow every day. It's something that I don't think I'm going to know or understand until I kind of get older, because every day I'm still figuring things out. I can't really put my finger to it, but I never get to a place where I'm like my purpose is to be a stylist, because I'm into so many other things. I'm a designer. I'd like to be on television. I'd like to be on-air, but I love clothes and I know that I'm great in that. I'm confident in doing that. Can I do other things? Yes, but I have to understand that it takes time."
One thing's for sure, on the road to purpose, she won't be easing her foot off the gas pedal anytime soon. "Slow down? What is that?" she laughs. "No, I really don't slow down now. I'm happy when my clients are happy. The fact that I am able to style my client, and make them feel good and confident on the red carpet or on the runway…that allows me to be appreciative. The fact that I spoke my dream to existence, I feel appreciative about that."

For this boss chick, it's full speed ahead as she takes the fashion industry by storm. No brakes necessary.
Go behind the scenes with Ade as she styles Big Sean and Yara Shahidi below!