Sean 'Diddy' Combs is known for many things. He's a mogul, a rapper, super-producer, and influencer. He's a liquor connoisseur, dancer, and an extremely present father. You can call him Puff, P. Diddy, or a multitide of other names that he has accumulated throughout his fame, which he affectionately refers to as eras.
---
But for now, the man with all the plans, wants you to call him Love.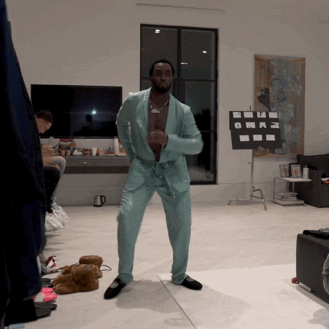 Giphy
He originally announced the news on social media back in May, and followed it up with a picture of the driver's license that lists 'Love' as his legal middle name. Since, he has been bringing all the vibes, which listen, I am completely here for. Why? Well, Love is all about spreading his namesake to the people, making right what he may have done in the past, and having a genuine allyship in the fight for the culture. So many with the resources needed to secure the future for the culture, never make their stance known for the benefit of its progression. But there comes a time when power is bigger than what any critic of our movement has to say, and now Love has recognized his power, joining the ranks of LeBron James, Jay-Z, Master P, and many others who selflessly give to the vision. And that's a healing flex that we love to see (yes, this pun was intended).
Love recently sat down for an interview and video with Vanity Fair to discuss his latest era. A few of our favorite moments are below:
On Critics Who Don't Believe The Hype
Former Bad Boy artists such as The LOX, Mase, Day26, and others, have publicly criticized Combs for trapping them in what they felt were unfair deals in the past. There's been no secret that his previous deals with artists have had their fair share of critique. But Love isn't interested in going back and forth on how the music business operates.
"I can't get caught up in that. I know where my heart is at, and you can't just do it alone with just Black people. You got to have all types of allies. And that's one thing I'm good at, I'm good at being a unifier, but I'm not going to be in a room with other tribes that protect themselves and make sure that they straight and not make sure that we straight. But also, I'm not a politician, I'm not trying to be the king or the dictator of somebody. I'm a boy from Harlem that came here to make a change. We all have our story."
His New Plans For An R&B Record Label
To his publicist's surprise, the mogul ultimately discloses that he is getting into the R&B game, starting with his own album, referencing that R&B is where he started and that it's not just for himself, but for the culture.
"I'm coming back into music, you know? Yeah, all R&B label, because I feel like R&B was abandoned and it's a part of our African American culture. And I'm not signing any artists. Because if you know better, you do better. I'm doing 50–50 partnerships with pure transparency. That's the thing. [The new label is so that] we can own the genre; we don't own hip-hop right now. We have a chance to—and I'm going to make sure that—we own R&B."
Okayyyy!
On His Continued Activism, Particularly For Black People
Combs has lived a fruitful life and is fortunate enough to able to sit back and not do anything about what plagues our community. But he refuses to do so, as over the span of his career, he's always found time to fight.
"If you living on this earth and you trying to keep on dealing with this shit, that ain't the way we going to live. And people out there that are tired of it. And it's not just a Black and white thing. You know what I'm saying? It's just tired of the way that it doesn't have to be. Like when they said it was over—when they said in the #MeToo, when it was over, it was over."
He reveals that all of his newfound openness is inspired by the movement and that now he's on a five-year plan to see legitimate changes.
"The #MeToo movement, the truth, is that it inspired me. It showed me that you can get maximum change. I feel like that's one of the biggest missions that will actually shift things. But besides that, we—the world—is different. We have the internet, we have the power, we have a culture, I have us on a five-year plan."
A plan that he specifies for Black people. He continues:
"My people taking time to feel like it's all right to love. Take time to huddle up your tribe, take time to communicate and know your power. Take time to heal. You know what I'm saying, [taking care of] yourself without feeling like, oh, you're going to be labeled a racist now because you talk about taking care of yourself."
On The Infamous J.Lo Post 
When it comes to J.Lo, Combs makes it clear: don't expect another Diddy-Lopez romance. He and J.Lo are just friends. In a now-deleted post, he posted the star with the caption, "tbt" a month after her break-up with Alex Rodriguez. But since their breakup, Combs, 51, and Lopez, 52, have remained friendly and even reunited in 2018 at Lopez's All I Have Las Vegas residency show wrap party—as well as at a charity event last year, which Lopez attended with then-fiancé Rodriguez.
"It was just a throwback post from a great time in [my] life. It wasn't no trolling involved, that's just my friend. And I don't have nothing to say about her relationship or her life."
Mmmm-hmm.
On Losing Kim Porter 
Personal loss is something that Combs has experienced often within the last few years. The mother of three of his six children, Kim Porter, died in 2018. His mentor and friend Andre Harrell died in 2020. He talks openly about how private losses moved him to reconsider his life's work. Combs describes Porter as the love of his life, and always has. He even reveals that his daughters want him to settle down and get out of these streets.
"And so, you know, I had to start to deal with it when I lost Kim. 'Cause I was like, man, you had it. I'm not saying I would do any of it differently. God willing—I would have had more time," he says, then adds, "I look at my life as I got a second chance. I'm on my second mountain."
Watch the Vanity Fair clip below for more:
Click here to read the full Vanity Fair interview.
Are you a member of our insiders squad? Join us in the xoTribe Members Community today!

Featured image by Steve Granitz/WireImage