A Cancer and Virgo relationship is often a match made in heaven. There are a lot of similarities in the ways that Cancers and Virgos love that gives them a special kind of kinship. Cancer and Virgo are service-oriented signs. They love to give, be there for each other and have a natural gift for making others feel good or better in some way.

---
In a relationship, there is a sweet alliance these two form, and they quickly become each other's strongest allies. A Cancer woman's emotional world may be a little more foreign to a Virgo man's analytical mind, but he has a sense of wanting to protect and know this soul. They both live up to each other's type of ideal partner in many ways and they are more about working together rather than anything else. This partnership can last the tests of time and is one that both nourishes and grounds.
What attracts a Cancer woman and a Virgo man to each other?
There is an attraction between these two that is often one of those, "how have we not met sooner" moments. These two almost always meet like magnets and are at the right place at the right time when this connection forms. The Cancer woman is attracted to the Virgo man's sense of assuredness yet humble nature and wants to know what else is behind the stern exterior. She can immediately sense there are layers to this man and she is intrigued to dive deeper and know more.

The Virgo man is attracted to the Cancer woman's nurturing yet empowering nature. There is alluring energy that a Cancer woman exudes that makes the connections she forms somewhat mysterious to others. The Virgo man likes to make sense of things and will find the Cancer woman an intriguing mystery he wants to figure out. The immediate connection between these two is empowering yet almost vague and it's once these two dive deeper, trust each other, and let their guards down, is when the true connection and relationship begin to form.
What is the relationship like between a Cancer woman and a Virgo man?
When in a relationship this couple loves to spend time at home in their safe spaces, they love to make food or go out to eat together, and their relationship is filled with doing sweet things for one another as well as for others. Tiny gestures go a long way with these two and they quickly learn this about each other. Both Virgo and Cancer's love language is acts of service and they both tend to feel fulfilled in what they are receiving in the relationship. If one person can keep up with a Virgo's perfectionist eye, it's another Virgo or a Cancer.

These two create a strong bond almost immediately, and that bond doesn't go away. As they continue to learn more about each other they continue to fall even deeper in love, and this relationship is a gift that keeps giving. Although both signs can get a little cranky and critical over the tiny things, they also remember the tiny things, and this relationship is filled with a lot of sweet moments.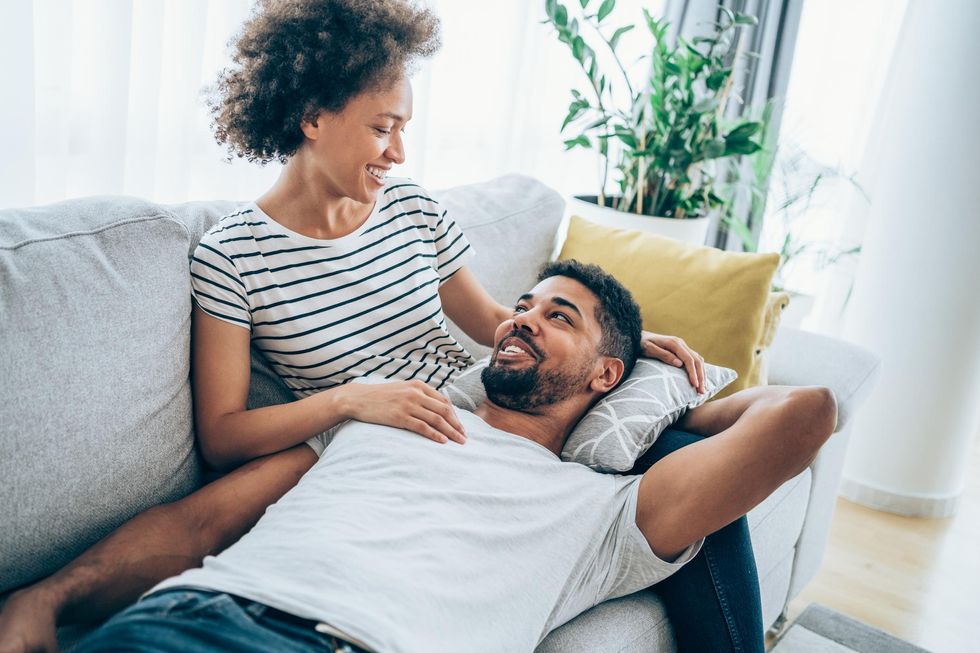 Getty Images
What is the sex like between a Cancer woman and a Virgo man?
Sex between a Cancer woman and a Virgo man is all about understanding each other's needs. Both of these signs love to cater to one another, and they will take their time in figuring out what works for them and what doesn't. The chemistry these two have does most of the work, and there isn't much these two have to complain about in the bed. A Cancer woman is all about creating the right vibe and atmosphere, and this sense of comfortability and care is important to the Virgo man. They both want to have the best experience and will work with one another to provide that.

Differences can arise here between the two when it comes to the Cancer woman wanting their sex life to be more surprising and impulsive and will want to make love in those emotionally exciting moments. A Virgo man has to make sure everything is checked off his to-do list before he can feel fully relaxed and in the moment more often than not. The biggest challenge these two will have is timing when it comes to making love, and will have to work together here.
What makes a relationship between a Cancer woman and a Virgo man work?
What makes a relationship between a Cancer woman and a Virgo man work is their chemistry and dedication towards one another. Both signs aren't ones to give up on something important to them, and they create the right conditions for their relationships to continue to bloom. The Cancer woman makes the house a home, and the Virgo man wants to sustain what world they have created together. Their support systems outside of the relationship all most likely see them as the nurturers and givers in their own lives and value that these two types of people have found each other.

There are not too many dull moments in the relationship of a Cancer woman and a Virgo man as Cancer is always feeling through something and Virgo is always thinking through something. If the Cancer woman wants to be in her shell, the Virgo man is probably in his two, and rather than poke at each other all day, they respect each other's boundaries and needs. Both of these signs tend to feel more pressured around the fire or air signs as they need a lot more external stimulation than they can always provide. What makes this relationship work is that they can truly just be in each other's company in silence or laughter and feel completely fulfilled and satisfied.
What may cause a Cancer woman and a Virgo man to break up?
What can get these two tangled in challenges is their tendency to be too critical toward one another. Both of these signs have a moody nature to them and if they aren't on the same page immediately, it can be difficult to get there. If the Cancer woman isn't feeling good internally, she isn't feeling good externally; and if the Virgo man isn't feeling good about what's happening externally, he isn't feeling good internally. Although these signs both tend to be more introverted, Virgo's high sensitivities are activated by external circumstances, which cannot always be controlled. Virgo will try to fix the outside before the in, whereas Cancer is like let's work through these emotions before we figure out what to do externally. They both will need to work on getting on the same page and meeting each other in the middle in this relationship.

They have to understand that they aren't always going to be on the same emotional plane and learning how to find the balance between each other's needs in that moment is critical to giving each other and the relationship the proper support and nurture needed to grow. These two can learn a lot from each other through open and honest discussion and by allowing each other space and time for reflection when needed. They have to remember that they won't always have the same needs or ways of expression, and learning to understand one another's personal habits or rituals can lead to more synergy in the relationship.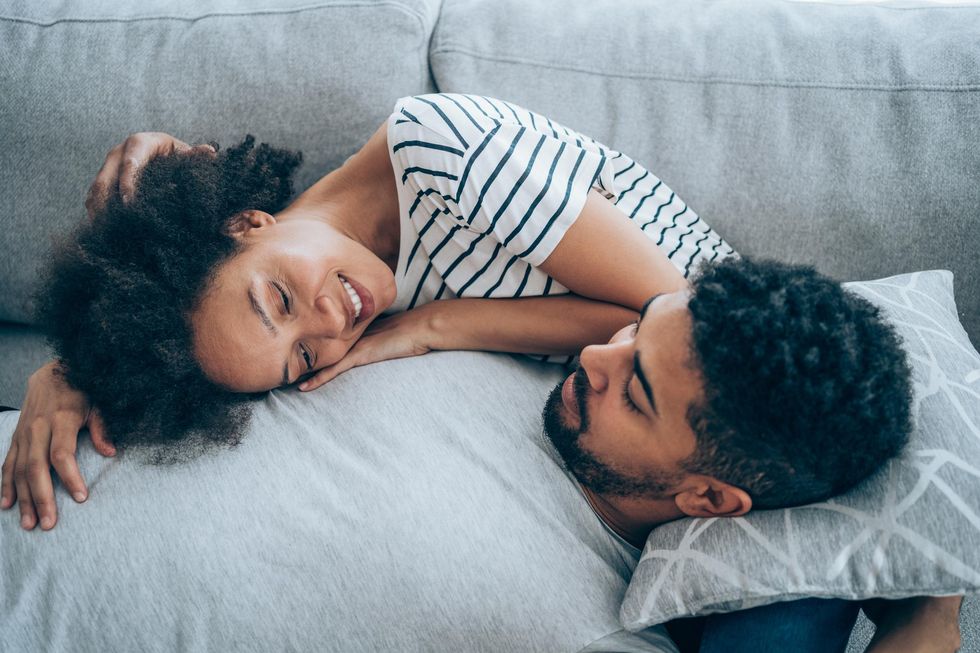 Getty Images
Summary
Overall, this is a relationship that takes less effort to work and leaves more room to love. These two naturally can give each other what the other is looking for, and even through their differences, they see so many similarities between each other that are heart-warming. Often an immediate attraction, the Cancer woman and Virgo man get together with the idea of forever in mind.
They understand that this is a love they both can't pass up, and they truly value each other's presence and heart. Loyalty is both important to the two, and they can provide this type of trust, security, and happiness in the relationship. Water and earth signs tend to give soulmate energy, and this pairing resonates well with that.
Let's make things inbox official! Sign up for the xoNecole newsletter for daily love, wellness, career, and exclusive content delivered straight to your inbox.
Featured image by Getty Images