Recently, Women In Media gathered in Philadelphia to celebrate us, the present, and the future of media during their annual conference. This included honoring entrepreneur and radio host, Angela Yee, who continues to pave the way for those in the industry with her "hustle hard" mentality.
---
By the time she got off the stage, it felt as if we had been bonded together as she shared her journey to success. This epic girl talk touched on breakups (only to exemplify resilience and God's timing, of course) and business, and you can't begin to imagine the gems that were dropped.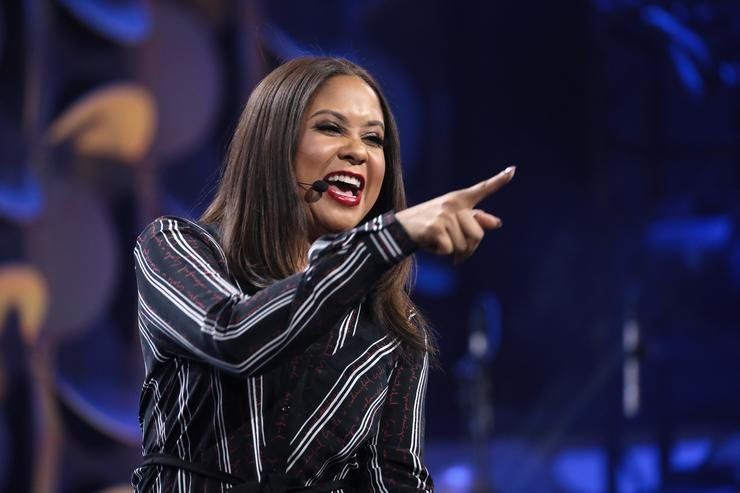 Cindy Ord/Getty Images
There were no limits to the helpful advice she spouted out to the women who were present. In the spirit of motivating other women in media or any industry, here are 4 top-notch takeaways from everything that Yee gave us:
Internships Pay Big, Even If It's Not Financially
We grapple with the idea of internships because it's essentially slave labor for the needy. It's yet another social construct developed to help the rich get richer, as they're the only ones who can afford to work for free (with minimal pressure and stress, that is).
Yet, they are what's necessary to get your foot in the door and, in certain industries (journalism/PR/marketing), unpaid internships are far more prevalent than others. That rings especially true in markets like New York City, a place thriving and over-saturated with post-grad potential, where you aren't the only one trying to be the only one.
Also important? Passion and, of course, a desire to be present in this moment of your life despite the struggle.

This is what Yee knew when she quit the paying temp job opening envelopes in a room with no windows and zero room for enthusiasm after only two days. Within the same week, she got two offers after putting in work sending in resumes, one of which was from Wu-Tang, who she had interned with during her time in undergrad.
"Even though I didn't get paid for all the internships that I did, I still have relationships at all the places I interned and any of those people, I think, to this day would still hire me because I was so enthusiastic when I went in," the entrepreneur and radio co-host said of the opportunities her internships have presented.

Working for free for a year or so is a small price to pay for the doors that interning can open -- especially when it's something you can do with hope for growth and professional development in the future.

To Angela's point, the undeniable truth is that: "No matter how much money you're making or not making, you have to always go above and beyond, and that's something I've always done."
Consider your time as an intern as a trial period to see if they see longevity in you and vice versa. It's easy to change professions while on the intern level but trying to do so at 45 with a minivan full of kids, although commendable, it's hard as hell.
Trust God's Plan And The Timing Of Everything
When Yee graduated with a degree in English from Wesleyan University in 2000, her ambitions were to become a writer. From Wu-Tang to Eminem's clothing line, and through a long string of marketing jobs, Yee continued to make connections in the industry. After being laid off while working with Em's line, Yee inquired about a marketing position at Sirius XM radio. When Angela stepped into the radio game she had no experience. Writing was her goal, writing was her passion, and writing was her end game. The saying "tell God your plans and watch him laugh" is a major theme in Yee's story and her continued faith has positioned her for the success we see before our eyes. She concluded by adding the importance of remaining open to opportunities and remaining "limitless."

"We have to stop confining ourselves to expectations of 'well, this could never happen' or 'this is a terrible idea.' We have to take a risk because if you don't take a risk, then nothing is going to happen and having nothing happen is worse than trying something that doesn't work."
What's Meant For You Will Be For You But Not Without Work
Much to our surprise, she admits she was awful when she first began radio.

"We should never assume that as soon as we start something we're going to be great at it, you have to know that it's going to take some time to get better."

"I was awful at first. It was hard for me to listen to myself, I didn't tell anybody that I was doing that [radio] because I didn't want anyone to listen, who I knew and be like 'what the hell?' So, it was kind of a secret and little by little people would find out," says Yee.

The self-made go-getter attributes her success to her endless dedication to improve, reminiscing she tells the Women In Media crowd: "I dedicated myself 100 percent to that. I wasn't going out, I was going out listening to my shows figuring out how to get better because I wasn't good at it."
Yee's skills improved immensely and Sirius radio went on to offer her the position on the morning show, and also space to create Lip Service with an opportunity for a night set.

After the doors began to open for Yee, there was no turning back. She went on to get offers from Atlanta, Philly, and soon thereafter I Heart Radio offered her a platform. As the co-host points out, "That's from someone who did not go to school for radio, who never thought I would be a radio personality, I grinded it out and worked hard."
Two Women Are Always Better Than One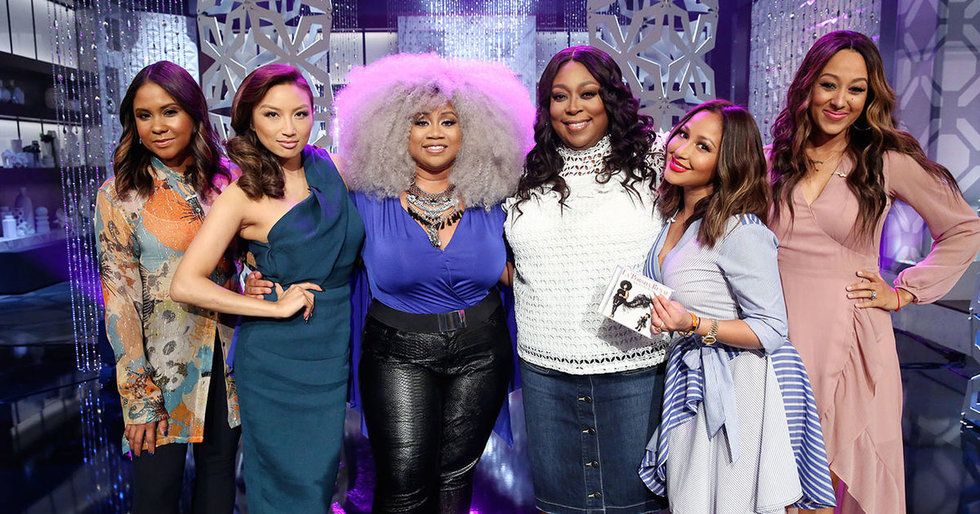 The Real
Starting a new position requires you making the rounds to find your fellow black crew. Being a woman, we tend to find an additional place amongst our workplace peers of black women. It's one of the best ways we know how to support one another -- by sticking together. However, we've all heard those women who swear they don't enjoy the company of other women. Yee warns against these type of women, stating that she's "really cautious of people [other women] who say 'I don't mess with other girls' because that's an awful attitude to have."

She further elaborates, "We work so much better together and a lot of that attitude comes from people around us."
Sadly, Yee recounts the numerous times she was pitted against women like Melyssa Ford, Miss Info, and Amanda Seales who all worked in the building while she was at Sirius. None of the women were on the same station and were constantly being told not to trust one another. This is, unfortunately, the way of the world. But we know that together, women get shit done!
Although this was delivered to the Women In Media by a woman in media, we know that Angela Yee is so much more than that. She's more than any one title and we have the potential to be, as well. Knowing the grind can present many roadblocks, it can be useful to heed the advice of someone who has already overcome quite a few of the same or similar obstacles.
With that in mind, I hope that some boss babe somewhere sees this and keeps pushing the limits of her faith.
Related Stories:
Why I Took the Job As a 30-Year-Old Intern at Buzzfeed - Read More
Angela Yee Shares How to Master the Art of Side Hustling - Read More

9 Lessons I Learned After Working 9 Internships - Read More