One thing we know about Jay Ellis is that he's sexy.
---
Incredibly sexy.
Ask him a question that some may consider slightly embarrassing and he will break into a flirtatious grin, look you straight in the eye, and confidently give a response that will leave you with crimson cheeks.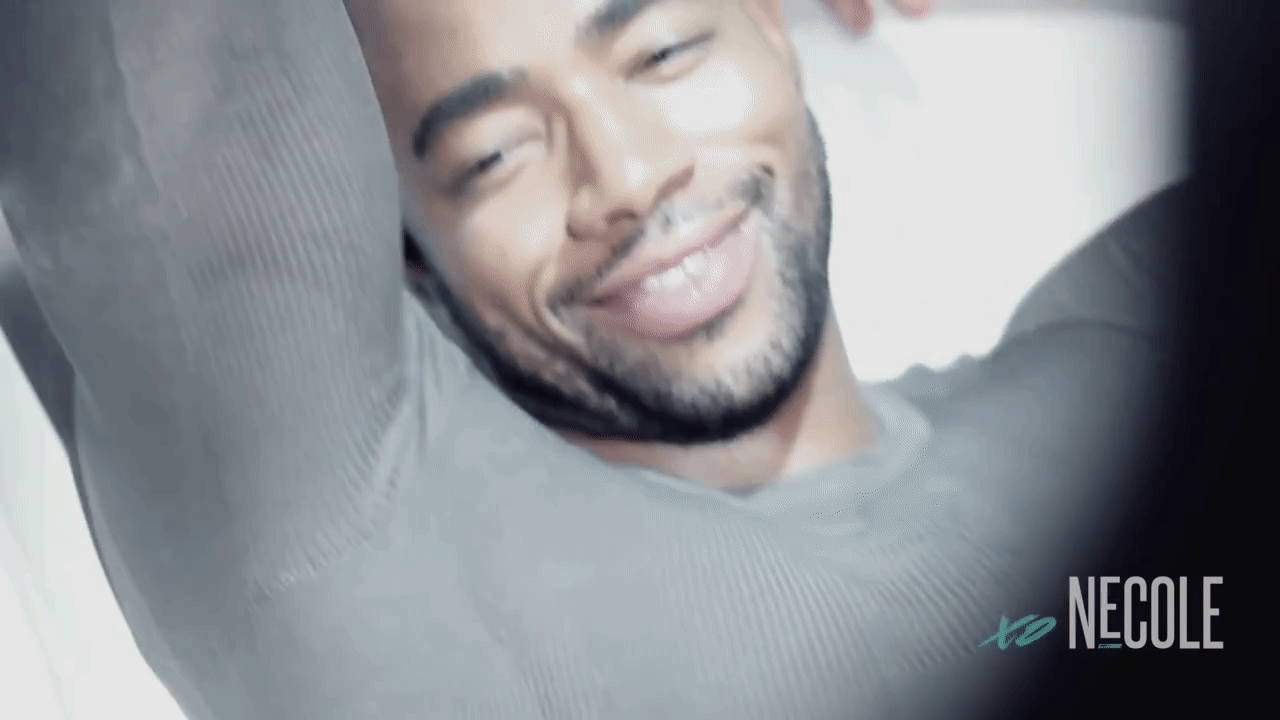 But the handsome actor is more than just a chiseled frame; he's also a man of substance. A man who rides motorcycles over a thousand miles with the Kiehl's LifeRide for amfAR for HIV/AIDS awareness, who brings a smile to young faces as a volunteer at the Children's Hospital in Los Angeles, and who turned his passion for Pilates into a business venture with a friend—teaching 20 hours worth of classes a year at his fitness studio, body +, back in Lafayette, Louisiana. In other words, off the screen he is a man that every woman dreams about.
When you meet Ellis, you'll understand why show creators and producers Salem Akil and Mara Brock-Akil snagged him the play the role of Bryce "Blue" Westbrook on season six of The Game. There was something special about the rookie actor that made them believe he had what was necessary to carry the show into the next season following the departure of lead actors Pooch Hall and Tia Mowry. Maybe it's because he's mastered the art of connecting with people, a skill he picked up as a military brat going to over 12 different schools and living in countries such as Germany and the Phillipines. Or maybe it's his relentless work ethic—a business degree from Concordia University has taught him that marketing yourself and constantly studying your craft are keys to success in the entertainment business, and has enabled him to standout as a doer amongst a crowd of dreamers.
Nowadays, Ellis is taking his career into his own hands with his next few projects, his starring role on Issa Rae's HBO series Insecure, producing two films as well as continuing to work with non-profit organizations such as Everyday People Initiating Change (E.P.I.C).
So how exactly do you catch a man like Jay Ellis? What is he looking for in his soulmate? Here's a few things we learned about Jay Ellis after our exclusive sit-down with the charming actor: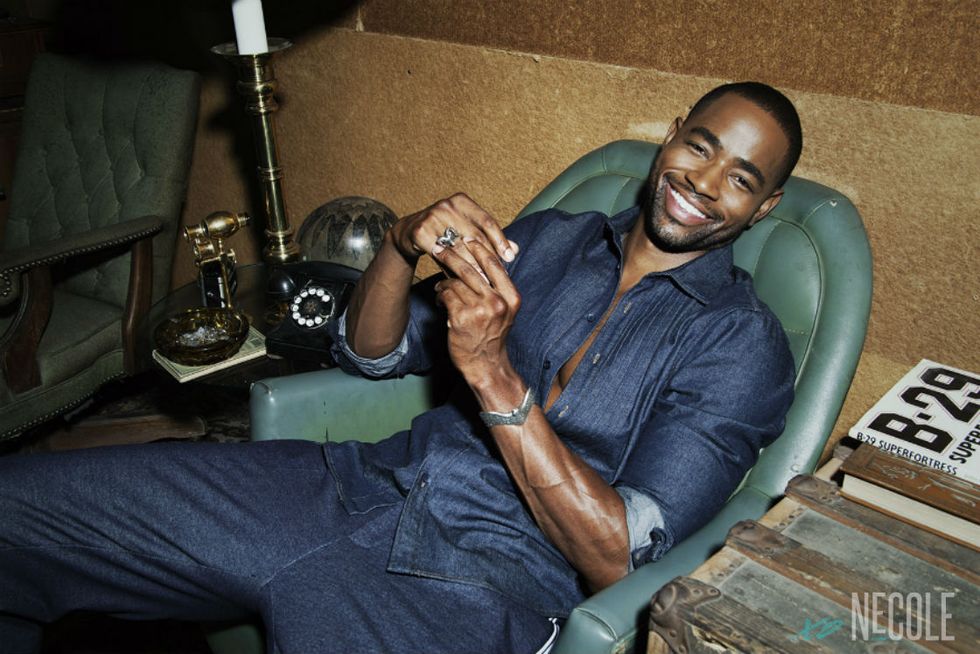 He's A Certified Pilates Instructor...

Years ago, a friend of mine that I used to model with moved back home to Lafayette, Louisiana. Initially he wasn't sure what he was going to do down there so we decided to open some stores together. We just built a new studio space that we own. To keep our insurance, I have to be trained in Pilates and I teach a minimum number of hours every year. I teach about 20 hours annually, which is probably one of the hardest things I've ever done in my life because it's so much core strength that I thought I had, but these women are in class kicking my ass! They're making it look effortless while I'm literally shaking the entire time! But it's been amazing and a lot of fun.

The Best Date He Has Ever Been On...
It was like I was cast in an Ethan Hawke film that included a 24-hour walk through Paris. I was with the girl I was dating at the time, and it was one of the most amazing things I've ever done. She and I ended up not working out, but that experience was the epitome of romance. I don't know if I could ever have a moment that romantic again in my life.

The Qualities He Looks For In A Woman Are...
Focus, determination, and independence. I love a chick that's a boss. There's something about a woman that's independent who can still come home and have balance in her relationship. There's something that's incredibly sexy about a woman that's a boss who can come home and be a girlfriend, wife and a mother.
That's what I learned from my mom. She was the COO (Chief Operating Officer) of a twenty billion dollar bank. I've seen her in her office taking care of business then when she went home, she was in a very balanced relationship with my father. Though she was this powerful force at work, her strength never affected my parent's relationship.

The Most Profound Thing Someone Has Ever Said To Him...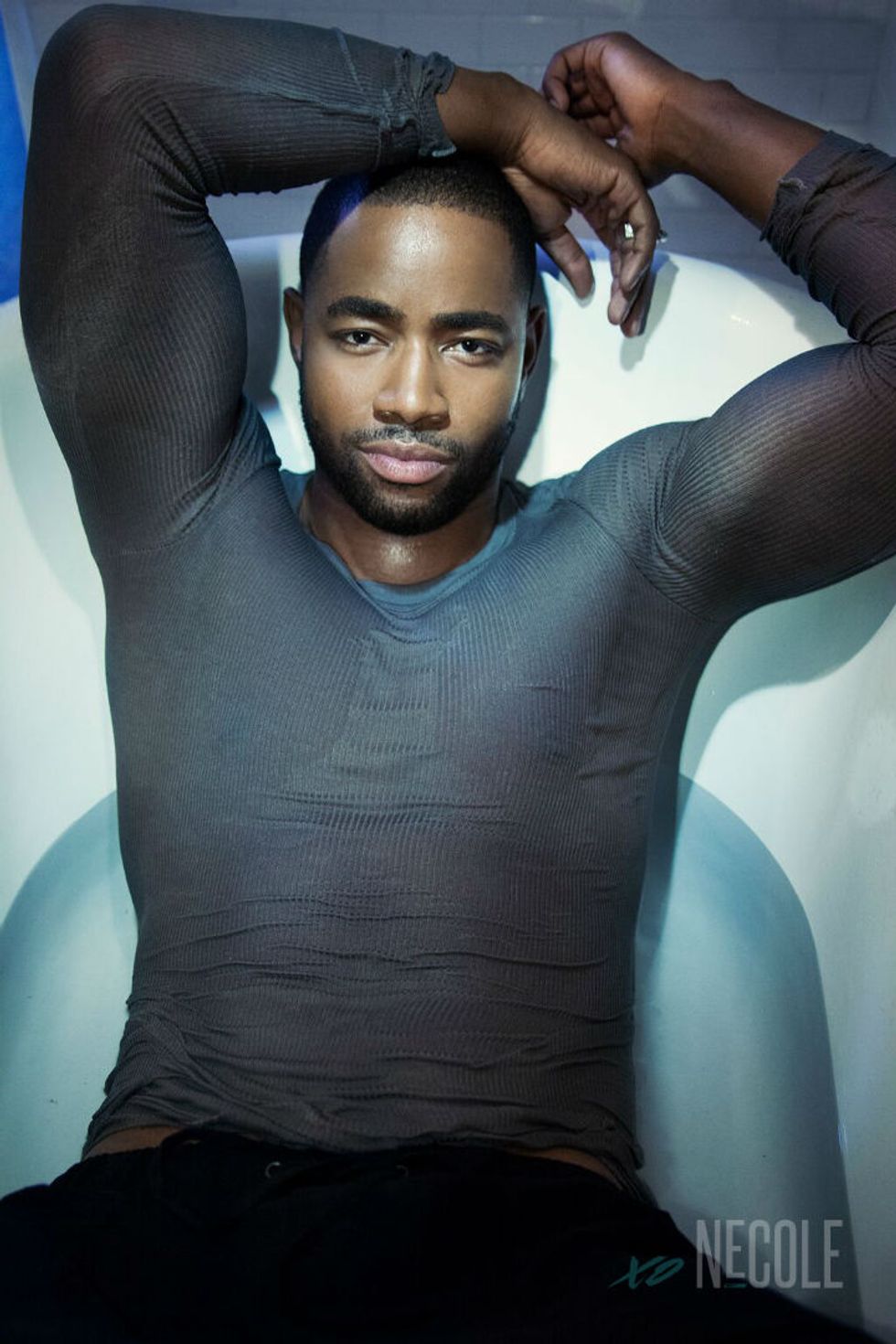 It came from Mara Brock-Akil (Creator of The Game), Salim Akil (Director/Executive Producer), and Kenny Smith (Show Runner). When I got the role of Blue, I didn't understand how I got the job or why I was hired. They told me, "You have something that you don't realize and the fact that you don't realize it is why you're going to be successful." Even to this day, I still look at them like, I'm not sure what you're talking about. I just enjoying going to work everyday.

But it was something about what they said that gave me a confidence that I don't think I necessarily had before. Having someone believe in me and see something I wasn't even sure about is still such an amazing thing. Their words were so important to me because they were having me play a character that had such a huge impact on the future of the show. It felt like the pressure of whether or not The Game did well was on me. But their belief in me made me step up and feel like I could do my job with no judgment. I could simply show up, do the work and have fun.

He's An Advocate For HIV/AIDS Awareness...

HIV/AIDS has impacted my family. I've had an uncle that passed and another person that's lived with HIV for about fifteen years. African Americans are the highest affected community and we only make up 13% of the population. I participated in the Kiehl Liferide for Amfar last year. This year I'll be on a motorcycle for a week and ride over one thousand miles. Our infection rate is alarmingly higher then the rest of our counterparts in the country. I want to use my platform to be able to reach out to people that look like me to increase awareness.

He Believes Your 20s Sets You Up For Success In Your 30s...
Every single mistake, good decision and experience has built my character. From modeling to moving to LA, living in the mountains in Arizona for six months, the first time I got in a motorcycle accident, the three times I got fired from jobs; the first time I got an apartment, the first time I bought a house—all of those things set me up for today. Everything was an important lesson. I don't know if I could have handled being on a successful show like The Game and having that type of attention in my 20s. I believe your 20s are for setting you up to succeed in your 30s.
Your 30s are when you find your stride and figure out what you want to do and how you can really excel. If you figure all of this out in your 20s, God bless you; that's amazing. In your 30s, you should hopefully be stepping into your purpose and what you're supposed to be doing. You might be going through so much bullshit right now in your 20s, but when you get to where you're supposed to be you'll feel such a sense of peace.

Go behind-the-scenes of our shoot with Jay Ellis below:
Photography: Ashley Nguyen | Styling: Ugo Mozie | Grooming: Starlynn Burden | Videography: Jasmine "Jas Fly" Waters