There's a certain amount of heaviness that comes with the crown a black woman wears. People usually want to touch our crowns. Like, a lot.
---
Since our crowns are intricate in design, it's not uncommon to have people run their dirty little fingers in your crown, while examining the craftsmanship of your royal headwear.
By now, you've probably figured out that I'm not talking about an actual crown. If I were, it would seem absurd that someone would be so invasive as to touch something so sacred that lays upon your head. Right?
Unfortunately, that's exactly what happens to a lot of black women. Whether we wear afros, braids, or relaxers, someone is quick to invade our personal space to touch our hair. The rudeness can be overwhelming.
Over the years, many black women have collectively lent their voices to tell too curious onlookers to keep their hands to themselves, and they still don't hear us. But a Portland-based game developer named Momo may have been successful in getting the message across.
So I made a game cause I got tired of women putting their hands in my hair. 🤷 https://t.co/q0M3i4Pwoh… https://t.co/FzQ7cAxWWS

— Momo Pixel (@Momo Pixel)1510783914.0
This week, she presented a video game called Hair Nah over Twitter in response to the generations old retort, "Don't touch my hair!"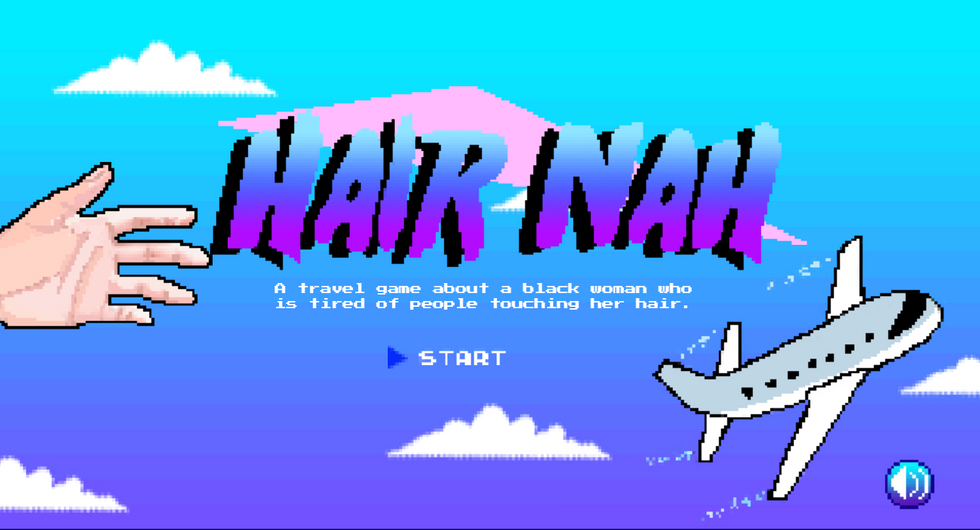 Source: Hair Nah
In the game, you play a young black woman, Aeva, who is traveling by air. As she makes her way to her destination, she must slap away curious hands that are interrupting her as she attempts to catch her flight.
Choosing a player is lit, too. The team added skin tones and cute hair styles as selections.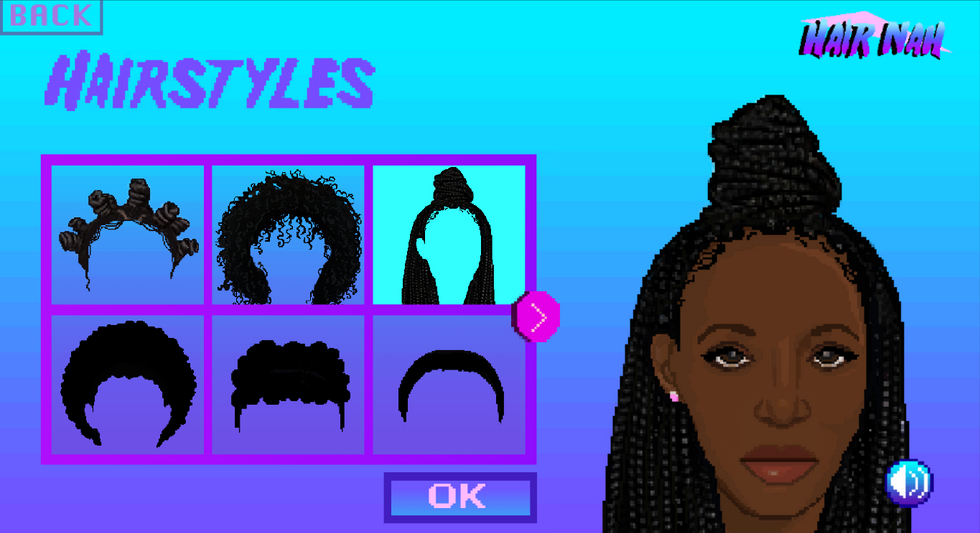 Source: Hair Nah
You also have three destination choices - Havana, Cuba; Osaka, Japan; or the Santa Monica Pier in Cali.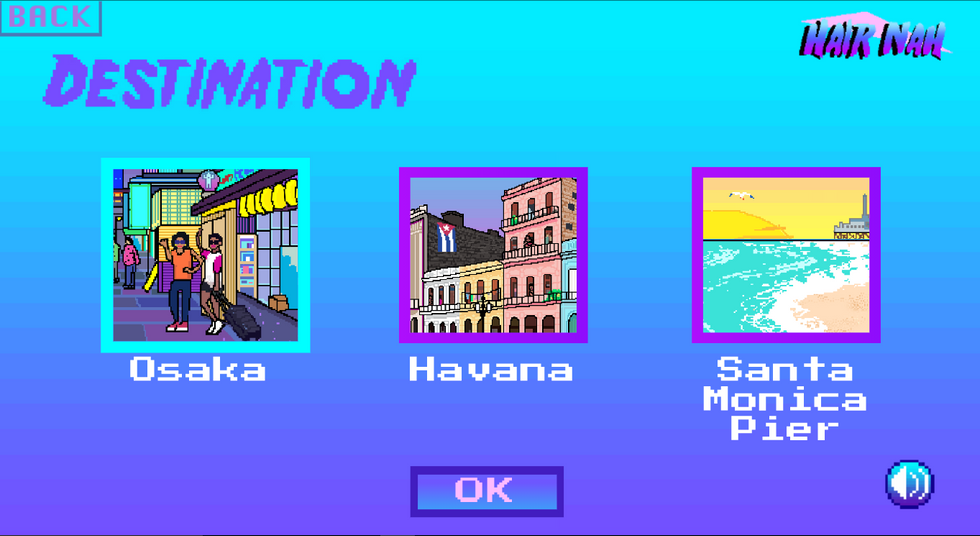 Source: Hair Nah
As you move through the levels, you hear comments like, "Can I touch it?" "It's so fluffy!" and "Is it attached to your head?" The harder Aeva swats, the more energy she loses on the "Nah meter."
If you win (and no, it's not easy to win the game), a screen at the end of the game explains that this is something that black women actually experience, and that people should stop doing it.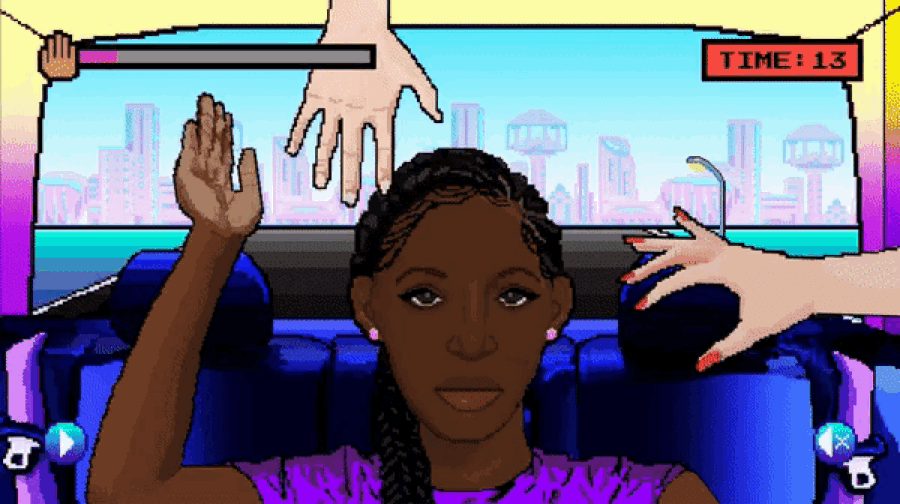 Momo sat down with Okay She Goes to talk about the game, and she said that the idea came from her real life experiences after moving to Portland, where she's had plenty of people touching her hair without permission.
I'll be walking, and a woman will reach her hands into my head. I'm talking to a teammate, and a coworker I just met is holding my hair in his hand. I'm in the checkout line, and the cashier will reach across to caress my braids. I shudder thinking about it. It's so creepy. And it sucks because I know a lot of women have had this issue their whole life. But for me, it all came at once!
She said that she hopes that the game will give people a better understanding of what it means for people to touch your hair without invitation.
I'm hoping to push the conversation further. Because I don't know how many times Black people can keep telling folks to stop touching our hair and in how many different mediums before they get it. There are countless videos, hella memes, Solange made a song, now there is this game. So if folks don't get it, it's because they don't want to.
What's amazing about the game is that Momo has gotten plenty of support, and has also helped people better explain why it's rude to the people around them.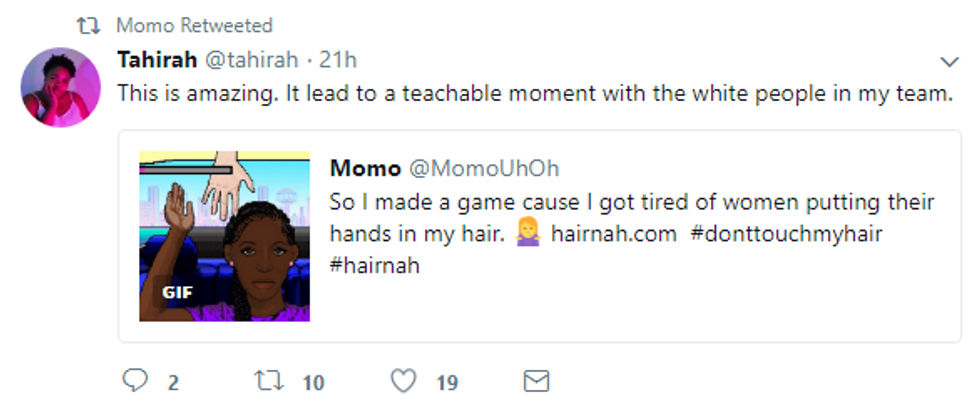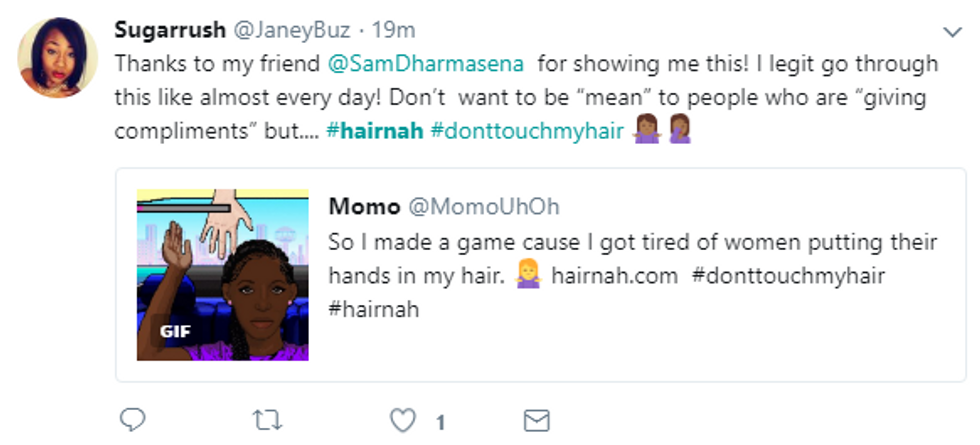 Have you gotten any work done playing Hair Nah? I know, it was hard for me too, sis.
Head on over to Hairnah.com, and give the game your best shot.