---
Maybe it's because Disney made sure that Cinderella, Snow White, Ariel from The Little Mermaid, Princess Jasmine from Aladdin and Tiana from The Princess and the Frog all had love interests. Maybe it's because far too many so-called singles ministries in churches seem to be more about how to get a man (or how to complain in a "godly way" about not having one) than how to buy a house or start a business. Maybe it's the daily programming of being in a relationship, period that has so many of us struggling with being single.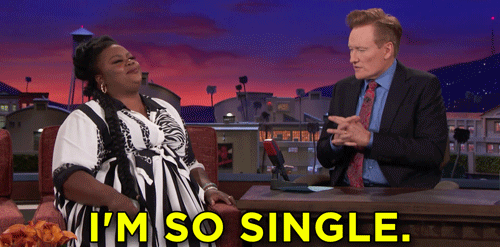 media.giphy.com
I mean, even our tax forms indicate that unless we are married, we are single but even if we've only been on three dates with someone, we're quick to not want to refer to ourselves as a single woman. It's like "single" is some sort of back-handed compliment on a good day, a dirty cuss word on a bad one. What's up with that?

As someone who will be 45 in June and is currently (and peacefully) single, personally, I think a lot of us struggle with singleness because, overall, it hasn't been presented to us as the immense gift and blessing that it really and truly is.
I mean, just think about it—all of us come into the world as single human beings, so even God himself finds merit in it. Yet religion, pop culture, even our own loved ones tend to act like the single status is nothing more than a placeholder until we get ourselves together and actually start living our lives…with someone.
Me? These days, whenever someone asks me why I'm still single, my answer is simple—"When a man can love me the way I know I can love a man, I'm good." I mean that too. I got to this place by asking the following questions and then getting real with myself about what my answers were vs. what they needed to be.
Struggling With Being Single? Read This.
Featured image by Getty Images.

Related Stories
How To Own The Power Of Your Single Season - Read More
Dear Single Self: What I Wish I Knew Before Getting Married - Read More
Solo Dating In Your Single Season & How It Preps You For Relationships - Read More