Aside from being a barrier-breaking hijabi model and activist, Halima Aden also has a BOMB makeup and skincare routine.
---
For Vogue's latest "Beauty Secrets" video, the young runway star showed us her skincare routine paired with a go-to party look — and honestly, her creativity knows no bounds. Here are a few things we learned from watching this video that we've now got to try ourselves:
Get Creative: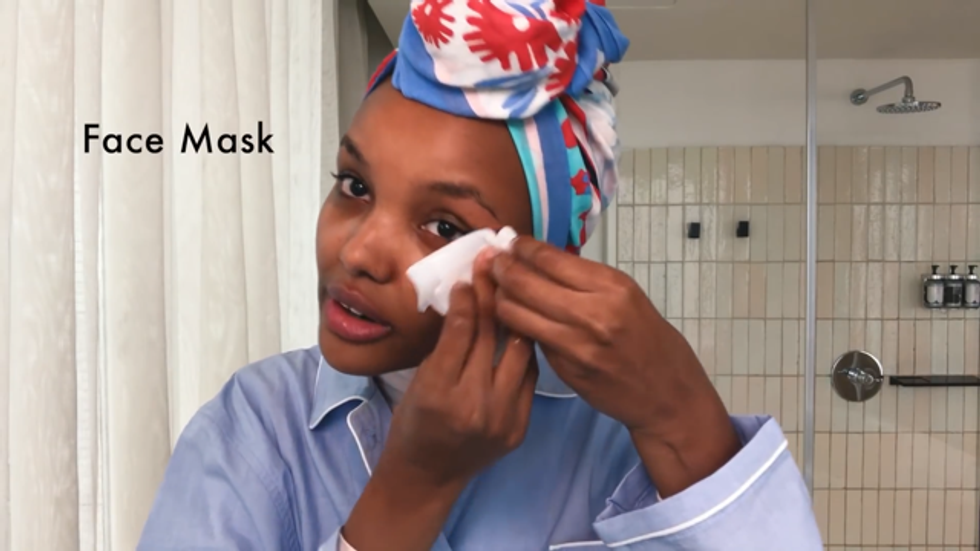 Vogue Beauty Secrets/YouTube
How many of us have used sheet masks? Now, how many of us use the mask to wipe product directly on their face? Exactly! In the video, Halima folds up her brightening sheet mask and glides it onto her skin for added product. If you're on the quest for glowing skin, hydration will be key and utilizing a face mask before going in with products will ensure that your skin is moisturized, despite the frigid weather.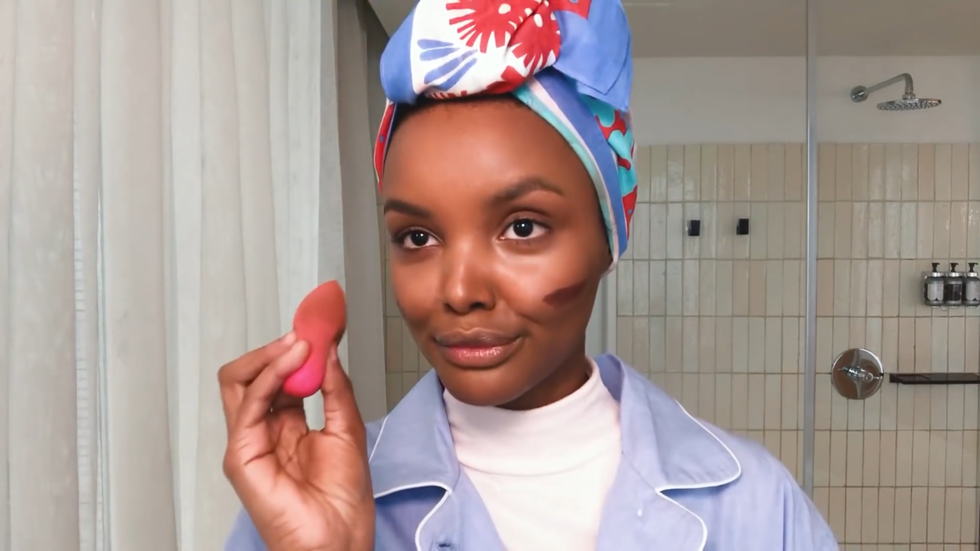 Vogue Beauty Secrets/YouTube
Halima used the Kat Von D Liquid Lipstick in a deep wine shade for not just her lips, but also on her eyes and her cheeks. She swept the product on her lids as a primer before going in with the Huda Beauty Rose Gold Remastered Eyeshadow Palette, and also dabbed it on her cheeks to bring a bit of color back to her face after foundation. I have to say, I've never thought about using lipstick for ALL three, but now I'm curious.
Give Your Skin A Great Base: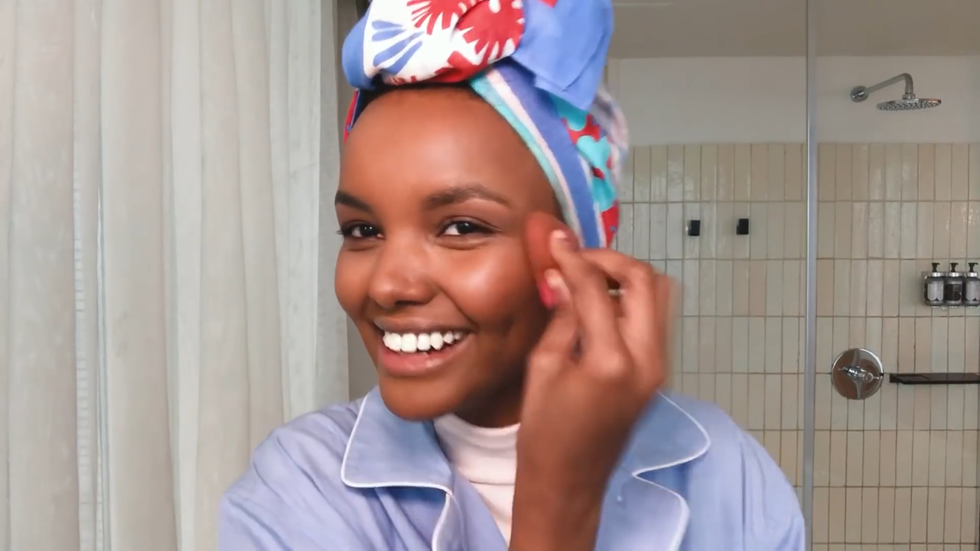 Vogue Beauty Secrets/YouTube
Before moving into makeup, lock in your pores by splashing cold water on your face like Halima, and then go in with a deep cleanser to really get in there. Add a thicker cream and a nourishing face oil to keep your face super hydrated and to help "make the foundation glide," according to Halima. Next, you must prime! Priming is always a step in makeup that people question whether it's necessary or not, but priming is so important for giving your skin a smooth base before going in with makeup.
Start with a buildable foundation that has a bit of glowiness — the NARS Sheer Glow foundation is perfect for coverage AND for brown girls. To make sure it's super blended, go in with a beauty blender so you can get into every nook and cranny.

Add In Layers: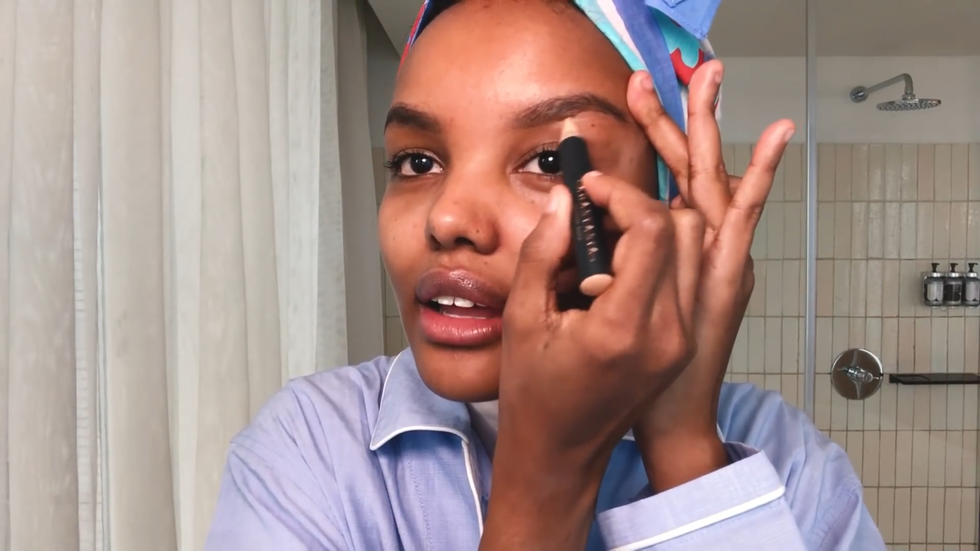 Vogue Beauty Secrets/YouTube
Throughout the video, Halima goes back and forth between her brows, her cheeks, her contour, and adding lipstick everywhere. When in doubt, add more product to create a pretty, buildable effect. Stick with some colors that are close to your skin tone, but then go in with a blinding highlight and touch the places where the sun hits — brow bone, cupid's bow, top of cheeks, and even the inner corner of your eyes.
And when in doubt, keep your brows done! "You know how they say eyebrows should be like sisters, not twins? Well, mine aren't even talking. It's a family feud," said Halima while filling in her arches with a brow pencil and gel.
Even if you haven't gotten to your threading lady in a while, clean up under the brow with a pencil or shadow that's a few shades lighter than your skin tone. Bam, you're ready for a night out.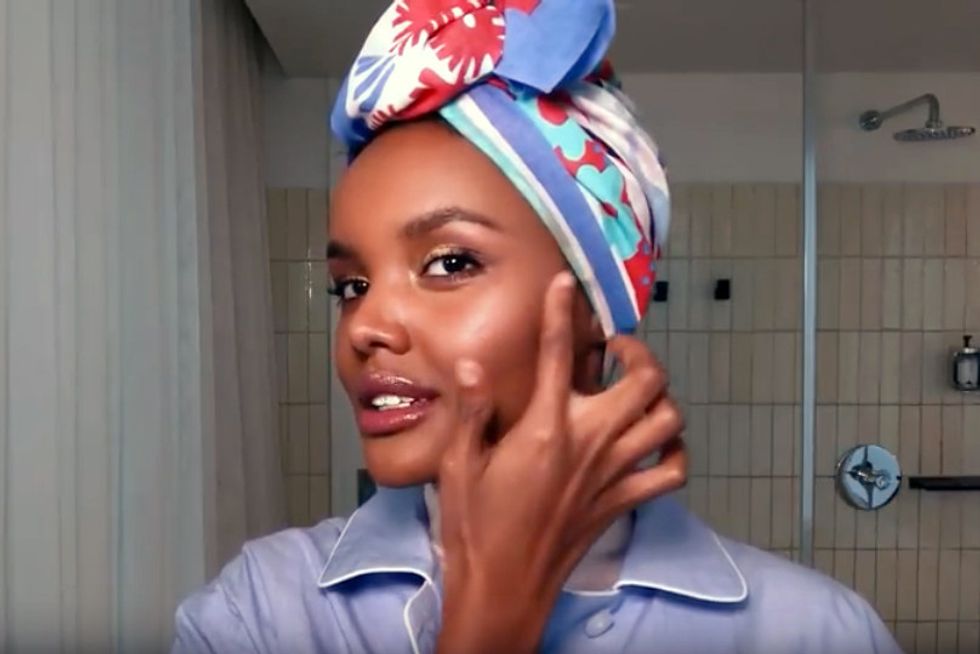 Vogue Beauty Secrets/YouTube
Watch the full video below.
Halima Aden's Epic Guide to Glowing Skin & Golden Eyes | Beauty Secrets | Voguewww.youtube.com
Related Stories:

The $21 Product You Need In Your Beauty Arsenal - Read More
We've Unlocked The Secret To Mastering The Eyebrow Game With These Easy Tips - Read More
Teyana Taylor Is The Face Of The New Wu-Tang Clan-Inspired Lipstick Collection - Read More
Brown Girls Finally Have Some Brown Lipsticks To Wear For Fall - Read More