---
I may or may not have a corona-brow right now. But allow me to explain. My brows can be rather unruly. One day, the new growth can be too fine to grip and the very next day coarse and curly, making it difficult to tweeze without feeling unnecessary pain or losing my place. That's why I'm #TeamThread, hunny. But, unfortunately, that's not gonna happen anytime soon. Not during this pandemic. However, it's a good time to look at some other options.
Early last year, I grew fascinated with microblading but not with those microblading prices! Or the actual process, for that matter. I just liked the end result. What would've been ideal is a procedure that didn't involve cutting and bleeding but still left my brows looking tame, fierce and effortless at the same time. That's where brow lamination comes in.
Brow lamination is an innovative technique that's said to have originated in Russia, has grown popular in England and is now gaining traction here in the United States with a few brow artists actually offering online lamination courses. Curious to know a bit more about the brow lamination process? I've done some research for you.
What You Should Know About Brow Lamination
What is brow lamination?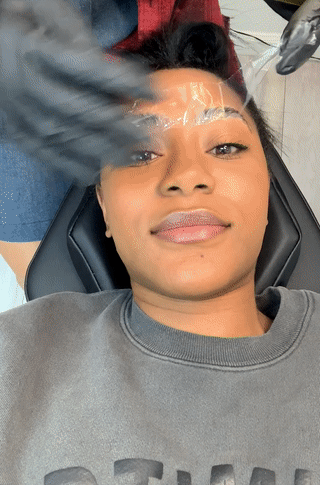 The short answer is that brow lamination is a relaxer, like the creamy crack, for your eyebrows. It's similar to the "soap brow" look where you comb your brows upward with the help of bar soap, only brow lamination just lasts longer.
Brow lamination is also a less expensive, less invasive alternative for both barely-there and bushy brows than microblading and ombre. The major difference between brow lamination and the other processes is that it's temporary and there are no needles or other sharp tools involved to fill and design the brow.
With ombre powder, a small tattoo machine is used to insert pigment into the upper layers of the skin. It lasts an average of 24 months. Microblading uses a tool with tiny needles to make small cuts in the brow area that mimic strands of hair. Microblading lasts about 18 months.
Brow lamination uses a chemical lifting cream to "relax" the hair enough to change its shape and direction, a neutralizer, and then some oil, again just like a relaxer. It gets its name maybe partially by the plastic used to secure the brows vertically in place and partially for the glossy look the brows have afterward. The process takes less than an hour and lasts 6 to 12 weeks.
What should I do for brow lamination pre-care?
For brow lamination pre-care, you definitely don't want to use any exfoliants, retinoids, AHAs or anything like that before your brow lamination appointment. You also don't want to wax, thread or tweeze at least a week before your appointment.
What are the cons of eyebrow lamination?
Let's be honest here. We're talking about applying harsh chemicals and an adhesive to our eye area, that paper-thin skin we're instructed to avoid when we use facial scrubs or minimize tugging when we apply eye shadow. The same experts who frown upon eyebrow tints and dyes rightfully warn against brow lamination. For one, if the chemical somehow gets in our eyes, it can cause blindness or other serious, irreversible eye injuries. Additionally, since that skin is so delicate, it increases the risk of irritation and inflammation, especially for those who already have sensitive skin. And finally, just as we can over-process our kinks and coils with a relaxer, we can experience dryness and even breakage of our eyebrow hairs with lamination.
What do I do for brow lamination aftercare?
As a part of brow lamination aftercare, you should maintain your new brows with extreme care, at least the first few days. You'll need to exercise caution when washing your face because your fresh brows will need to remain dry. Afterward, you'll need to keep your brows regularly oiled and moisturized just as you would a freshly relaxed 'do.
You may resume makeup and exfoliating products about 72 hours after your treatment. Also note, you may need to tweeze a bit before your next treatment.
How much does brow lamination cost?
The price can range from $60 to $150.
Where can I get brow lamination done?
Ideally, you'd get your brows laminated at your local salon, provided they do facial services and have added brow lamination to their list of offerings. But currently, most salons just offer microblading. In fact, I did a quick Google search near me in Atlanta and found only one brow artist who does brow lamination. Bonus:She's a Black artist, though! But as with any new service that affects any part of our bodies, inside or out, we should always do our due diligence and schedule a consultation first.
Join our xoTribe, an exclusive community dedicated to YOU and your stories and all things xoNecole. Be a part of a growing community of women from all over the world who come together to uplift, inspire, and inform each other on all things related to the glow up.
Featured image by Shutterstock.