When it comes to building a personal brand on top of your 9-5, it's hard AF. How do I find time? How do I spend my money on resources? Will people support my vision? Well, the truth is that all of these questions, plus probably about 10 million more, will pop up in your head at least once every day. That's just the life of being an entrepreneur.
"When I first started my blog, I was working on it after hours," said Jamé Jackson, a style and beauty influencer based in NYC. "It takes time to build your side hustle, and oftentimes you'll feel like you can't do it because of whatever. It doesn't matter if you don't have the resources, that's when you have to keep pressing. It all started with just one hour a day, and then you really start to see significant differences as long as you stay dedicated."
I wanted to see if I could do the same thing — if I could dedicate one hour a day to my side hustle, and more importantly, if I noticed a difference afterward. For one month, I spent time actually working on journaling and building as a blogger. Here are some life lessons I learned in that month:
You Make Time For What You Want To Make Time For.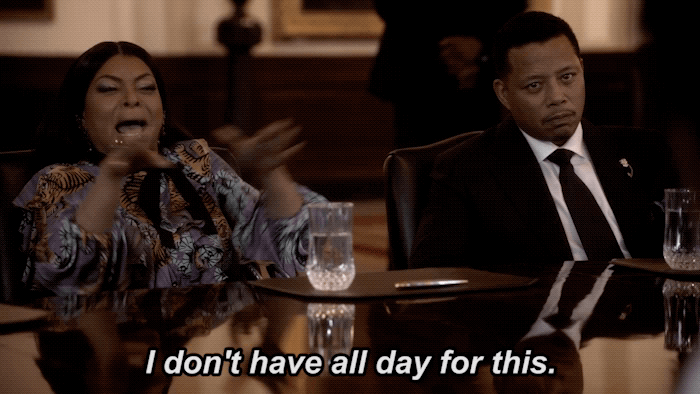 The first thing you'll notice when starting out with your side hustle is just how important every hour is in a day. Whether you're accounting for sleep, transportation, or even the time we just spend on social media, every hour counts while trying to plan.
One of the first things I had to learn was how to budget my time for the things that are actually important to me. I started off giving myself an hour a day to focus on my side hustle and would set up any and all parameters to ensure that I didn't get distracted or thrown off focus during the hour. I had to ask myself, Is seeing what everyone else is doing on Instagram more important than the one hour I've promised to give myself? Am I not worth the one hour?
While it's hard, you make time for what you want to make time for, and you can get a LOT done in under an hour. So cut back the distractions and get focused!
Even Baby Steps Are Progress.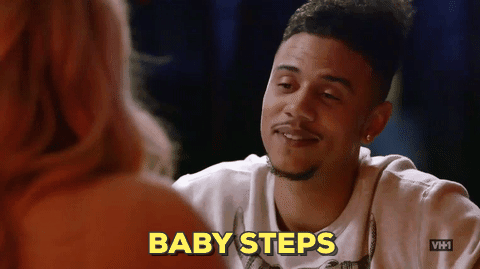 Entrepreneurship is hard, and beating yourself up in the process happens to everyone. I had to learn how to not get caught up in the "glass half empty" mindset, or the comparison game while looking at other people doing what I was doing.
The easiest way to combat that is by celebrating the wins and the baby steps, no matter how small you think they are. I didn't have a budget in place for my side hustle, and it immediately showed when I would look at my credit card statement and see just how much I had spent.
I started off by writing out my goals and then writing out quantifiable goals that centered around money, dates, or anything with figures. Starting off with the baby steps in my finances not only helped me be able to really put a budget in place, but it left me significantly less stressed because I knew that I was doing things the right way for long-term success. Oh, and the more you do the baby steps, the better you get and soon you graduate to big girl steps and that's when the fun comes. Whatever it is, stay focused and break down your goals into smaller, actionable steps.
You Need Accountability Partners Who Support The Vision.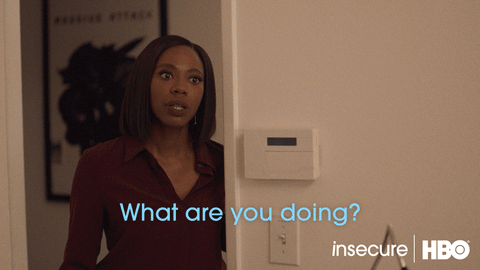 Okay once you believe in yourself, it's time to find others who believe in you, too! I know y'all have heard about accountability partners, but they are SO important for your personal and spiritual growth because we all need cheerleaders in our life. Once I got into a good rhythm for my work and being strong with my one hour, I was able to extend my time and activities to build up my brand and name.
So what can you do if you don't think there's anyone around you to help you? Well, first of all, you gotta find a new tribe, honey! But also, do your research.
Find Facebook groups, IG handles, and interact with people you see doing their thing! At the end of the day, what you do is unlike anyone else, and I had to learn to see people as a support system, NOT as competition. Remember, accountability won't always feel right — when my accountability partners started actually being accountable, I was mad! But those are the people you need in your life who will help keep you motivated and going strong.
Want more stories like this? Sign up for our newsletter here to receive our latest articles and news straight to your inbox.
Originally published on January 10, 2019
Featured image by Shutterstock
Women, especially black women, can find it difficult to advocate for themselves at work. A lot of us were taught to be seen and not heard as children, and as adults, we've taken those mindsets into our work and personal lives. Sis, we're stopping that right now.
Taking a powerful approach of asserting the things you want and the things you need to be successful doesn't make you b**chy, entitled, or whatever else society will try to convince you. I decided to put my money where my mouth was and tried being more assertive at work for two weeks.
The lessons were hard, but here are a few major takeaways that will help you:
Emails are easy ways to practice without having to talk to someone.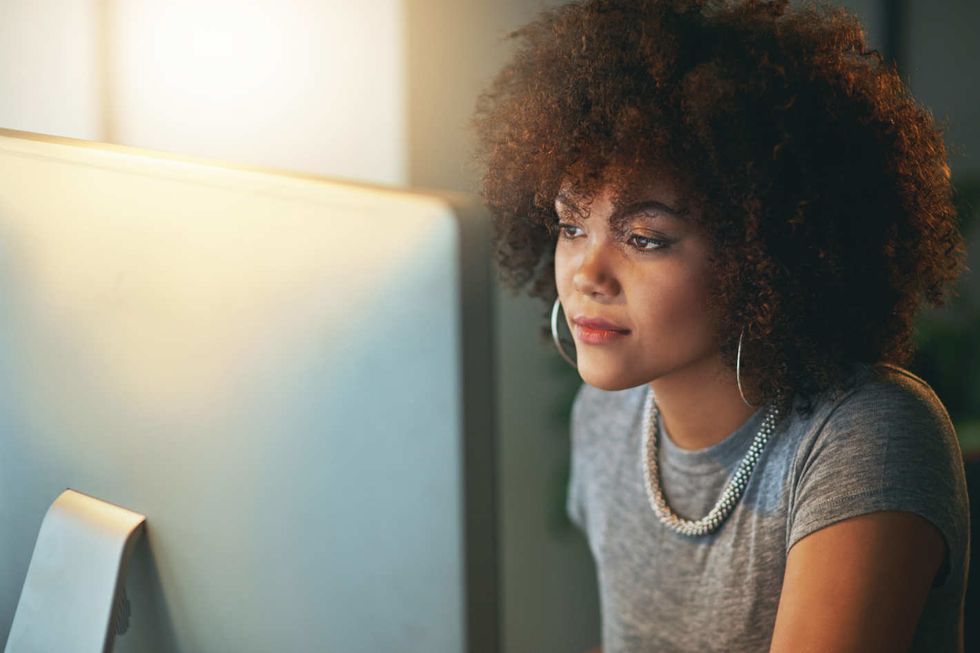 Starting with emails was the easiest way to practice my hand at being more assertive. Women tend to use words such as "just" and "I think" a lot to cushion what it is that we're saying. I would write my emails out, and then read over it again and take out all the "fluffy" words I saw. Trust me, it was painful looking at that email two and three times, and it was extremely uncomfortable to read the email that was on the other end of those edits. But the more I read it, the more I realized that I hadn't said anything bad, dismissive, and rude. I had simply addressed what I needed to and left it at that.
If this is just TOO much for you, that's okay! Start off by going through your emails and removing the "I think"s out of your text. You don't need to convince anyone what you think, so just say it!
Speak up in meetings, check-ins, and anywhere else that lets you practice.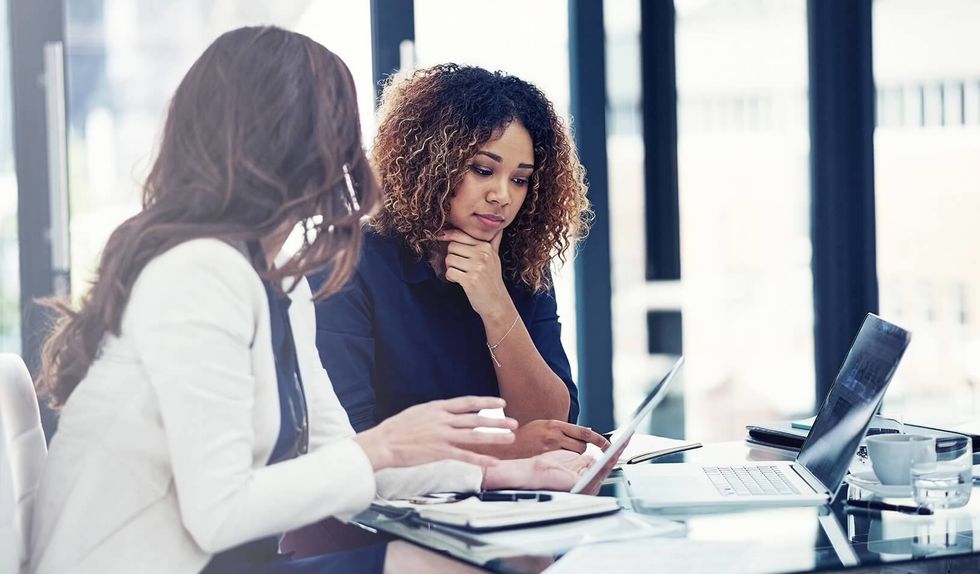 This was something that I challenged with the first week, mostly because I kept thinking, "What will people think if I speak up in this meeting or if I pose a new idea?" Then I started thinking, so what? I'm supposed to be in this meeting for a reason, and everyone else speaks up, so why shouldn't I? When I went to weekly sales meetings, I spoke up and vocalized what I thought we could do to increase proficiency and how that would support the company's bottom line. Sure enough, the fear of speaking out was more than the actual art of doing it.
When you speak up, speak up with some confidence. Don't shrink or hide behind the things that you want — if you have a certain opinion on something, or know something more effective that can help your business practices, do it and say it! Who knows, maybe that promotion you've been looking at, or that new responsibility you want to take on, is simply on the other side of fear. Just remember: Even when you're assertive, you can (and should) still be nice.
Celebrate your wins, yes, out loud!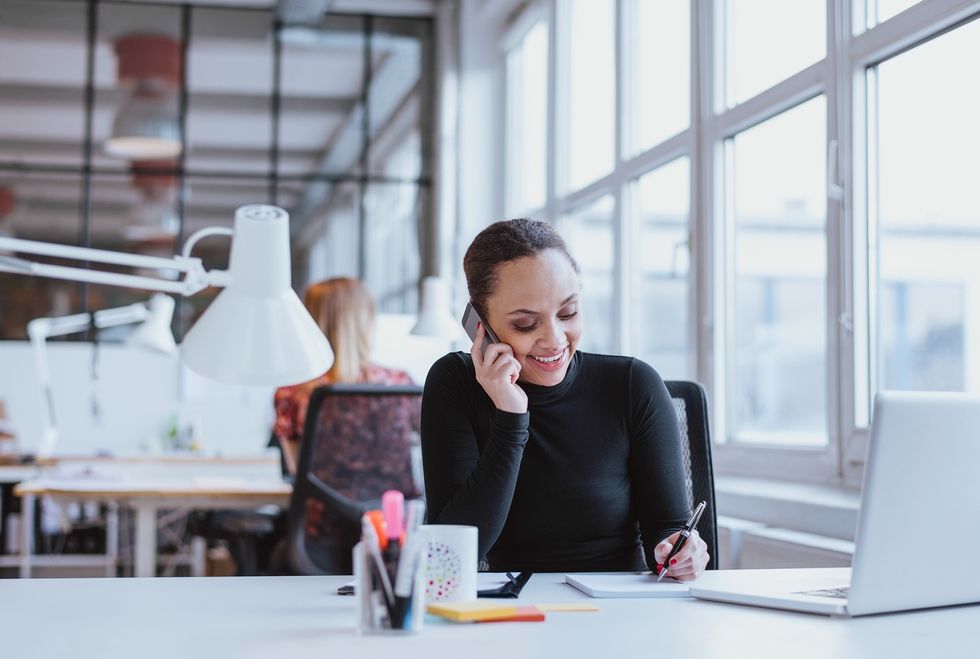 If you have an office atmosphere where you may do a weekly email thread that celebrates accomplishments, or even a group channel that lets everyone lightly toot their own horn, toot yours! If your manager, your coworkers, or someone else calls out something amazing you've done, accept and receive their compliments. You've earned it.
After a successful workweek with a personal accomplishment under the belt, I started an email thread amongst a few coworkers, sharing this cool new thing I had learned. Immediately, other coworkers started sharing their personal stories and accomplishments of the week, and everyone was bouncing off accomplishment after accomplishment!
When you step out and take a leading role, you set others up to do the same! So go on and give it a try, you may just become better at being assertive than you thought.
Related Stories:
I Woke Up At 5 A.M. Every Day Like A CEO - Read More

5 Ways to Get Taken More Seriously at Work - Read More

9 Lessons I Learned After Working 9 Internships - Read More

5 Effortless Actions That Boost Your Reputation at Work - Read More

As young millennial women, we don't talk about money enough - how we use it, how we earn it, how we feel about it, and everything else in between. Money Talks is an xoNecole series where we talk candidly (and anonymously) to real women about how they spend money, their relationship with money, and how they get it.
In this installment of Money Talks, xoNecole chats with Simone Faulker*, a 25-year-old graduate student who had her credit card debt paid off by a sugar daddy who also sends her to Bergdorfs and pays for her facials. Here's what she had to say.
Interview has been condensed and edited for clarity. Names have been changed to protect identity.
Did you always want a sugar daddy, or did you meet this man out of the blue?
I met him out of the blue, definitely. One night I was out at the bar with my friends, and Tim* came over and introduced himself. Of course, I wasn't paying him any mind because I could immediately tell he was older, but he was extremely persistent in a grown man way. I gave him my number and he called me the next day, and we started going out on dates.
Were you judged by family and friends when they found out you were dating an older man?
People definitely side-eyed me when he and I first started going places. My friends were surprised that I was still talking to him, which is understandable because he and I are twenty years apart. He and I didn't care though because we both wanted something out of this and we were both fulfilled.
What were the things you and he wanted?
Well, Tim works in finance and has worked in the industry for a long time. He made it known to me, almost immediately, that he had money and he wanted to financially take care of me. Of course, he also 'wins' because he gets a pretty girl on his arm when he has to attend galas and fancy meetings and whatever else he has to go to. We love to sit and talk to each other, so it's not like we can't stand one another.
Did it ever bother you being financially dependent on a man? There are still money taboos around women when it comes to money.
I was uncomfortable at first and would tell him he didn't need to buy me this or that. But if we were in a department store and he saw me looking at something, he would come back and get it later if I didn't agree that I wanted it then. Money is not the most important thing in the world, but I definitely learned how liberating life could be when you don't have to worry about bills and you can have a lot of the things you want. Sometimes he would just give me money, which I would use for things like my tuition money, books, and my hair or nails.
"Money is not the most important thing in the world, but I definitely learned how liberating life could be when you don't have to worry about bills and you can have a lot of the things you want."
Are there any parameters you have to abide by?
Not really. Obviously there's an emphasis on my looks, like making sure my hair or my nails always look nice. I get facials once a month and have a membership at Equinox so I can stay in shape. He usually doesn't like for me to wear the same thing at events, so he will usually schedule for me to go somewhere like Barneys or Saks to get a dress and any alterations. I get asked by my friends a lot if I am obligated to have sex with him, and that's never been something he has pushed on to me or forced me to do in exchange for money.
There are other women he talks to and possibly wines and dines, but that has never been a breaking point for us and something that directly impacts our relationship.

But do you guys have sex?
Yes.
What's been the largest financial act he's done for you?
The largest single moment was when he paid off my credit card debt. It was about $15,000, and had mostly happened from a lack of knowledge on using a credit card while in college. One day he came home and said that he had paid it off. Of course, he pays for other things that can get pretty close to that number, but that's the biggest one that comes to mind immediately.
If you don't mind me asking, what else does he pay for?
He pays my rent, gives me money for food, my hair, my nails, and sometimes a clothing allowance. I pay for graduate school myself because investing in my own education is very important. I use that for important events or situations that I need something to wear. I wish people, not just women, would stop looking down on situations like mine because they don't know everything on the backend. People may see me as small or dependent on him for finances, but I know how to take care of myself. I'm in important rooms with important people and I get to learn and network. I get to focus on the things that matter to me while also having fun.
If that's not liberating, or at least reclaiming power in my own way, then I don't know what is.

"If that's not liberating, or at least reclaiming power in my own way, then I don't know what is."
To submit your story for a chance to be featured in a Money Talks conversation, submit your email address here and you'll be contacted. All conversations will be anonymous and/or names will be changed for privacy.

In xoNecole's Finding Balance, we profile boss women making boss moves in the world and in their respective industries. We talk to them about their business, their life, and most of all, what they do to find balance in their busy lives.
If you've never heard of Miko and Titi Branch before, I don't believe you.
Surely you've heard of their mastermind project, Miss Jessie's, which seeks to offer amazing products for all those in the natural hair community. Taking the natural hair market by storm in 2004, Miss Jessie's products are a staple in many of our beauty arsenals.
Of course, the first question you probably asked yourself was, "Who is Jessie?" Based around Miko and Titi Branch's paternal grandmother, Miss Jessie Mae Branch, the curly hair products are a true ode to their grandmother Miss Jessie and her mixtures and kitchen concoctions that have brought the brand its current successes.

Today, Miss Jessie's is a multimillion-dollar hair care business that many of us turn to, run by Miko, who has taken on majority responsibility of the company after the passing of her sister. However, Miko carries her sister's energy with her in all she does for the company, including tackling the highs and lows of entrepreneurship. With an Instagram following of over 88,000 users, it's evident that Miss Jessie's has no plans of slowing down — and neither does Miko.

So how does she balance it all on top of being a working mom? Read on to find out.
 What is an average day or week like for you?
An average weekday typically involves a lot of work for my hair care company, Miss Jessie's. After building the business from scratch, with my late sister Titi Branch, I find myself continuing to be a student in my business — which requires a lot of my time.
A typical day involves working very closely with my team in-office from 9 am to 5 pm. Once I leave work, I try my best to decompress and let work go. A nice meal usually follows. Spending time with my loved ones has become a priority as I try my best to be happy and healthy.
What do you find to be the most hectic part of your week? 
The most hectic part of my week would probably be the beginning. Mondays are usually the most hectic day because everything seems to pile up over the weekend!
How do you push through those busier times of the week?
I attempt to have all emails answered by day's end to stay on top of things. I feel a strong sense of accomplishment if I am able to manage that part of my workload. Prioritizing on every level is the best way for me to push through my workload. If I have a handle on things by mid-week, I feel more energized with the confidence gained from completing work during the first part of the week.
With everything that you do, how do you practice self-care?
My zodiac sign is Virgo, and we tend to very particular about most things. I've learned to extend these natural instincts into my personal life and found that narrowing my circle of friends down to the ones that really love and care about me has helped to create the loving and nurturing environment. This is something that has become part of taking care of myself.
Working on good and positive thoughts has become part of my existence, and it keeps me balanced when situations shift and can get hectic. Doing the things that matter, and doing the things that I really want to do are also ways that I care for myself. I try to get the most sleep that I can, and it's become more important as I take care of my health. A nice bike ride or walk does the trick.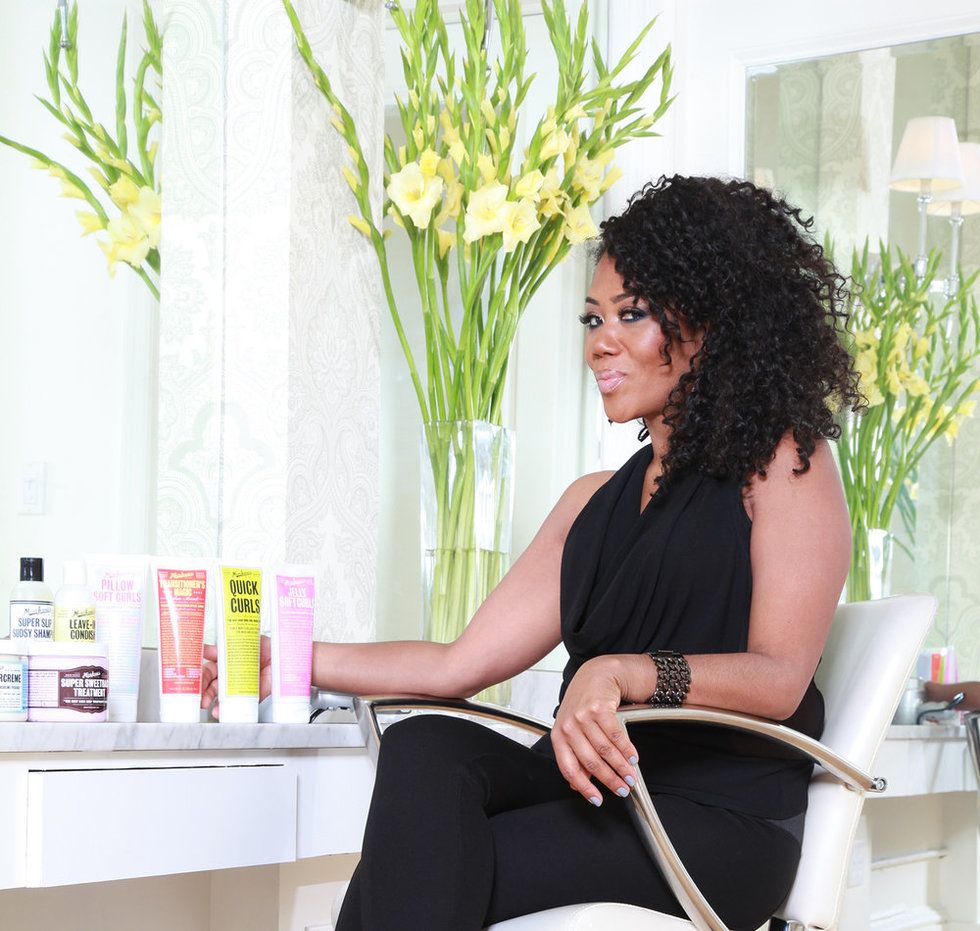 Laretta Houston
"Working on good and positive thoughts has become part of my existence, and it keeps me balanced when situations shift and can get hectic."
What is your self-care routine?
First, I check-in with myself to make sure I am feeling balanced, harmonious, loved and protected. I try to go to sleep with positive thoughts and wake up with a clear mind. I also try to listen to what I am thinking or feeling.
A morning walk or bike ride is a really nice way to start the day off, then breakfast for nourishment. After work, I will eat something that I really want for dinner and almost always have a piece of chocolate.
I love Zen music and the sound of rain to decompress. But if I am up to it, I will watch something on Netflix. I drift off to sleep very easily these days so hopefully, my thoughts are positive and loving before I retire for the night.
How do you find balance with:
Friends?
Over the years, I've narrowed my circle of friends down to the ones that have unequivocally let me know that they love and care about me. With my workload being as hectic as it is, they tend to understand so we find the time to do things together when we can. That could include a sleepover, cooking, talking, walking or simply doing the things that we love to do together.
 Love/Relationships?
I was fortunate enough to reunite with my first kiss and first boyfriend from the seventh grade. We were 13 and 14 years old. We've become inseparable and do a lot of laughing, cooking, exercising, talking and loving one another. Our friendship has become as equally important as our romance, so we do a lot of compromising to make the time for one another and to support our hectic schedules. We lost so much time after not seeing one another for 27 years so we make the time to be together.
Exercise? Does it happen? 
Exercise is something that I truly need to do more of, but it takes a backseat to my business right now. When I get the chance to work out, I love to bike ride on the coastline or go to the gym. But my favorite thing to do is to take a long walk so I could exercise my body and also clear my mind at the same time.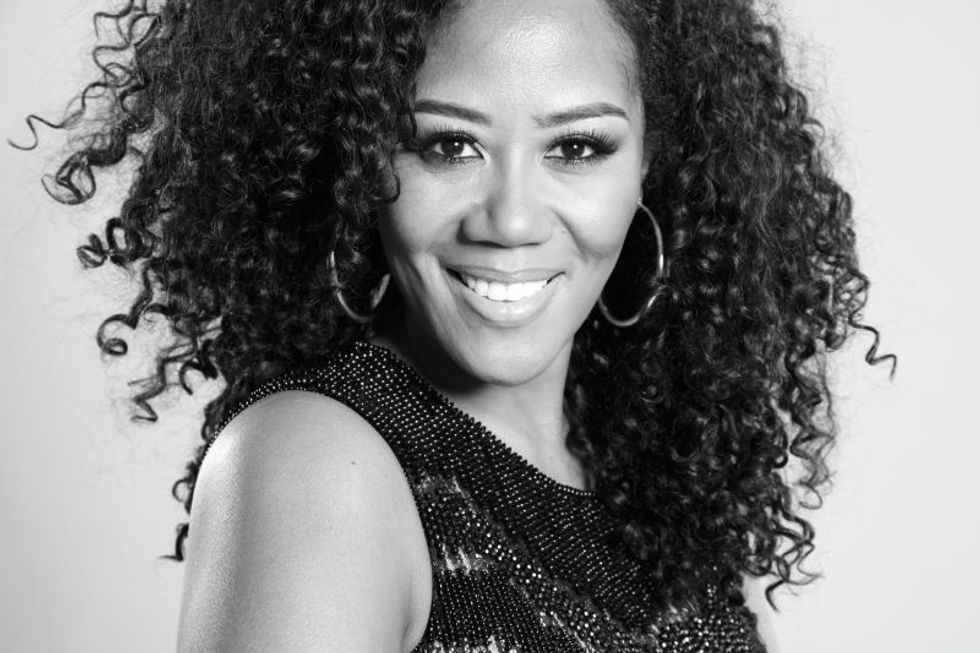 Miss Jessie's LLC
"Over the years, I've narrowed my circle of friends down to the ones that have unequivocally let me know that they love and care about me."
Do you cook or find yourself eating out? 
I have been eating much of what my boyfriend cooks, which tends to be very rich and decadent. When we eat out, we typically order all the things that we love which worries me. The good news is that I love fruits and vegetables, and I never tire of eating natural foods. It's important that I incorporate healthy choices as I'm often eating on the run when traveling for business.
Do you ever detox? What does that look like for you?
I actually do detox. For me, detoxing is clearing and removing any and all unwanted toxins in my life and body. I make sure to have positive energy and influences around me, drink water and flush out my system to get rid of any harmful build-up. If I've eaten terribly, it's not uncommon for me to do a natural laxative to help me to rid of unwanted toxins. Sometimes I just try not to eat too much and do a day of liquids in order to flush my system.
When you are going through a bout of uncertainty or feeling stuck, how do you handle it? 
I have learned to trust and talk to God when I'm feeling uncertain or stuck. I realize that I'm not in control of anything and that everything that has happened or is happening are steps ordered from God. So I've learned to be a better listener, and tune in for his cue and direction on what to do.
The faith that I have tends to alleviate any oncoming anxiety or fear that I may be experiencing. I often have to remind myself, with a smile, that I am loved and protected and I should not worry about a thing.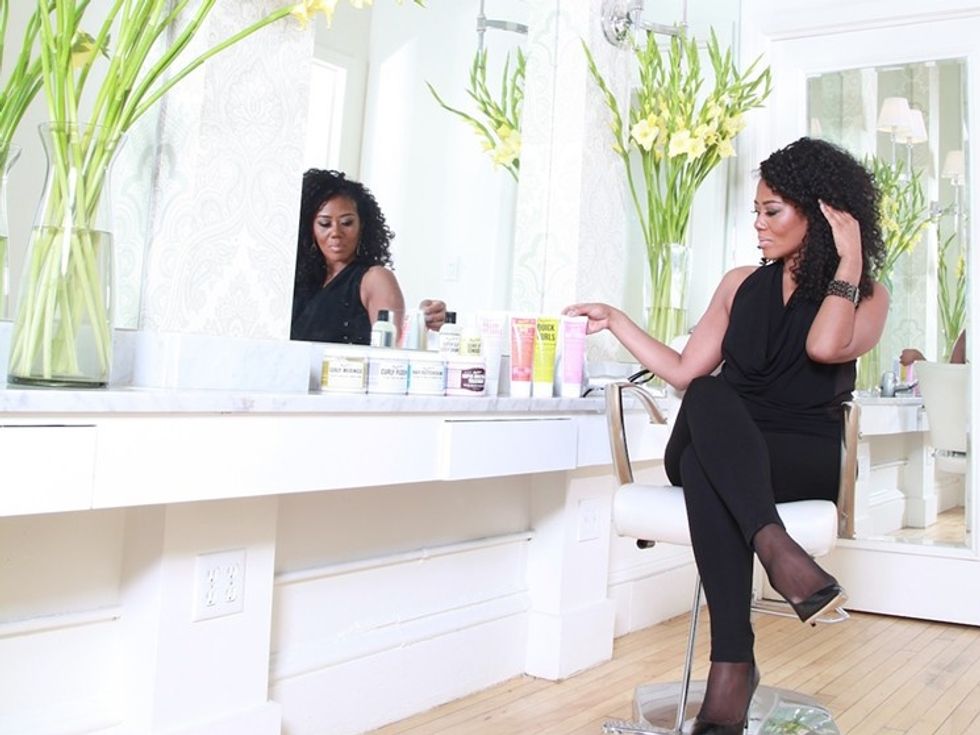 Laretta Houston
"I have learned to trust and talk to God when I'm feeling uncertain or stuck. I realize that I'm not in control of anything and that everything that has happened or is happening are steps ordered from God."
What does success mean to you? 
Success means freedom - that I am able to do what I want to do, and how I want to do it with a good conscience knowing that I was able to accomplish my goals the right way, positively.
What is something you think others forget when it comes to finding balance?
I think others forget what's important and they lose balance when they focus on things that will not be meaningful should the important things be taken away. Staying aware of what's important will help to give you the balance you need when prioritizing.
To learn more Miko and keep up with her company, follow Miss Jessie's on Instagram!
Featured image by Laretta Houston.
In xoNecole's Finding Balance, we profile boss women making boss moves in the world and in their respective industries. We talk to them about their business, their life, and most of all, what they do to find balance in their busy lives.
If you haven't heard of Germanee Gerald, well, thank us later. Her Instagram alone may give you all the feels, but you can easily walk away with a new sense of fashion inspiration simply by seeing how she does WHAT she does.

Gerald is not only a wardrobe stylist responsible for dressing down many of Silicon Valley's C-suite and industry professionals, but she's also had a long career working in merchandising, retail management, and now, entrepreneurship. In 2015, she started GG+CO Styling Firm, where her entrepreneurial pursuits led her to create a customer-centric focus on fashion, and more importantly, style. Not to mention she also hosted her own events that bring together both men and women to learn all about dressing the part and feeling their best while doing so.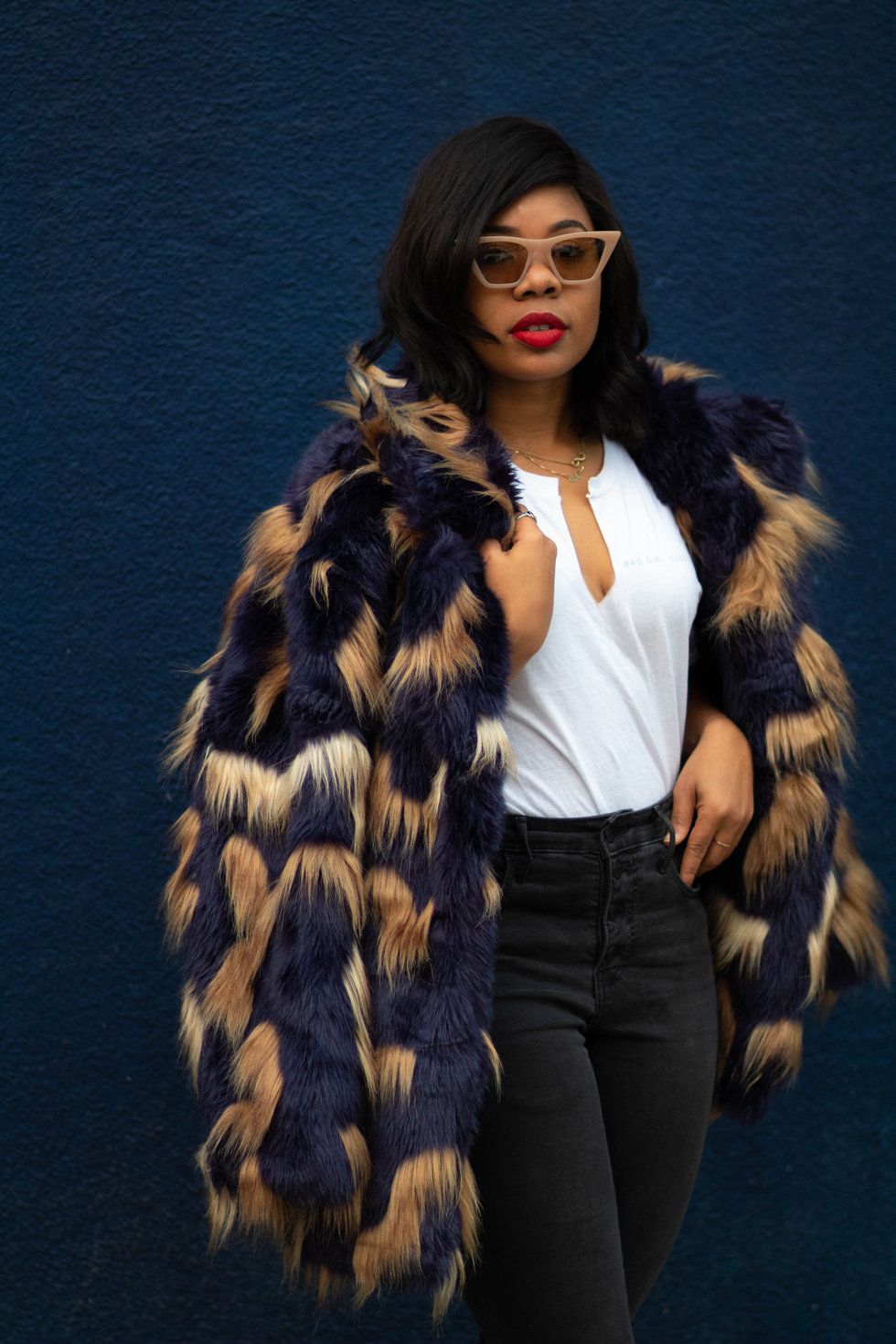 Germanee Gerald
Just because she's dealing with clothes and celebrity clientele doesn't mean that everything is easy for the Charlotte, North Carolina native. In fact, her days, weeks, and even hours are meshed with a lot of preparation, time management, and of course, big personalities.

For our latest installment of Finding Balance, we wanted to know how Germanee balances dressing some of today's hottest executives while keeping a bit of fly for herself:

What is an average day or week like for you?
My work week varies as GG+Co Styling Firm is a three-pronged business. My work as a stylist requires me to interact with clients at fittings in-person and virtually, and I also woo potential clients with pitch decks. I pivot from styling to planning with my team for our semi-annual 'Sip N' Style events, where we educate individuals on how to hone in on their personal style over cocktails all while supporting local retailers. When I've washed my hands from client and event work, I'm using the rest of my time to work my style course that I will be launching in January where I'll be teaching individuals how to curate their signature style.
What do you find to be the most hectic part of your week? How do you push through? 
I don't think I can pinpoint one singular thing that makes my week hectic. However, I often find it challenging to juggle and balance my schedule from time to time with my hands being in so many things.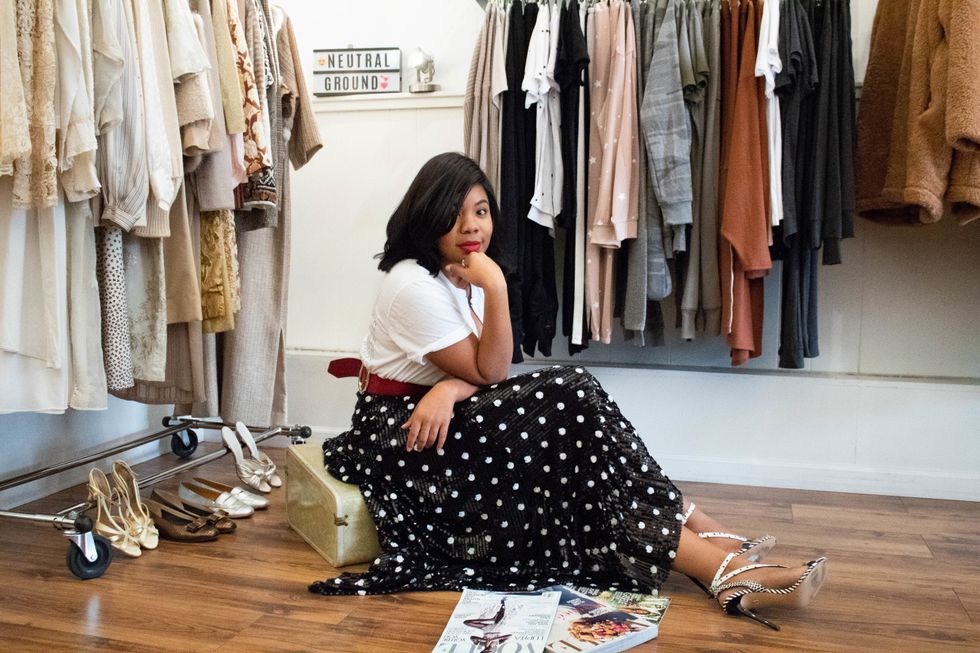 Germanee Gerald
How do you practice self-care? What is your self-care routine?
I practice self-care by giving myself space to pause, meditate, and collect my thoughts at the beginning of each week. Each Monday, I reset, catch up on Sunday's sermons (since I'm usually working on the weekends), meal prep, try to write out my to-do list so I know what's ahead of me, and treat myself to a mask.
How do you find balance with:
Friends?
It's hard, but my friends are important to me and I make an effort to show them that. For me, it's all about calendaring. I often schedule calls, FaceTime dates, or time to hang with them in person. I also make it a point to try to clear out my unread text messages I may have missed from them before I go to sleep at night.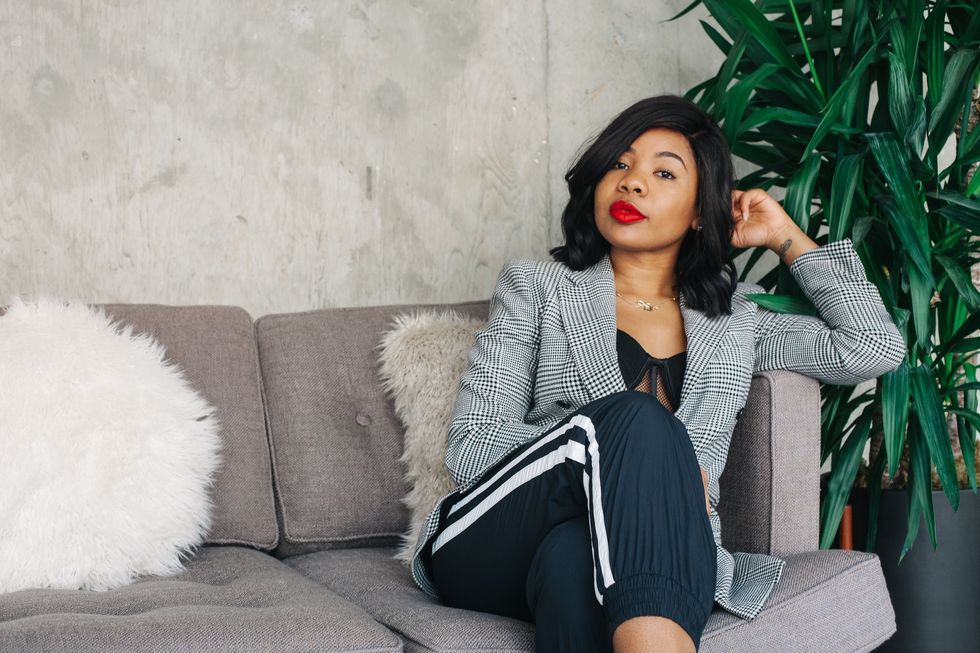 Germanee Gerald
Love/Relationships? 
At this point in life, I'm focusing on self-love. I'm making a point to be intentional about becoming the best version of myself before I allow space for someone else in my life.
Dating? 
While I'm focusing on myself, I do try to go out on dates from time to time when I'm equally intrigued by a guy. These are also scheduled out in advance, so it's important to me that I spend time with a guy who can understand and be sensitive to my schedule.
Exercise?
Exercising and having it in my routine is important to me. I appreciate it not only for the physical benefits, but it also helps me to set my intention for the day and release stress. I try to workout at least four times a week in the mornings. My workouts range from three-mile runs to cardio and weightlifting.
Do you cook or find yourself eating out? 
I typically cook my meals six out of the seven days of the week, and sometimes I even cook my cheat meals. For me, it helps cut down on spending, which is important as an entrepreneur. In addition, it allows me to have full visibility of what's going in my meals. However, I do try to treat myself to a meal out once a week.
Do you ever detox?
I've always found it difficult to detox and disconnect. Taking breaks makes me feel like I'm perpetuating listlessness and impeding my goals, so it's seldom that I detox from work. However, I've found it very beneficial to detox from social media; I compare myself less to other people's personal relationships, careers, physical appearances.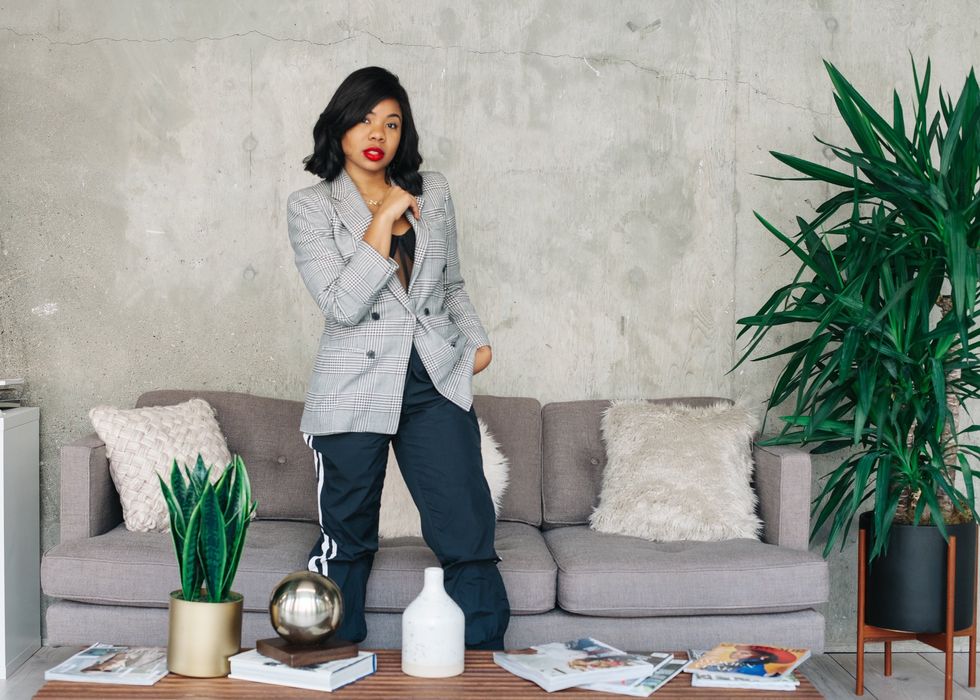 Germanee Gerald
"I've found it very beneficial to detox from social media; I compare myself less to other people's personal relationships, careers, physical appearances."
When you are going through a bout of uncertainty, or feeling stuck, how do you handle it? 
I usually lean on faith and friends when doubt arises. I pray, read scriptures, and ask for clarity. Talking to friends helps me get out of my own head and gives me a different perspective — they assure me that I'm on the right path, that I'm capable, and if I'm stuck they usually help me strategize and tease out my ideas. I also have to self-promote at times. Talking to myself in the mirror and speaking positive affirmations to tell myself I'm capable also helps.
What does success mean to you? 
The concept of success, to me, means accomplishing a goal that I set and holding myself accountable to complete it. When I was in college, I promised my parents that changing my major from biochemistry to fashion would pay off, and upon graduating I landed a position at Gap, Inc. in the company's highly regarded Rotational Management Program — which promised a role at the company working at one of its subsidiaries upon graduating the program.
I said that I would work for myself, and now, I am. I created a plan, saved for two years, and on the day of my ten year anniversary at Gap, Inc., I was able to call myself a full-time entrepreneur. I created the Sip N' Style events to educate individuals on style, how to find it, and what works best for them. Now I do that, and the event has grown from five people in my living room to hosting 250 people at event spaces in the Bay Area. Finally, last year I created a vision board with ten of my 'ideal' clients, and I've had the pleasure of working with half of them. There's still work to be done there, but I know I'll secure the bag, as I've done with the other things I've set out to do.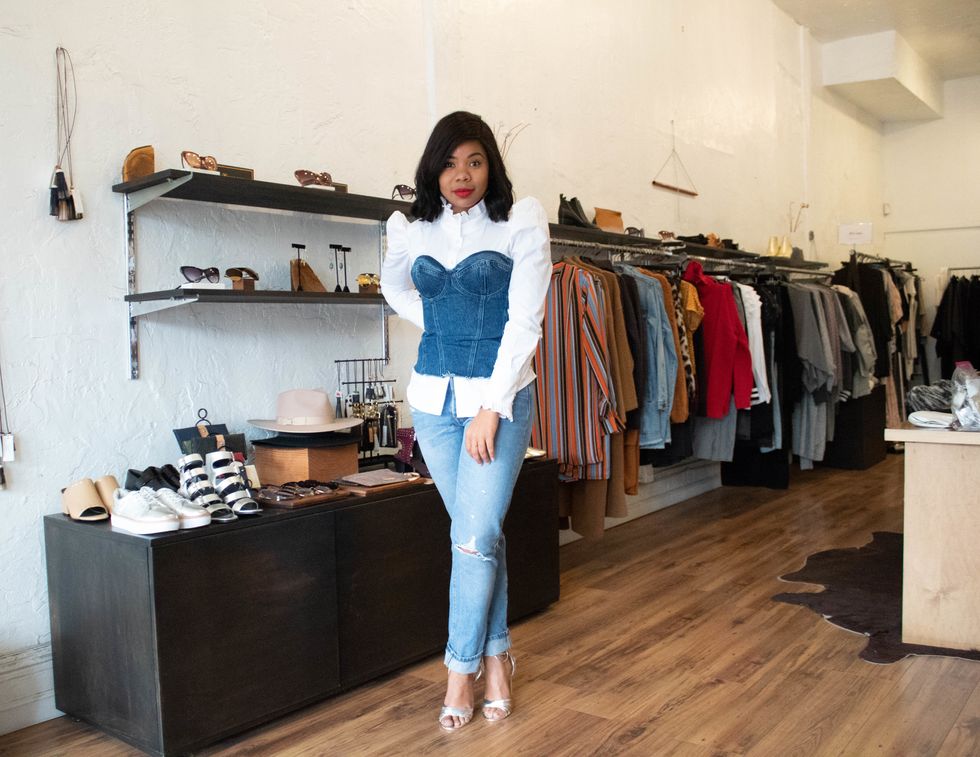 Germanee Gerald
"I said that I would work for myself, and now, I am. I created a plan, saved for two years, and on the day of my ten year anniversary at Gap Inc., I was able to call myself a full-time entrepreneur."

What is something you think others forget when it comes to finding balance?
I think people forget the importance of it (myself included). It's imperative to have a healthy balance to show up and be your best self mentally, physically, and emotionally.
To keep up with Germanee, follow her on Instagram @germanee_g and visit her website GGandcostyling.com!
Related Articles:
What Self-Care Looks Like For BuzzFeed Writer Jamé Jackson – Read More
Here's How The Founder Of CURLS Juggles Motherhood & A Million-Dollar Brand – Read More
Renae Bluitt On How She Masters Work/Life Balance – Read More
How To Find Balance When Your Life Is A Tightrope – Read More
In xoNecole's Finding Balance, we profile boss women making boss moves in the world and in their respective industries. We talk to them about their business, their life, and most of all, what they do to find balance in their busy lives.

The first time I met Gia Peppers, I was a student in the WEEN Academy, a four-week crash course in the entertainment industry.
We had been told that one day during the academy, alumnae would come by and have a WEEN roundtable, a day many of us were nervous about because you never know what to expect in the academy. As my WEEN sisters and I sat around in a circle, alumnae, including Gia, came in, offering discussions of Black women just talking about life, the industry, and perseverance.
Of all the things from that day, I remember making a mental note about something strange about Gia (she probably noticed me just staring at her and maaaybe was creeped out). I took note of how energetic she was, yet simultaneously, how calm her spirit felt. Up to that point, I had only known the name and face through my constant Instagram stalking, cheering on the sidelines because I just thoroughly loved another DMV (D.C., Virginia, and Maryland) native killin' it. She was someone I immediately made my big sister in my head, constantly following by example.
But Gia is one of those people who will steal your heart before you know it. She's young, but wise beyond her years. She's nothing short of showing people what putting in the work looks like, but also what it means to stay humble and never be above anything or anyone. But behind all the 'Gram flicks, the BlackGirl Podcast, and the nightly games during NBA season, how does Gia keep it all calm, cool, and collected?
In this installment of xoNecole's Finding Balance series, sitting outside a cute little café in the city, Gia and I chatted, woman to woman, sister to sister, creator to creator, and woman of God to woman of God. We talked work, life, and of course, balance.

xoNecole: What does an average week look like to you?
Gia Peppers: Lately, it's varied. Every single day comes down to planning and executing when you're a freelancer. Nowadays, I do a lot of hosting and get to do cool work as an on-air talent. Before, I was a journalist, but I knew I wanted to be talent. Of course, there's different perks involved, including the money. People were willing to help get me where I wanted to go, but you have to become more intentional about what you put out, and it has to be dope, especially since you don't have a standard 9-5.
During NBA season, it's a lot about travel. If I have a shoot, I'll be up and there by 8-9 AM. Then after, I get on Amtrak and get back to D.C., chill, do my makeup, and have everything ready for production meetings at 5:30. From 6-9 PM, we're hosting the game. Mom picks me up from the game, and then Dad and I will get up at 5 AM and he'll get me to the train and I'm back in NYC by 8 AM.
I also make sure to work out, pray, meditate, and set my intentions for the week.

I get a lot of really great headspace there, and then I'll work outside cafés, and sit and plan out what I want to do for the rest of the week. For me, I have waited way too long and there's all this work that I have to sift through, like my EPK! I always prep before things, so if there's an interview or event happening, I'm studying my script or writing it if I have to. It's about seeing what's coming down the pipeline and then preparing for it. I'm also getting better about posting on Instagram, and the community I've created online is really dope, so I try to put some dopeness out into the atmosphere. It's part of the territory as a host. So when it comes down to it, it's down to planning and execution.
When things get stressful, how do you get back to yourself? What role does religion and faith play in your life?
I grew up in the church. When I got to college, that's when I learned what's really inside of me, as I feel most people go through. I knew that I always had an awareness of my calling and purpose, probably because I'm the oldest in my family. I had to be an example for my brother and sister, but it shaped a lot of who I am. Even now, I'm not a wild kid, but I try to balance life when I can. Everything that we do is up to us, whether we try to act like it's a piece of a bigger picture or not. Everything we do is bigger than us. I learned how to hone in to the higher frequencies out there.
When you pray, you can ask God for help. You can tell Him you're upset, and He will help you out. It's an everyday decision to choose yourself, your health, and your dreams. You can accomplish whatever you want, it's just going to take work to do it.
But what happens when you get those thoughts of doubt? Those thoughts that tell you you can't be great?

It can be tough because people try to say "greatness" is this thing that only one person can do. Anybody can be great, but do you have the guts to be great? Can you walk around with egg on your face and 20,000 people look at you? Can you be the same person when you win OR lose? I had to learn how to be that person, but it also starts with understanding that you have to take care of yourself and be aware of your body and its needs. Step back and take some time for yourself, replenish yourself when you need to. The entertainment industry can take a lot out of you, and you need to find the things that work for you, whether it's a sermon or motivational podcast.
Awareness is the key.
You have to have people who believe in you even when you don't believe in yourself. Write it down so when you forget, you can see it. And you have to do the work. If that means listening to your favorite love songs to get yourself in alignment, you gotta fight for yourself. When bad thoughts come through, you have to sweep them away, and tell them that's not true. Those things slowly but surely get you back.
Do you exercise?

I have a trainer! She has helped me become more aware of what I'm putting into my body and how much time it takes to really keep your body on track. You don't have to be extreme and do all this stuff to your body. I think once you get into this mental state that you realize you have the power to transform anything, including your body and your mind, the physical exercise really becomes nothing. Get those endorphins going! Working out has helped me, but you don't have to join a gym. You can do what you need to do while at home or outside. But I need a trainer, because I know I'll be at the gym and just be on my phone. (Laughs)
I want to know how you find balance with friends.
From the time I was a kid, my mom had us in several things. I was taking ballet, and then piano, and vocal lessons because I was trying to be Beyoncé. So, I really learned at a young age that life is compartmentalized in different ways and experiences that help you achieve. I've always been okay with having multiple things going on at once, and I'm a person who can operate in that. Like, if I stay still too long, I'll be like, "I have to get out of the house." Again, everything is intentional.
Check on your friends, celebrating and showing up for them and yourself. Putting out that you need your friends.
Our sisterhoods and our tribes have kept our culture together. If you find someone who makes you feel more inspired, stick with them. I came from the Girl Scouts, but also WEEN Academy, who gave me people who work in the industry and look out for me. Join organizations, learn how you can get into spaces with women. Create your peer spaces.
Family?

Family, I'm nothing without them. Black moms can be a bit crazy, but my mom does not give me a choice when it comes down to talking to the family (laughs). I learned on my own spiritual journey, God puts you on this Earth with people on purpose. I have one job — to love the people in my life, my parents, and siblings. Even if you don't have a family, creating your family is dope. Just stick with the people who give you positivity, and be sure to pour back into them.
Dating?
Oh, I'm still learning about dating. (Laughs)
How have you learned the power to say "no" to things that don't serve you?
It is a situational basis, everything is different. As a person who is in the middle of her journey, sometimes the right tradeoff is worth it. Not looking at the dollar signs, but seeing the larger payoff.
You have to be smart with how you choose your opportunities, because every opportunity isn't the same.
I think the reason I was so out of alignment was because, at some point, I allowed myself to stop being aware of my purpose, but also, just taking care of the spiritual part. Being in a relationship with God has to be an everyday relationship like you would be with your boo. I stopped caring, I gave the "no" rejections more power than "yes", and I just gave up because I'm human.
What's the hardest part about all of this? All that you do?

There are so many hard parts to this. Being an on-air talent is hard because you don't have an agent, you're just hustling. I'm a hustler by birth, but the hardest part is staying in the hustle mode but also giving yourself the space to regroup. Also, the disparity in pay between men and women is REAL. I'll talk to my male counterparts and they'll tell me they got twice as much.
Moments like that remind me it's about being vocal and finding out which battles are worth it.
If you have the power to be like, "Hey, so she shouldn't be getting paid less because she's a woman," and utilizing your power to help others, you should use it. Every battle has its own set of war tactics, but everytime you go through it, you add something to your arsenal. You have to be really focused and determined on what your big picture looks like. It can be tough, but remember who you are, whose you are, and where you're going, and you'll be fine.
For more Gia, follow her on Instagram. Check out past Finding Balance ladies we've featured by clicking here.
Featured image courtesy of Gia Peppers