As Told To is a recurring segment on xoNecole where real women are given a platform to tell their stories in first-person narrative as told to a writer.
This is Rocky's story, as told to Charmin Michelle.
It was another performance, another night in Seoul. Here I was, on stage, dancing in super tight latex bottoms that had my tiger stripes on full display, and wondering how I had gotten to that point. My group and I were performing at a nightclub that night as we would often do. I remember looking over and seeing a couple watching nearby. The guy was really into my performance—his girlfriend, not so much.
Anyway, these particular latex bottoms showed part of my butt cheek, which made me so self-conscious about even setting foot on stage. But this was the performance that I signed up for, so I went for it. I gave it all that I had. The audience loved me.
Suddenly, the girlfriend got upset, and the couple left the club.
To be honest, I was so confused by her reaction. Like, sis, I'm working. But this night, like so many others, jump-started a clear understanding of how much of an impact that we can have on others. Here I was, extremely insecure about my own body, and unknowingly inducing such a strong reaction from the strangers I was showing it to.
If you haven't figured it out yet, no, I'm not a stripper, I'm a burlesque dancer in the depths of Seoul, Korea. I've been doing this for years, actually, and I'm one of the best in the industry. I started on a whim and used it as a means to make money and get acclimated to performing.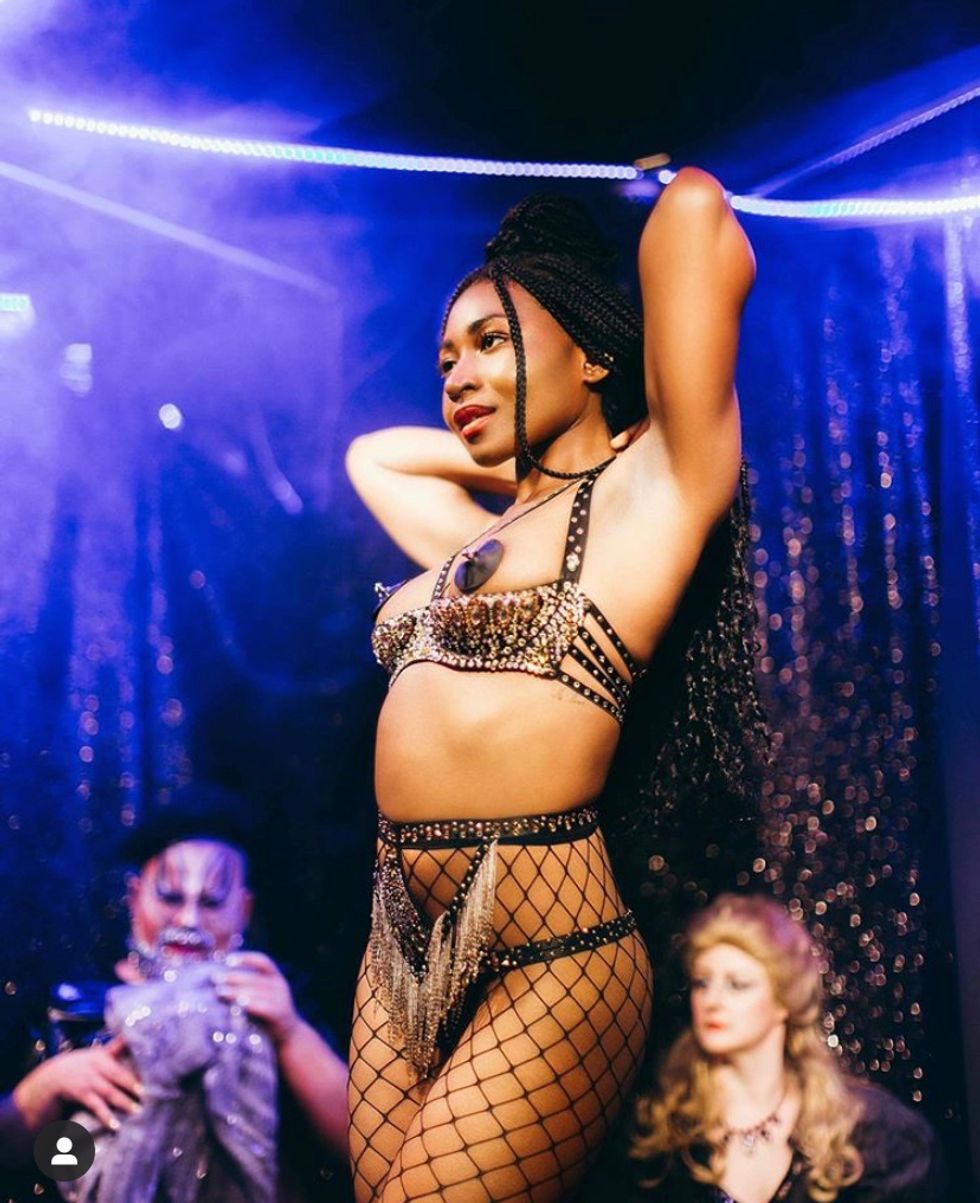 Photo Courtesy of Erockfor
I've lived in Korea off and on since 2014, initially to teach English. Basically, I was broke and needed a source of income because my bills were piling up. Relocating for a career became my plan of action.
My aim wasn't to move to Seoul to pursue music. It was to get myself out of debt.
I got married at the young age of 23, and I'll be the first to say that both of us were too young to have made that decision. We weren't compatible at all. We fought all the time about everything—big and small. It was abusive, even—something I've never said out loud before. Nothing about my marriage felt right.
A couple years into it, I started a translation business and was fortunate to see it do well during its beginning stages. One month, I made $6,000, which is major to a married 20-something. I felt on top of the world. Because of my success, I was willing to stay in the relationship even though it brought me zero joy. This caused me to put every ounce of my focus into my business and making money. Then, when my business started failing (my main client didn't need as much work anymore), I was stripped of everything I had relied on to bring me joy.
I was confronted with how miserable my living situation was. I was also broke again, which made everything worse.
So, in 2014, I took my little booty and boarded a plane to Seoul. I didn't have a plan whatsoever, and ultimately, I was just running to escape my bad relationship and financial woes.
It was the bravest thing I had ever done, even though I had no clue I was brave.
Life In Seoul
I'm of Cameroonian descent, born and raised in Montreal, Canada. So, although I stand out, a new culture never phased me. When I arrived, I got so caught up in pursuing "realistic" careers, that I put my music on hold and decided to publish a poetry book while working as an English teacher, writer, and translator.
I remember the first negative review I got on it too. It was my first attempt at creativity outside of my usual burlesque performances, and I was so crushed—in tears, even. Eventually, I developed a thicker skin.
I can't be everyone's cup of tea.
Also, lots of people simply try to project how they feel about themselves onto you. It's rarely personal, so I stopped taking it that way.

Another tough lesson.
Anyway, Korea is an amazing place once you become familiar. The dating is terrible, though, and I've had more weird run-ins than I care to count. But I also learned the importance of having confidence in myself. I mean, you have to be confident to live abroad—whether you're aware of that confidence or not. It's hard being away from my family. It isn't always the most fun thing, but, I'm happy I chose this path.
Okay, getting back on track with my story: one day, out of the blue, I decided I was done with just getting by. Singing makes me so freaking happy, I couldn't imagine doing anything else.
It was time.
The Birth of Erockfor
When converting to a full-time artist, I knew I didn't want to release music to crickets. By this time, I had built a platform as a poet (from my book release), and I knew I could rely on it to gradually test the waters. The plan was to pull a switch on them, like surprise! I'm a singer now! Well I always have been, but hopefully y'all will still rock with me! I mean, I do music for the love of it, but I also have to be able to sustain myself, so I've had to learn how to sell myself.
And self-belief is a superpower.
You can make great music, but what's your story? I've had to become clear on what my story is.
Now, I'm in a good space. I've been covered by various publications, and I've somehow managed to gain a crazy amount of support from Korean millennials. I've been compared to Macy Gray, Cyndi Lauper, Erykah Badu and Amy Winehouse—which vocally, it definitely makes sense. I've also been exploring more Afrobeats. It's important for me to have that element of my heritage present in my music, as well as exploring different genres. Montreal is an extremely multicultural city so I have so many influences.

My music represents me perfectly and other first-gen kids who grew up in big cities.

Legacy, Legacy, Legacy
I believe in healing and taking the utmost care of my being. I meditate, I make holy water (which I bless myself, spray all over my apartment and drink), and I do yoga. I look over my intentions for 2020. I remind myself that my great-grandma was a high priestess and that I'm named after her. I recently got into stoicism, so I try to see the opportunity in everything and try to observe things objectively. I'm also very spiritual. I protect myself with mantras, which can act as spells.
Mantras are magic.
It's not lost on me how amazing it is to be able to travel and live life abroad. When I was a kid, my family couldn't afford it—it just wasn't my reality. But because higher learning is really affordable in Montreal, I was able to pay for my education just by working at coffee shops or restaurants and freelancing as a writer. My undergrad experience is the reason I was able to teach in Korea in the first place. When I was choosing a country to teach in, the fact that there was a community of black women definitely swayed me. I've gotten messages from black women asking me how I was able to teach here or sing and act here. I think it's important to tell your full story, as much as you feel comfortable to do so. Representation is important and I'm happy to show that a first-gen Canadian of Cameroonian descent can pursue a blossoming singing career all the way in Seoul.
At one point, I said I'd be content only singing in cafes or bars. And that's fine if it's not coming from a place of fear. But it was, and I was afraid of my potential in failing. Now, I see stadiums and award shows in my future. Why not? Ladies, let's go for it. Build on your skills. Never disqualify yourself, ever. Just try.
You may watch Erockfor's latest visual for "How Will I Know" here. You can also follow her on Instagram for her latest updates.
If you have a story you'd like to share, but aren't sure about how to put it into words, contact us at submissions@xonecole.com with the subject "As Told To" for your story to be featured.
Featured image courtesy of Erockfor