---
Despite the temperature hitting the 80s in downtown L.A., the inside of The MacArther is a stark contrast to what's going on beyond the double doors. A massive Christmas tree stands in the center of the lobby flanked with Christmas decorations and cameramen and crew members move back and forth throughout the movie set.
I'm led up the grand staircase and dropped off at the make-up station where Andra Fuller, all smiles, is being made camera-ready. "Sorry about that, they told me I was supposed to go on at 3:30, but they needed me on set at 2:30," he says, hinting at the spontaneity that comes with being an actor.
I follow him across the room and behind a curtained area that serves as his dressing room, where he slides into a suit jacket, transforming from Andra to Edmund, his character in the upcoming TV One film, You Can't Fight Christmas. "I've always been a character," he tells me. And for some reason, I believe him.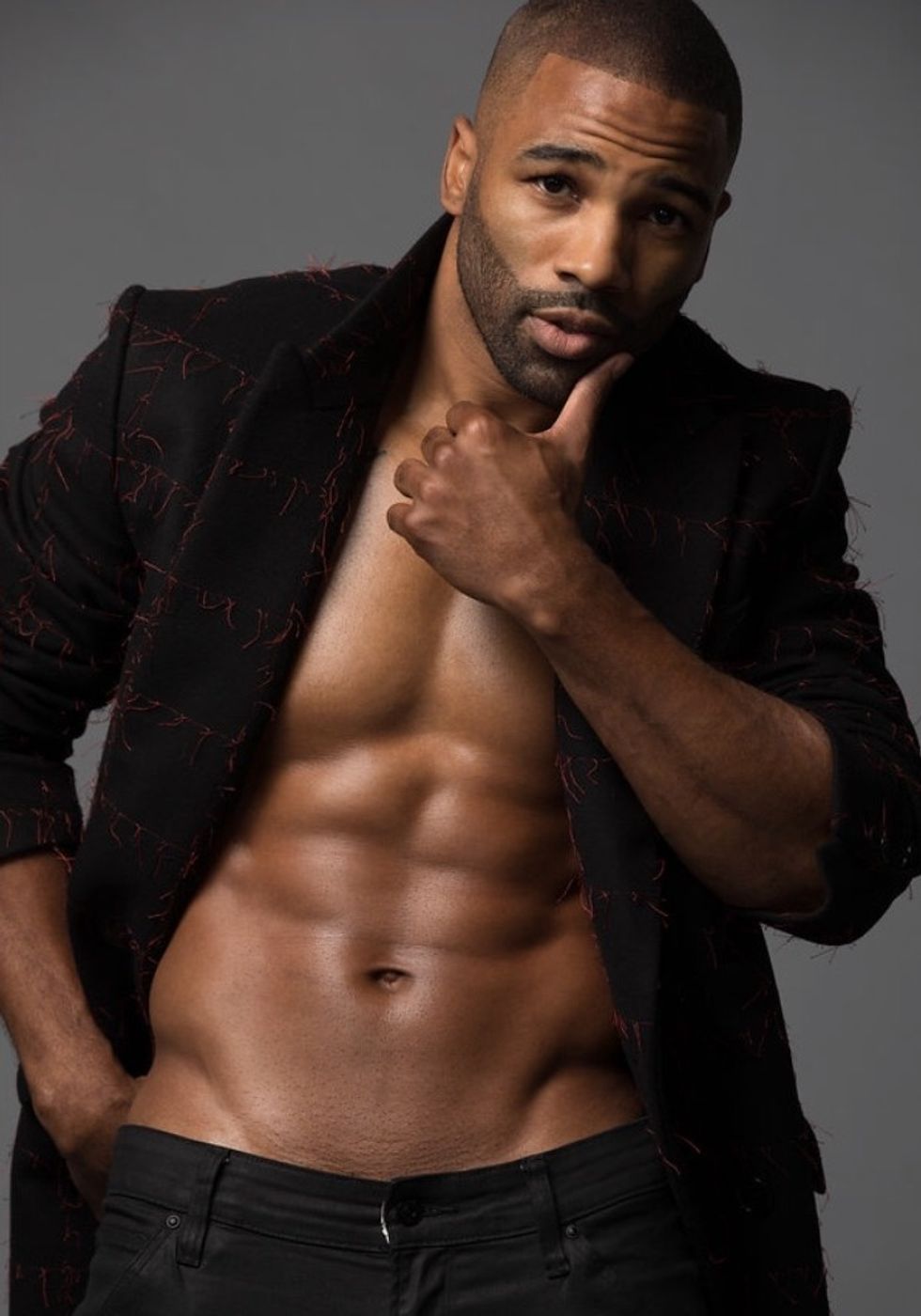 Courtesy of Andra Fuller
Growing up in Houston, Texas as the youngest of three to a single-mom, Andra naturally gravitated towards being the center of attention. Friday nights turned into family gatherings where adults played rounds of pitty pat, while the kids became a source of entertainment. Andra, in particular, had a knack for impersonating Michael Jackson and some of his favorite comedians of the 90s.
"Do you remember this?" He says turning towards me and contorting his lips to expose his teeth. "Heeeeyyyyyy. For real though? I'll rock your world."
"Ah, Jamie Foxx," I chuckle, thinking about the actor and comedian and not the character.
"My name is Wanda, not Jamie," Andra corrects me, still in the tone of one of In Living Color's most memorable characters, and then returns to being Andra. "That was my go-to."
Though he would one day grace the stage of the Apollo, it was sports that kept him off the streets of his Acres Home community. In school, he was the class clown—he was smart but chose to focus more on the game than the classroom. But near perfect SAT scores and impressive stats on the field as an All-American athlete had Ivy League colleges calling. Following a coach from Notre Dame, he chose to stay in his home state and go to Baylor University, where he'd spend the next four years as a starter and business management major.
"Andra? Waiting for your downstairs," a voice calls from the other side of the curtain. I follow Andra into the middle of the room as he adjusts his tie in front of a full-length mirror and back down the grand staircases where he was shooting his next scene.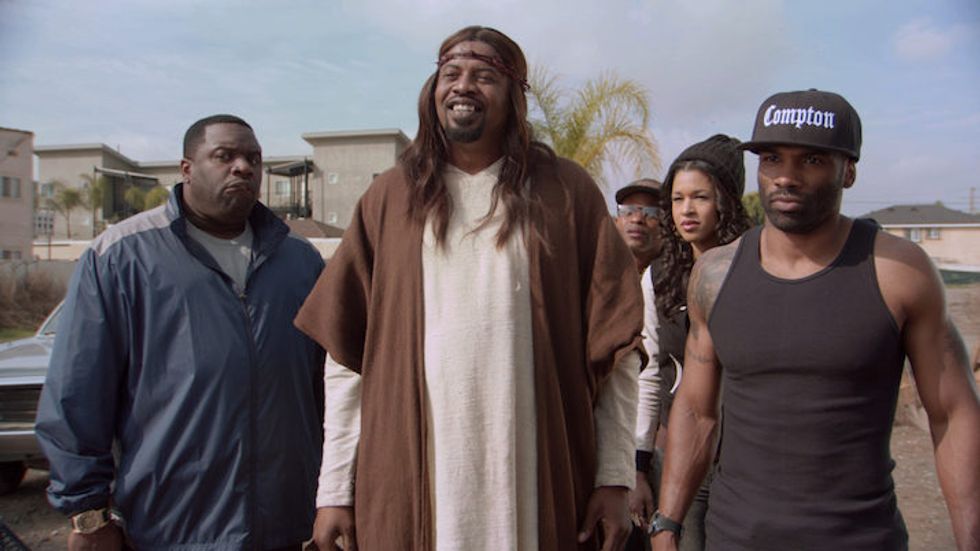 Andra Fuller as Fish in "Black Jesus."Courtesy Black Jesus
"He just walked in and didn't even say hey," jokes co-star Brely Evans. We're lounging on the steps with Richard Gantt (The Game) as Andra walks towards us after wrapping up his walk-by scene. He trades jokes with his cast members, assuring them that he spoke and that they were too busy ignoring him before we head back upstairs where he changes for his next scene.
"I've never done a Christmas movie," he says when I ask him what drew him to the script. "Hopefully if it's good enough, which it definitely has the potential, hopefully it will be one of those Christmas classics."
He pops a chocolate-covered raisin in his mouth and tells me about Edmund, a multi-dimensional character that he plays two ways—one where he's a buttoned up professional reviving his grandfather's hotel business and dodging marriage proposals from his assistant—played by Persia White—who he describes as "compatible on paper but no chemistry off the page." The other side of Edmund is down-to-earth and jovial, but only when he's with the hotel's Christmas decorator played by Evans.
"Most of the roles I go out for and book are leading man roles," he says. "Now the term leading man doesn't always mean you're the [main] guy, leading man most often refers to a look. I want those roles that aren't necessarily leading man."
In other words, he doesn't just want to be eye candy nor soul food, he wants to be respected for his talent. We got a little taste of that in L.A. Complex, where he played a famous rapper struggling with his sexuality. And again in his role as Fish in Black Jesus, an ex-con and one of the followers of Black Jesus in the controversial comedic series.
Andra seemingly gravitates towards complex characters that are often battling with some part of their identity, but by no means is he struggling with his own. He credits getting his start late in the game to giving him time to find himself without getting caught up by the distractions that often come with the Hollywood lifestyle.
"I didn't get into acting until I was 28, so I was already a grown ass man with real life responsibilities, and I was comfortable in my skin. I knew exactly who I was. I had already went to school and gotten three degrees, I was a schoolteacher—I had already lived."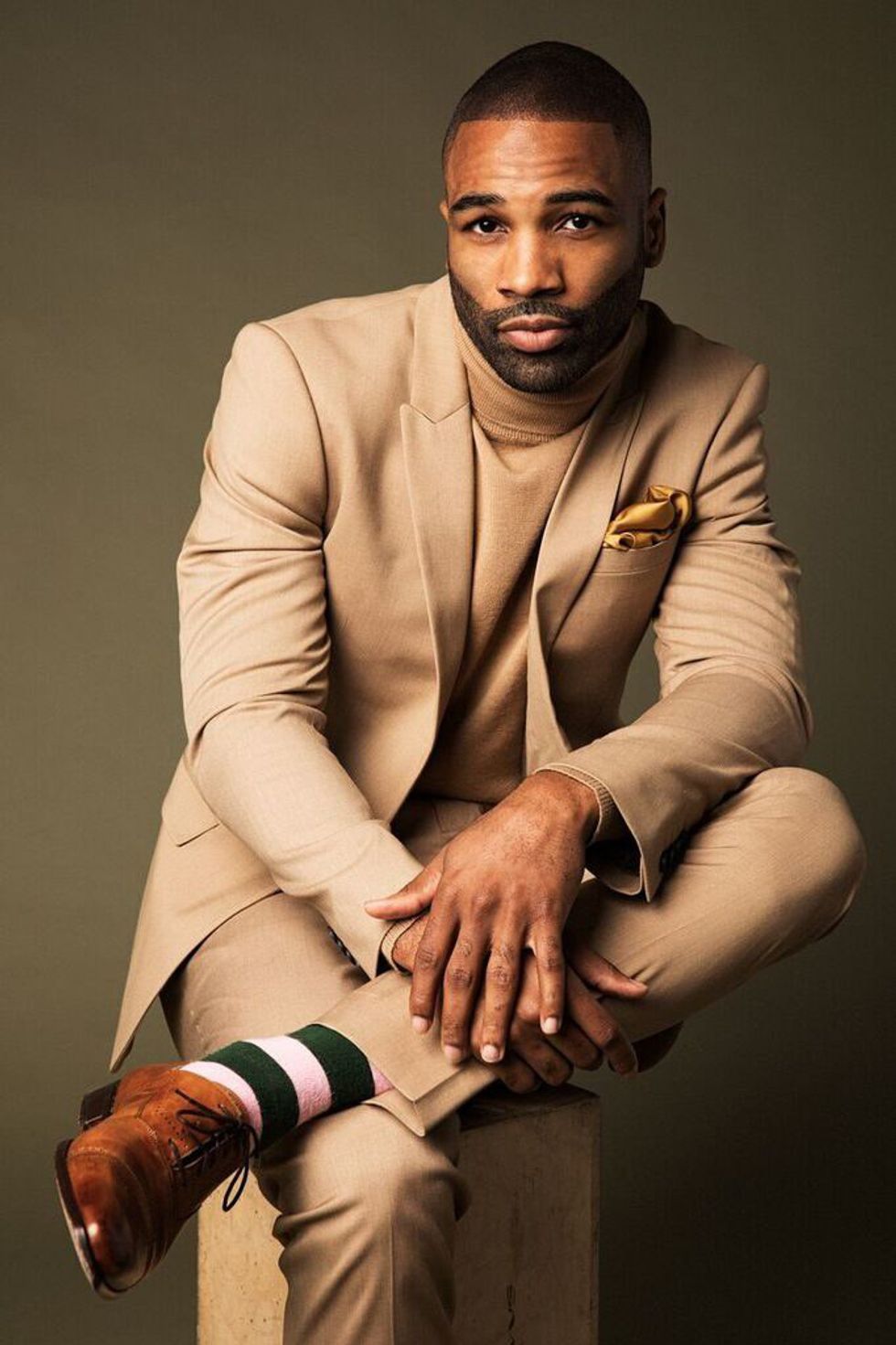 Courtesy of Andra Fuller
After graduating college, Andra was teaching kids during the week and on weekends he would drive back home to Houston to take the stage as a stand-up comedian. "The goal was always to have that springboard me into acting because when I lFGooked at all of my peers, the ones that I looked up to at the time, Martin Lawrence and Bernie Mac and almost every actor that I looked up to besides Denzel Washington and Will Smith, pretty much all of them had a stand-up comedy background. So if it was a good way for them to blow up into acting, then I'm going to take these same damn steps."
With nothing to lose, he packed his bags and moved to East Harlem where he dabbled in theater and modeling while juggling a full-time job as a personal trainer making only $15,000 a year. Taking funds from his steady paycheck, he would ride down Broadway to Chinatown, purchase knock-off designer purses and throwback jerseys, and fly back to his hometown to sell them at market value. "New York taught me how to have thicker skin. It taught me how to grind, and it taught me ambition. It taught me that you had to have a job, a career, and a side hustle."
While he was making rounds doing comedy in New York, his acting career was at a standstill. Taking the advice of casting agents, he relocated to Los Angeles where he worked two full-time jobs as a manager at Equinox by day and a manager at CVS by night, all while picking up co-star roles on shows such as Prison Break, iCarly and Secret Life of the AmericanTeenager.

"There weren't ever any moments of doubt per se, but definitely frustrating moments because acting is a cycle. When you move to L.A., they send you on these auditions, but you can't book shit because you won't have any credits. So they'll be like, 'Oh you're good, but you don't have any credits.' But you can't get any credits because you won't give me a job, so then you start your way from the bottom."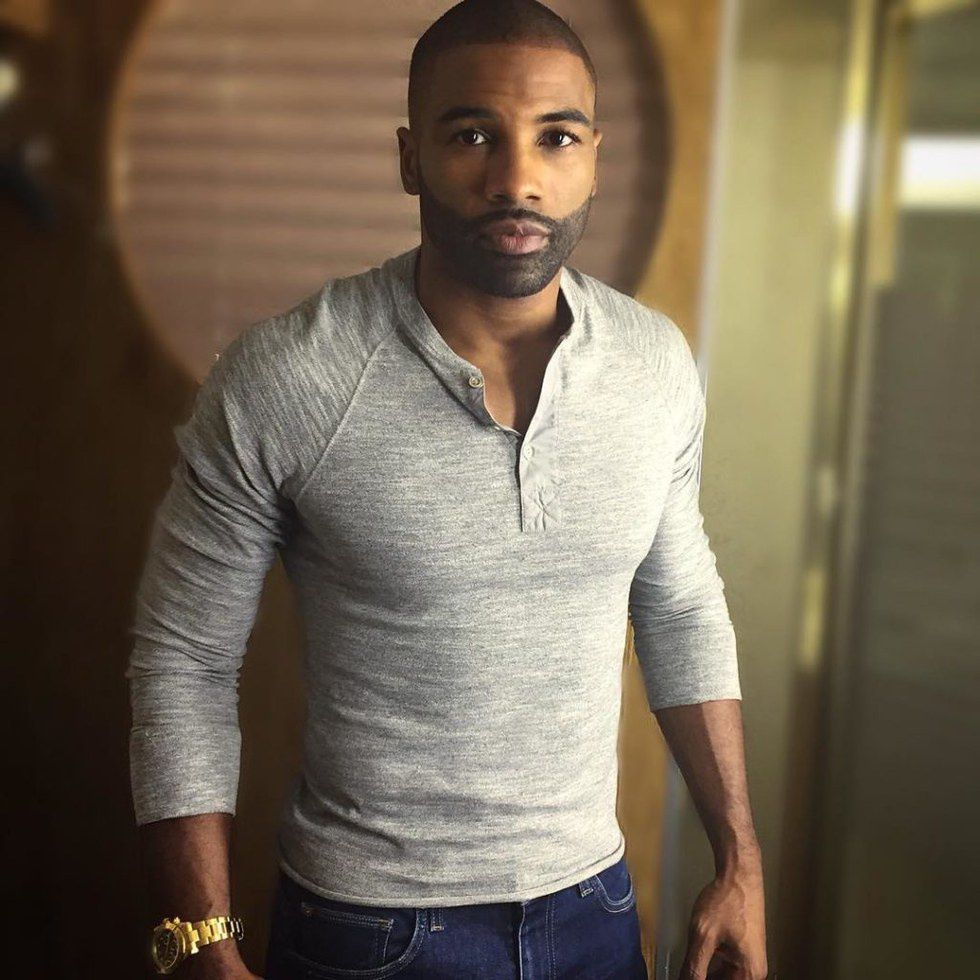 Courtesy of Andra Fuller
His big break came when he booked his first major role with L.A. Complex as Kaldrick King, which earned him a nomination for the Canadian Screen Awards and put him on the radar as he went up for leading roles against more seasoned actors like Larenz Tate and Omari Hardwick. He eventually landed the role of Jayson on Black&SexyTV's online series Roomieloverfriends, which is currently being developed into a film by co-creators Numa Perrier and Dennis Dortch.
"The Jayson character needed to be an every day guy's guy, but up for the challenge of dealing with someone who was as high strung as the character of his roomieloverfriend, Tamiko," says Perrier. "It was very hard casting this role. No one was coming in with all of those qualities plus that unknowable 'x' factor thing until Andra showed up. He actually crashed the audition. He was next door at a casting for another project and stuck his head in our door and said, 'Hey, can I read for this too?' Then he came in and nailed it. It was one of those great moments that we couldn't have planned, and that very assertiveness was just perfect for the character as well. We knew we had our guy."
Not bad considering that he had no prior training as an actor.
"My philosophy on acting for me is that it has to feel organic. I don't take classes and all of that stuff. I tried it before. I did three months and I was like I can't do this. It wasn't beneficial for my acting style because for me to act organically, I have to become that character."
Instead, he pulls from life experiences to help develop his characters. In real life, he's been the star athlete playing on television with over 100,000 fans screaming his name. But he's also been the child raised in a house with no electricity, surviving off of ramen noodles, relying on groceries from the church, or stashing away school lunch meals to save for a rainy day.
"What I don't necessarily gain from acting classes, I have 30 plus years in life experiences. I've been in some shitty, shitty dark situations. I've been on some super mountaintop highs, so when I'm acting and I'm in a role, I draw from anywhere in that apex, that mountain high to that deep ocean dirty low. So there aren't many roles that I can't connect with because acting is all about finding a way to connect to a role."
"What I don't necessarily gain from acting classes I have 30 plus years in life experiences."
While his journey has taken longer than some, Andra has no regrets. Not being a child actor has saved him from falling victim to the mental and emotional struggle that sometimes accompany those who've gotten their start earlier in the game.
"If you look at the amount of formal education that I had people would be like what the hell are you doing acting? That's a waste of your degrees.
If I had stayed on the career path that I was on and I was still living in Texas, I would have a 6,000 square foot home, big back yard, front yard, in a gated community. Some might view it as a mistake, but it's a good mistake because ever since I've been doing this, I've not had a day where I hated work.
This isn't even work, man. I get paid to pretend to be other people. How cool is that?"
Perhaps getting his start later in the game has also brought about a sense of humility. Though he's now able to afford the lifestyle of the rich and famous, he prides himself on staying grounded and not being lured by life's luxuries. He still lives in the same Hollywood apartment that he started in years prior. He still does pick-up games at 24-Hour Fitness instead of Equinox, and he still grinds to make a name for himself in the industry.
Success for him doesn't look like driving a Maserati in Beverly Hills, it looks like telling the untold stories, like the Black Wall Street script he's currently shopping around, having a large enough platform to be able to speak on issues without recourse, and leaving behind a legacy of being a genuine person in an industry of shifting values. For that, he's willing to make the necessary sacrifices and do things a little unconventionally, because without risk, there's no reward.
You can keep up with Andra and his latest projects by following him on Twitter or Instagram.
All Images Courtesy of Andra Fuller