---
Gospel star Yolanda Adams is more than just a dynamic voice — her wisdom and insight about the journey we call life provides just as much empowerment as does her music. Yolanda's career repertoire expands beyond Gospel and includes roles such as actress, radio personality, author, beauty entrepreneur, and fashion designer. Behind the fame is the story of how Yolanda did it and how we can do "it" in our own lives as well.
During the time we spoke, Yolanda Adams was gearing up for a September appearance at the 2019 Black Music Honors. Yolanda, one of the event's honorees, was looking forward to receiving accolades for her work. "Anytime you're able to be acknowledged for anything you've ever done is a blessing," she told me early on during our call. Yet, she reveals there is a "responsibility that comes along with being applauded and appreciated." The ability to impact is always present. I thought our conversation would be mostly about her career in music, but I soon realized the former schoolteacher and part-time model, turned award-winning singer had a testimony about life and inner purpose to share for xoNecole readers.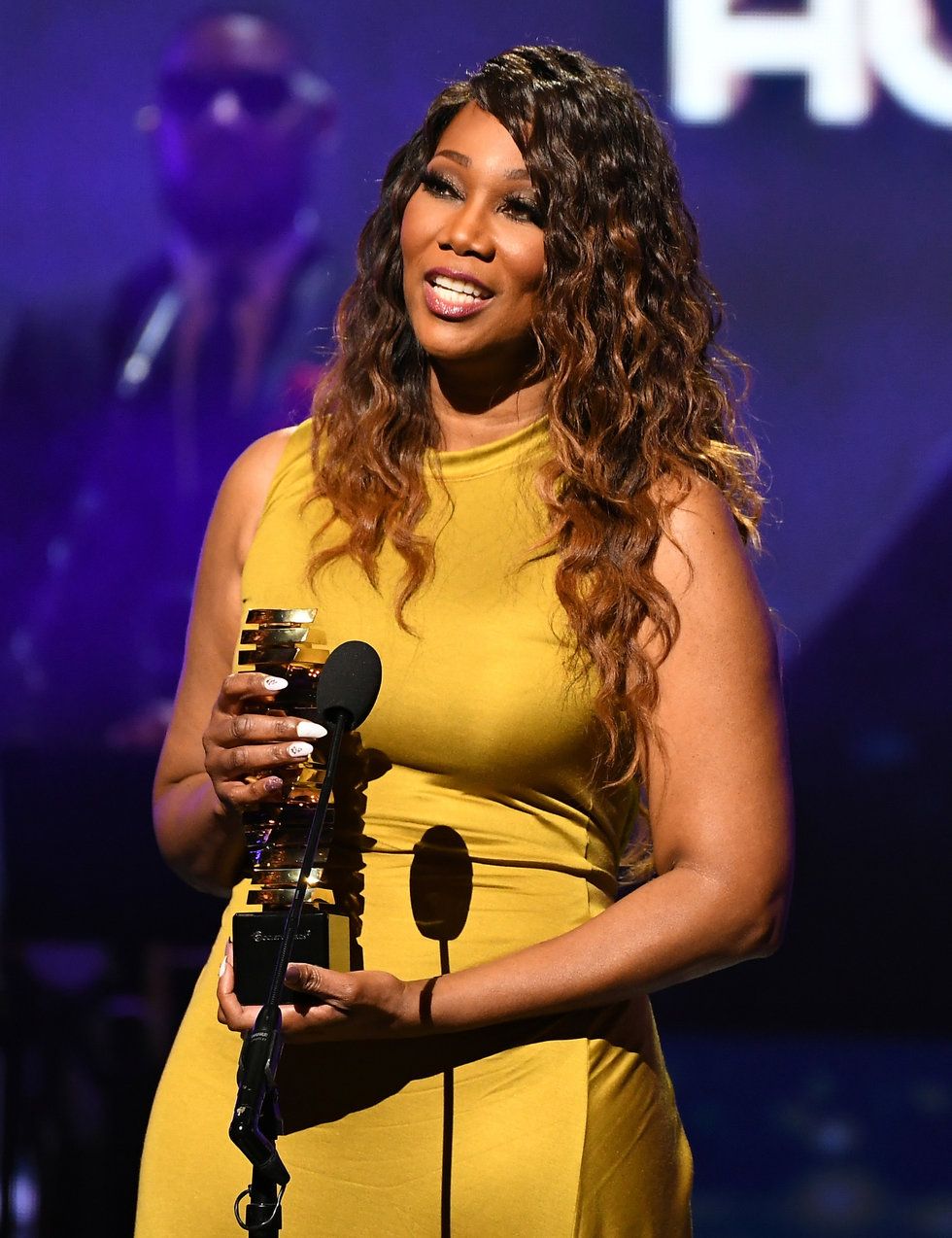 Photo Credit: Black Music Honors
"I've always seen my gift as a blessing — to be able to write, deliver, and sing from my heart. I've never taken that for granted. That's a lot of power to be able to get people from a point where they are so low that they feel they can't really go on to making them feel so empowered, they don't even remember feeling depressed or trying to give up. That's huge. You realize you're not doing this by yourself. There's a special power that's allowing you to give this to people so that they can make their lives better. This song makes their life better. This performance makes their life better. They can listen over and over until they are so empowered that they get up and dust themselves off."

Read on to learn more about Yolanda's tips on embracing one's gift, motherhood, entrepreneurship, spirituality, navigating success and more.
Note: responses have been edited and condensed for length and clarity.
xoNecole: Describe your approach to making music.
Yolanda Adams: My goal every time I go into the studio is to take out of my heart and put it on whatever tape and give it to people who need it. If people are dealing with wondering about the economy, let's talk about that. If they're thinking about the love of their life, let's do a song about that. If they're thinking about loss, let's talk about that. Let's sing what the heart of the people need right now. I've never gone into the studio and said let's do a song that will go on mainstream radio or let's do a song that will go to the top of the Gospel charts. That has never been my thinking. My thinking process is always, "Who needs this right now?"
xoNecole: Taking the leap towards our passions and dreams can be tough. What inspired you to embrace your gift?
Yolanda: To anyone who has a specific call on their life and they know they do, never ever think that where God is about to take you is less than where you are right now. God always promotes you. He never demotes you. There will be a leap of faith moment where you have to say, "I can't do this the way I did it before."

I taught for seven years before I went into full-time singing. I had to make a huge decision. It took me a whole year to make the decision that I am really going to do this full-time. It wasn't a struggle to say I'm doing it full-time. The struggle came with doubting myself and doubting the decision I made.
In the face of what seems like a "no" or a deterrent or something that fights what you are feeling, we tend to say, "I shouldn't have done [that]." That's not the truth. You never get to the point of your life where you have nothing to deal with. If you try to avoid resistance, you will never grow.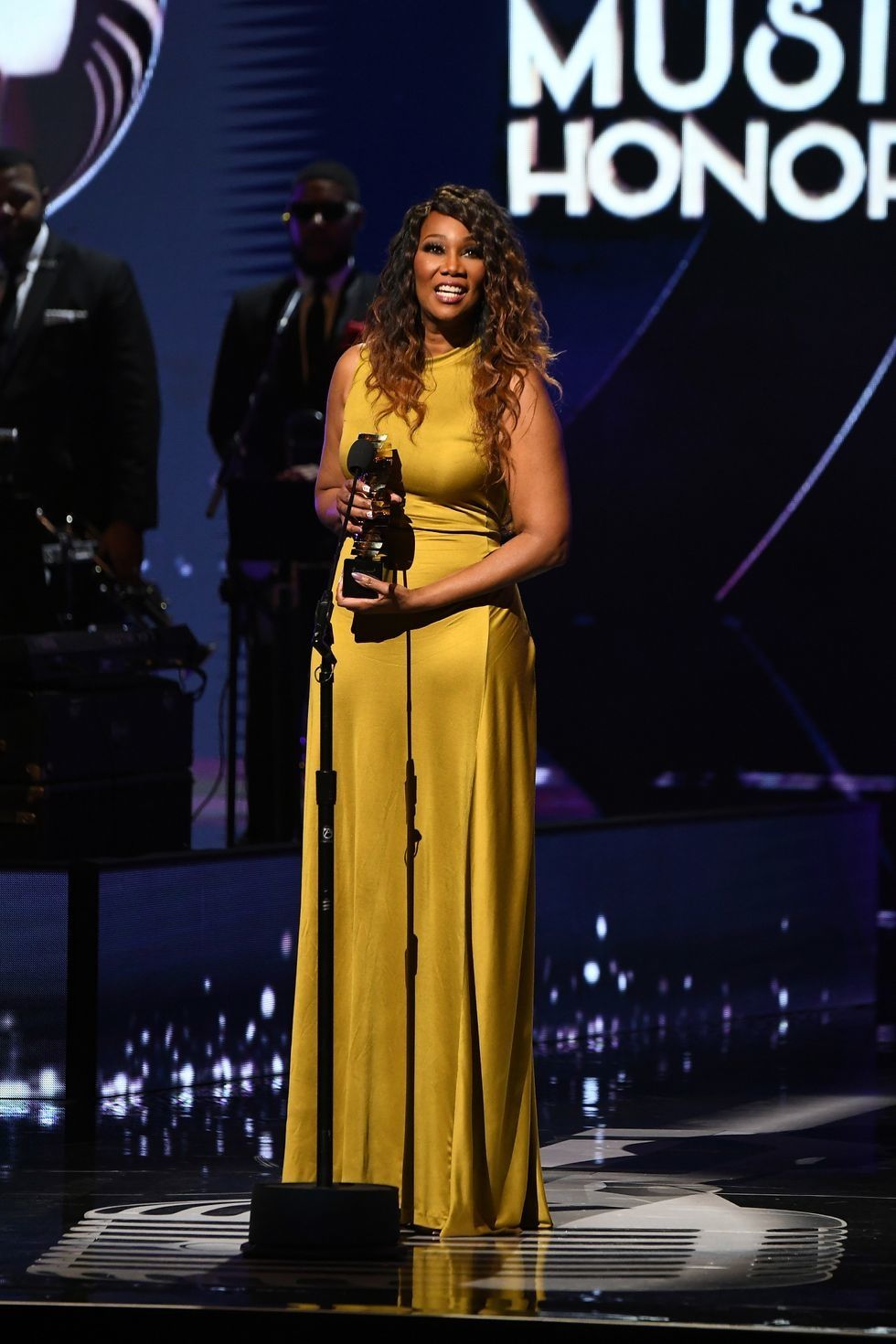 Yolanda at the Black Music Honors 2019
Photo Credit: Black Music Honors
xoNecole: How do you manage possible discomfort when stepping into your purpose?
Yolanda: We deal with growing pains all of our lives. When you move from having a boss to being your own boss, now everything is really on you. You have to make sure your books are right. You have to make sure you are getting up in the morning. If you are not occupying your time and making sure you are doing something with your talent, you lose your stamina, drive, and purpose. It's the same thing with us when it comes to us thinking life will be problem-less or problem-free. That's never going to happen. You will always have to deal with something. Wisdom and experience teaches you how to effectively deal with what you're dealing with.
xoNecole: What were some of the biggest challenges of your career and how did you deal with them?
Yolanda: One of the things was trying to figure out how to navigate being a single mom and figure out how I'm going to be at home with my child to nurture a great person. Those of us who have been on the road all of our lives, we're always trying to figure out how to make transitions. I said, "God, I have to be home most of the time for Taylor [her daughter]." That's how the radio show came about. I didn't know where it was going to come from. My first degree is Radio & TV journalism.
I knew I was prepared to do it, but I didn't know how it was going to come about. People told me I'd have to move to Los Angeles or New York. Those were out of the question because my child had already established her friendships. I said to the Lord that we were going to have to work things out. Less than a week later, I got a phone call from my attorney asking if I wanted to go into business with [someone]. We had a lot of success with the radio show. I was able to go to every recital and concert. I was able to do everything with her.
When you have to make adjustments...life will make you rethink some of the things you think are permanent. I didn't miss a beat. When you ask God for stuff, in sincerity, knowing that your purpose is not just selfish, God will open windows and doors for you that you never even thought were possible.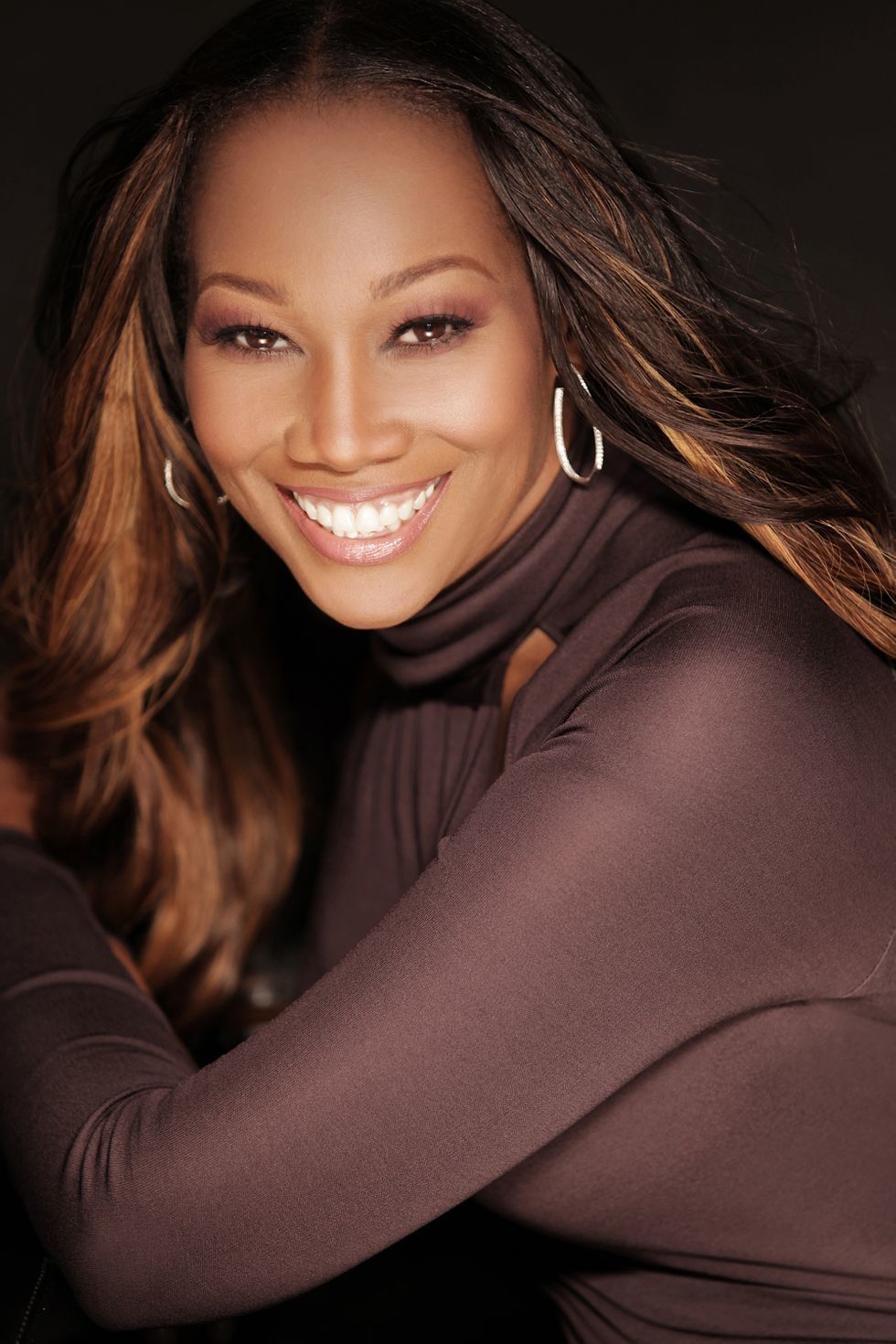 Photo Credit: Courtesy of Yolanda Adams
xoNecole: Is there anything about entrepreneurship you wish more people understood?
Yolanda: Brands take work, I don't care what your name is. Every person from Beyonce to Jay-Z to Puffy...everyone who has magnanimous brands can tell you, it takes work. Your hands have to be there. You have to put your foot to the pedal. You have to say, "I believe in this with all my heart. I'm not letting it go." When people tell me "no", I'm still looking for that "yes". One of my mentors B. Smith told me, "Stand on a mountain of no's until you get that one YES." That is one of the biggest lessons I've learned.
If you believe in yourself, it doesn't matter who doesn't believe in you. If you believe in your product, it doesn't matter who doesn't believe in your product. You keep believing until you see what you saw in your vision.
Long-term goals for business is crucial. [You need to] have that marathon runner mentality. Sometimes you may have what seems like an amazing idea in the beginning. You have momentum [and] are doing everything you need to do. Everybody is responding and then the next couple of weeks and months, someone else has a launch [and things die down]. That doesn't negate the amazing product you have. You just have to find a different way to get it to the masses. Social media is wonderful. Build relationships. This is not a sprint. This is a marathon. You still come out the winner if you hang in there.
xoNecole: For those struggling with spirituality and finding their own connection with God, what advice would you give?
Yolanda: Breathe. Give yourself a break. Even the strongest of us have those moments where we say, "Lord, where are you?" Don't worry. You are not by yourself. Those are times when you get quiet. If you want to find God, get quiet. Move away from the phone and people. Ask the hard questions. "What am I doing? What are we doing? Where am I going? How am I going to make it? Is this the end of this? Should I be looking for something else?" The silence and quiet is where you find God. You're not going to find him on Instagram. (Although there are some great preachers and teachers on Instagram.) You find Him in your own spirit, because He's inside. Stop looking for God in the sky.
xoNecole: What are the most important things to keep in mind as we reach for success?
Yolanda: Believe in yourself. If you don't believe in you, no one else will believe in you. You've got to convince yourself that you're the greatest you that was ever created.
Believe in your destiny and purpose. Your destiny is the roadmap to where you are going. It's also the trail you've left behind. What are the lessons you've learned? What kind of knowledge have you garnered about yourself?
Garner great relationships. Your friends, family, and people you put around you will be your cheerleaders and your balcony when you have no idea how you're going to make it. They will be the ones to say you can do this and to keep going. Sooner or later, you're going to hit those goals and you're going to be like, "I did it."
For more on Yolanda, follow her on Instagram. Click here to stay up to date on her 2020 tour and purchase her line of handbags here.