When the COVID-19 pandemic hit in March, skincare took off. With makeup less of a priority, men and women started putting more effort into their skin and serving fresh-faced glows. It's for that reason, you can bet at least one friend or family member has some skincare goodies on their holiday wish list. Who are we kidding? We know you have a few gift sets you want to put under your own tree this Christmas.
We get it, that's why we put together this gift guide to point you in the direction of the affordable year-round staples that make great stocking stuffers and the premium products that will transform your face just in time for the new year. If no one's told you yet, now's the time to treat yo'self.
*Some links are affiliate links. If you make a purchase, xoNecole may earn a small commission.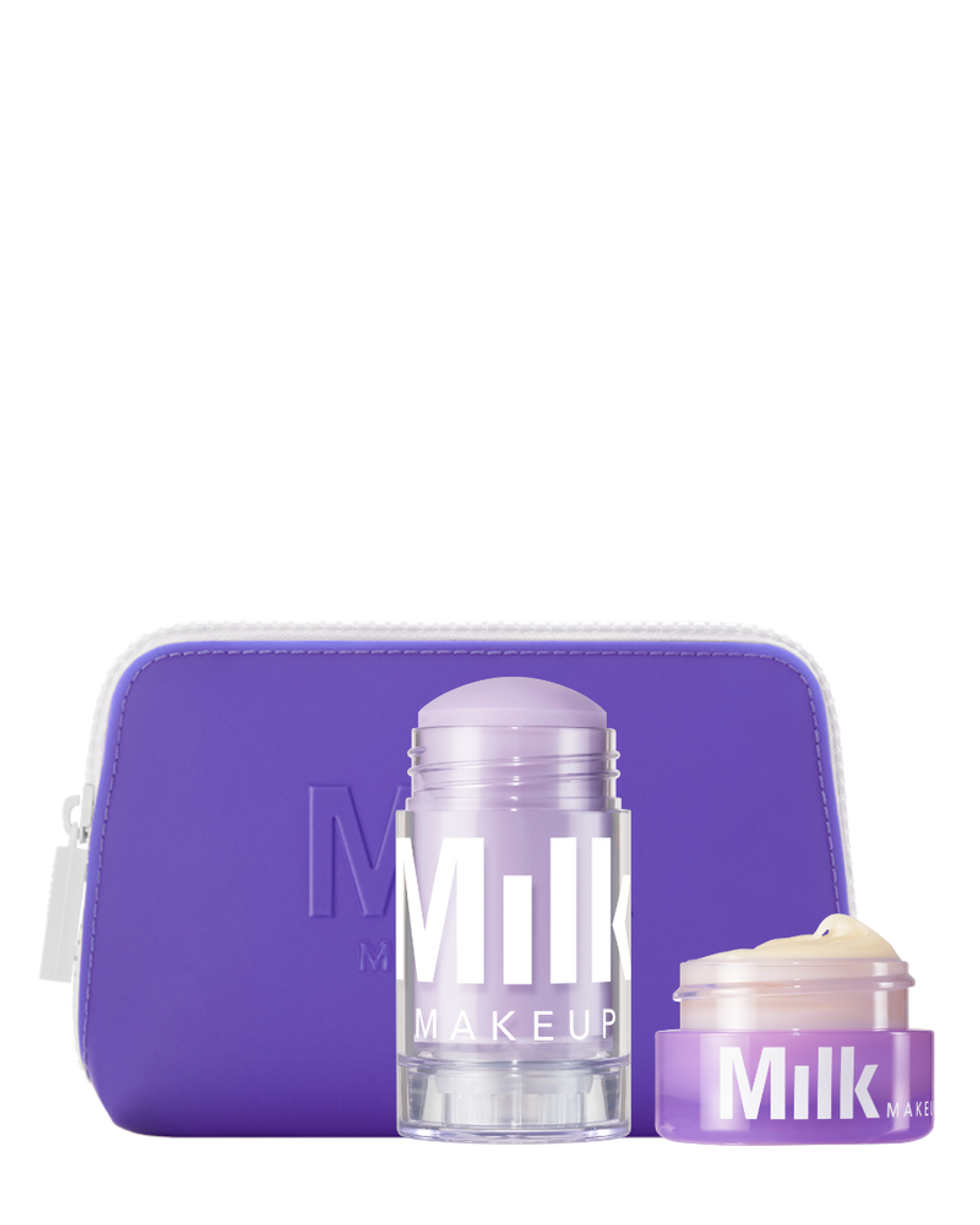 This set is beauty sleep in a bag. Milk's Overnight Serum Stick and Lip Mask are formulated with topical melatonin, Persian silk tree extract, hyaluronic acid, lavender, and chamomile to calm the body and renew skin as you sleep so you wake up looking and feeling refreshed.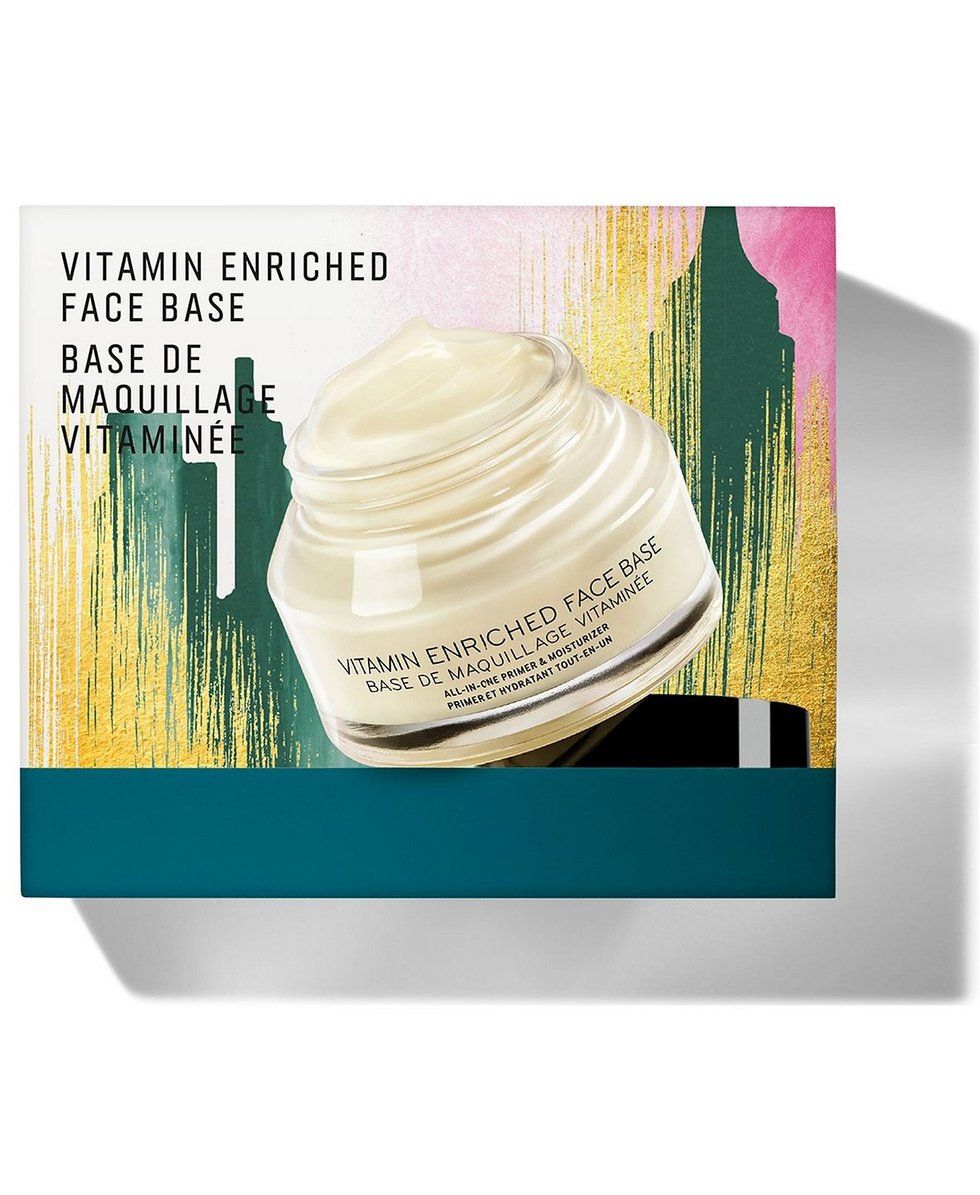 Macy's
If you're already a fan of this best-selling moisturizer from Bobbi Brown, you know how fast it goes. Face Base is a 2-in-1 moisturizer and primer that combines vitamins B, C and E, Sodium Hyaluronate, and Shea Butter to smooth and hydrate skin and help makeup go on smoother and stay on. Trust us when we say it's worth infesting in this new deluxe-size option from the brand's Holiday Collection.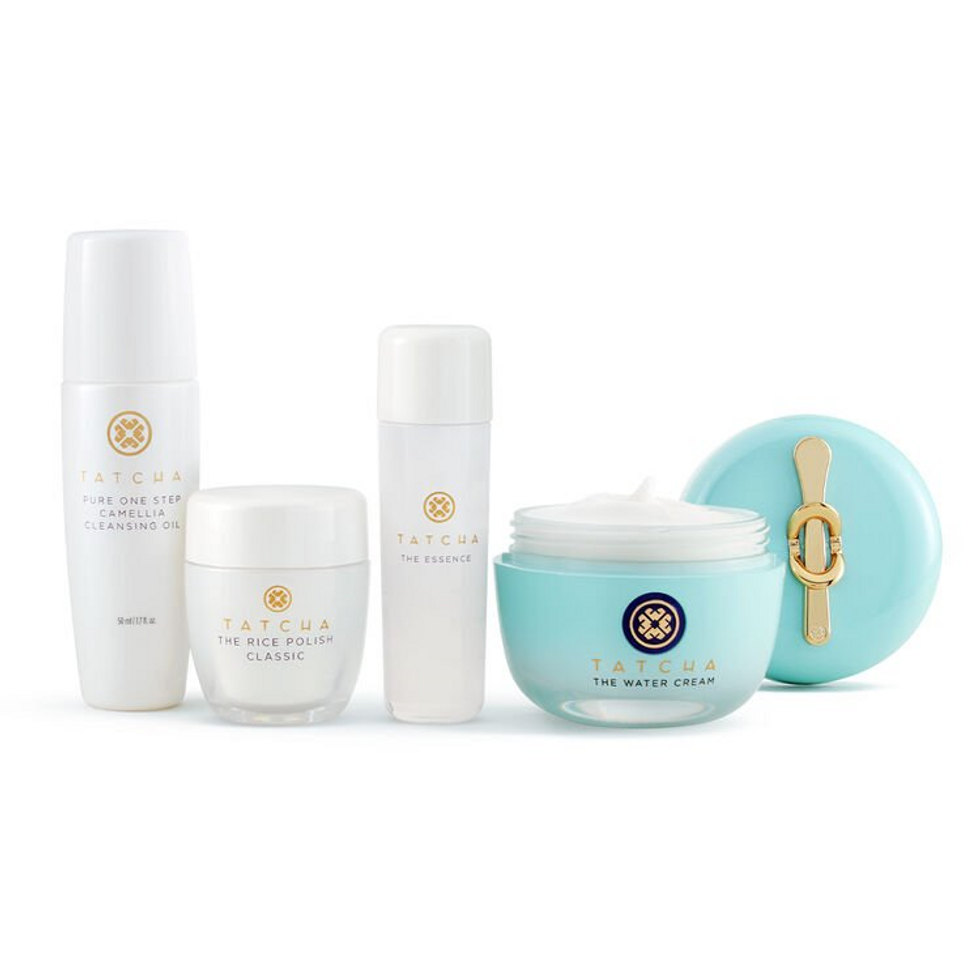 Tatcha
Get all of the essentials in this set from Tatcha which includes its gentle Camellia Cleansing Oil, classic Rice Polish exfoliant, The Essence anti-aging serum, and oil-free hydrating Water Cream.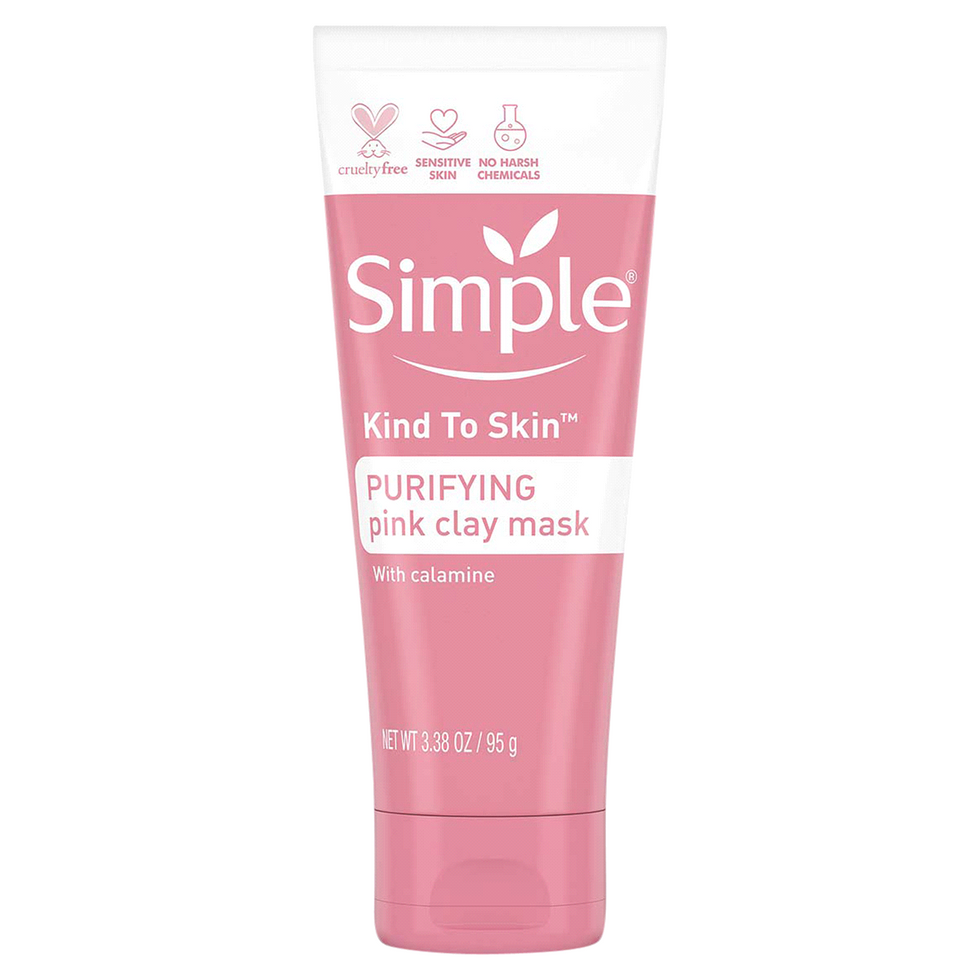 Simple
Draw out impurities with pink clay in this mask from Simple which has the added benefit of Calamine. The calming ingredient makes the mask gentle enough for even the most sensitive skin while still helping to soothe inflammation and acne-prone skin.
Vanity Planet Aera Facial Steamer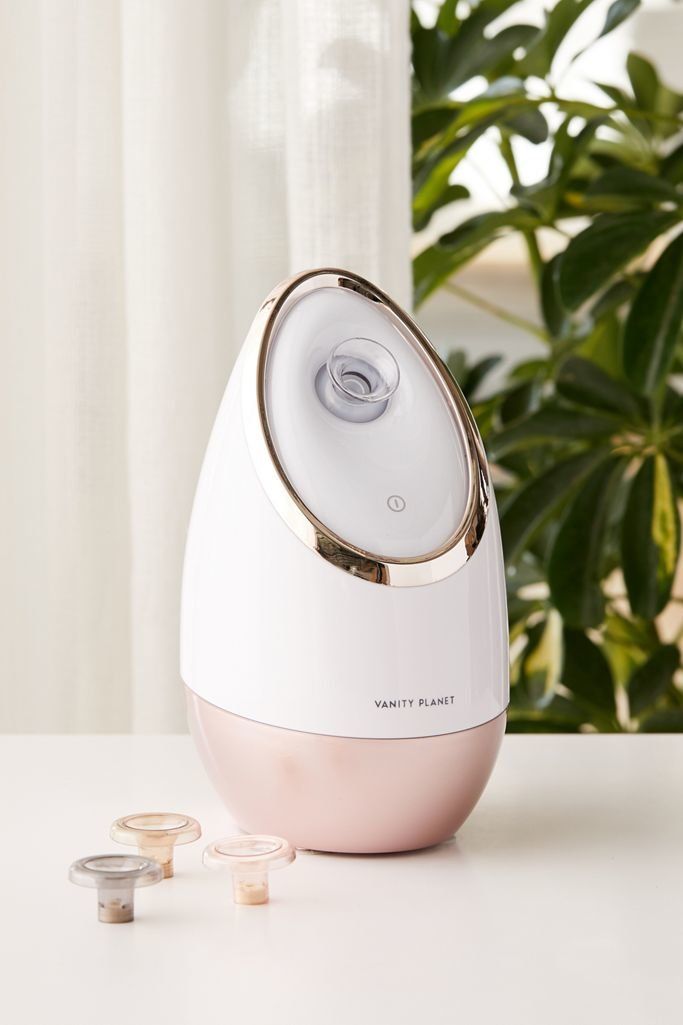 Urban Outfitters
​Get a spa-like facial at home with this steamer from Vanity Planet that hydrates and opens pores for an even deeper cleanse. Add drops of your favorite essential oil for aromatic relaxation.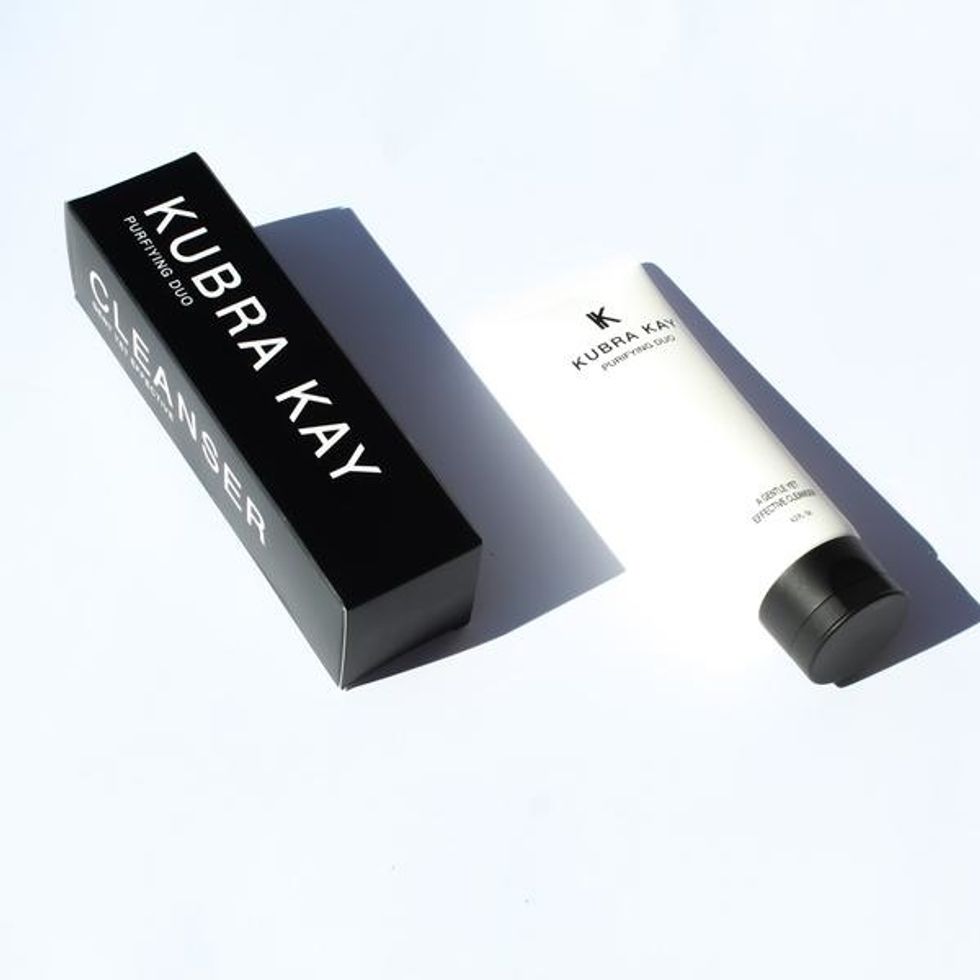 This creamy face wash from Black-owned brand Kubra Kay can be used on dry skin to remove makeup or on wet skin for a normal cleanse. The cleanser helps restore natural pH while also hydrating to ensure skin isn't stripped of moisture.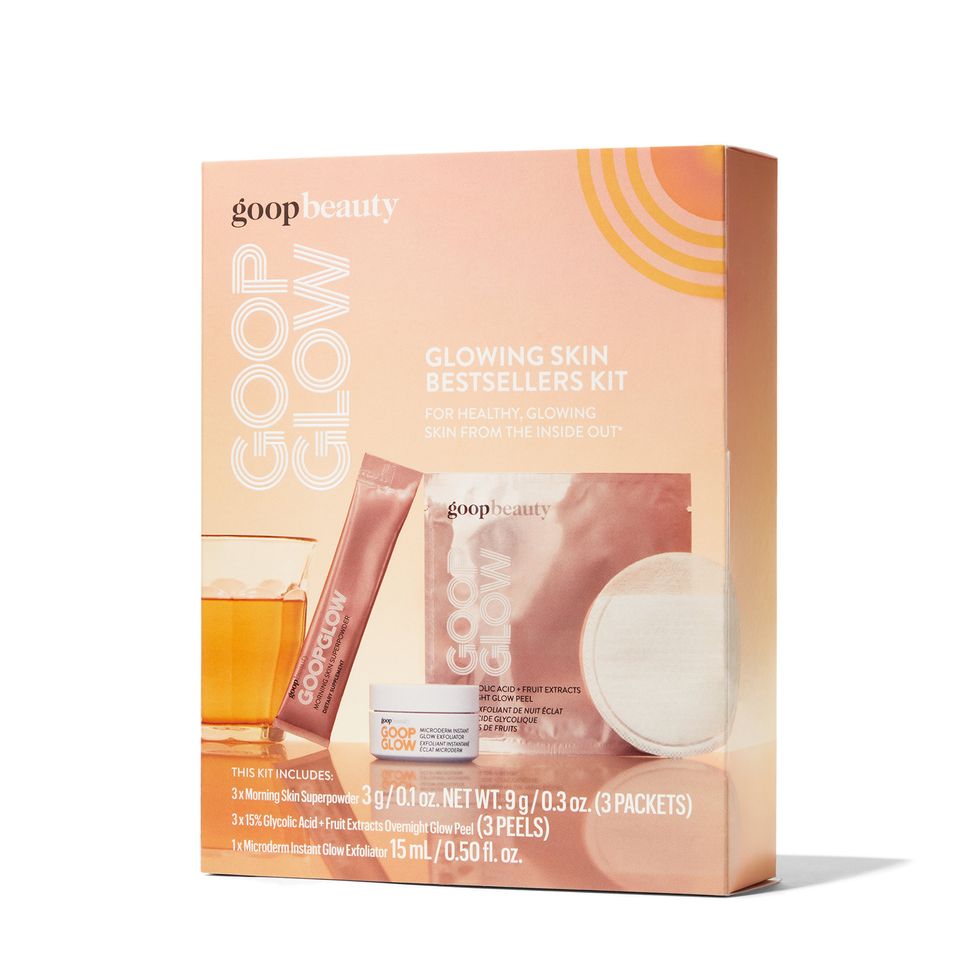 Glow from the inside out with this three-piece set. It includes goop's Microderm Instant Glow Exfoliator, Morning Skin Superpowder supplement, and 15% Glycolic Acid + Fruit Extracts Overnight Glow Peel which combine to retexturize skin and reveal a more even, brighter complexion.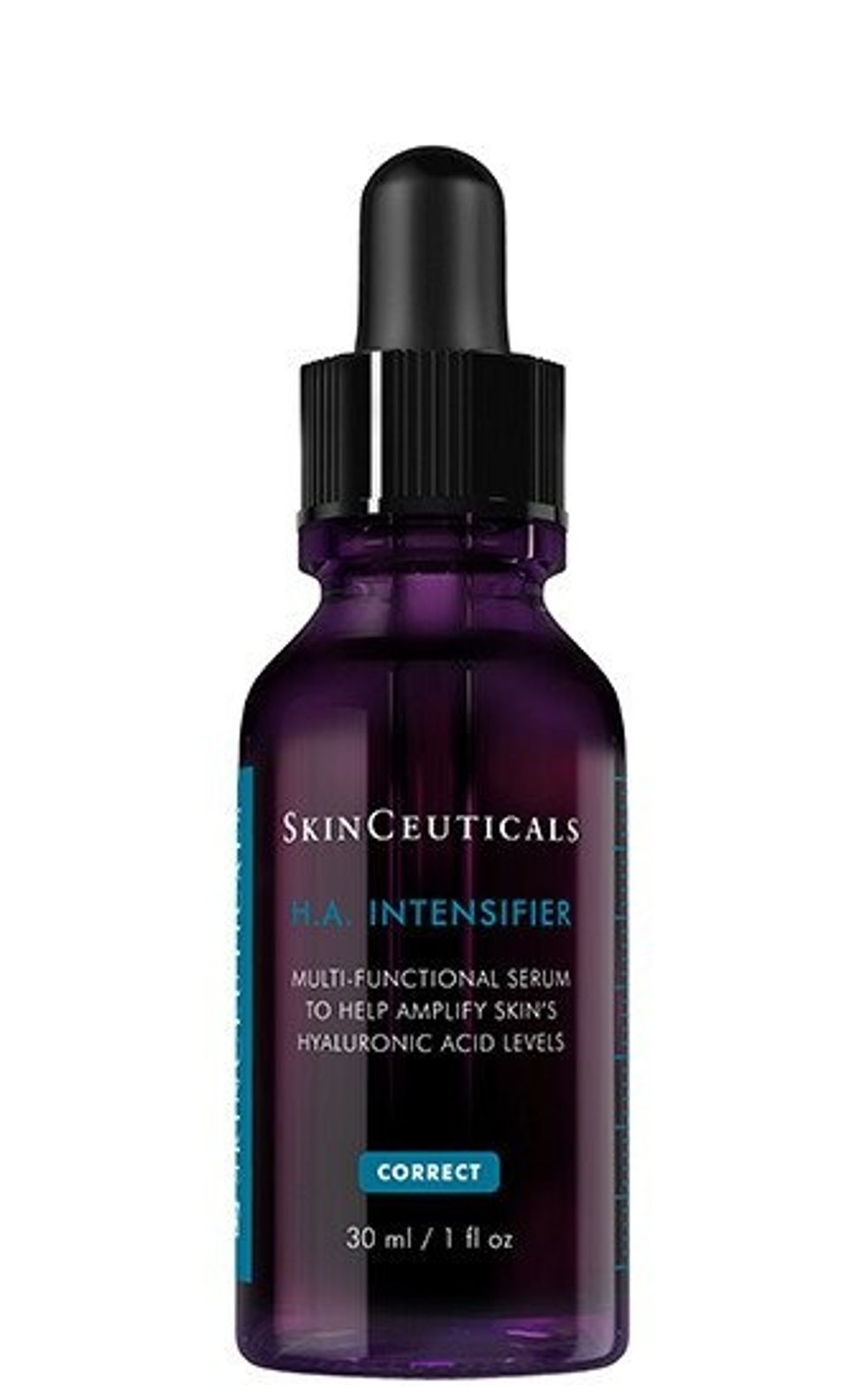 Hyaluronic acid is a key element in any winter skincare regimen because of its super-hydrating properties. This dermatologist-recommended serum helps amplify skin's hyaluronic acid levels by 30%, reducing the appearance of fine lines and wrinkles and improving skin's texture to be more firm and smooth.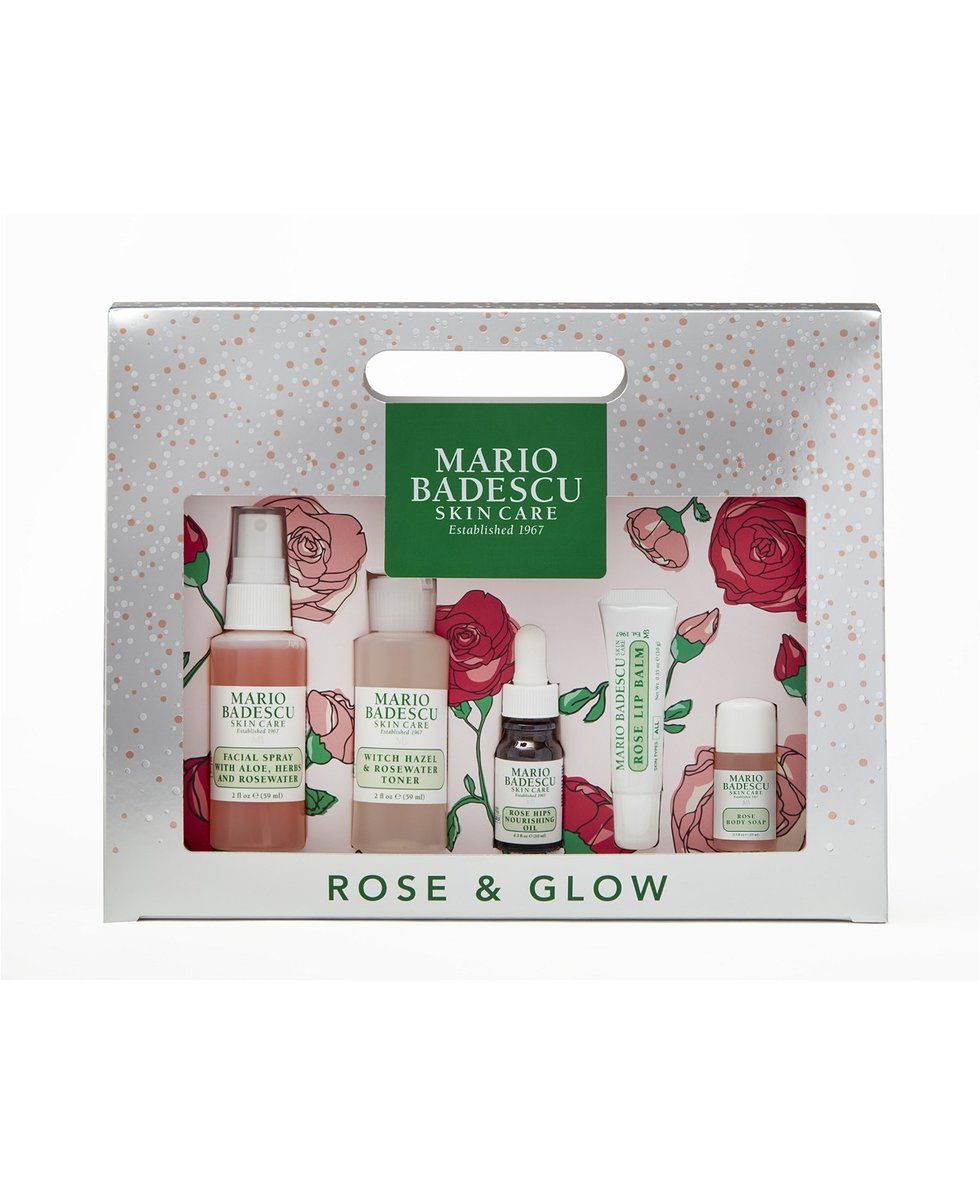 Reverse dryness and irritation with this 5-piece set from Mario Badescu which harnesses the power of rose to rejuvenate skin. Rose & Glow includes the brand's popular Facial Spray With Aloe, Herbs & Rosewater; the Witch Hazel & Rosewater Toner; Rose Hips Nourishing Oil; Rose Lip Balm; and Rose Body Soap.
Garnier Pinea-C Brightening Gel Washable Cleanser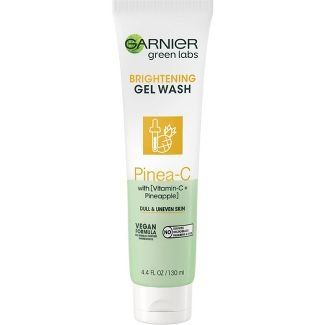 This gel cleanser combines pineapple and Vitamin C to remove dirt and makeup as it helps even out skin tone and brighten dull complexions. The vegan face wash is free of sulfates, microbeads, parabens, and dyes and is suitable for all skin types. Pair it with the Pinea-C Brightening Serum Cream for maximum benefit and SPF protection during the day.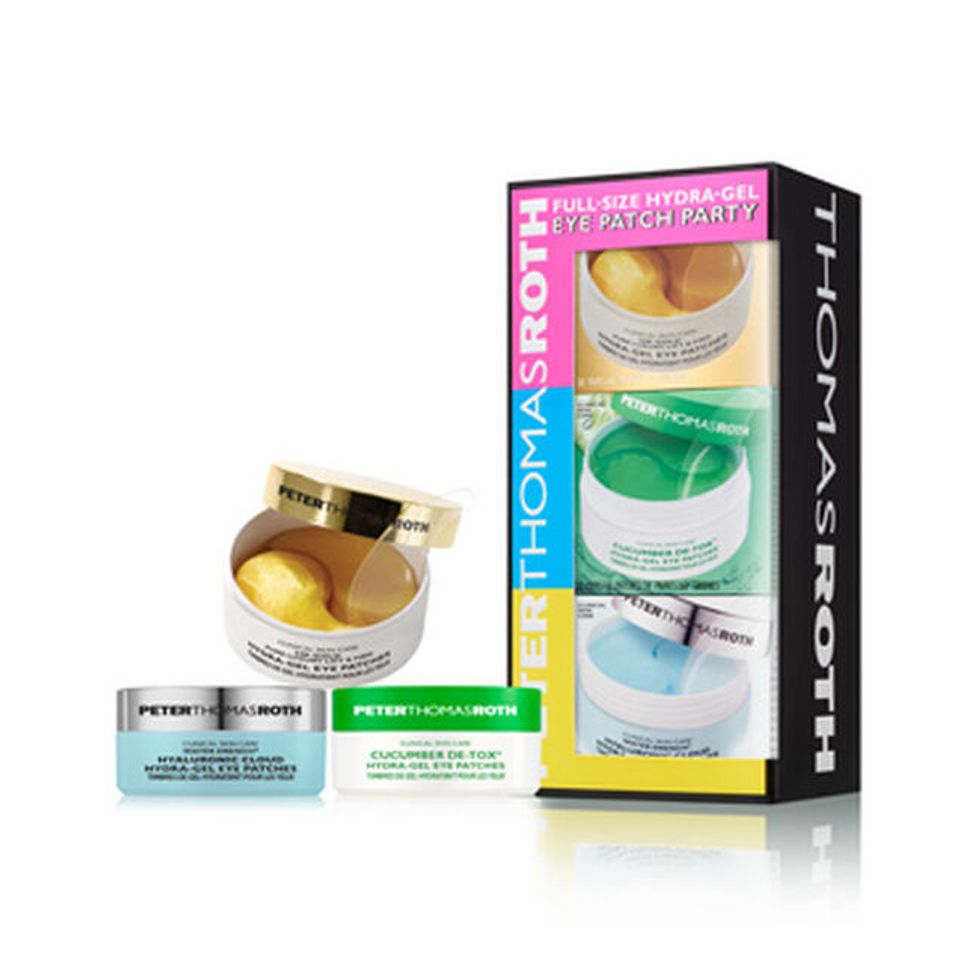 Whether it's random morning puffiness or chronic dryness and dark circles you want to address, this set has you covered. It features 30 pairs of each of PTR's Hydra-Gel Eye Patches: 24K Gold Pure Luxury Lift & Firm; Cucumber De-Tox®; and Water Drench® Hyaluronic Cloud.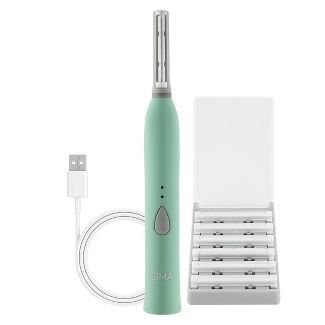 Get rid of all those tiny hairs you only see when you look at yourself really closely in the mirror as well as dead skin and other buildup with this 2-in-1 dermaplaning tool. The painless hair removal and exfoliation system leaves behind the perfect canvas for makeup and also helps skincare products better absorb into the skin.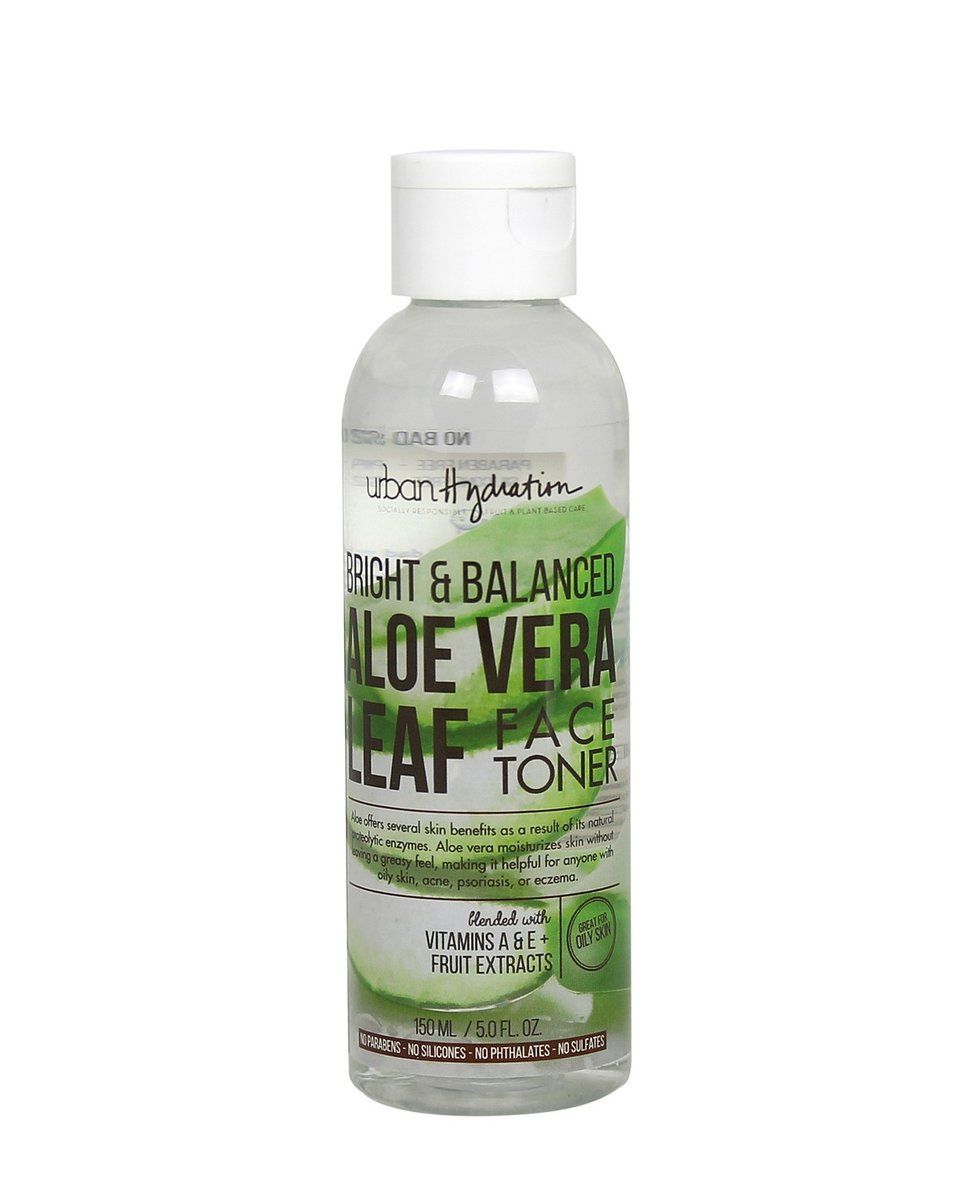 Macy's
A great buy for oily skin, this toner from Black brand Urban Hydration fuses aloe vera with Vitamin A and Vitamin E to moisturize skin naturally without clogging pores or leaving behind a greasy residue.
Featured image by Shutterstock

If there's anything we've learned from 2020, it's that self-care isn't just a buzz word; it's a necessary aspect of living for mental, physical, and emotional wellness, especially during tough times. This year also taught us the importance of having a self-care practice that doesn't require leaving home, as many of our go-to self-care activities, like massages, facials, and even going to the gym became inaccessible among COVID lockdowns and stay-at-home orders.
As we look to a new year which nobody knows what it will bring, it's important to make sure our self-care arsenal is strong. While some forms of self-care require nothing but a clear mind and deep, conscious breathing, for those who like their self-care with a strong side of pampering and introspection, we recommend these items.
*Some links are affiliate links. If you make a purchase, xoNecole may earn a small commission.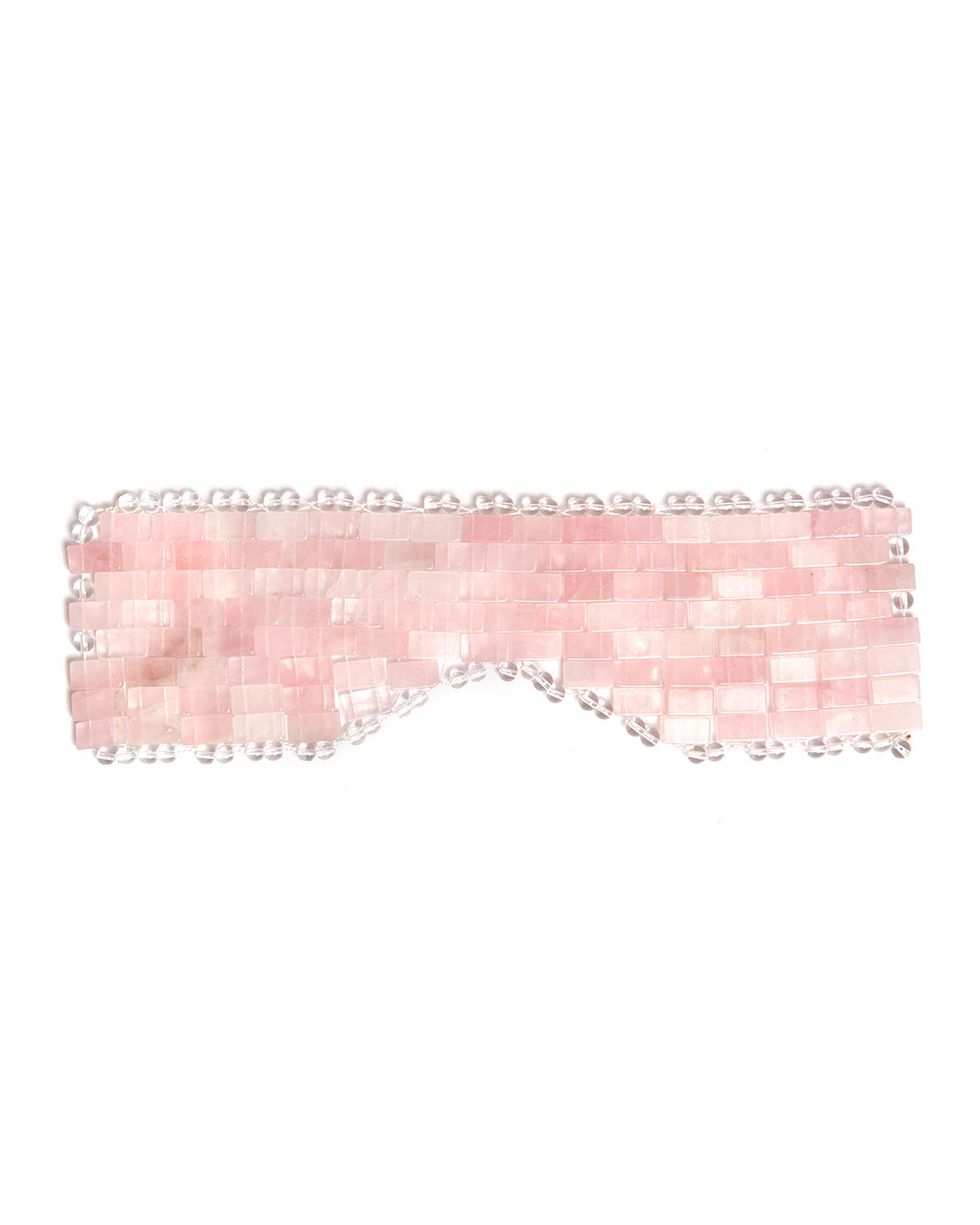 The name says it all when it comes to this eye mask made of rose quartz which promotes feelings of love and well-being. The multi-use mask can be used in meditation to promote relaxation while the coolness and heaviness of the crystal may also help relieve sinus issues, close pores, and reduce the appearance of fine lines, dark circles, and puffiness.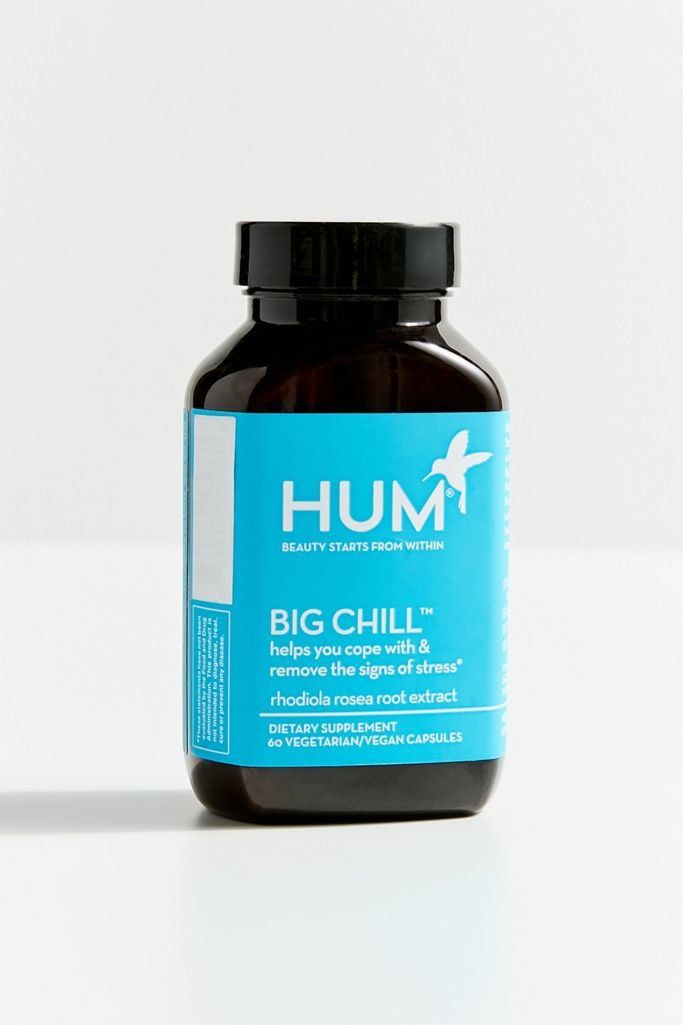 Reduce the signs of stress from the inside out with these "chill pills". Formulated with rhodiola root extract, these pills help calm your mind while reducing the physical signs of stress on your skin.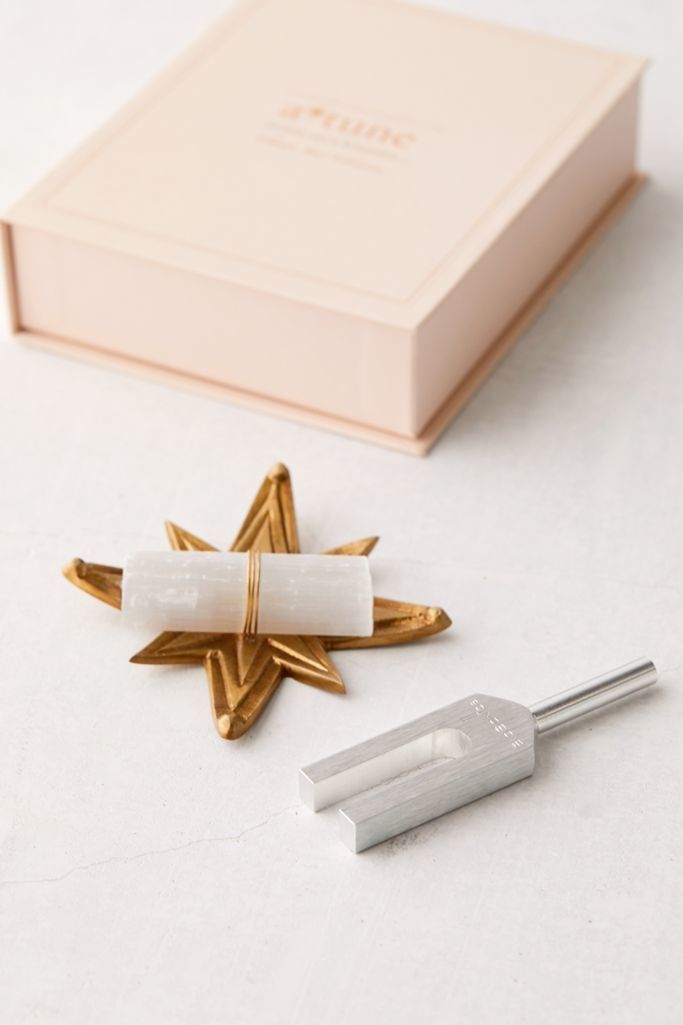 Tap into the power of sonic rituals with this kit featuring a BioSonics tuning fork and dish with a hand-wrapped crystal attached.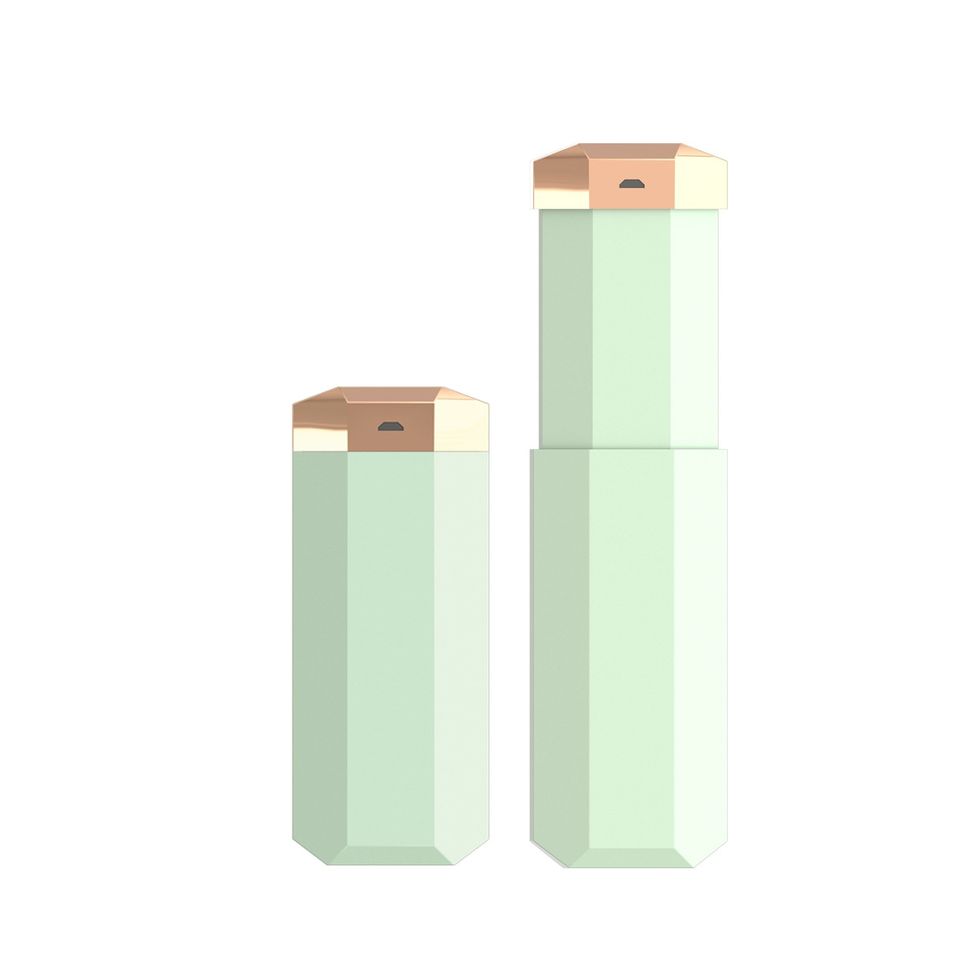 The peace of mind that comes with having a clean home has taken on a whole new meaning since the onset of the pandemic. This wand eliminates the need for harsh chemical-containing sprays and cleansers by naturally eliminating germs that cause colds, infections, asthma and allergic reactions by simply holding the wand approximately 1-2 inches from the surface of the item you want to sanitize and gradually move it over the area.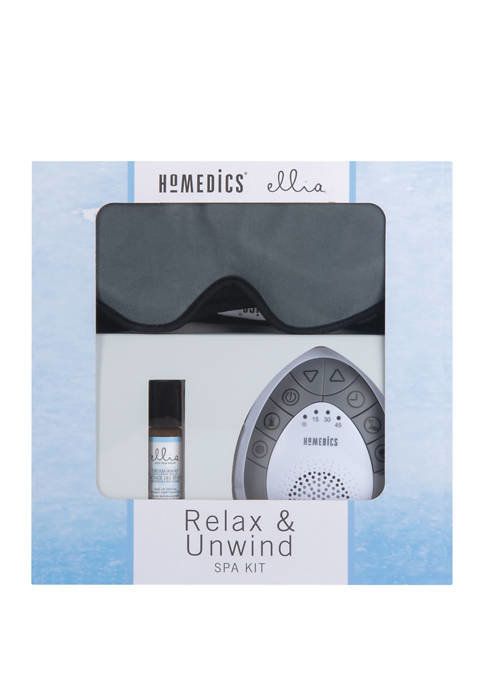 Reap the benefits of sound and aroma therapy with this wellness kit. It features a SoundSpa® Mini to help you decompress to the sounds of white noise, a summer night, ocean waves, and rain along with a Travel Eye Mask with Vibration Massage and Built-in Headphones. Top off the experience with the Ellia Dream Away Essential Oil Roll-On for ultimate relaxation.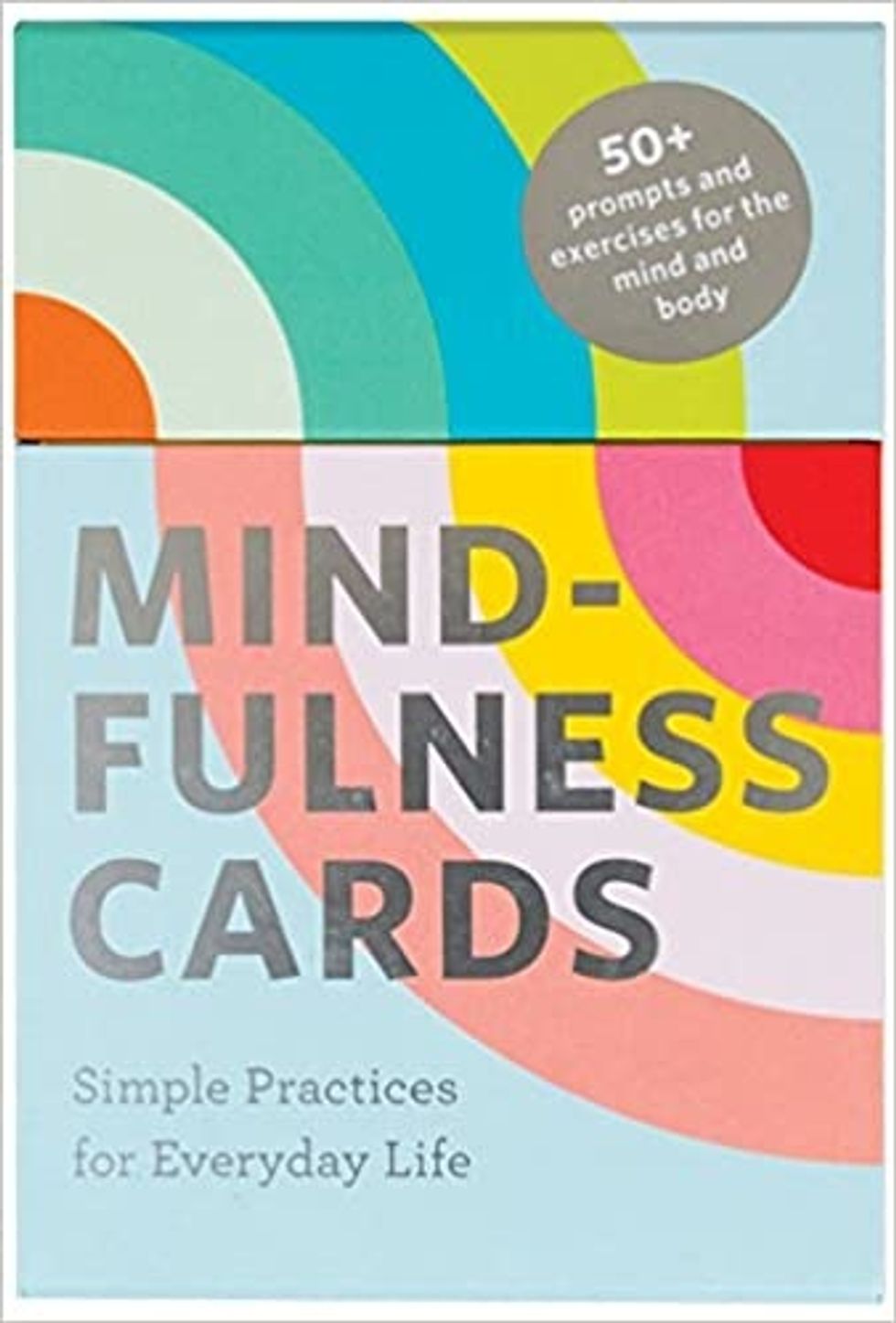 Mindful thinking takes practice and sometimes we need prompts. This pack of cards has more than 50 exercises to help users go deeper in five areas of mindfulness: Rest & Balance, Insight & Awareness, Curiosity & Joy, and Kindness.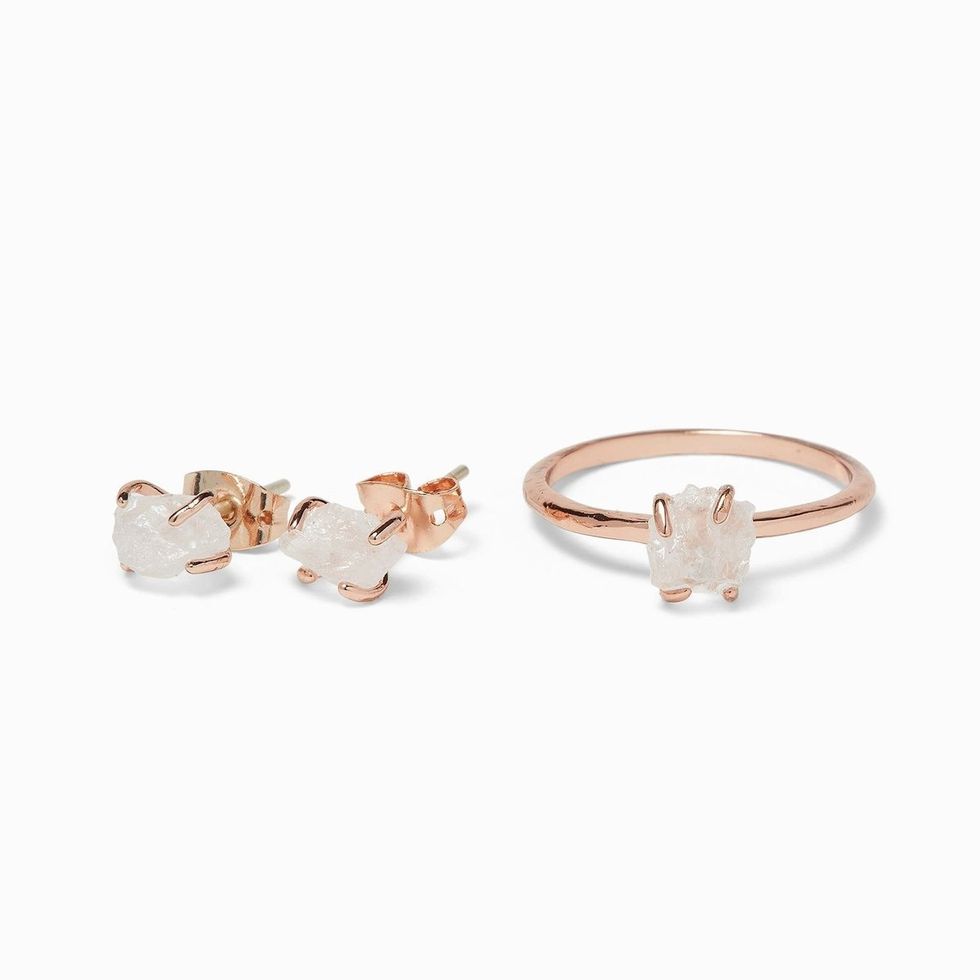 Many people who believe in the cleansing power of crystals like to wear their gems on their body. This earring and ring set from Pura Vida makes that easy to do. Raw Clear Quartz, aka the "Master Healer", which is known for its ability to balance and absorb energy, is the mineral used in this jewelry.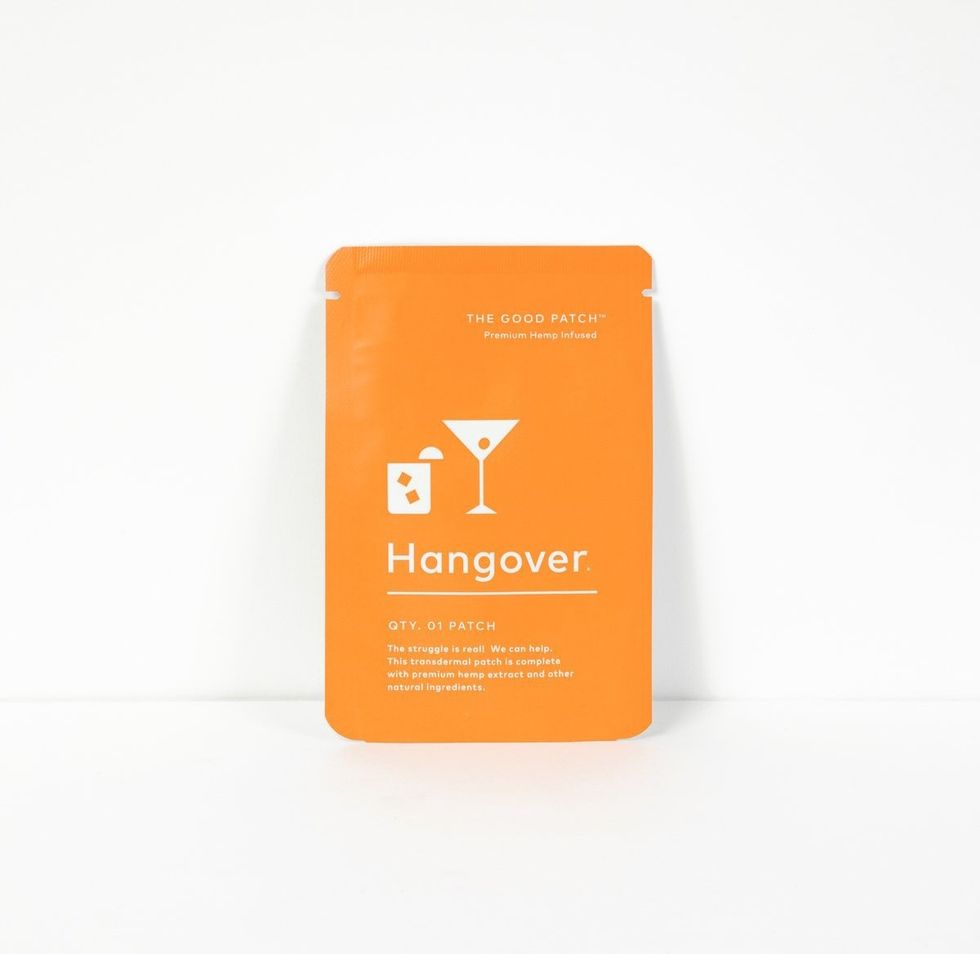 We've all made the mistake of having a few sips too many, but none of us has the luxury of losing a whole day behind it. Get on the mend sooner rather than later with this hemp-infused patch that helps replenish essential nutrients lost from a night of too much drinking.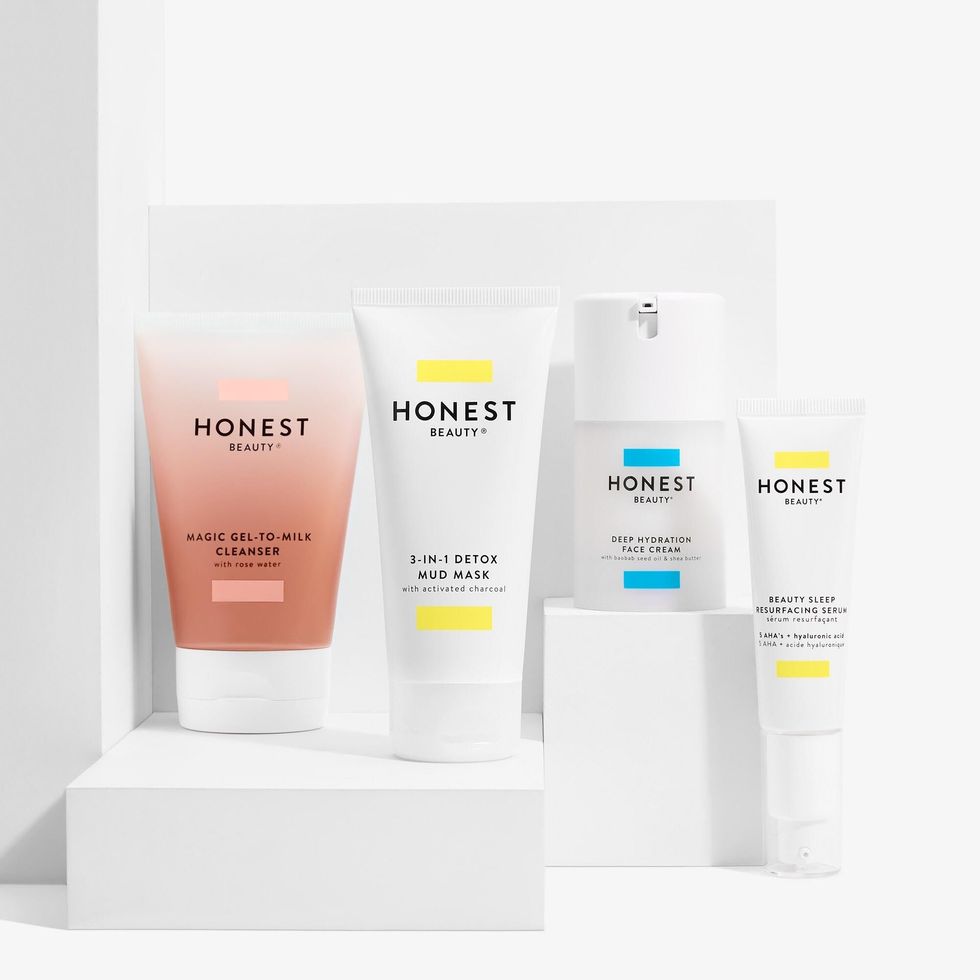 Self-care is skincare and this set makes it easy to refresh skin overnight. The four-piece kit includes the Magic Gel-to-Milk Cleanser, 3-in-1 Detox Mud Mask, Deep Hydration Face Cream, and Beauty Sleep Resurfacing Serum.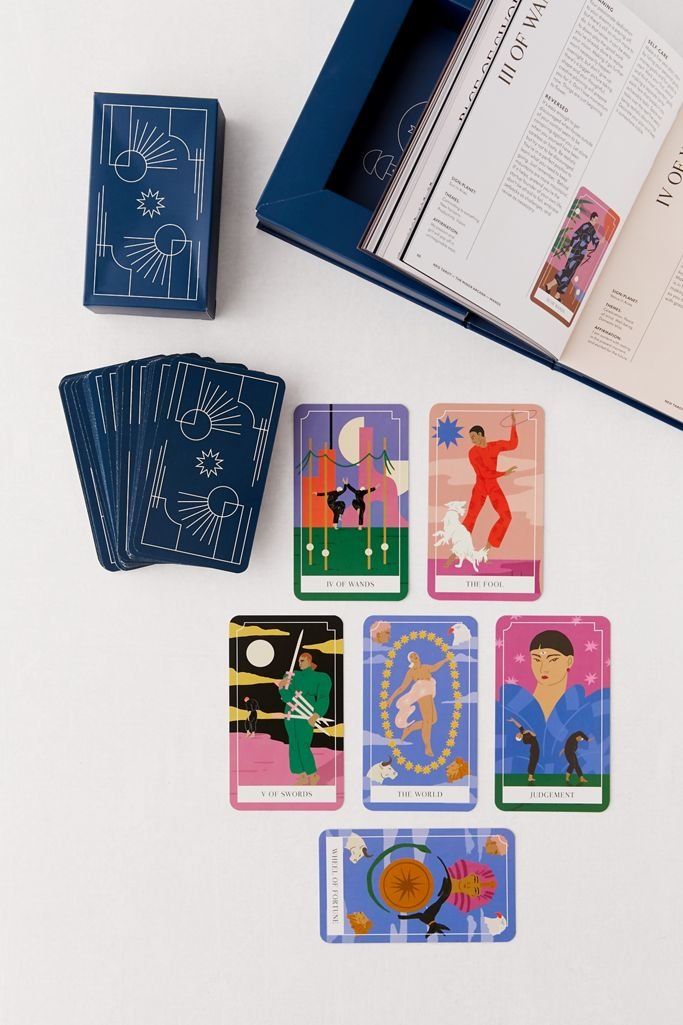 If you're into Tarot, take your practice to the next level with this guidebook that mixes explanations of the symbolism of the 78-card deck with practical wisdom and actionable exercises to increase self-love.
Featured image by Shutterstock

CBD and hemp have been infused into just about every body product you can imagine in recent years and for good reason. Hemp provides strong anti-aging and anti-inflammatory benefits, thanks to its rich Omega-3 and Omega-6 fatty acids profile. Similarly, CBD's properties makes it great for treating skin conditions like acne while also helping to relieve pain and reduce anxiety. Chances are, if there's an issue you're dealing with, be it as simple as dry, irritated skin, or as big as mental and physical stress, there's a CBD oil or hemp cream for it. Here are 13 hemp and CBD products that make great stocking stuffers this season.
*Some links are affiliate links. If you make a purchase, xoNecole may earn a small commission.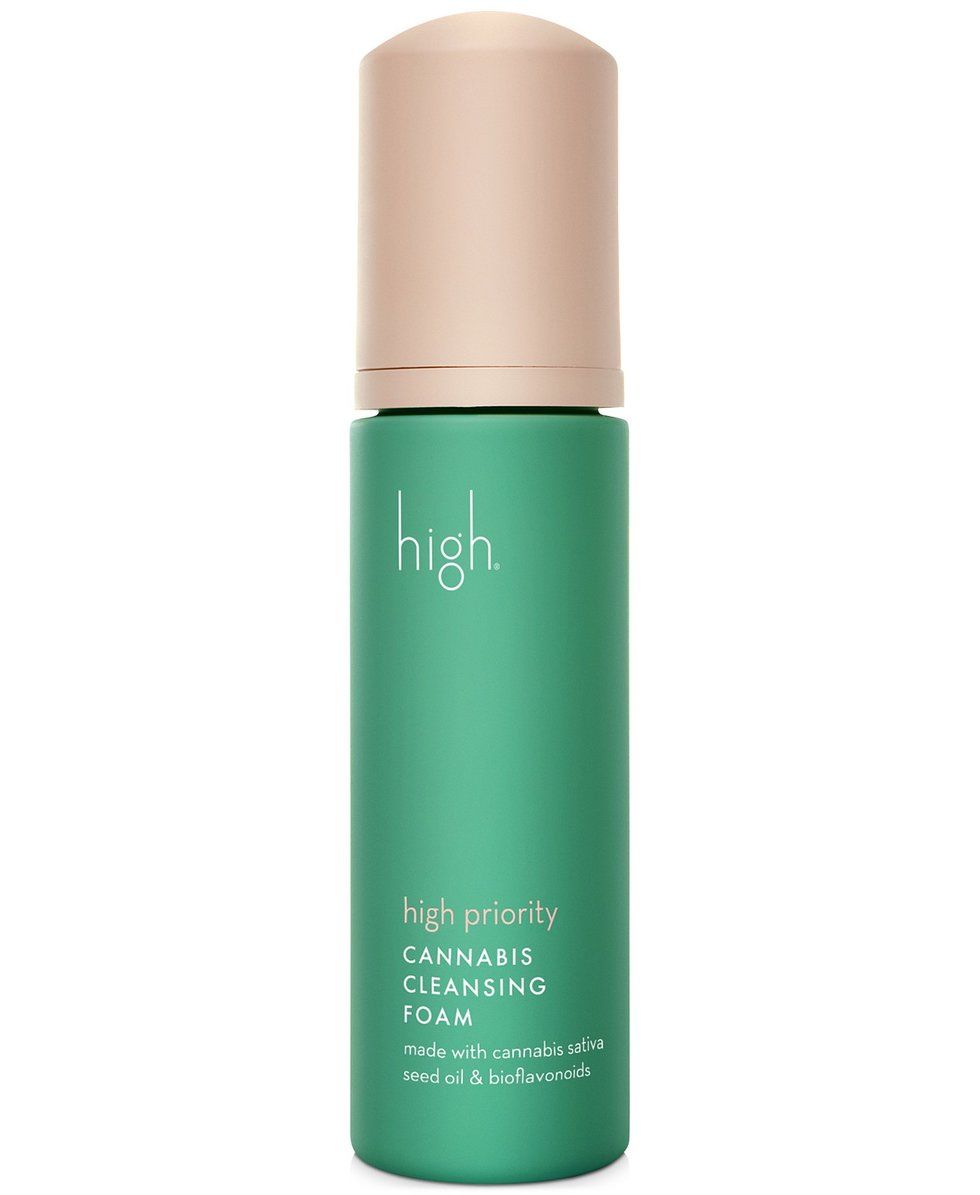 Macys
Cannabis sativa seed oil and bioflavonoids in this foam cleanser remove dirt, makeup, and other impurities, as they hydrate and refresh skin.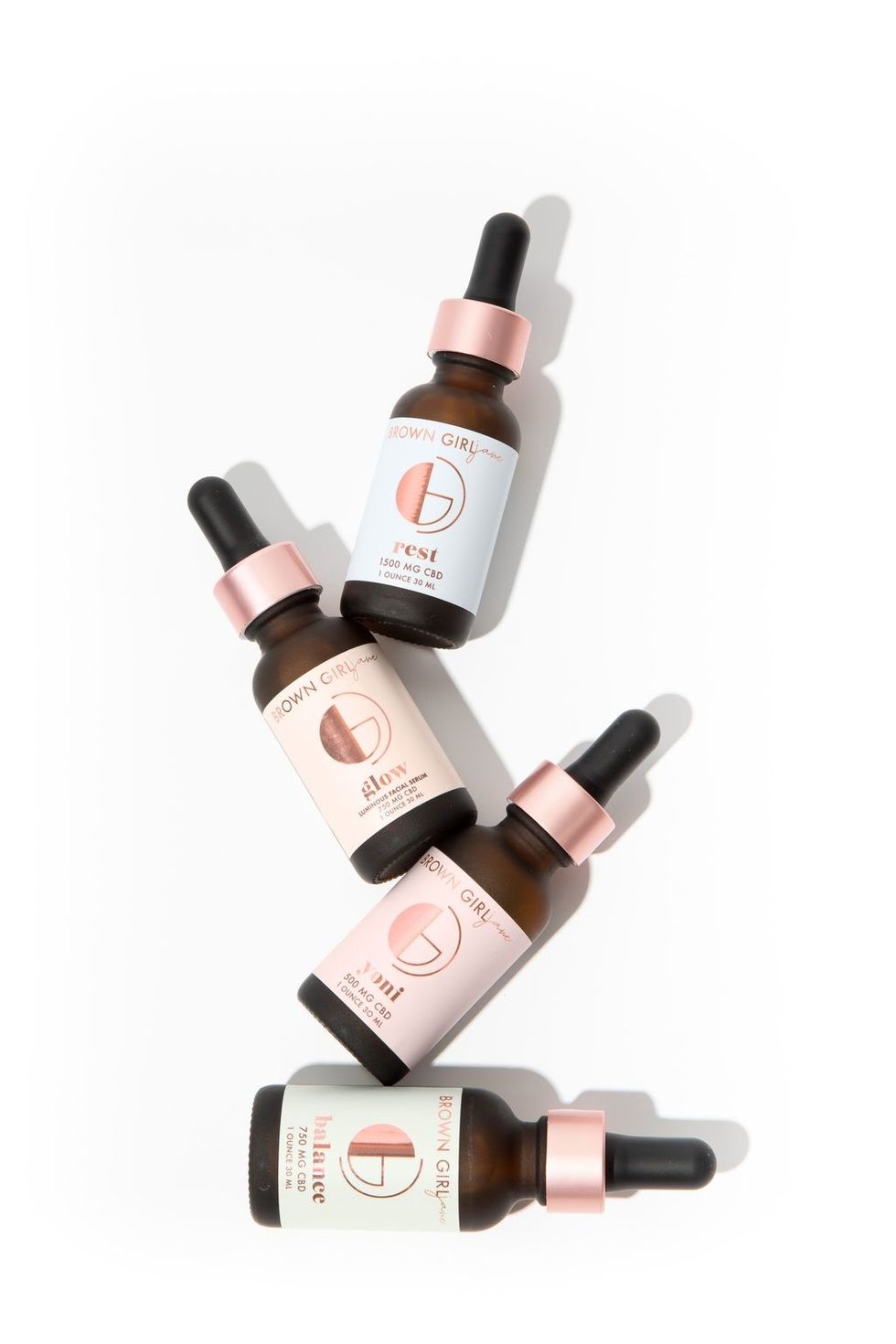 Brown Girl Jane
The founders of Brown Girl Jane launched their plant-based wellness company specifically to make the benefits of CBD more accessible to Black women. Earlier this year, the brand expanded into beauty with glow, a facial serum made with organic cannabis sativa seed oil and broad spectrum hemp oil to bring natural illumination to your complexion.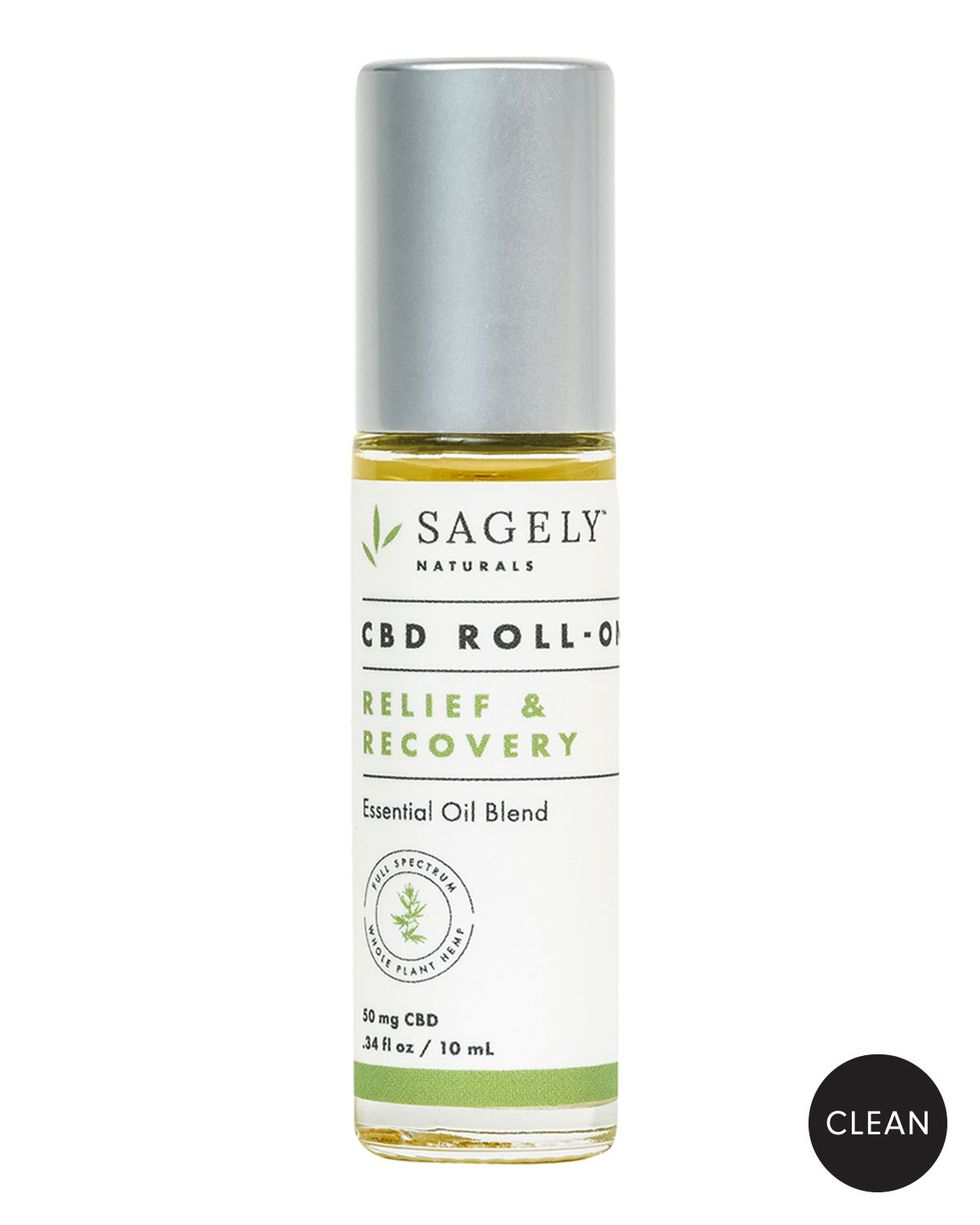 Neiman Marcus
Keep this roll-on in your purse for on-the-go pain relief and aromatherapy benefits thanks to its combo of CBD, cooling menthol, and an essential oil mix of peppermint, rosemary, and eucalyptus.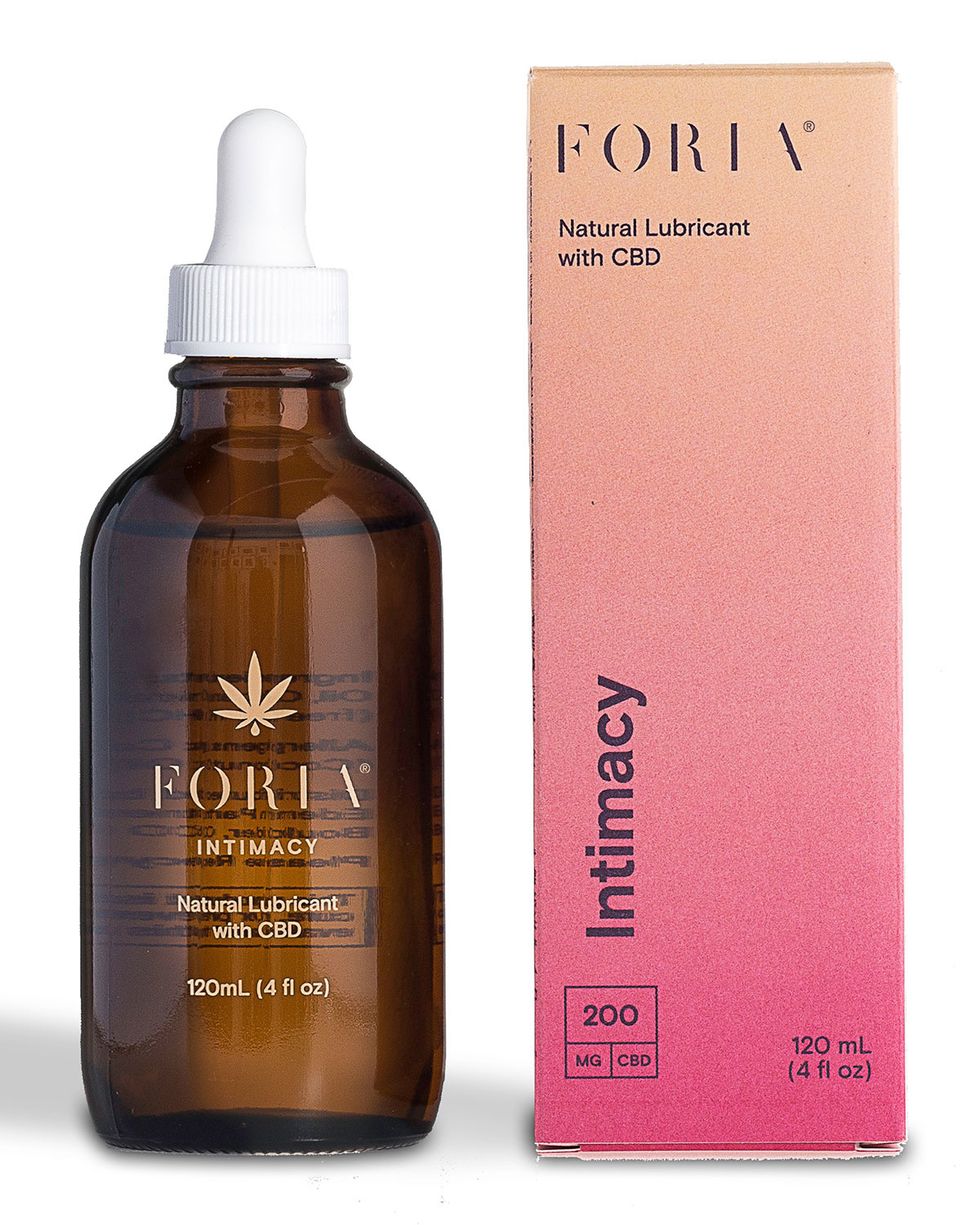 Foria
Enhance your sexual experiences with this lubricant made from Organic MCT coconut oil and 200mg of broad-spectrum CBD. The oil can also be used to relieve painful pelvic conditions and issues related to menopause.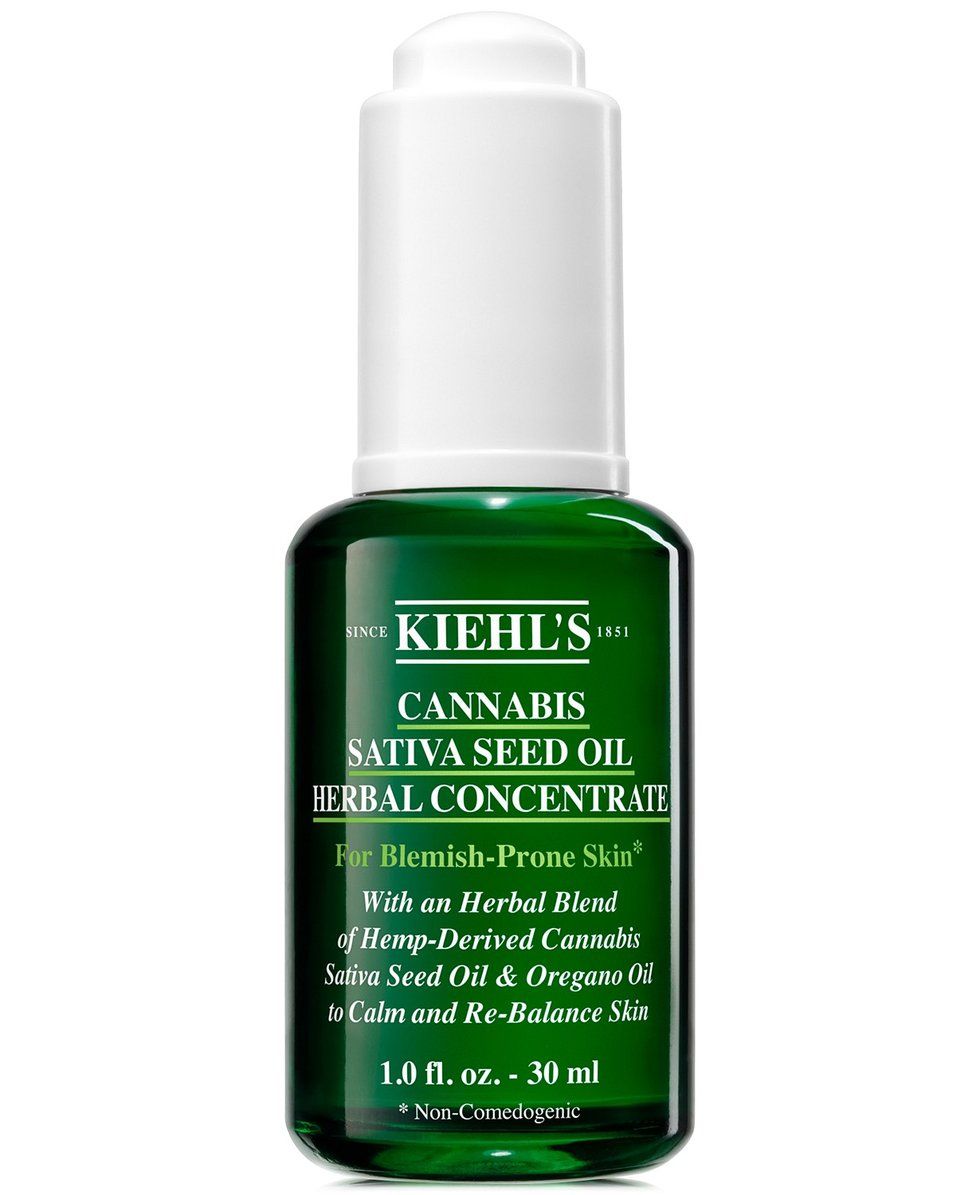 Macys
Formulated specifically for oily and blemish-prone skin, cold-pressed hemp seeds and oregano oil in this concentrate help improve the skin's barrier, reduce redness, relieve problem skin, and calm and soothe.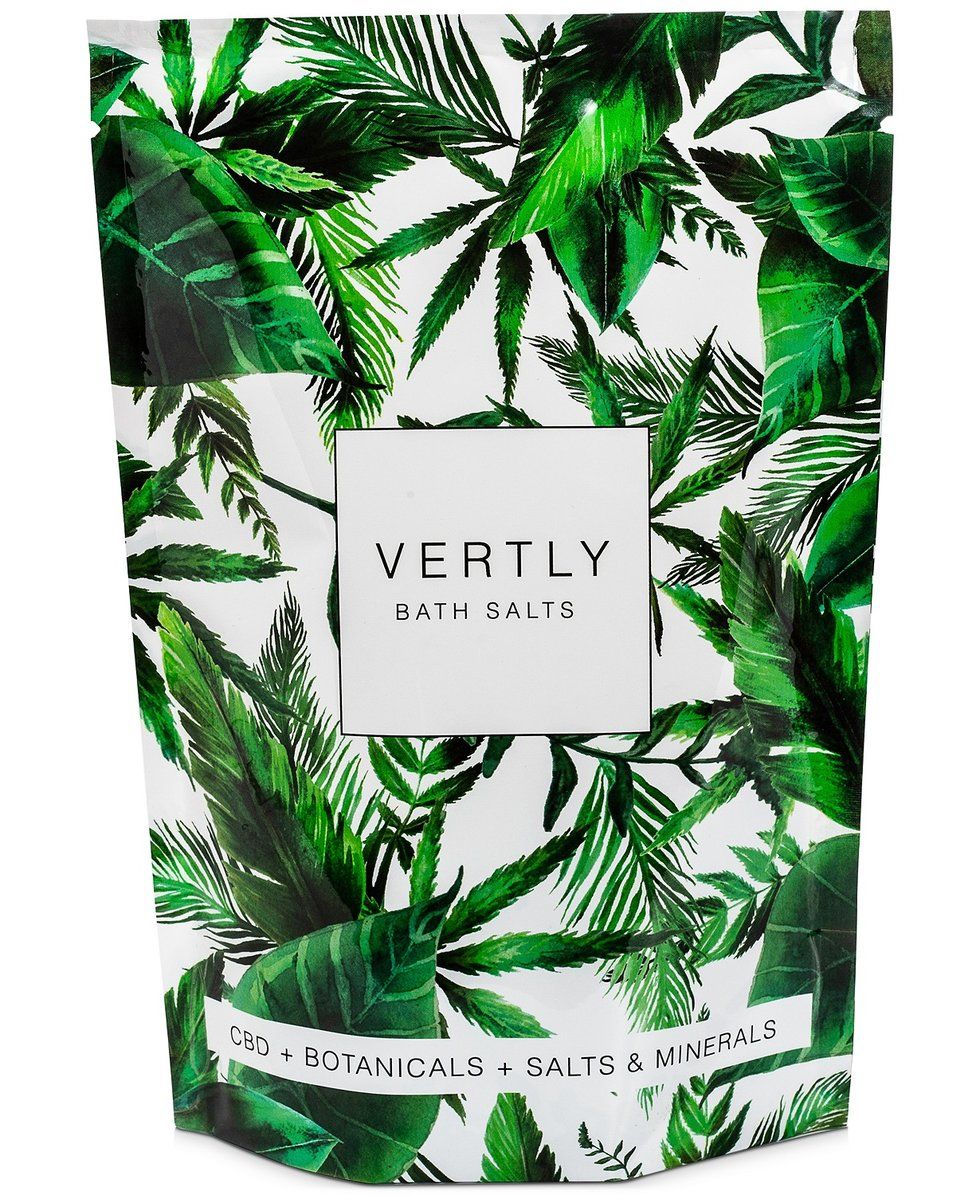 Macys
Take your soak to a new level with these salts formulated with CBD, healing salts, magnesium, MSM, and a blend of essential oils to completely relax a tired body.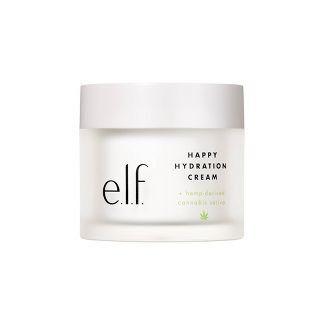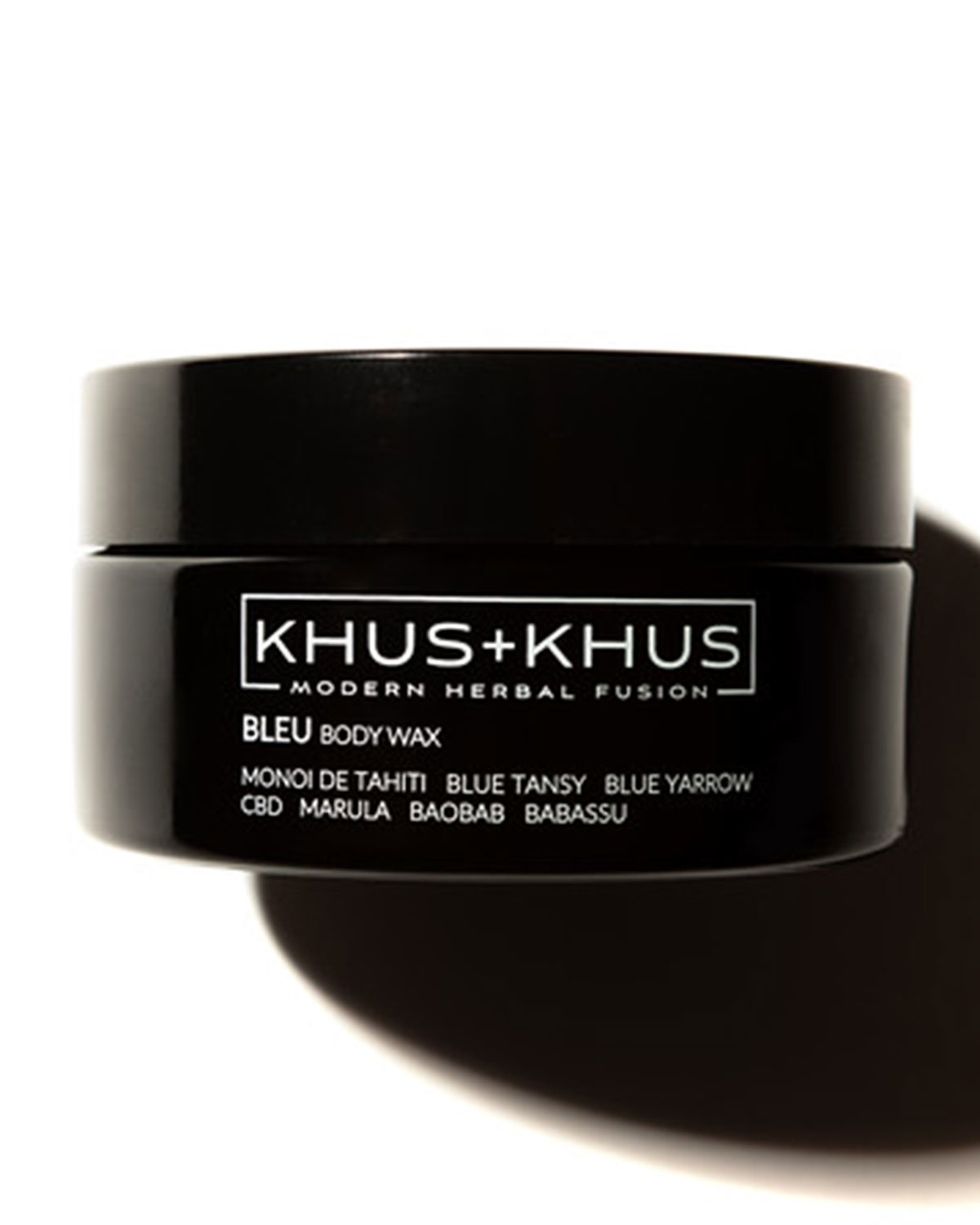 Neiman Marcus
Ideal for those with eczema, sensitivity, and other skin issues, this anti-inflammatory wax helps reduce pain and inflammation in the body. In addition to cannabinoid hemp extract, this herbal fusion is formulated with Blue Tansy, Blue Yarrow, Baobab, Babassu, and Marula Oil to moisturize, protect skin from free radicals, and soothe irritation.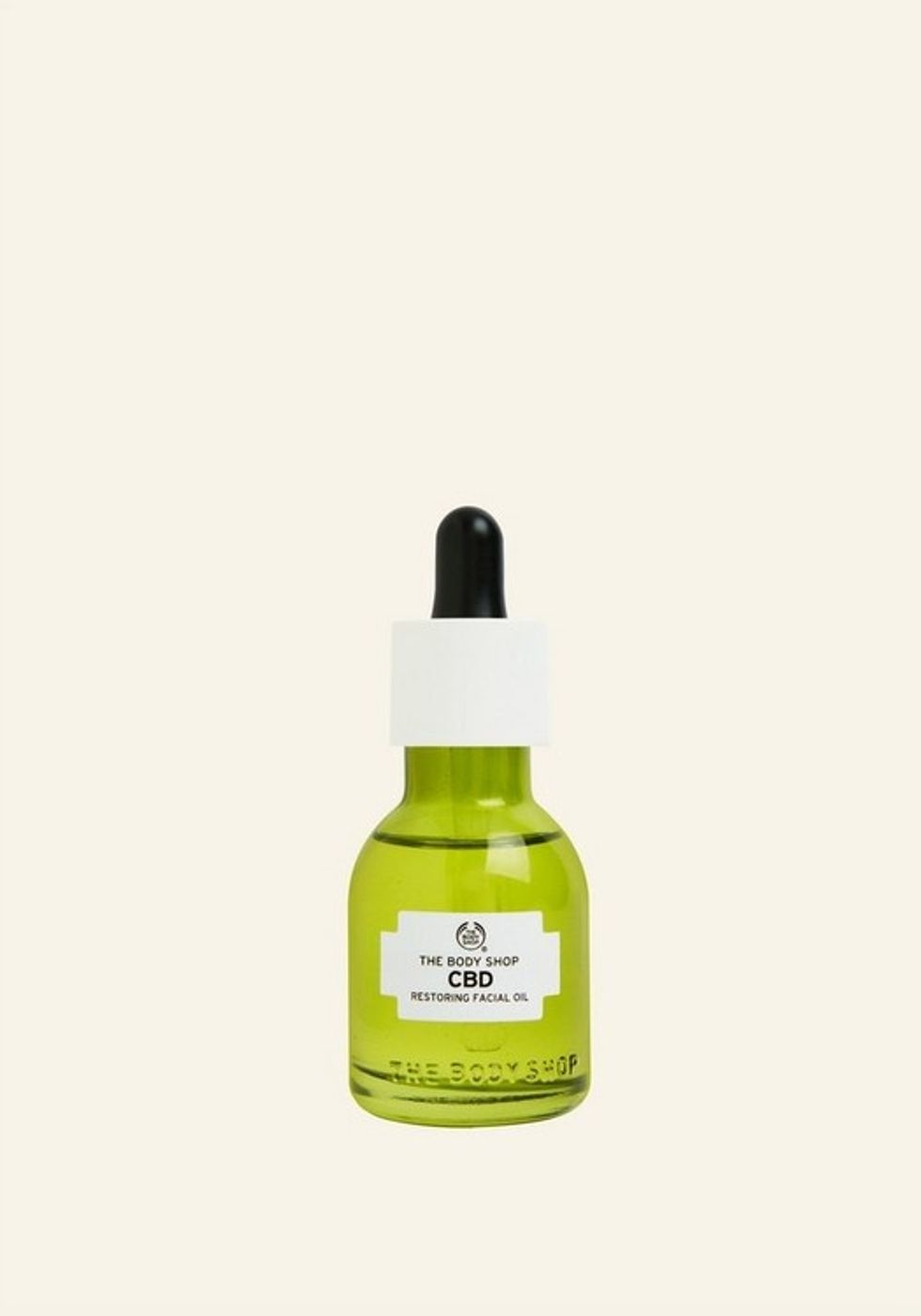 This oil was created specifically to restore stressed, dehydrated skin, which pretty much all of us have right now thanks to constantly wearing masks. With 99.9% ingredients of natural origin, including CBD and hemp seed oil, squalene and patchouli extract, this lightweight vegan oil soothes the discomfort of dry skin to leave your face smoother.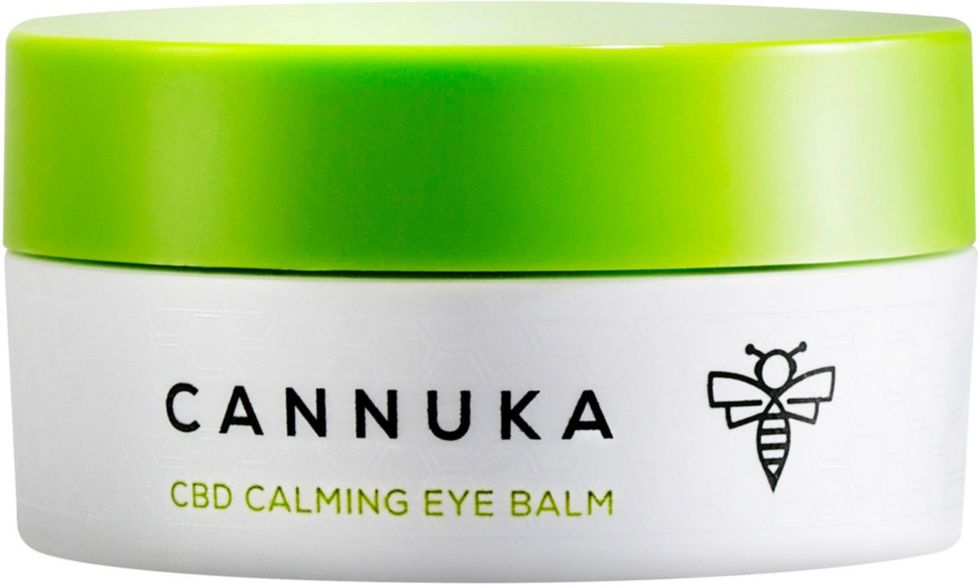 Cannuka
Beeswax, grapeseed oil, shea butter, hemp seed oil, orange peel butter, vitamin E, rose hip oil, coconut oil, grapefruit extract, and manuka honey are poured into this eye balm to help relieve dryness and bring a glow to the undereye area. The nourishing oils also soothe skin, combat free radicals, and regenerate new skin cells to keep your eyes looking refreshed.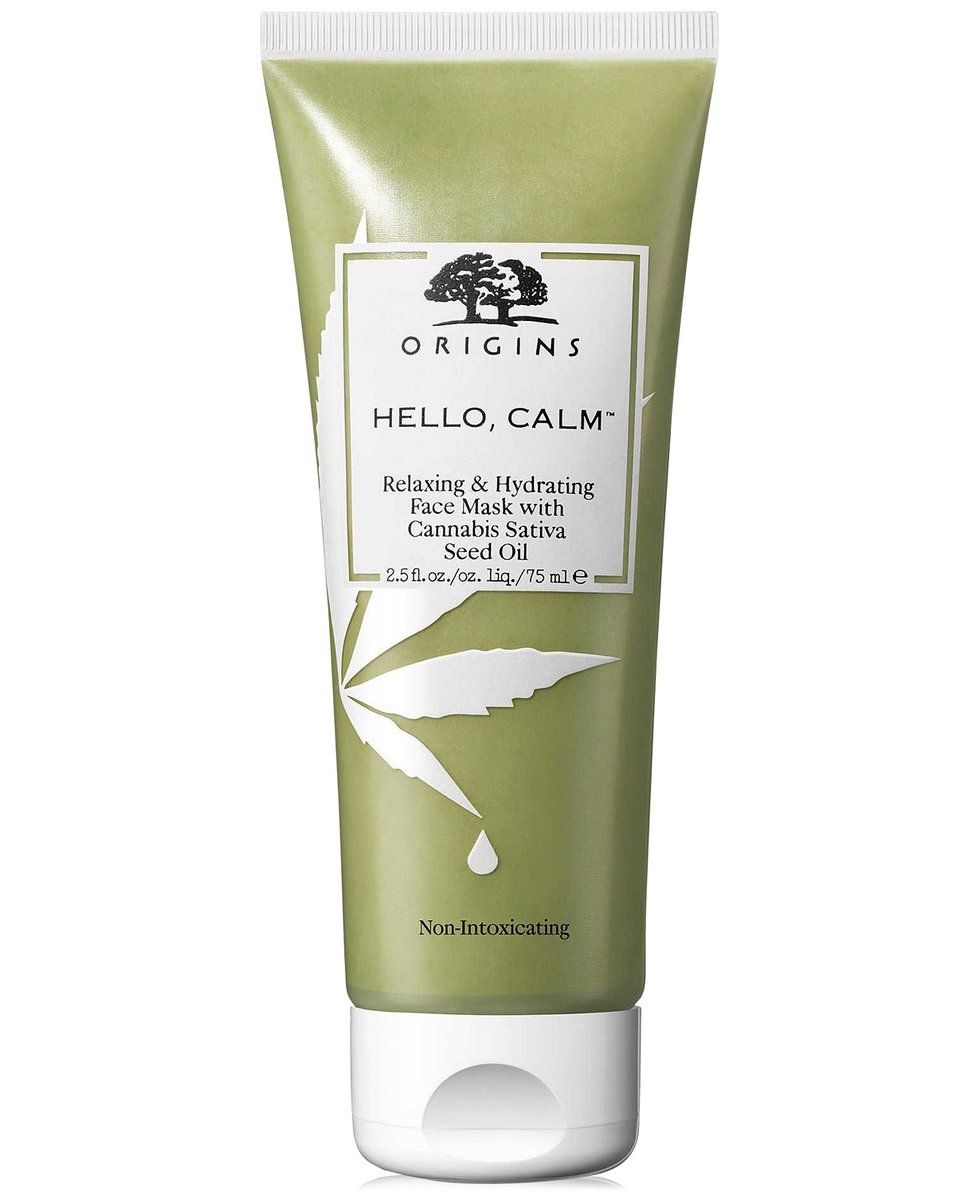 Macy's
Formulated with Cannabis Sativa Seed Oil, which is rich in Omega-6 and Omega-3, this masks helps hydrate and calm skin. A blend of essential oils also helps calm the senses during its use, making this the perfect at-home spa treatment.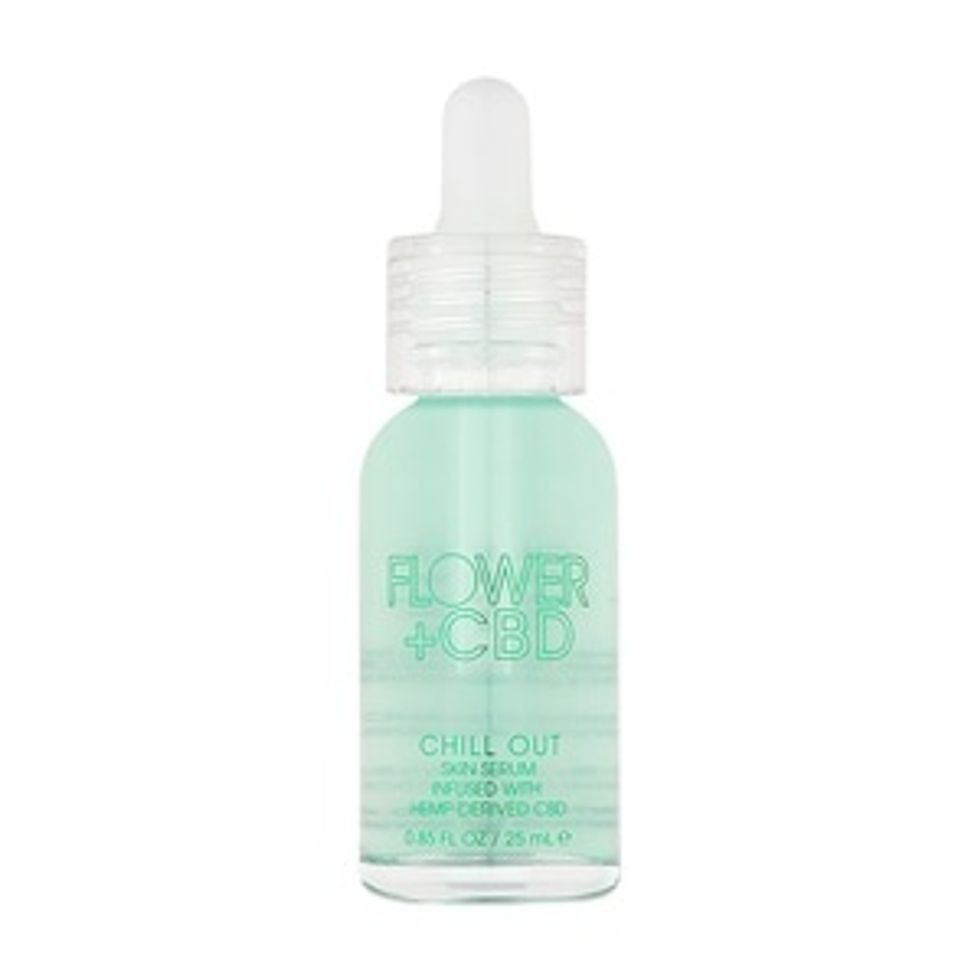 Calm irritated, unbalanced skin with this Chill Out Skin Serum that's infused with hemp-derived CBD to "rebalance skin to a zen state." The infusion of hyaluronic acid ensures skin stays moisturized as well.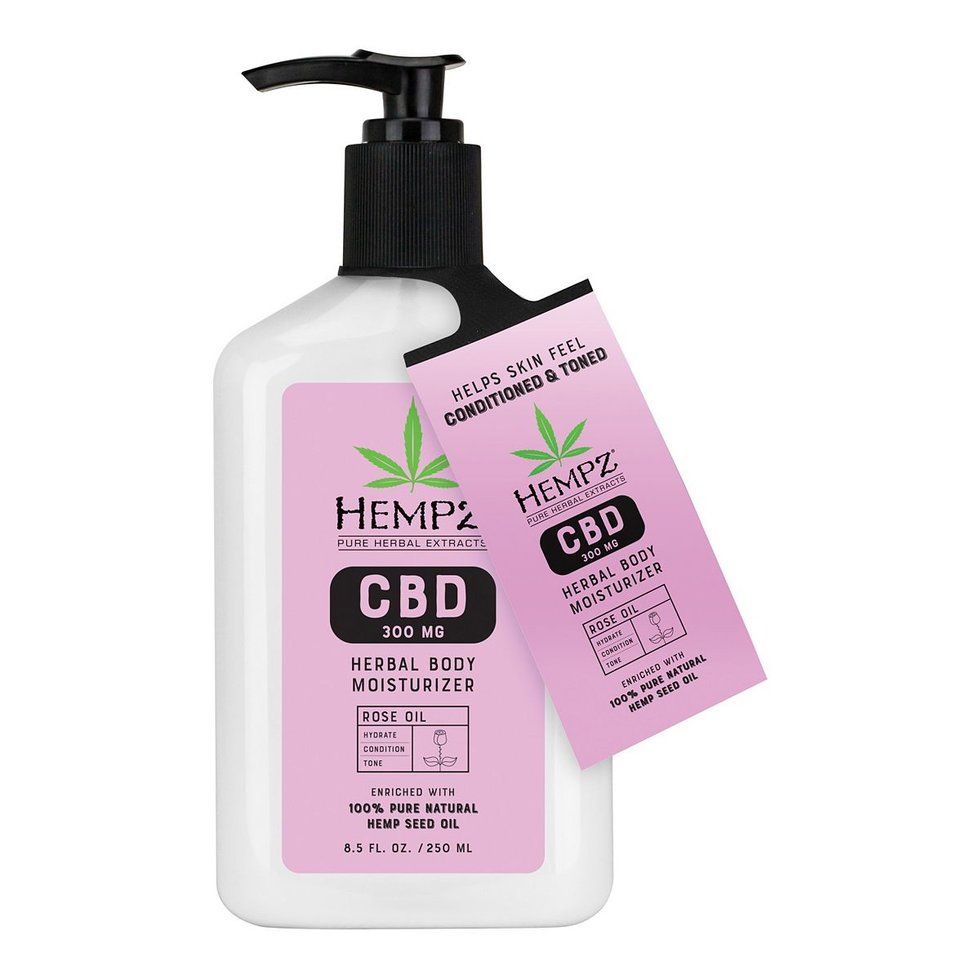 Kohl's
100% pure hemp seed oil and coconut oil help to moisturize skin while rose extract and vitamins A, C, and E in this lotion protect against free radicals while putting the mind at ease.
Featured image by Shutterstock
We don't have to tell you how neglected 4C hair is when it comes to the beauty industry. Even though brands routinely hit the market with new launches they say were formulated to work on all hair textures, it often doesn't take long for ladies with tighter textures to refute those claims and head back to the drawing board to replicate the concoctions they've crafted over the years to cleanse, hydrate, and define their curls and coils.
More power to the beauties who have time to put in that amount of work, but we think we speak for everyone when we say 4C ladies want to hit the aisles and pick up products that work for them straight off the shelves like everyone else -- as they should. To make it a bit easier to do that, we've put together a list of the best products for 4C hair so you can take the guessing game out of shopping and ship items perfectly suited for your strands right to your home this holiday season.
*Some links are affiliate links. If you make a purchase, xoNecole may earn a small commission.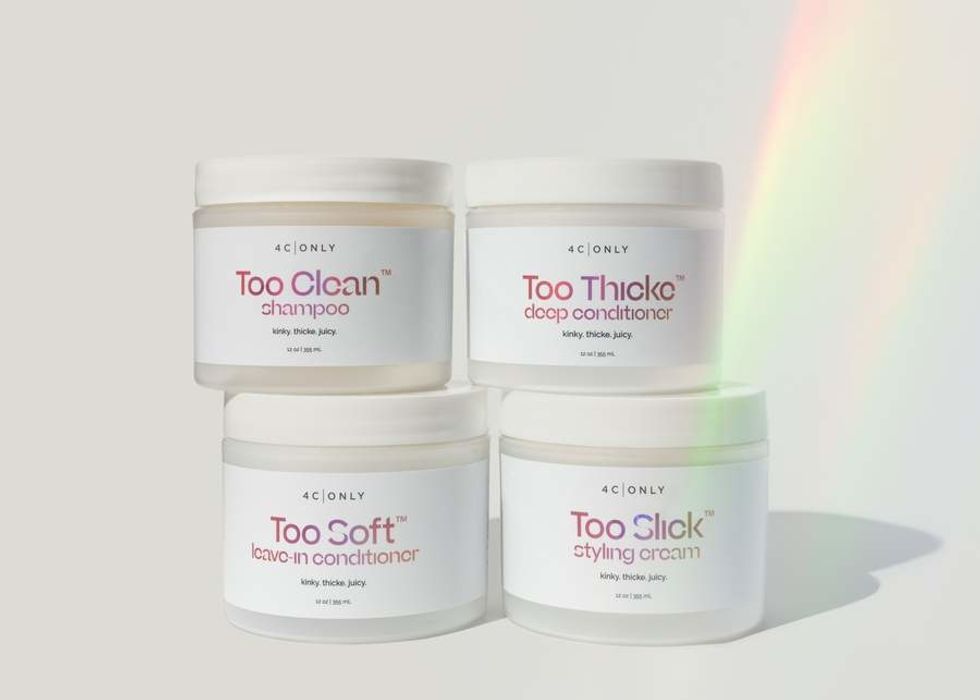 4C Only
The name says it all when it comes to this new brand dedicated solely to cleansing, conditioning, and styling 4C textures. The Too Easy Collection is a worthwhile collection as it contains a shampoo, deep conditioner, leave-in conditioner, and styling cream designed to cut your wash and style time down to 1-2 hours per week.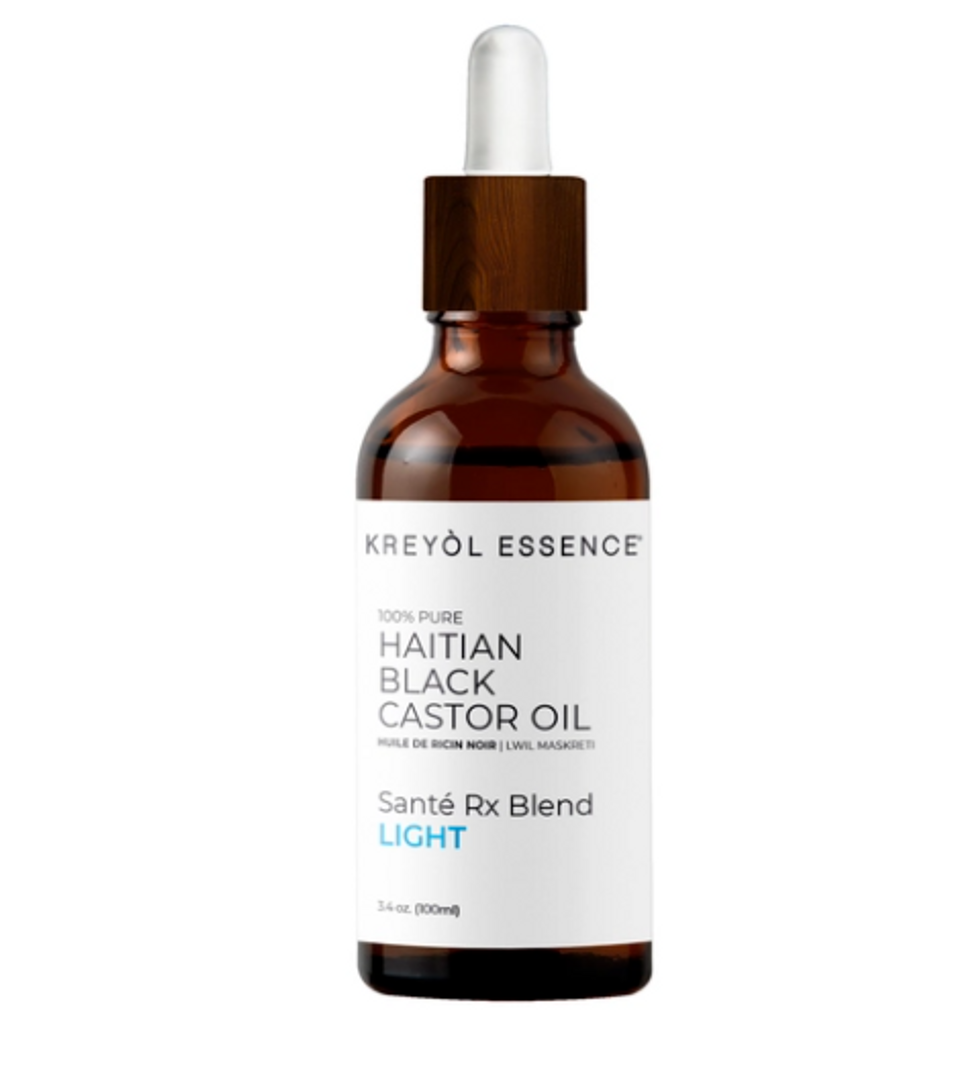 Reap all the moisturizing, hair-retaining, growth-promoting benefits of Jamaican Black Castor Oil but in a lighter, silkier, more absorbent form in this Kreyol Essence Black Castor Oil. Beyond the benefits to your hair, you'll also be supporting Black women in the U.S. and Haiti as the founder of Kreyol Essence is a Black woman who employs a 90 percent female staff in her native home.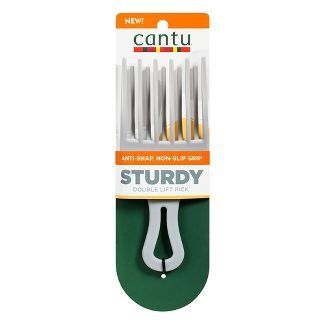 Everybody knows a twist out can't pop until you pick it out. Cantu's Sturdy Double Lift Pick helps lift curls without compromising definition. And like the name suggests, it's durable enough to withstand even the thickest hair.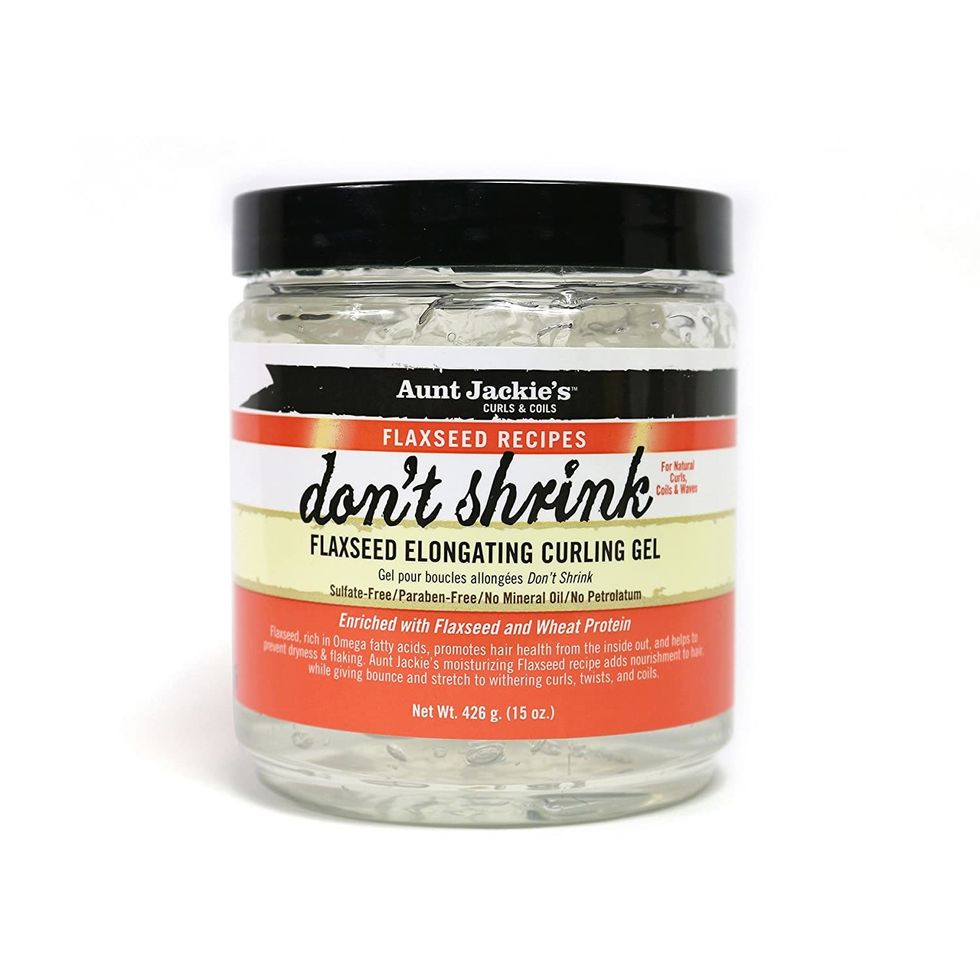 Aunt Jackie's
Fight shrinkage with this fan favorite that helps elongate curls while it promotes hair health with flaxseed and wheat protein.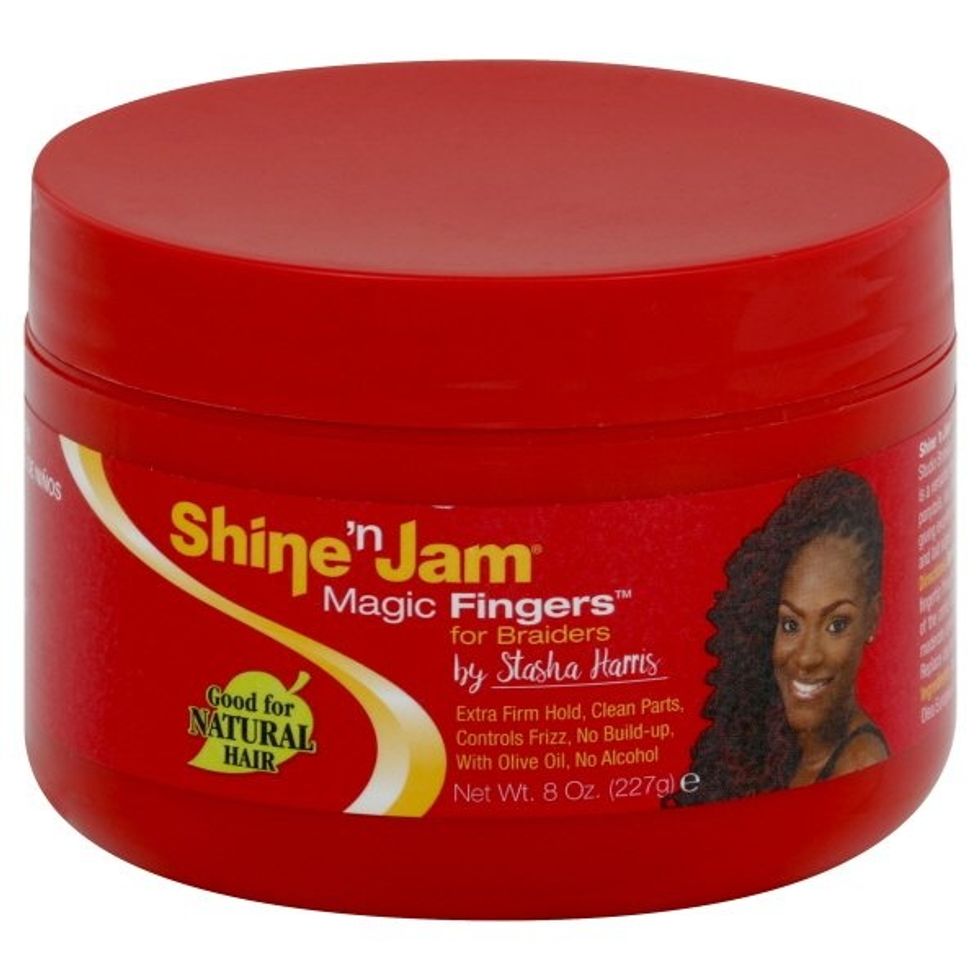 Walmart
If you became a pro at doing your own braids and twists during the pandemic, you know how crucial this jam is for controlling frizz without drying out hair or adding buildup.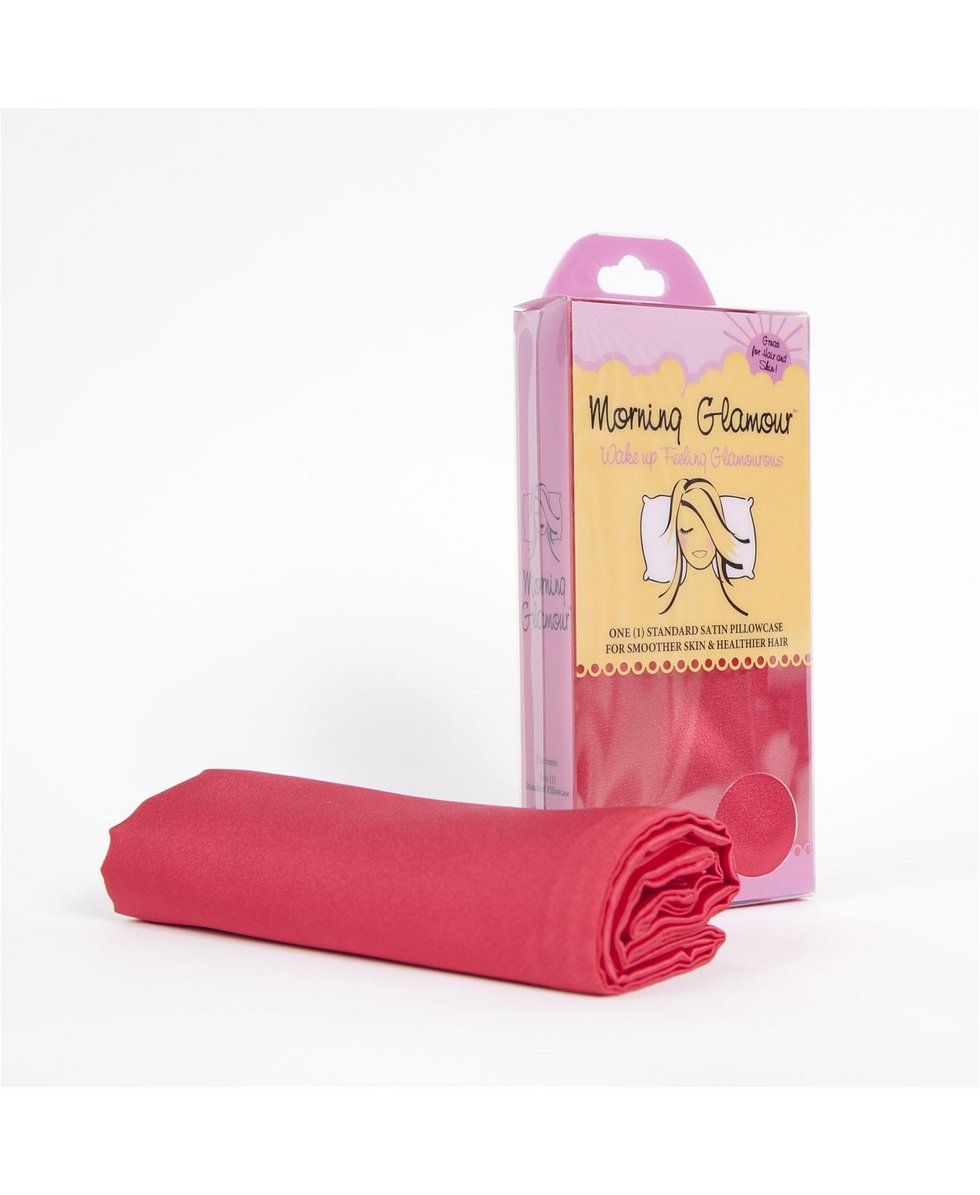 Macys
We don't have to tell you how crucial satin pillowcases are to hair health if you don't wear a bonnet at night. Jump on this holiday sale and score a couple to protect your hair from friction and breakage.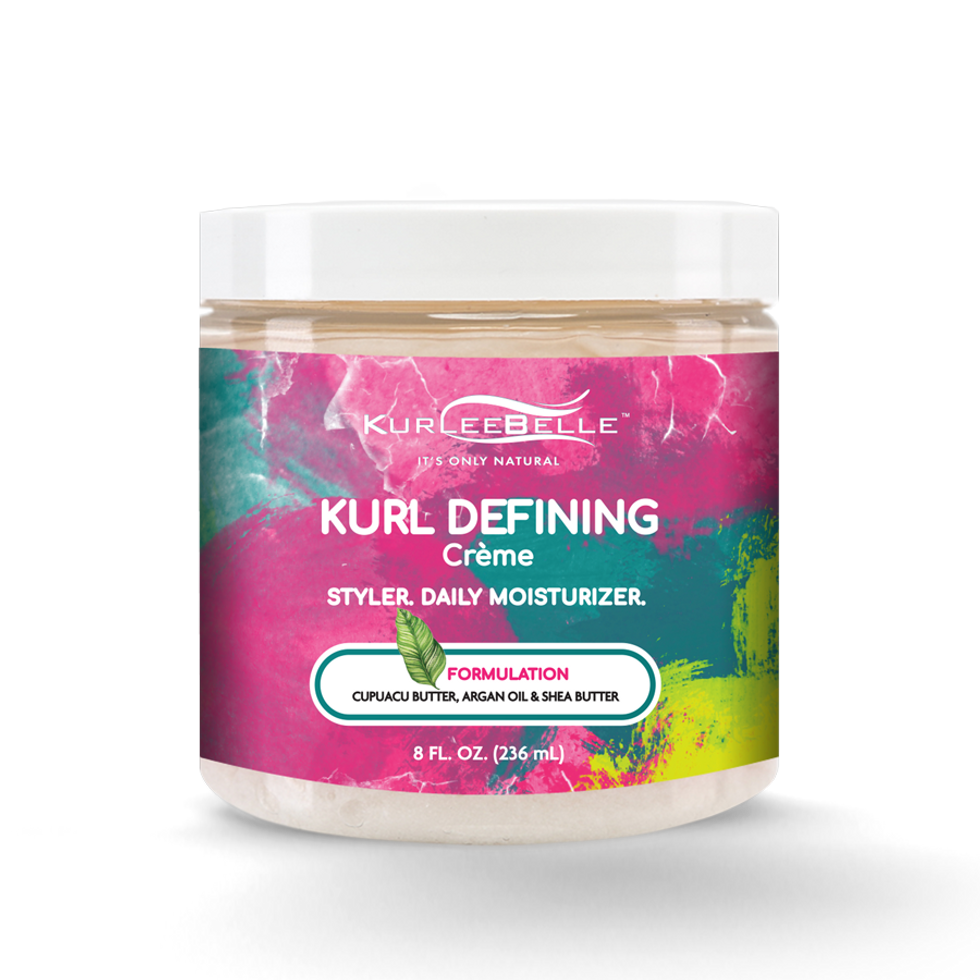 Kurlee Belle
"Twist Out Queen Approved," this creme is made from Cupuacu, Shea Butter and Argan Oil to "melt" into hair and produce smooth, hydrated defined curls.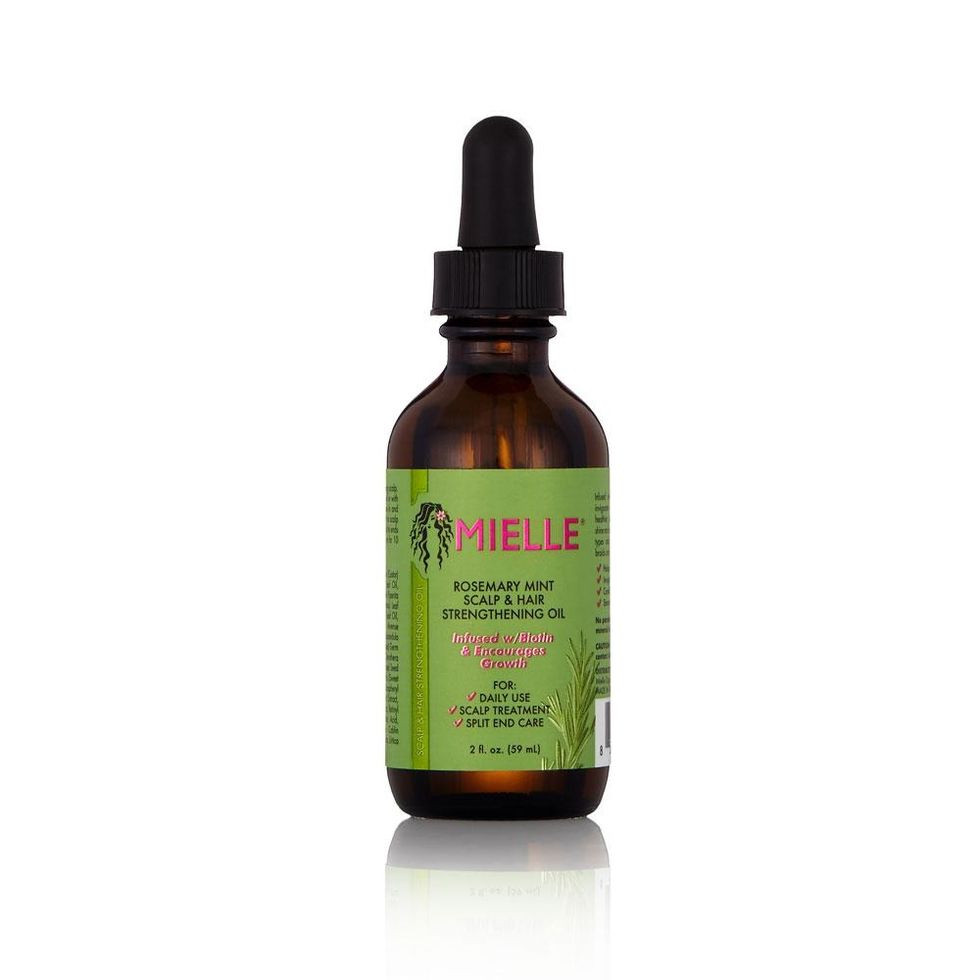 Mielle Organics
Healthy hair starts with a healthy scalp and that's true for all textures. This growth oil helps nourish hair follicles to promote growth and prevent dry scalp while also smoothing split ends with its formula that's a mix of natural ingredients and essential oils to retain length.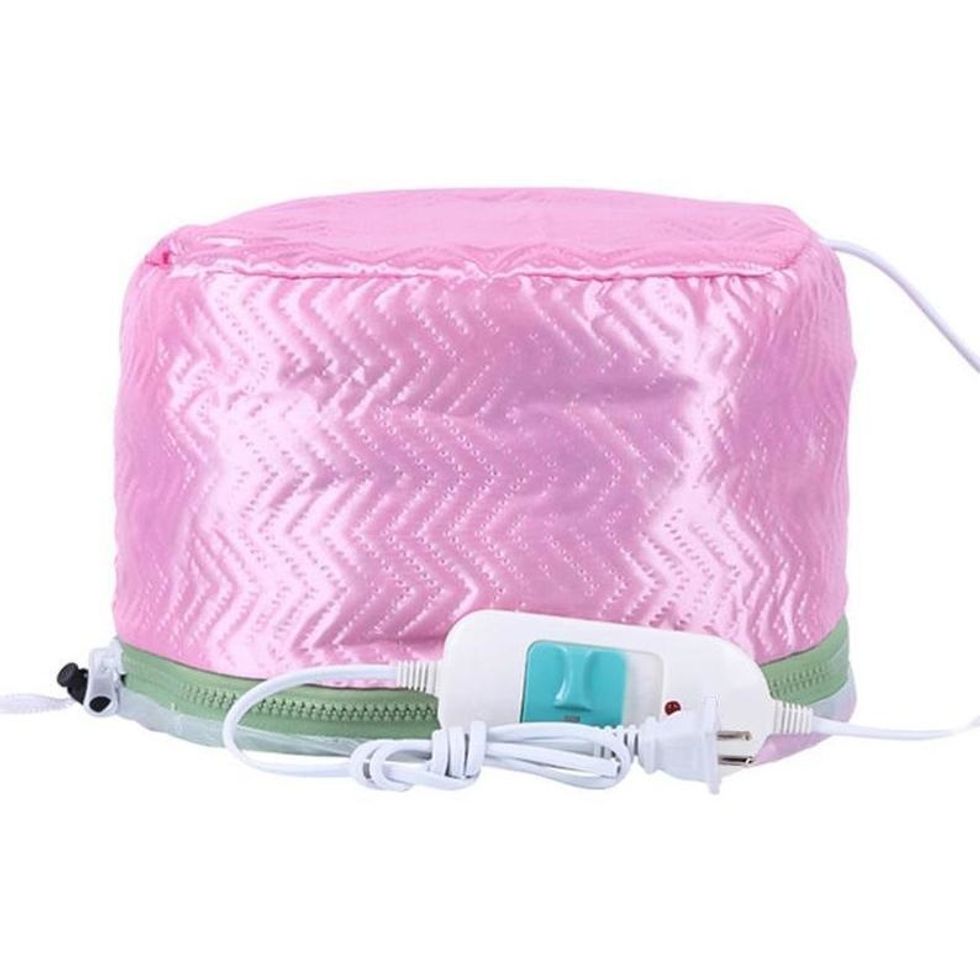 Dreadlock
A common complaint among loc wearers is that products don't penetrate their hair shaft. If that's your struggle, it's most likely time to take a step back and focus on treatment rather than touching up locs with a water, oil, or gel. This electric steamer cap, which works for all natural-haired ladies, loc'd or not, eliminates a lot of the mess that comes with other steamers while still allowing you to get a salon-level hydration treatment right from the comfort of your home.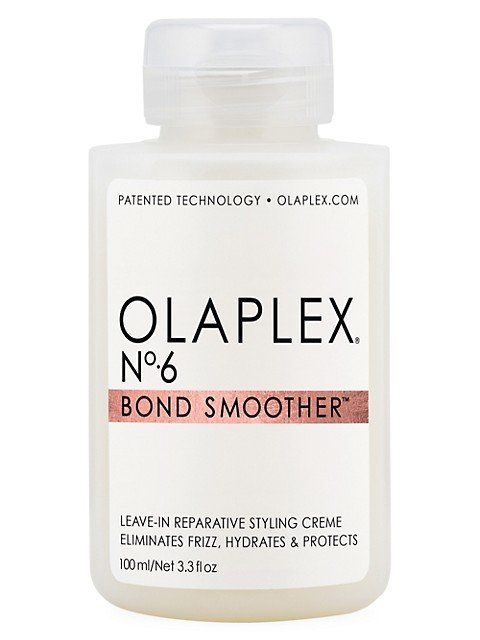 Olaplex
Color-treated hair requires extra TLC and Olaplex's bond smoother is many natural's go-to for hydrating and protecting hair from the damage chemicals can ravage on strands.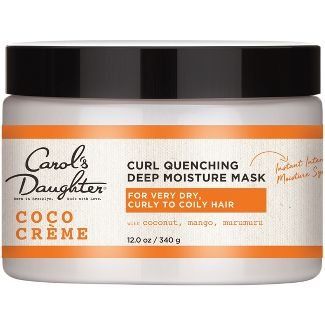 Carol's Daughter's Coco Crème collection was created specifically with coarser textures in mind. The Curl Quenching Deep Moisture Mask is formulated with coconut oil, coconut milk, mango butter and murumuru butter to help hydrate extremely dry textures
Featured image by Shutterstock
Fitness took on a new face once COVID-19 struck at the top of the year. With fitness facilities closed down for months, many had to resort to building their own home gyms, while others struggled to remain active and focused on self-care and building their immunity through healthy eating.
Now that many of us have adjusted to our ever-changing new normal, increasingly focus has centered back on physical fitness. And with the new year right around the corner, we know most of the women in our lives will be looking to recommit themselves to physical fitness. That's why we've put together this list of fresh finds to sneak under your mom and bestie's Christmas tree -- and maybe even your own closet.
*Some links are affiliate links. If you make a purchase, xoNecole may earn a small commission.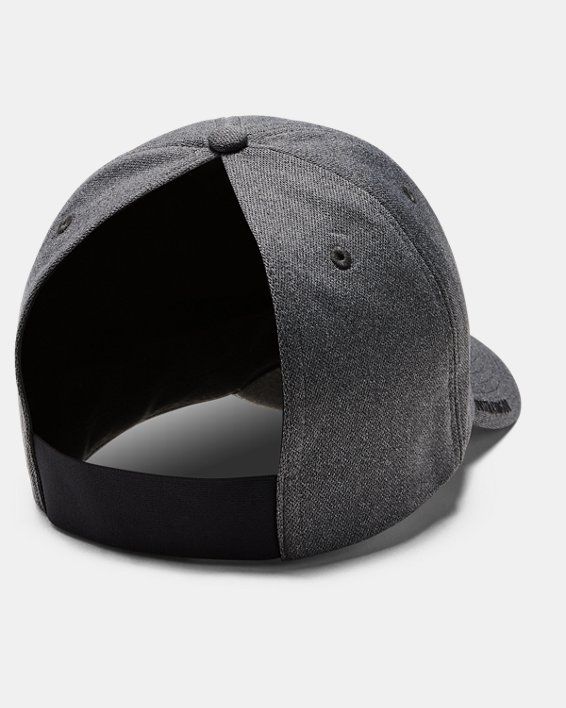 Under Armor
How many times has your puff been ruined by a hat, or you couldn't even wear a cap because it wouldn't fit over your curls? Under Armor has solved that problem with its new multi-hair cap that has an open back panel so you can wear your hair up and out in a ponytail without issue. The fabric cap also has a satin lining to protect your strands while the Iso-Chill sweatband helps keep you cool. You might want to grab one for you and your homegirls.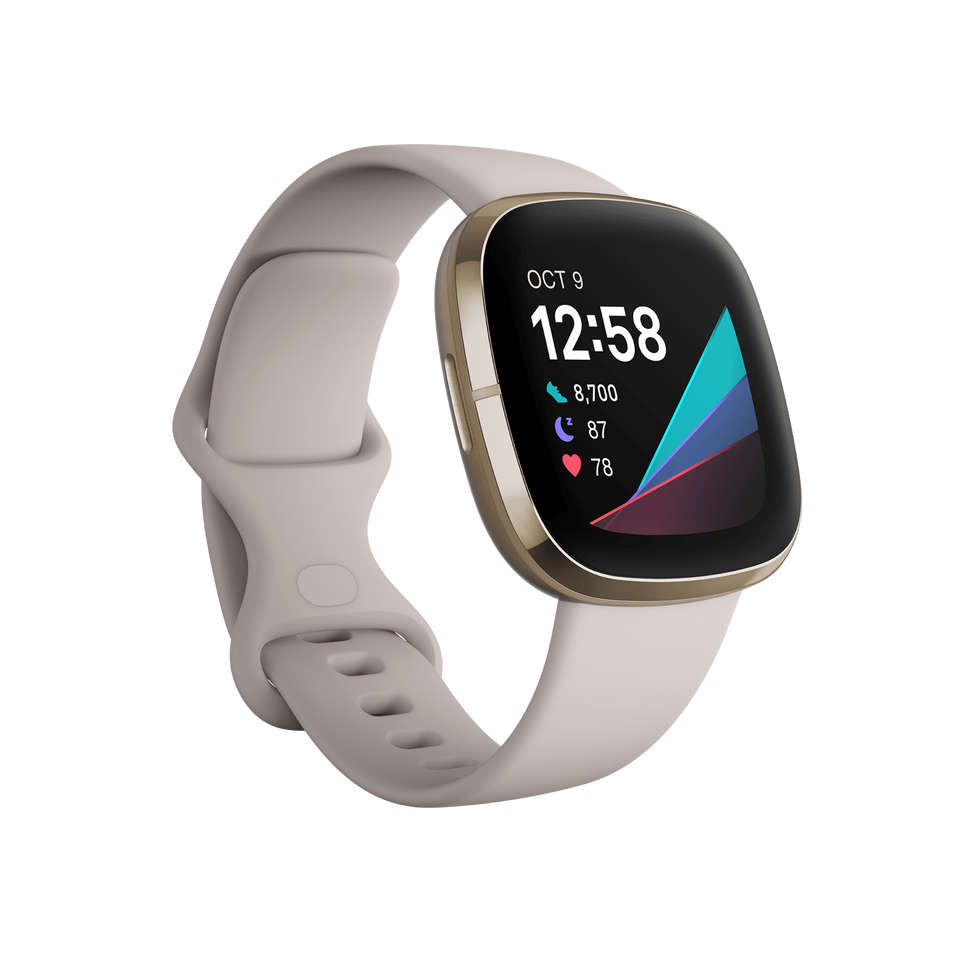 Fitbit Sense
You can monitor everything from your heart rate, calories burned, and sleep score with the newest Fitbit, Sense. The smart watch has built-in GPS, Google Assistant, and Amazon Alexa. You can make calls, get texts and receive smartphone app notifications when your phone is nearby, plus make secure purchases.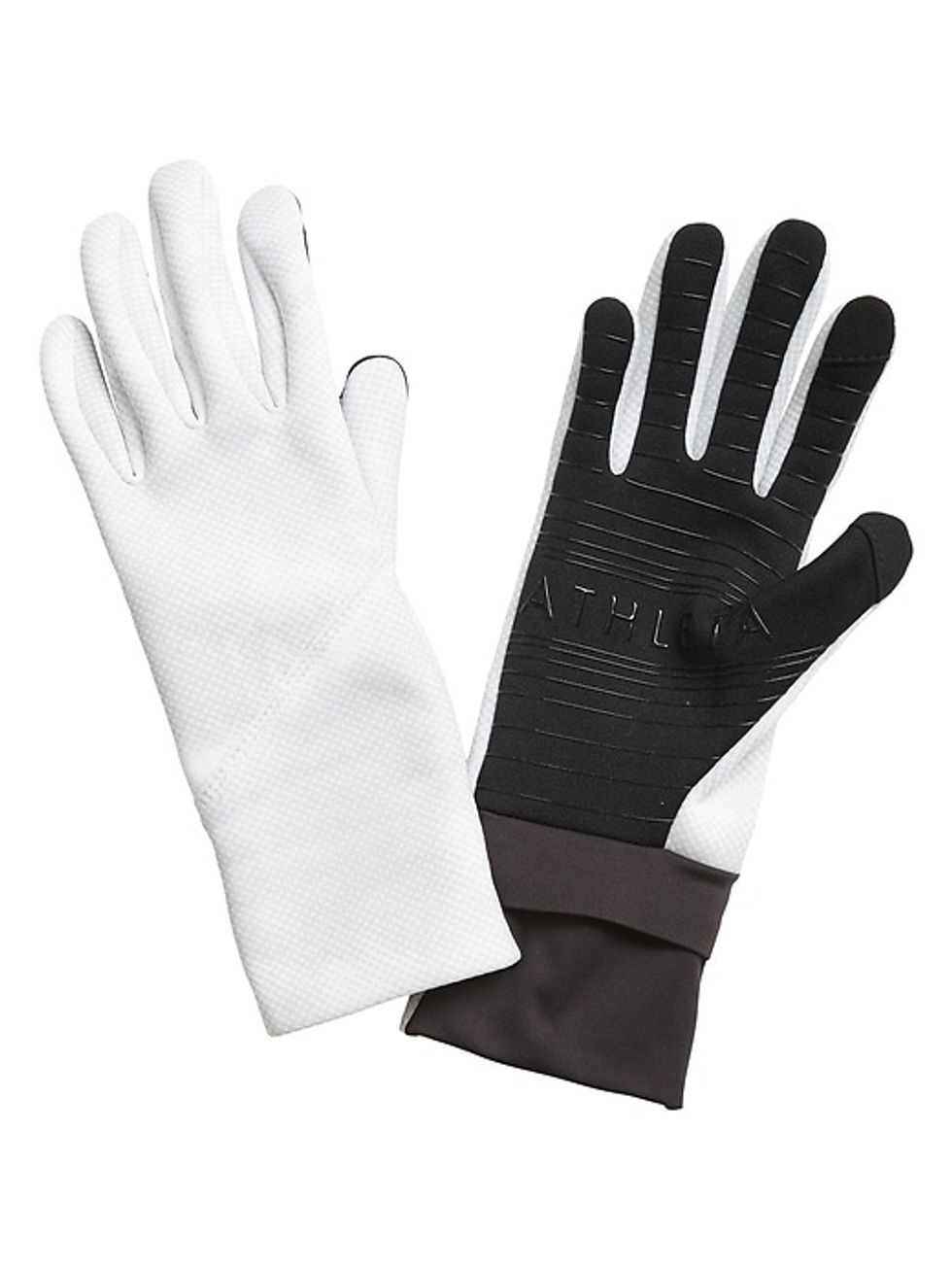 Gap
Now that daylight saving's time has settled in, if you like running outdoors before or after work, chances are you're going to be doing so in the dark. These gloves from Athleta not only keep hands warm, they have reflective detailing to make sure runners are visible to passerby. They're also touchscreen compatible so you can change your songs with ease during your workout.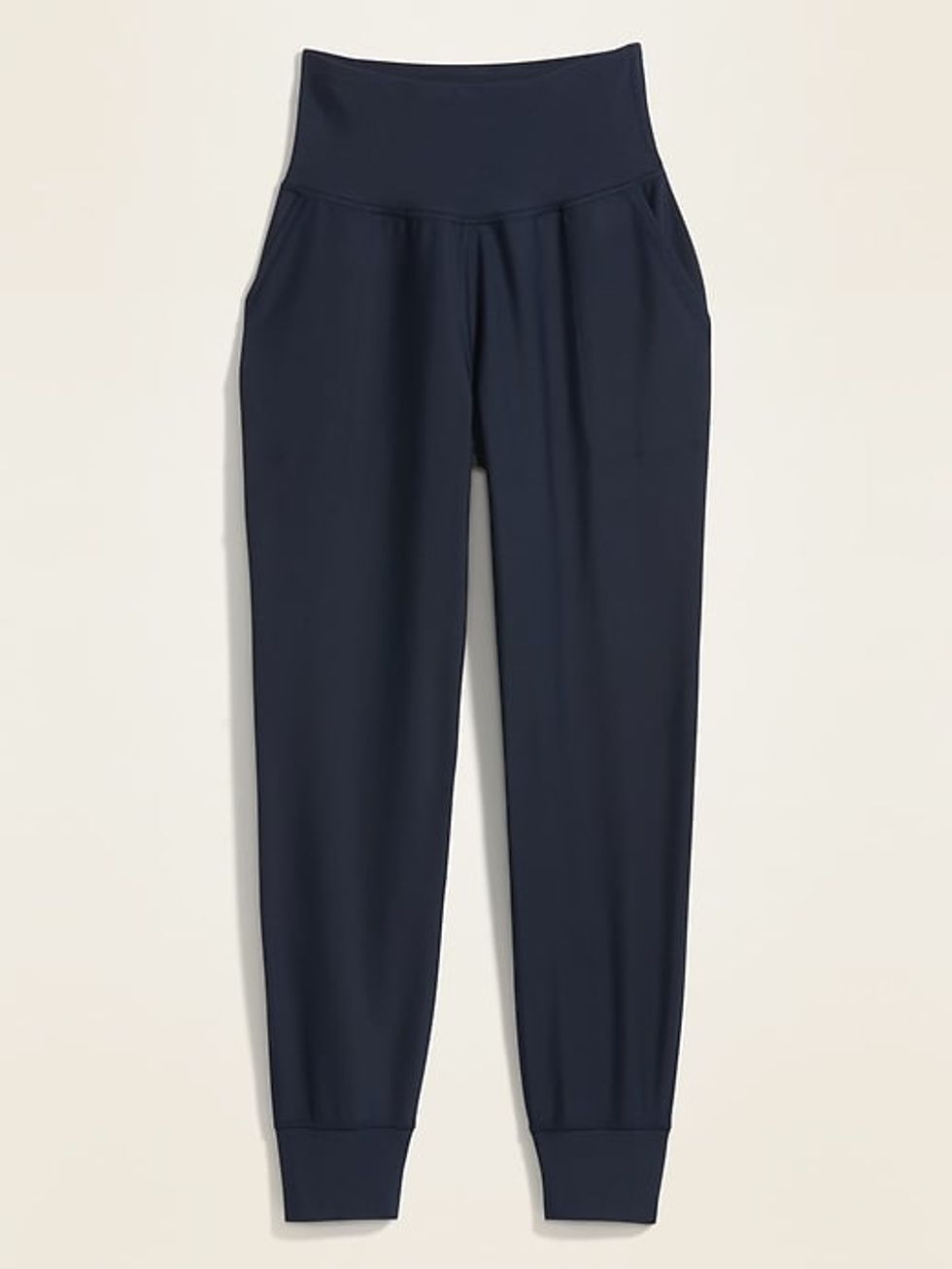 Old Navy
These pants are the perfect blend of lightweight compression and soft moisture-wicking fabric. Four-way super stretch makes them perfect for various types of workouts while the high waist and banded cuff allow you to keep it cute and casual as athletic wear.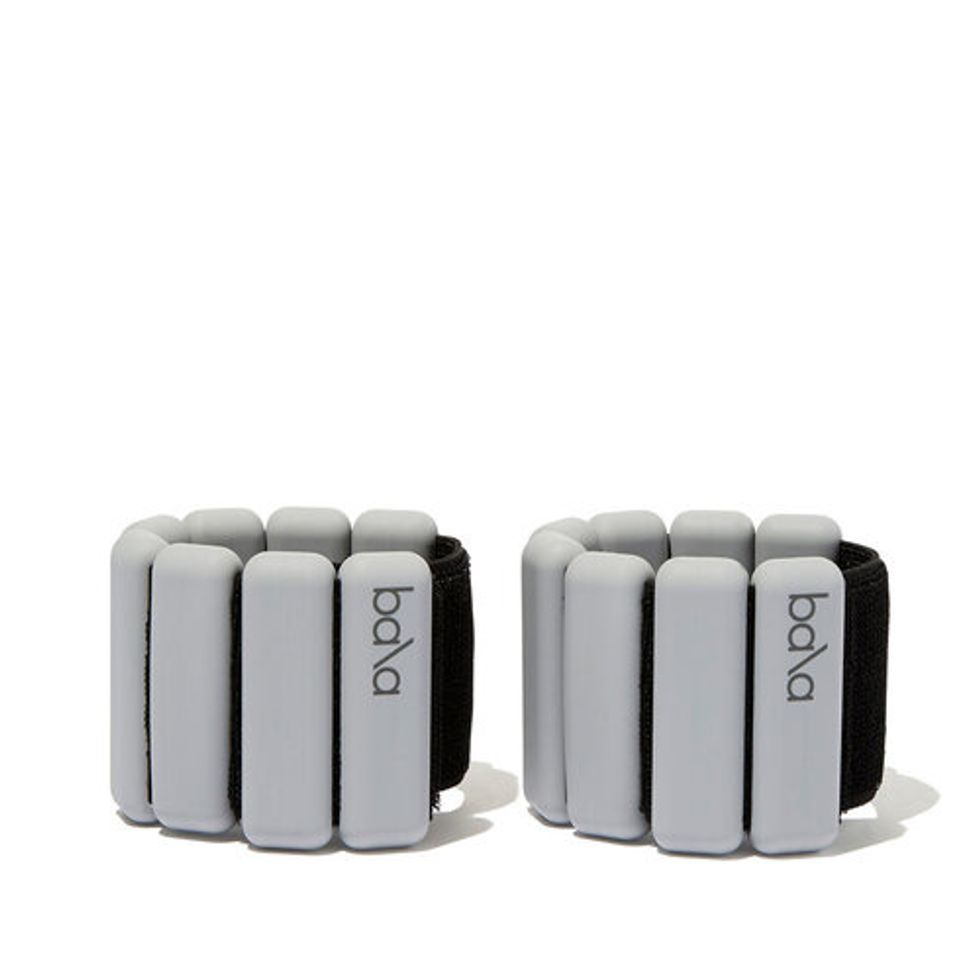 We're all a bit less active these days, so adding something as little as a 1-pound weight to your wrist or ankles can make a big difference as you take your dog on morning walks or even stretch and get your cardio in at home.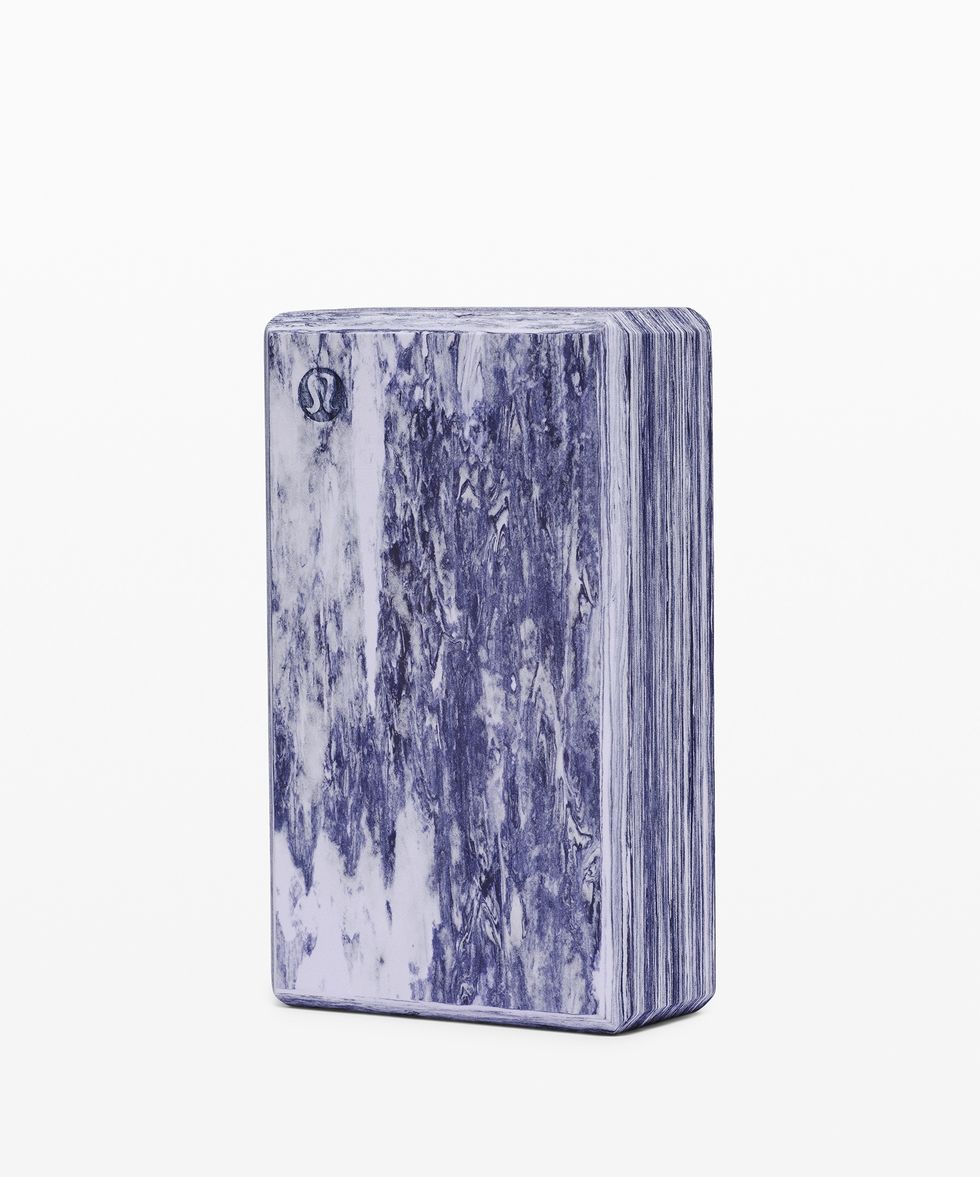 Lululemon
For those who are serious about their yoga practice but haven't quite felt comfortable enough to go back to a studio yet, a yoga block is a great gift. The three different heights of the block provide customized support while also allowing one to deepen their stretch and further develop their practice.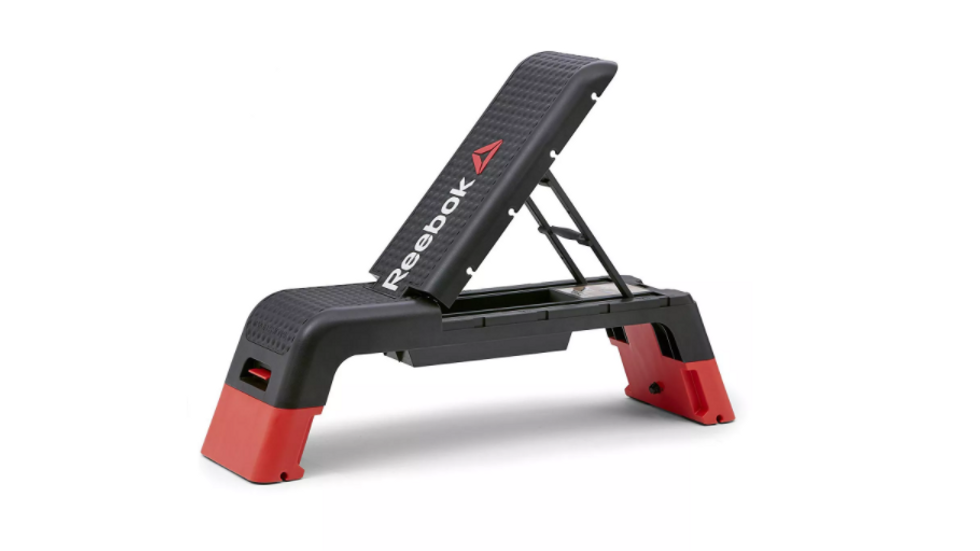 Perfect for the woman who wants to step up the home gym she's been building over the past few months, this multi-use deck functions as a step for cardio and aerobic exercise as well as a bench for weight lifting. You can adjust the incline on the non-slip bobble surface to make workouts harder or easier and included clips allow you to attach resistance tubes.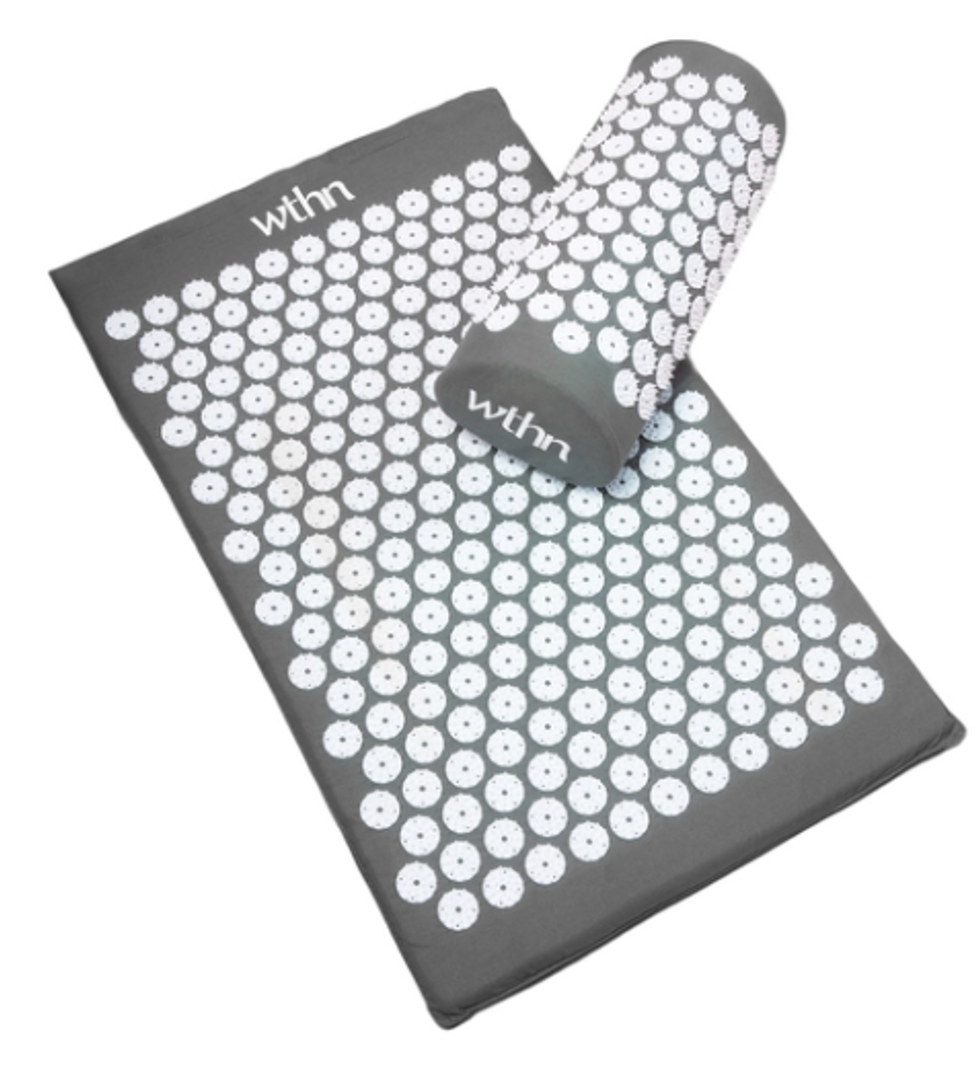 Harness the power of traditional Chinese medicine with this acupressure mat that massages various pressure points on the body and helps relieve stress and tension as you perform various stretches and breathing exercises.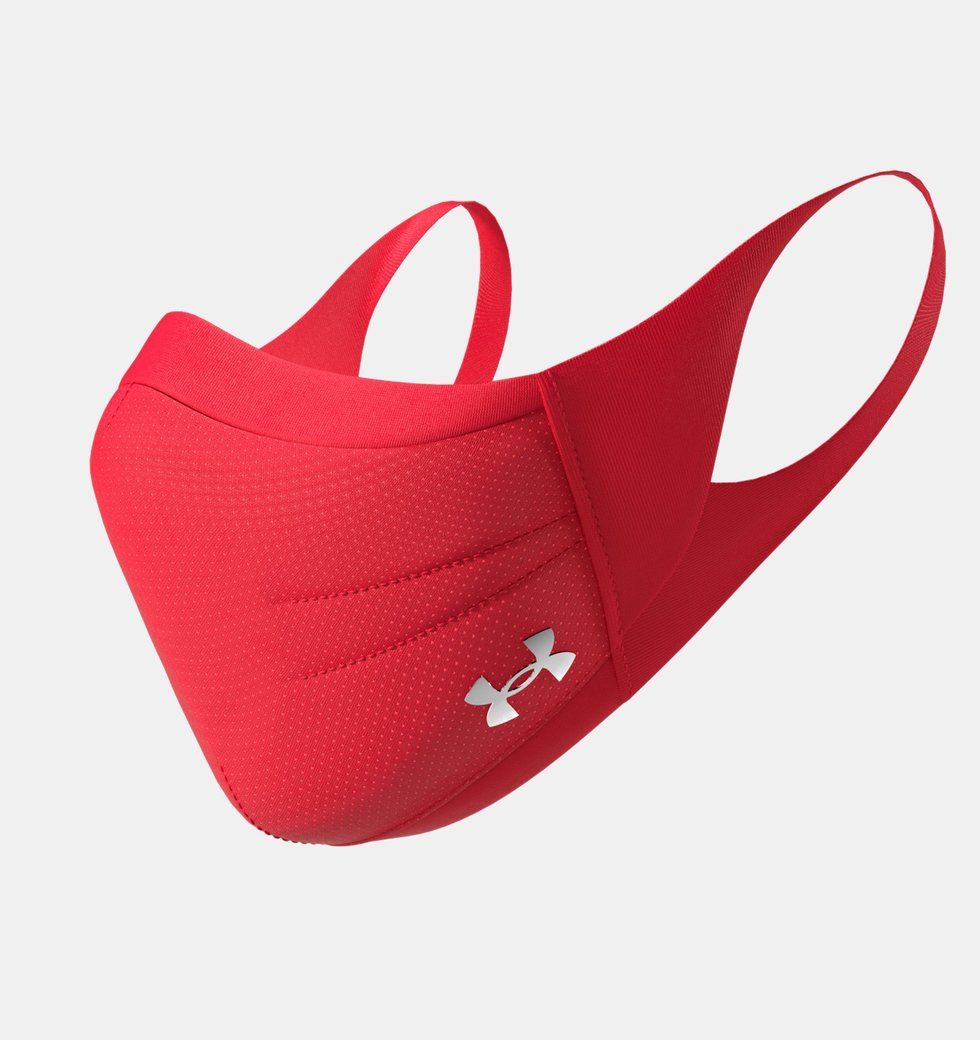 Under Armor
If you've been back to the gym since COVID restrictions let up, you know working out in a mask is far from easy. This Sportsmask from Under Armor makes it a bit easier because of its breathable spacer fabric and Polyurethane open-cell foam that lets air flow freely. Conversely, the material makes it hard for moisture and sweat to pass through, while the anti-microbial treatment on the inside layer of the mask helps keep it fresh.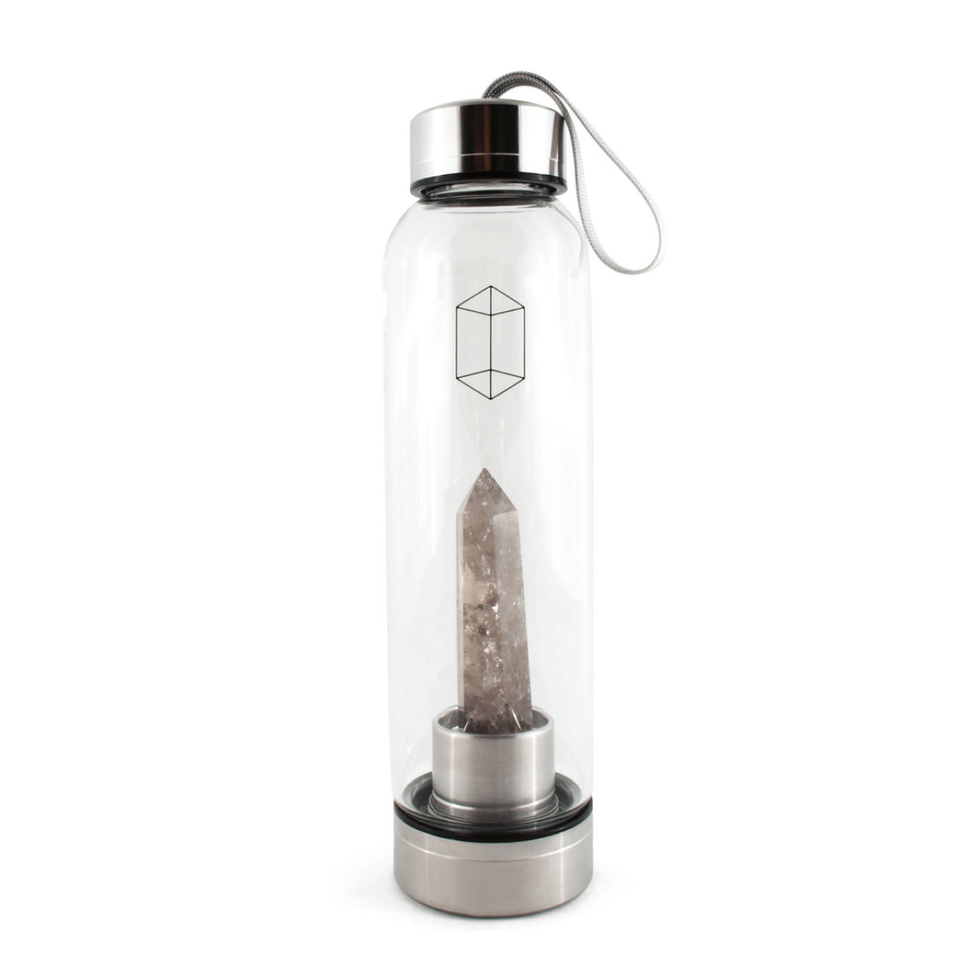 Hit your daily water quota while warding off negative vibes with this glass water bottle that's infused with Smoky Quartz. This crystal is known for anchoring the root chakra, amplifying good intentions, cultivating serenity, and protecting against bad vibes.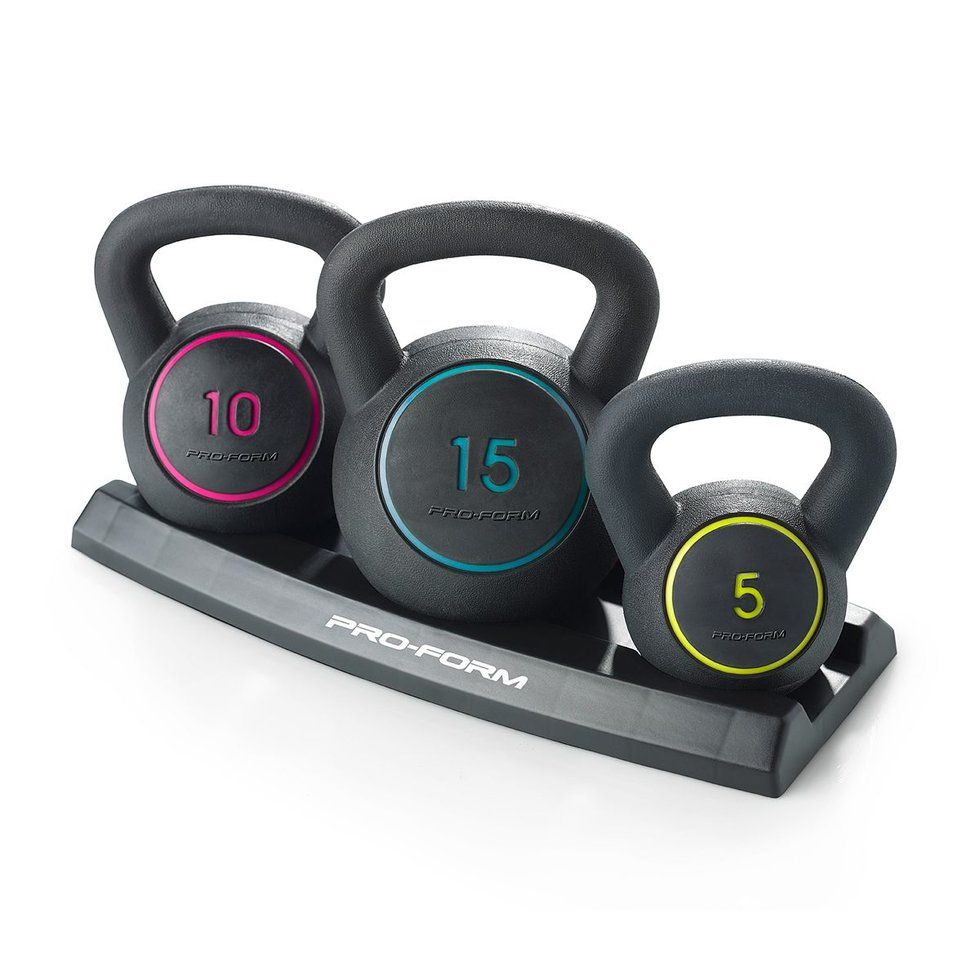 Kohl's 
Kettlebells are one of the most versatile pieces of workout equipment around and this set, which comes with a 5-pound, 10-pound, and 15-pound bell, makes it easy to increase the weight for various moves and progress your workouts.
Featured image by Shutterstock

Black Friday might look a little different this year, at least in the stores. But when it comes to sales, both online and in-store, well they may just be the most normal part of 2020. As we all know, Black Friday has gradually gone from being one day of markdowns that happens the day after Thanksgiving to being a week of sales that often mark the lowest prices ever on many must-have items. With everyone's pockets being a little tighter this year, we have a feeling a lot of people are going to be tapping into these deals sooner rather than later. So here are 15 of our favorite sales from haircare to home goods and skincare to electronics.
*Some links are affiliate links. If you make a purchase, xoNecole may earn a small commission.
Featured image by Shutterstock