Is it me or is 2018 black AF? We are truly in the age of a black girl renaissance. We now know that anything is possible and take pride in understanding that the world is at our fingertips. Women like Issa Rae proved that even the Awkward Black Girl can end up the coolest kid in school, and Tiffany Haddish reminds us that it is still the Year of the Black Unicorn.
This year's MTV Movie and TV awards was blackity black, y'all. Lena Waithe won the Trailblazer Award, The Cast of Black Panthertook home almost every award there was, Chloe x Halle tore the stage down and did it for the culture, but the real winner of last night's award show was Tiffany Haddish.
The 38-year-old Girls Trip actress became the first and only black woman to host the show in the award show's 27 years of programming and reaffirmed to the world that black women aren't just a trend and that we will never go out of style. Tiffany offered what Time Magazine called "the Best Ten Minutes of Award Show history" with her Wakandan-style TLC parody of "Waterfalls" teardown with the honorable King T'Challa, and her reenactment of Cardi B in a movie-themed "Bodak Yellow" remake.
She said in her opening monologue:
"It's been a year of firsts for black people. I'm the first black woman to host the MTV Movie & TV Awards. 'Black Panther' is the first African-American movie to make a billion dollars, and 'The Quiet Place' is the first film to scare black people outta talking in movie theaters, for real."
She also mentioned in her intro that she is the first black woman to gross over $1 billion at the box office, which is remarkable, considering only years ago she only had a few dollars in her pocket and a dream. Tiffany has been transparent in the past about growing up in a life of poverty and abuse, and using comedy as a way to protect herself in foster care. Her same ability to use comedy to fend off and befriend bullies is the same gift that got her on the stage of her dreams.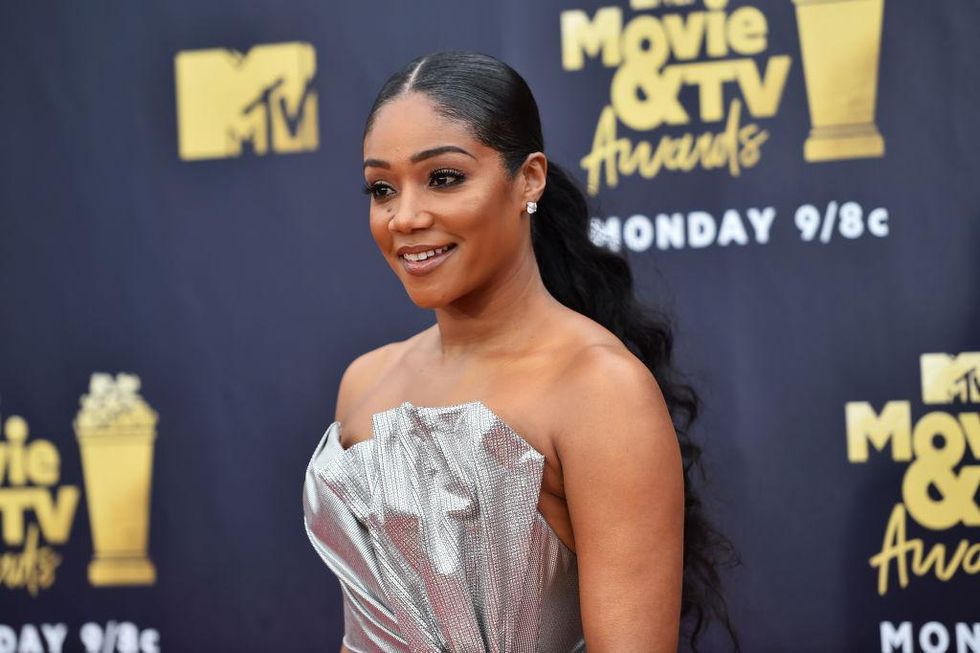 Alberto E. Rodriguez/Getty Images for MTV
During her performance as host, her hilarious one-liners left her celebrity audience in tears, and her wardrobe did not come to play. With a total of 10 wardrobe changes, Tiffany Haddish served up some classic vibes in her recreations of famous celebrity looks, including her own. We got to see her famous Alexander McQueen dress for the fourth time, along with iconic looks from J.Lo, Audrey Hepburn, and Meghan Markle.

Her performance is one that will be talked about for months, and came at the heels of a number of new TV and Movie Roles in which she has a lead role. Tiffany does the damn thing, and is a testament to the fact that pressure really does make diamonds. As bright as she shines, Tiffany says that she will never forget where she came from. She posted on Instagram:
"When I was 16 years old, my grandma gave me a piece of jewelry with a tiny diamond in it (and when I say tiny I mean put on glasses to see it tiny) and she told me every girl should have a real diamond by the time she is 16. Even when I was that young, there was nothing like that feeling of having the real thing, I thought I was a princess with my little diamond. Which makes a night like tonight—when I'm hosting the MTV Movie & TV Awards—that much more special. Because when it comes to expressing what is real — real moments, real caring, real love, and real emotion, only the real thing will do. Thank you Grandma for teaching me that being real feels really good @realisadiamond #RealisRare #ad."
We see you Tiffany, shine on baby girl.
Featured image by Alberto E. Rodriguez/Getty Images for MTV