Sex is different things for different people, at different times in their lives. It's potentially casual. Fun. Penetrative or not. Passionate. Intimate. Intentional. Performative. Obligatory (cringey but yes). Religious. Spiritual. Boring. Sex is transformative. Sex is a love language (physical touch). Necessary. Goal-oriented. Freaky. Healing. Loving. Or...Tantric! And in many instances, they are a compilation of these things, and definitely some that weren't listed here, as in the case of the very last adjective that I listed "tantric sex".
At least, that's the impression I get from my own deductive reasoning skills, but what do I know other than what American Pie taught me? But my curiosity is piqued and I'll bet yours is too, so Tantric Holistic Therapist Prandhara Prem clued us in on exactly what tantric sex is and how we can have more of it. First things first, she answers the obvious, more glaring question: what is tantric sex? Prem describes tantric sex as "a meditative form of sex, which has the ability to heal the individuals performing the act of sex. It is a process of expansion through breathing techniques and sexual positions that allow you to be present in your body."
She continued, "It is a beautiful experience in which the couple increases their intimacy and connection through being in the moment and focusing on each other and the journey with no end goal in mind. Tantric sex takes away the pressure of having to perform or have a certain outcome." Furthermore, "Tantra is spiritual, thus tantric sex is sacred."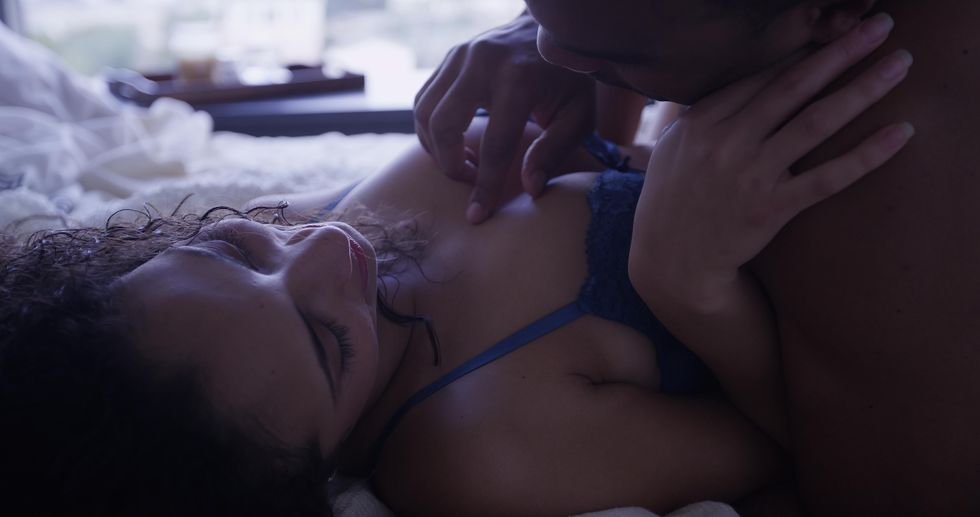 Shutterstock
Though both tantric sex and Kama Sutra share the sacred element that allows for the exploration of "desire, intimacy, liberation, expansion, and curiosity", they differ in that Kama Sutra is sacred texts that shows specific sex positions for pleasure, expansion, healing and growth. Kama is the Sanskrit word for sex." There's less of an emphasis on the meditative parts such as breathing and sensual touch that reduces the stress that may come with goal-oriented sex.

Although the practice of tantric sex is for anyone -- she means that literally as you can practice tantra via solo sex, in monogamous hetero or homosexual partnerships, and ethically non-monogamous relationships as well -- it's important that you truly and authentically commit to the art of this practice. "If you are going to practice Tantric sex, learn the history and as much as you can and honor where it comes from. Honor the sacredness behind it," she advised. "The best way to not colonize or appropriate is to simply appreciate and pay tribute to its roots and not take it as your own. Make sure to not just have tantric sex just for fun or to get your rocks off. It is not about that at all. Maintain the sacredness and integrity of the practice."
If you feel capable of honoring your own curiosity while also honoring, respecting, and uplifting the cultural elements of this practice, move your Candyland piece a little closer to the winning end for more information on the "how" of it all.
We've got the who, what, and the why of tantric sex but, as promised, here's more on the how.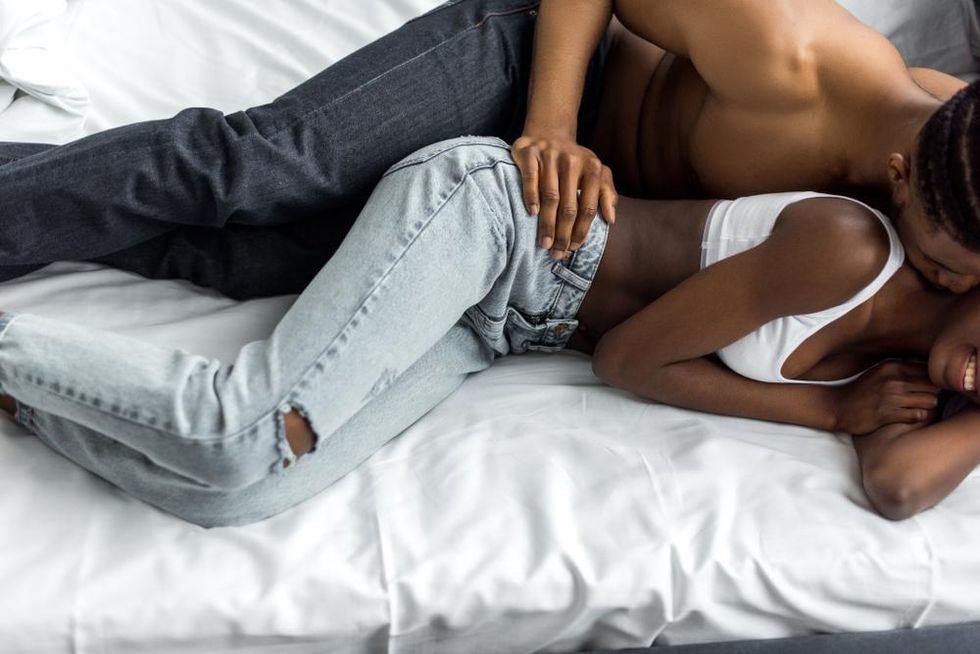 Shutterstock
Prem compared tantric sex to a reflexology massage, further explaining: "Our genitals have reflexology points just as our feet, hands, ears, and eyes do and so when we have conscious tantric sex, we can heal and balance the energy in the organs that are located on the genitals." If we, "think of it as having a reflexology massage...through conscious sex, we could massage those points thereby releasing the traumas and blockages within the genitals and body."
Prem recommended for those interested in the practice to begin by taking a course led by a practitioner or teacher whom they're comfortable with and reading Urban Tantra by Barbara Carrellas. But reading or taking a class means nothing if you don't practice. Prem urged us to put the techniques from books and classes to practice. Retaining this information requires more of a hands-on learning approach than we're used to, but I imagine these are the types of homework assignments all of us dreamt of in high school sex-ed. Though keep in mind, that reaping the word comes with doing the foundational work. It's like our expert says: "It is really all about practice, breathwork, and being open to experience new sensations."
Prem also recommended two other reads,The Heart of Tantric Sexand The Art of Everyday Ecstasy. She reminded us that while "most of the times you will see examples of heterosexual couples, you can modify the positions and techniques" based on sexual orientation and such. Also suggested was finding community through platforms such as Facebook and/or Instagram in order to find classes and the like.
Here are 6 steps to introduce tantric sex into the bedroom, per Prem: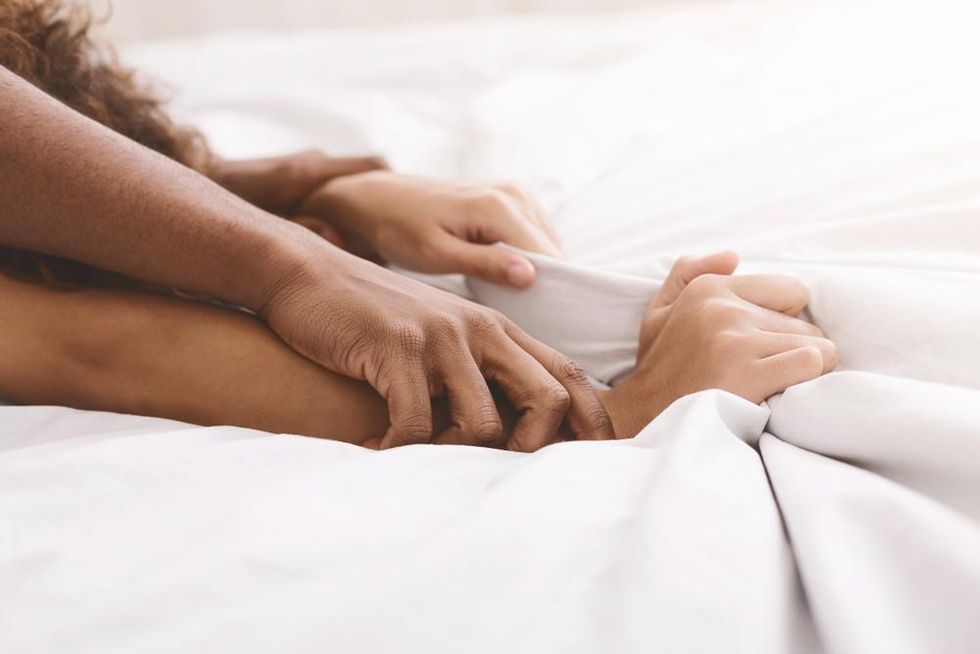 Shutterstock
1. Mood Setting
"Tantra is about expanding the senses so it really stimulates the senses through incense, soft or sensual music, candles, pillows for comfort, and dim lighting."
2. Proper Breathing
"This is important to get you grounded and centered. I recommend to my students to breathe in a nice, deep breaths through the nose and expand the belly to get a full breath. Next, exhale slowly and deeply through the mouth. The more you practice breathing, the more it becomes natural and automatic. Most of us breathe incorrectly with short, shallow breaths."
3. Eye Contact
"Trataka which is the Sanskrit word for eye-gazing. Eye contact will help you both feel more intimate and connected during sex. I tell my students to choose one eye to look at to prevent the eye movements which can be a distraction."
4. New Positions
"Sit in Yab Yum position and breathe together. This is a position in which one of the partners sits cross-legged and the other sits on top. In traditional heterosexual relationships, the male sits on the bottom and woman on top. In homosexual, you can have the bigger of the two on bottom or the one with more masculine energy on the bottom. Whichever feels better to you. Simply breathe together. As one breathes in, the other breathes out and vice versa. This helps to align the chakras and energy within the two of you."
5. The Foreplay
"Sensual or erotic touch or massage. A woman needs at least 20 minutes to open up and relax so the longer you can prevent penetration the better. It's also important to redefine sex so that it is not just the penetration. All of these steps are a part of having sex. Practice asking for what you want and saying how it is feeling. Many people think this will kill the mood, but it does the opposite. It takes off the pressure from your partner from wondering if they are pleasing you."
6. Open & Happy Endings
"You can actually end here and cuddle or introduce penetrative sex. These positions can incorporate the Kama Sutra positions or specific tantric sex positions. I teach specific positions which are different from Kama Sutra."
Though Prem has provided us with a ton of wonderful information and resources in order to get our feet wet, please be mindful that at some point you will need a teacher in order to grow your knowledge. Similarly to how a gym trainer ensures we're using proper technique, Prem suggested a teacher at some point in order to provide guidance and proper technique.
Last but absolutely not least was a gentle reminder from Prem: for those of you looking to journey, "the most important thing when it comes to tantric sex is to be open and trust the process. Surrender, open up, and have fun. Enjoy the journey. Tantra has to be lived and you can't be in your mind. Like tantra, tantric sex is all about the experience."
Are you a member of our insiders squad? Join us in the xoTribe Members Community today!
Featured image by Shutterstock