I was close to entering my early twenties when I discovered the wonderful world of "pegging." There was something so arousing about seeing a woman with her harness and dildo in tow, fully dominating a man in a way where he was fully submissive. I dabbled a time or two myself in that arena, and I'm convinced there's nothing like it. I have yet to encounter another cisgender man who is comfortable enough with his sexuality to allow that terrain to be explored, but I'm just saying.
---
In addition to being used by straight women on straight men, strap-ons have long since been used for penetrative sex by lesbian women, trans men, people with erectile dysfunction, and more. Strap-ons can be used by anyone to penetrate anyone consensually. It is a sex toy for the purpose of evoking pleasure and that isn't limited to any one gender or circumstance and it isn't contingent on the genitalia of the giver or the receiver.
If you've ever wanted to explore strap-on play with your partner, xoNecole has you covered! We talked to certified sex educator Jennifer Eden who says, communication is key. "Talk about what you want to do, how you want to feel, and maybe even why you feel drawn to try it," they advise. "Porn isn't always a great sex ed resource, but it can be a great jumping-off point. Find a flick that shows what you want to do, and have a conversation with your partner about what you see. What do you like about it? What would you want to do differently?"
Here are Eden's best beginner strap-on tips to incorporate into your strap-on play.
1

.

When you go shopping for your first strap-on, know what you're looking for.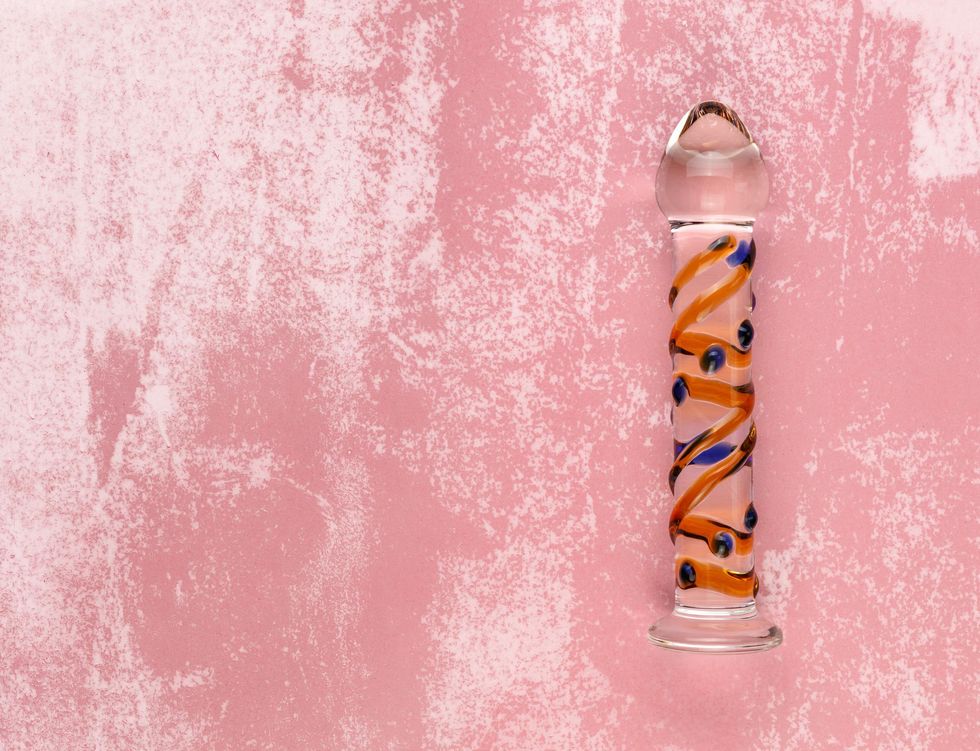 Getty Images
"A strap-on is technically two components - a harness and a dildo. And in most cases, those items are sold separately," Eden tells xoNecole. "When it comes to your harness, there are a lot of options: adjustable, padded, leather, briefs, boxers, and the list goes on. You want a style and fit that works best for your body and your self-concept. For example, if you would be distracted by straps pressing into the flesh of your hips and thighs, you may want to consider a brief- or boxer-brief-style harness for a smoother look and feel."
2

.

Get over the heteronormative and queerphobic hang-ups around strap-ons
"Sex toys are inanimate objects and have no gender. So your orientation or the way you label your sexuality doesn't change just because you've introduced a new activity or accessory to your sexual repertoire. Allow yourself to adopt the mindset of pleasure over everything - over labels, over stereotypes, over limiting beliefs, and especially over that little voice in your head that says 'you shouldn't be doing this.' Ask yourself what's more important to you - fitting a label or feeling good?"
3

.

Consider the material, size, and color of your dildo of choice.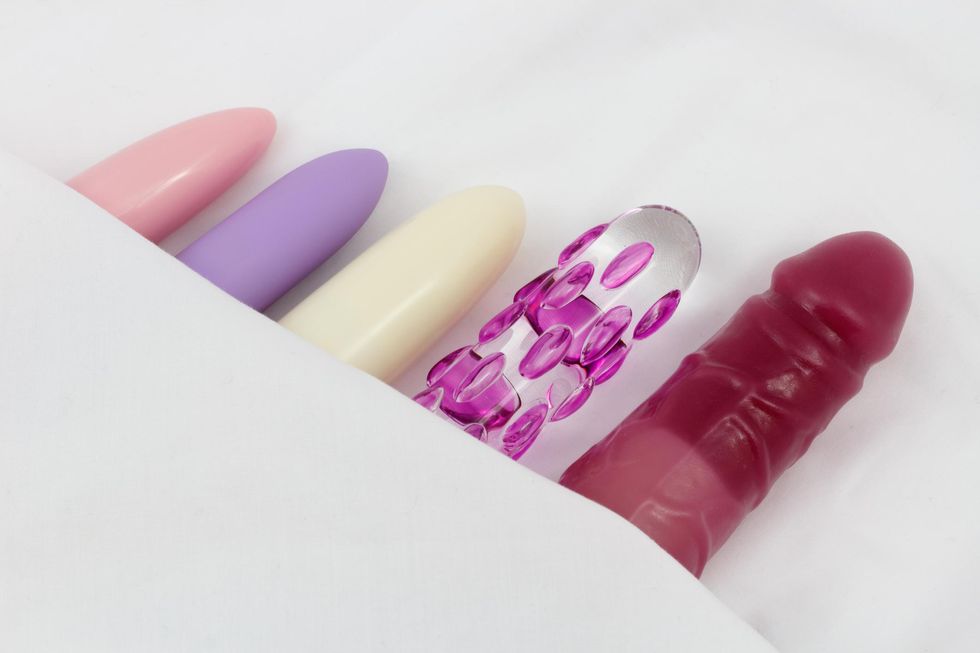 Getty Images
"When it comes to the dildo, there are even more options! You want to consider material, size, and color to narrow down your search. If it's safe and accessible to you, I recommend going to your local adult store rather than shopping online. That way you can see things in person instead of relying on pictures and descriptions. Which aren't always accurate."
4

.

Spend time wearing your harness before introducing it into the bedroom.
"Your first time wearing your harness shouldn't be when you and your partner are about to get it on," Eden says. "Spend some time wearing it before go-time. Put it on, stand in the mirror, and move your hips. Do some squats, some lunges, some toe-touches. You're probably chuckling to yourself at this point but I'm serious. You want to see how the harness moves with your body and, more importantly, if it's comfortable.
"Is it digging or pinching around your hips or thighs? Depending on the style of harness you have, you might be able to adjust it to your comfort. Is your dildo pointing at the floor? Your harness may not be able to support the weight of the dildo you chose. It's best to find these things out before your debut performance."
5

.

Lube is your friend.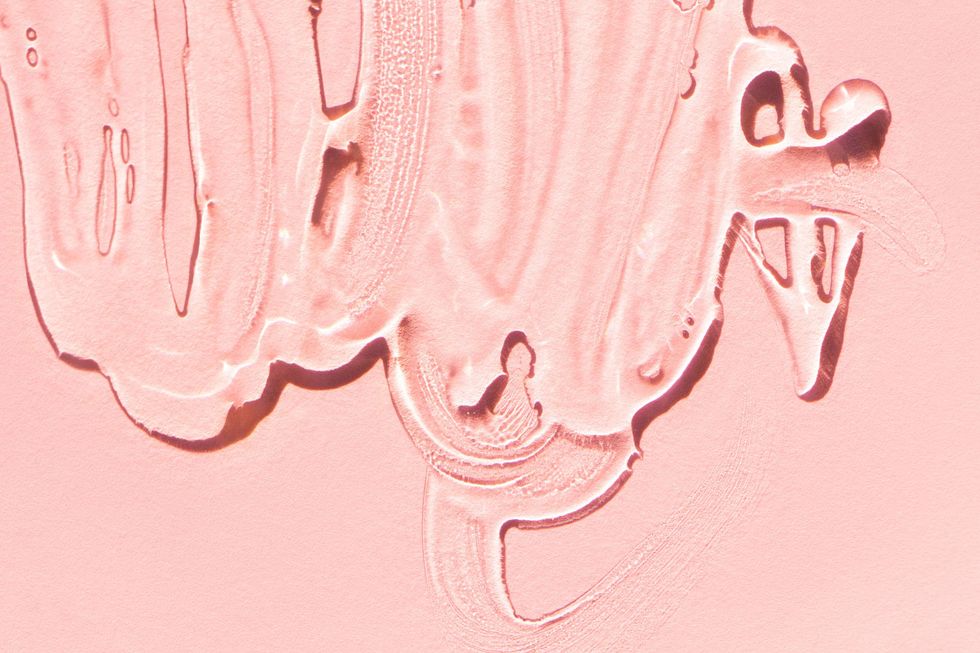 Getty Images
"The vagina self-lubricates, the bootyhole does not. Both these holes, and any other fold or crease you might want to play with, can always benefit from some added moisture. There's this myth that using lube is a bad thing. But why make the body do extra work? The body's natural moisture may change for a number of reasons. Maybe you haven't been drinking as much water as you should. Maybe it's cold in the room. Maybe you've recently switched up your medications or supplements.
"Whatever the reason, adding a little lube can make it a more comfortable and pleasurable experience for everyone involved."
Let's make things inbox official! Sign up for the xoNecole newsletter for daily love, wellness, career, and exclusive content delivered straight to your inbox.
Featured image by Getty Images