Getting in my own pants is a guaranteed good time. I give myself what I want, when I want it. Quickies when necessary. Foreplay when desired. And, ultimately the variety that is sometimes lacking with partners for many different reasons.
---
As with anything, including sexing ourselves, there's always a way to shake things up. For some, it may be higher vibrations. But, a simple way to create a heightened sensation while pleasuring yourself is adding a lubricant into the mix.
Forget all that you may have learned about using lube, and get you some.
It does not mean you don't have the wet-wet, but that a little wetter is always better.
Still, it's critical to your experience that you know what you're looking for.
As someone who only recently began dabbling in the mythical world of lube, it can feel slightly overwhelming when you realize it's a little more than picking a rando lube off the shelf and simply throwing it in the bag.
With the help of International Pleasure Coach Tyomi Morgan-Najieb, we created a comprehensive guide to selecting top-notch lube -- safe for your body, as well as your toys.
Material Girl
First things first, you've got to know what you're working with! Tyomi tells us that this means knowing the material of your toys, as well as that of the lube itself.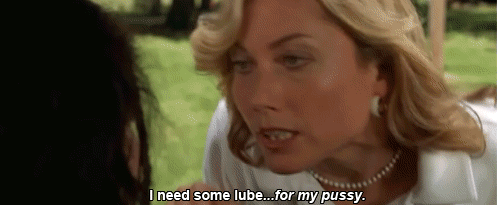 Aside from generally knowing what you're putting in your body, this is important because lubes made from certain ingredients can damage your toys. Rest assured that coming out of pocket to pay for another toy would be far from the pleasure you were hoping for, when you set out to explore.
She reminds us of the range of materials that our toys can be made from, listing metal, glass, silicon, gemstones, wood, and rubber, while also providing the various "Over the Counter lubricants" including water-based, silicone-based, oil-based, or a hybrid (water/silicon).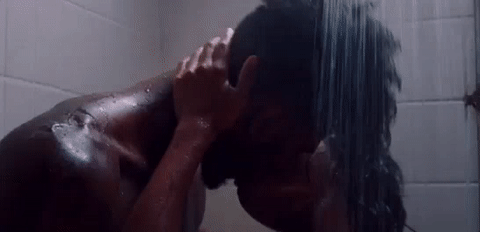 Additionally, we're cautioned against lubricants that include petrochemicals, paraben, and synthetic glycerin.
Unfortunately, Tyomi says, "Many over the counter (OTC) lubricants on the market contain these chemicals, and they can be harmful to a woman's reproductive system," giving us all the more a reason to investigate and ask questions before just buying any old lube.
To further emphasize the importance in doing so, sexpert Tyomi also shares that "women who have experienced adverse reactions to lubricants have had reactions to these aforementioned chemicals because of their toxicity… [Therefore], when shopping for lubricants for toys, all of these things should be taken into account."
Now that you know what you're looking for, here's the breakdown of each type of lubricant.
Water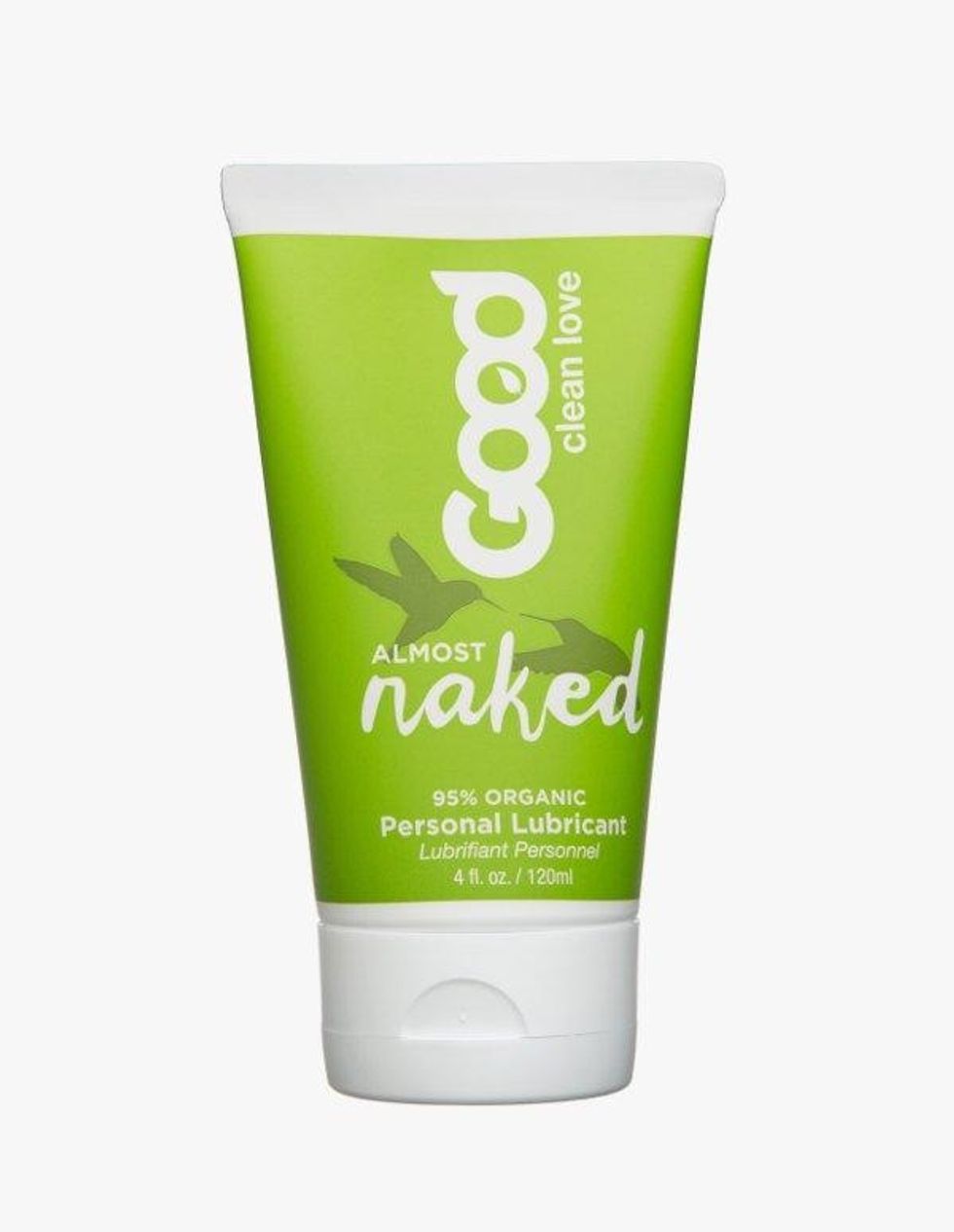 Shop Here
Consider water-based lubricants to be the universally accepted form of moisture. As Tyomi says, "In general, water-based lube can be used with all of these materials because its base is H2O and won't harm the toys."
Furthermore, "water-based lube can also bring hydration to the vulva and vagina. [Also, it] can be revitalized by adding water when it begins to dry up."
One major exception to water-based lube is using it in your bath or shower, as in don't do it. Unlike other types of lubricants, water-based lubes will wash off quickly when saturated in more water. Should you want to take your play time to the shower, the lube you're looking for is silicone.
Silicone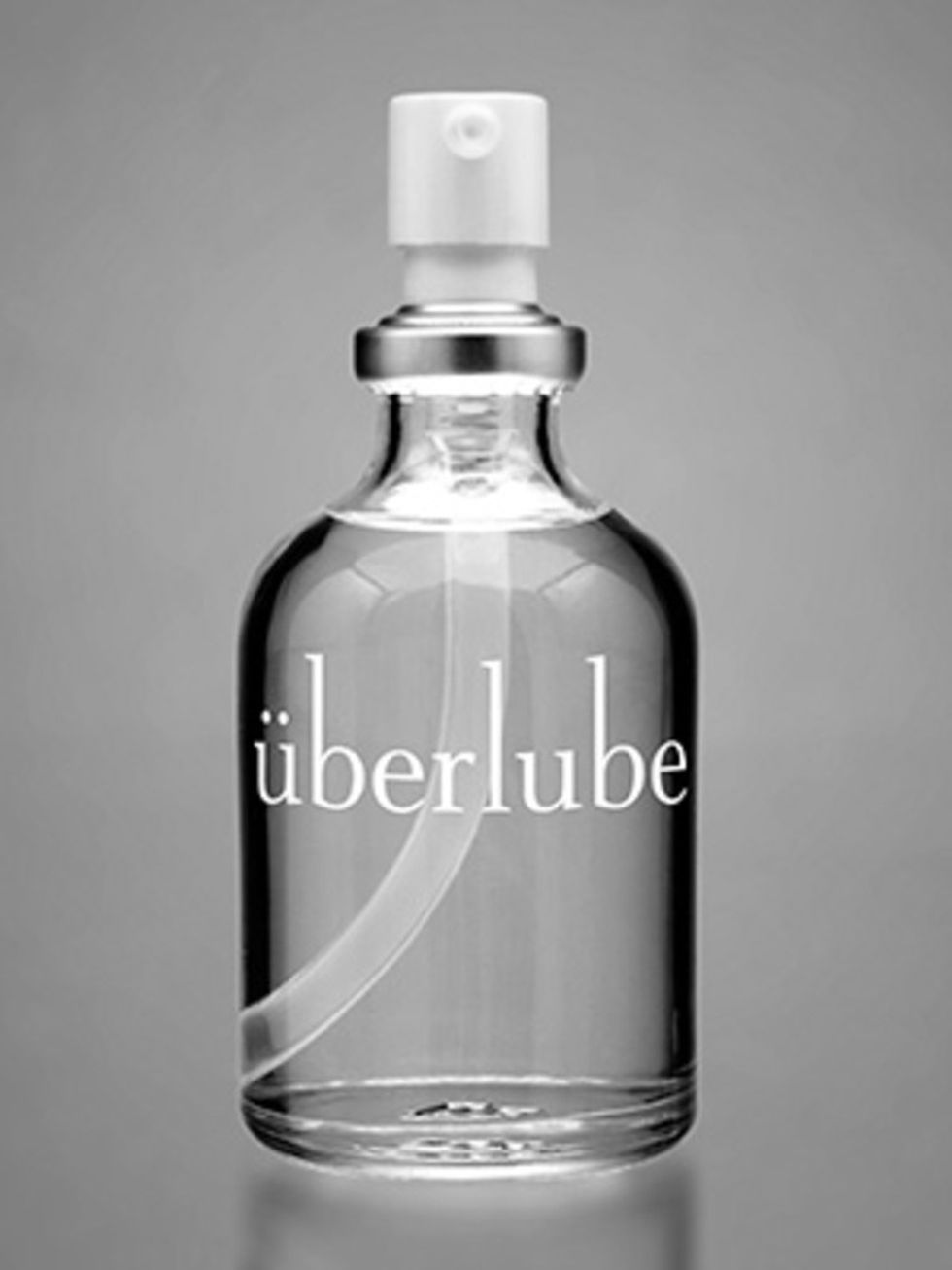 Shop Here
According to popular lubricant brand Astroglide, they're prime for water-play because "silicone lubes (especially when in gel form) stay put and keep friction at bay while you enjoy some slippery, wet fun."
Overall, Tyomi explains, "Silicone-based lubes are great for those who want to have a longer-lasting lube with a silky feeling." As wonderful as they are texturally, the caveat is that they cannot be used with silicone toys, as they "will damage the toy and render it unusable" and should be used on rubber toys with an err of caution.
When pairing a silicone lube with rubber toys, Tyomi recommends doing a patch test before use. She walks us through the simple test, adding that you can do so by simply "placing a small amount of lube on a part of the toy that won't be inserted into the vagina is the way to test if the lubricant is she to use with the toy. If the toy melts or begins gooey or sticky when rubbing the lube in, that's a sign that the lube isn't the right one for the toy."
Oil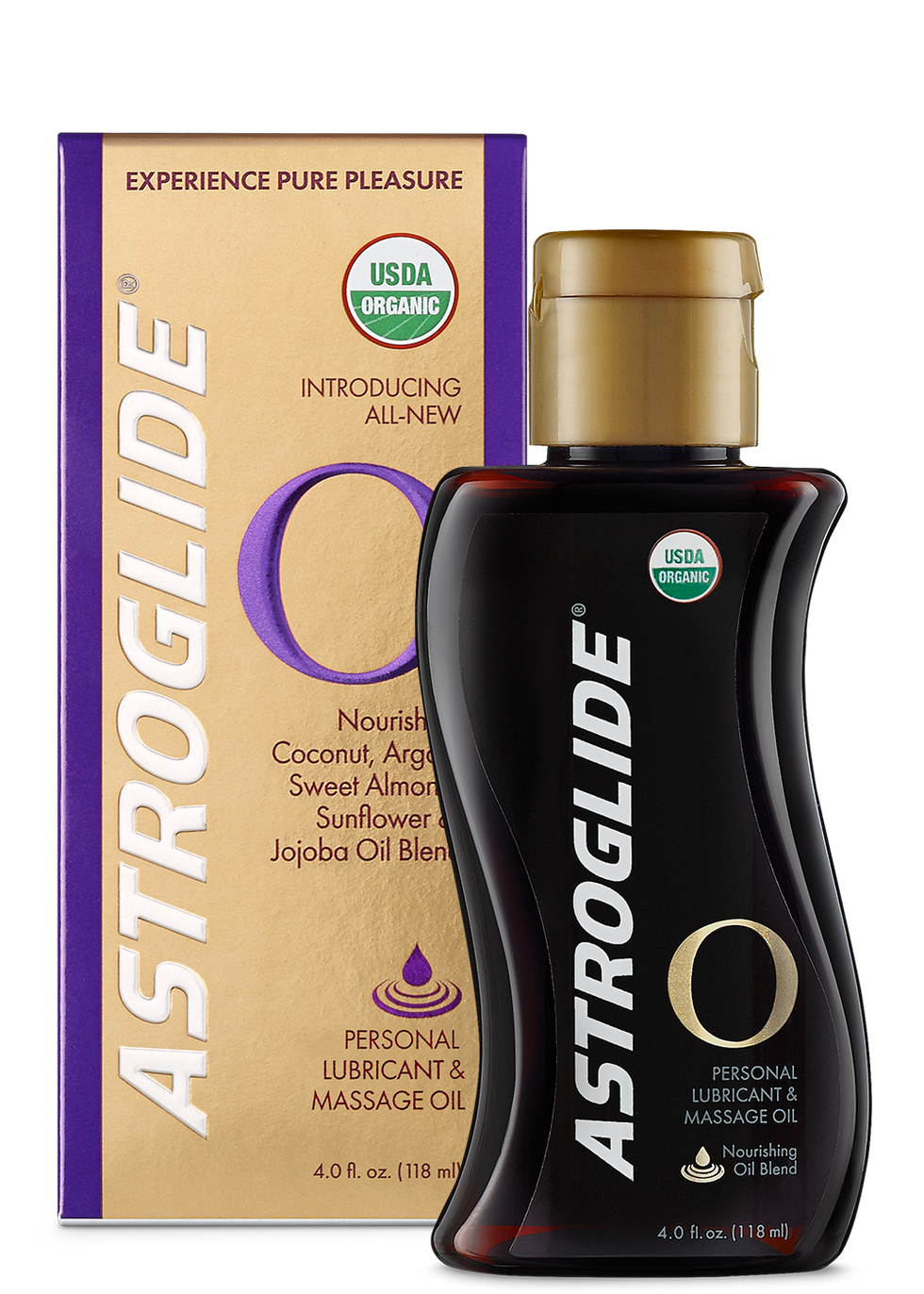 Shop Here
Tyomi emphasizes that oil-based lubricants cover a different range of sex toys and how well they pair with toys that "are going to be inserted into the anus, like butt plugs and finger rimmers."
These lubricants are best for materials such as glass, metal, wood, or gemstone according to our sexpert but are a hard "no" when it comes to silicone and rubber.
"Oil-based lubes should never be used with silicone or rubber toys. Oil-based lubes are heavier in consistency because they have an oil base."
Like, silicone, oil-based lubricants will damage your toys made of silicone and rubber. Tyomi's blog, Glam Erotica 101, elaborates stating that the oil breaks down the composition of the toys' material. But, also refreshingly adds that you can dig in your pantry to grab the coconut or grapeseed oil for your oil lubes as well.
Beware, oil is oil, so be sure to that your throw away sheets are on your bed to avoid staining your good ones.
Hybrid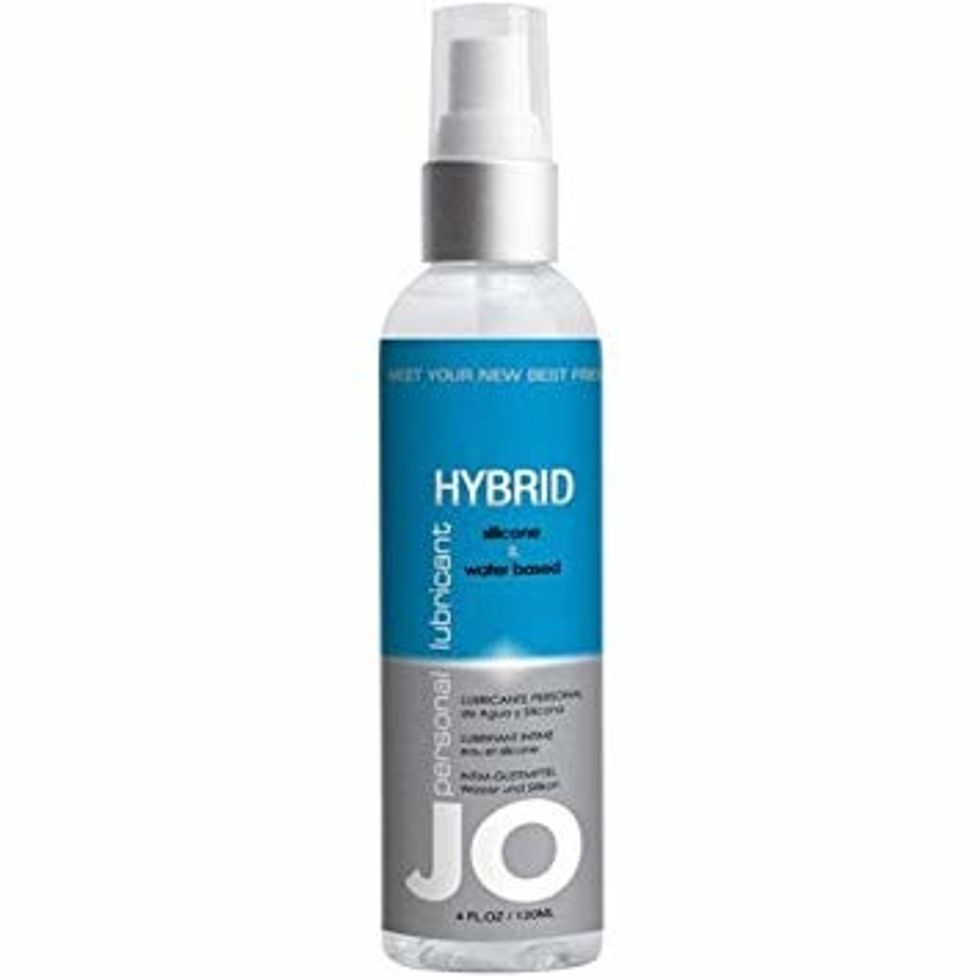 Shop Here
Last and seemingly least (unheard of, I know) are hybrid lubes. Hybrid lubes are a combination of both water and silicone. Because of this, Tyomi recommends that these types of lubricants be spot tested before using your silicone and rubber toys, as you would with silicone or oil-based lubricants. If your toys doesn't start to self-destruct, then you're good to go.
If you still feel some overwhelm when considering which lube is right for you, here are some Tyomi approved lubes you can start with: Astroglide, which is available in all formulas, Good Clean Love an organic water-based lube, and the silicone-based, Uberlube.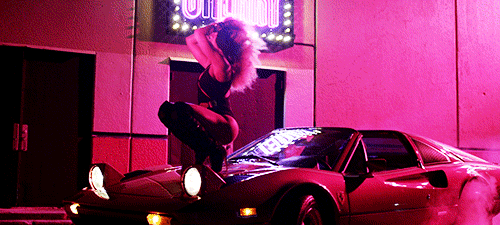 Get comfortable with some of those first and then venture out based on what you enjoy. Whatever you do, it's time to stop sleeping on the power of lube.
Oh and don't forget to thank me later.