Whether butt play is the first stop in exploring your sexuality or an evolutionary point reached after much reflection and growth, it seems inevitable to avoid its presence in pleasure. It has so much potential as an epicenter for pleasure yet it's still one of those things done behind closed doors (no pun intended). Anal sex is the new blowjob for Black girls, or so it seems. Remember when blowjobs were pronounced "things white girls do", but quietly Black girls were partaking too?
---
That's what anal sex has become. For a plethora of reasons I don't care to address — not here and not now. This article is for those who have moved past the shame or embarrassment or "miseducation."
This is for those who are ready to explore the other side of pleasure.
This is a guide to the wonderful world of butt plugs. One way to dive into butt play. And because we're here to guide, it seems only fair that we'd start at the basics:
What Even is a Butt Plug?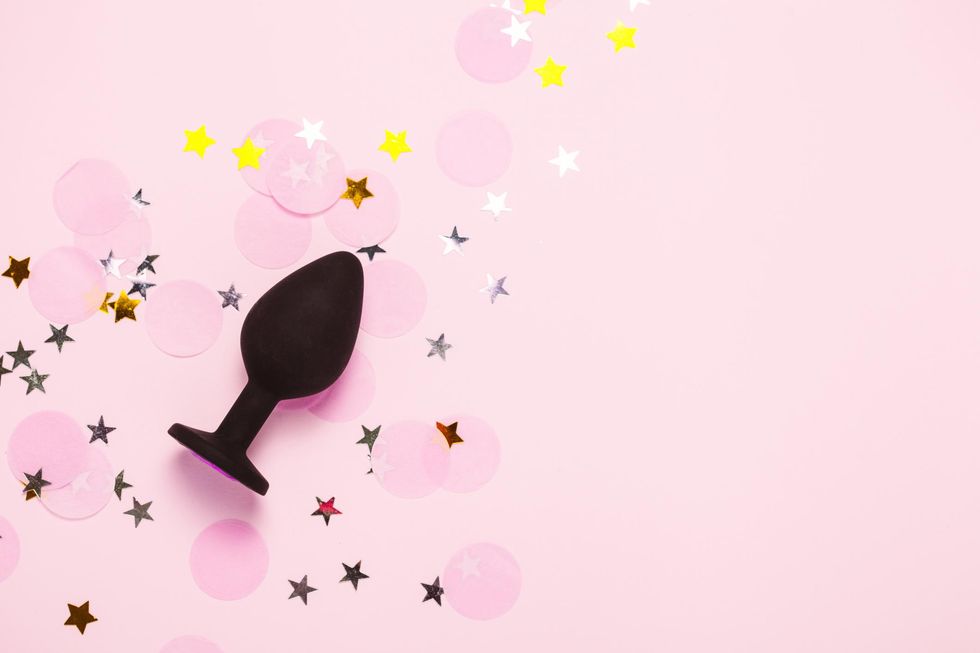 Enter the wonderful world of butt plugs.NadinPanina/Getty Images
Well, according to me, that's easy to answer because it's exactly what it sounds like, a plug for your asshole. A stopper, if you will. But its purpose is dependent upon your goals, which we'll get into shortly. They come in many shapes, sizes, and materials (metal, glass, plastic) like any other sex toy. They can even come with a vibration.

According to sex educator and host of Anal Sex Podcast: The Plug Luna Matatas, butt plugs can be more carefully defined as "sex toys that go inside of the butt, they usually have a bulbous shape, a neck and a flared base. They allow the muscles and tissue of the rectum get accustomed to penetration. Butt plugs are great for anal training."
The spectrum of ways in which you are able to use butt plugs in your anal play are endless. Butt plugs can serve as the main dish or the appetizer.
Here are a few ways to help you envision how you might want to use butt plugs, according to anal expert, Matata: 
Stretching for Anal Play
Much like any other workout, stretching can be the difference between cramping up or actually getting a full, enjoyable workout. And by workout, we mean anal.
Double the Pleasure
For added sensation during vaginal sex or even during solo sex, two is better than one. And Matata says, "You're adding in another erogenous zone to your self-pleasure, which might amplify the sensations you normally feel during masturbation."
"Butt plugs can give a sense of fullness inside the anus that feels pleasurable for some people. Others enjoy the stimulation to the many nerve endings at the entrance of the anus."
Embrace the Tease
Up the ante and give a little tease action rather easily when use your plug during ther types of partnered sexual activity, from kissing and cuddling to oral sex. See how long you all can last before you're driven to have sex or even edge it out. The benefit of this is that "while doing other things that get you aroused, your anus has a chance to relax and enjoy the sensations of the butt plug."
For the Thrill
"Engagement of our erotic imagination — you might be excited by the idea of having something in your butthole naughty or taboo," Matata concludes.
How to Use Butt Plugs for Beginners: A Guide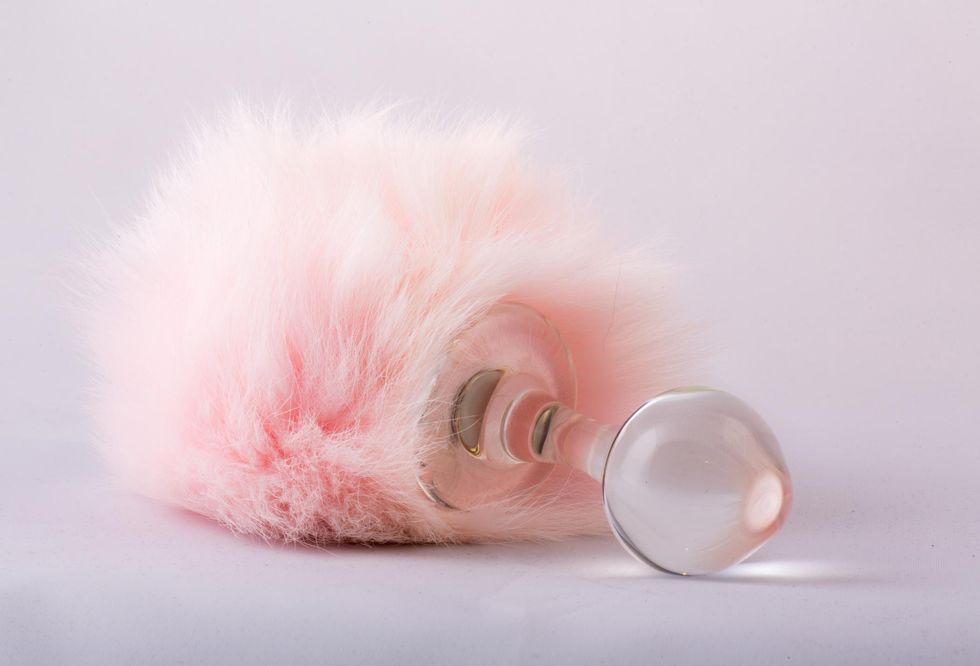 tino serraiocco/Getty Images
Size Does Matter
When looking into how to use butt plugs for beginners, curious minds might want to know what size to start with and if the purpose of your butt plug is to work you up to anal sex, does it need to be similar in size to your partner's penis or strap. To the latter, Matata explains, "You can go from a smaller plug to a penis [or strap], it depends on the experience of someone with anal penetration, what their body is in the mood for that day, how relaxed they are, etc.
"You can test out how well the person is opening up [to] the butt plug by rotating it inside someone, pulling it all the way out and then restarting the process, alternating between time with a plug and time with fingers massaging the rectum."

Anal Play: Butt Plugs or Anal Beads?
For beginners, I would recommend starting small with your plug if this is your first venture into anal play of any nature. But if you have a little experience under your belt, Matata suggests adding some weight, as a weighted butt plug for a little razzle dazzle i.e. increased sensation. You might also try a different shape as well, such a spheres or anal beads.
Keep it Safe
As far as the material, it's your world. However, as with any other toys, you do want to make sure you're using body-safe material. That's the bottom line. Matata points out, "Butt plugs can be made of rubber or jelly materials, but these are porous which makes them hard to sterilize. Try finding butt plugs made of body-safe materials like silicone, glass, or stainless steel. If you're a beginner to butt play -- you could try silicone materials first as some beginners find glass or stainless steel butt plugs too firm. [Furthermore], look for butt plugs with a rounded shape at the top and a flexible neck."
Wet it Up
Whatever you do, it can't be stressed enough the importance of lubrication. The anus, unlike the vagina, doesn't lubricate itself naturally so you'll want to use, "Lube. Lube. Lube. [Specifically] a long-lasting water-based or silicone lube is super important." And because it doesn't self-lubricate at the sign of arousal, it is especially important that we pay attention!
"Listen to the anus - sometimes it's just not in the mood for penetration, you can enjoy the outside nerve endings by putting vibrators against the butthole or massaging it," she continues. "If burning sensations or pain happen, slow things down, take a break or add more lube. Ignoring the pain or using numbing agents is increasing your chances of anal injuries like fissures."
Although all good things must come to an end, Matata left us with a few of her favorite gems to consider when looking to invest in butt plugs. Some of her favorites were created by b-Vibe, known for their "innovative and sexy looking butt toys."
The Best Butt Plug for a Beginner:
The Best Butt Plug for Intermediate: 
The Best Butt Plug for Advanced: 
Featured image by NadinPanina/Getty Images