---
I've got some of the (no pun intended) cockiest male friends when it comes to their views of their sexual performance. For instance, I know one guy who firmly stands by the point that he is so good in bed that right this moment, he could call any woman he's ever slept with and get her to fly to where he is and have sex with him. In his mind, he's that good and she will still want it just that much. ***insert eternal eye roll here***
When I asked him if he's had a partner who affects him that same way, he said, "I mean, some women are better than others, but a man is going to have an orgasm regardless, so it's all good."
When I told him that my research on men and orgasms revealed that isn't exactly or altogether true, he dismissed me like I didn't know what I was talking about.
"Shellie, if a man ejaculates, he has an orgasm," he said as if it was Orgasm 101.

Yeah. Whatever dude. I'm going to forward this info to him ASAP.
As we're all about to see in roughly 10 minutes or less, orgasms are mind-blowing and also pretty complex. The more I discover about them, the more I've come to accept that there is so much more to them than what meets the eye—or even what a lot of us have yet to experience.
10 Things You Didn't Know About The Male & Female Orgasm
1

.

Men Can Ejaculate Without Climaxing
First up, let's get into what my friend was yapping about. Although some of us probably knew that men can master the art of climaxing without ejaculating (it's sometimes referred to as a dry orgasm), I'm not so sure it's common knowledge that men can also ejaculate without having an orgasm at all.
The name for it is ejaculatory anhedonia. It's not harmful, but what man wants to go through all of the steps of an orgasm without feeling the reward of one? Anyway, some guys assume that since they've always thought that ejaculation and orgasm go hand in hand that they automatically have had an orgasm, just because they ejaculate. But that's not automatically the case.
If you forward this to one of your male friends and it sends their head to spinning, tell them that between their health care provider, a urologist, and a therapist, they can get down to if they've truly experienced an orgasm. Or not.
If they're not sure, I'm leaning towards…not.
2

.

Women Increase Their Chances of Conceiving With An Orgasm
If you're currently trying to make a baby, tell your man that the more orgasms he gives you, the closer you'll be to conceiving. That's at least what Dr. Robert King, author of Tulips at Midnight: Exploring the Latest Research into the Nature and Function of Female Orgasm, believes. Some of the women he studied had 15 percent more liquid in their uterus whenever they climaxed; this means that orgasms increased to their ability to hold more sperm. As a direct result, their chances of getting pregnant increased by 15 percent too.
Talk about a motivator—to climax and conceive.
3

.

Lots Of Men Fake Orgasms
Usually, when the topic of faking it comes up, we think about women doing it (about 80 percent have before). But I actually had a conversation with a husband who said that he was so sick of his wife pressuring him to have another baby that he faked orgasms for a year straight (wow).
He's not alone either. Reportedly, 1 in 4 men have copped to doing the same thing, albeit for a variety of different reasons ranging from not wanting to hurt their partner's feelings (about being "bad" in bed) or wanting to hurry up and get things over with, to wanting to emotionally manipulate their partner or because they felt insecure about their own performance.
4

.

Some Women Have Orgasms In Their Sleep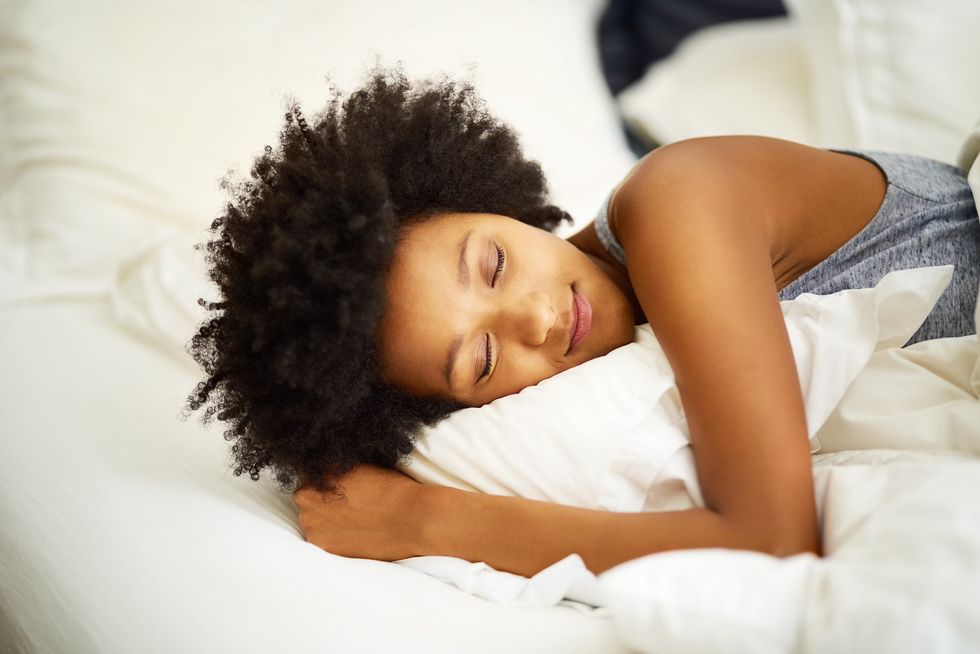 Sleep well. It's good for your health
Getty Images
Talk about the things that go bumping in the night. Guess how many women are able to have orgasms in their sleep? According to Alfred Kinsey of the Kinsey Institute, a whopping 37 percent!
The technical term for them are nocturnal orgasms. It's basically a spontaneous orgasm that happens during your sleep (usually during some sort of dream). That's kind dope, although, just to be thorough, I should put on record that more women with a form of neurosis (47 percent) get them than women who are in control of their mental state (8 percent). That's at least what one study claims.
5

.

A Man's Orgasm Is Shorter Than A Woman's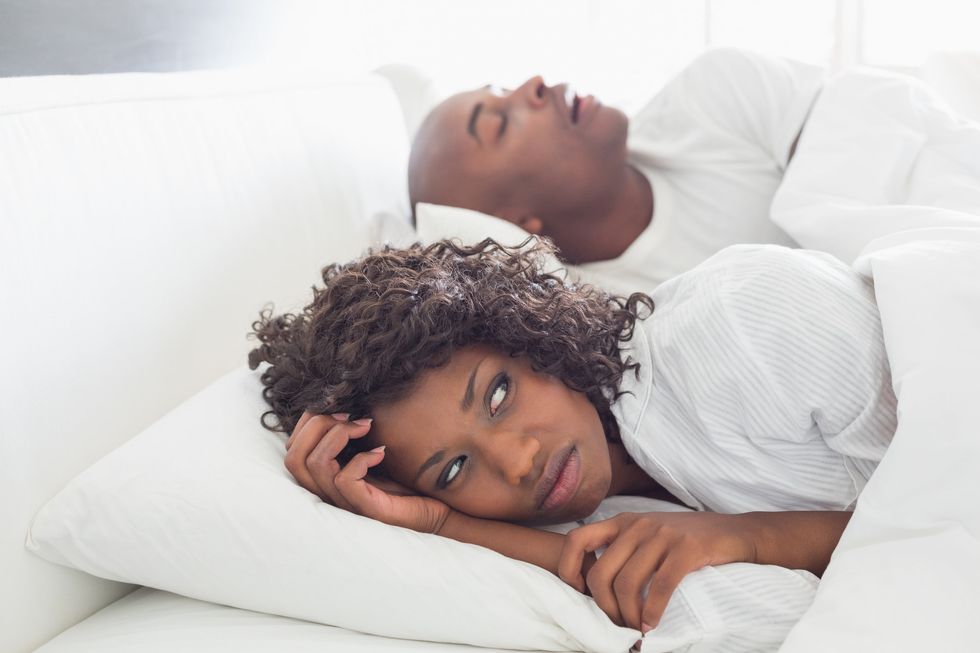 Annoyed woman lying in bed with snoring boyfriend
Since it only (on average) takes a man five minutes to have an orgasm while it takes a woman around 20 minutes to, it probably comes as no shock that a man's orgasm is shorter as well. While a man's typically lasts for no more than five seconds, a woman's can last for 20-30 seconds. Meanwhile, a man's bounce back can take as much as 30 minutes in many cases. Although as men get older, sometimes it can take up to 12-24 hours.
Hey, don't harp on them too much about this. There is a peptide in their system known as somatostatin. It literally reduces the amount of sexual arousal men have after they climax. It really is Mother Nature that makes them want to fall asleep before round two.
6

.

Many Women Experience Orgasm "Aftershocks"
If you're able to have multiple orgasms, pat yourself on the back; you're reportedly one of the 47 percent of women who can. And if after having such an earth-shattering experience, it seems like you experience what can only be defined as aftershocks, it's not in your head. What's happening is, just like you experience involuntary muscle contractions while you're actually climaxing, sometimes you may feel smaller versions of that for up to an hour afterward.
There's nothing to worry about. It's all good.
7

.

A Man's Foreskin Works To A Woman's Climax's Advantage
Turtlenecks. Pigs in a blanket. Hooded ninjas. I've heard of all kinds of terms to describe an uncircumcised penis. And while I've never personally had the pleasure, I did recently read something that piqued my interest a bit and actually caused me to see them in a bit of a different light.
Did you know that many women have found that men who have foreskin oftentimes have more stamina and are also more comfortable for them to be with physically? Not only that but they also say that it significantly increased their ability to have multiple orgasms? #themoreyouknow
8

.

Clitoral Placement Plays A Huge Role In A Woman's Vaginal Orgasms
If you've heard that 75 percent of women do not have orgasms, the answer to that is yes and no. I'll go with the good news first—a lot of women can climax; what the stat is saying is an overwhelming amount have a difficult time experiencing an orgasm via vaginal stimulation alone.
A couple of things come into play with that. For one thing, not all scientists can agree on the fact that every woman has a G-spot (a pea-sized area that's located 1-2 inches on the vaginal wall that is closest to your belly button). The other issue is how far apart a woman's clitoris is from her vaginal opening. If it's approximately the width of her thumb apart, she has a much greater chance of experiencing a vaginal orgasm (an orgasm from penetration that doesn't require clitoral stimulation) than if she doesn't.
9

.

Men Go Through What's Known as "Ejaculatory Inevitability"
Bless their hearts. There is a point that just about all men reach when they can't stop from ejaculating, even if they wanted to. It's called ejaculatory inevitability and it's the second phase of their orgasm.
The first phase is when their vas deferens, prostate, and seminal vesicles all contract, leading their semen into their urethra. The second is when the contractions are so strong that there is nothing that a guy can do to stop ejaculation from happening.
So, if you tell your man you're not ready for him to climax and he does anyway, don't assume that he's been selfish. Chances are, he heard you but there was absolutely nothing that he could do. Not at all.
10

.

 Women Who Are Insecure (In Their Relationship) Have a Hard Time Climaxing
One more. Did you know that no two orgasms are exactly the same, pretty much ever? Some are more intense than others. Some last longer than others. And some are totally dependent on how you are feeling emotionally towards your partner.
If only lately, you've been having trouble climaxing with a partner you used to with easily and regularly, don't chalk it up to being nothing. We as women need to our mind and body to be in sync in order for sexual pleasure to reach its peak.
If you're not currently sexually satisfied, the last thing you need to do is fake an orgasm or grin and bear it. Let your partner know. It could be as simple as needing to reconnect on a deeper level or your intuition alerting you that something isn't right. Either way, communication is the key to getting your relationship—and orgasms—back on track.
Featured image by Getty Images.

Related Articles:
4 Hit It From The Back Moves That Are Bound To Get You To Orgasm - Read More
My First Orgasm Gave Me The Best Sex Of My Life - Read More
I Can Squirt Whenever I Want to Now & Here's How - Read More
I Only Have One Rule In The Bedroom: I Come First. - Read More